Gigabyte MW51-HP0 LGA2066 C422 Motherboard Review
---
---
---
Bohs Hansen / 5 years ago
Introduction, Specifications, and Packaging
---
Today I have the pleasure to open up the rounds of C422-based motherboard reviews with a strong contender, Gigabyte's MW51-HP0 (product link). The LGA2066 motherboard is packed with features from SATA over U.2 and M.2, to eight memory slots and seven PCIe x16-sized slots. And that's just the beginning. Everything you'll want for a great workstation.
Gigabyte MW51-HP0 Workstation Motherboard
When you are building a high-powered workstation, you will need a solid at the base to run everything from. Gigabyte's MW51-HP0 motherboard is a good place to start, at least if you ask me. Just looking at it and you know you got a great piece of electronics.
Gigabyte's MW51-HP0 comes in the CEB form factor which is 304.8mm wide by 266.7mm deep. The socket is the LGA2066 which is surrounded by a square ILM 80x80mm cooling mount. Within the socket, you can install one of Intel's Xeon W-series processors with a TDP of up to 140W.
A processor isn't worth much without memory to go along with it. The MW51-HP0 has eight DIMM slots for DDR4 memory modules in quad-channel configuration. You can install RDIMM and LRDIMM modules with a capacity up to 64GB, based on a 1.2V profile and up to 2666MHz.
That is up to 512GB of fast memory and up to 18 CPU cores. With that in mind, you might get why I started out by talking about the high-powered workstation possibilities.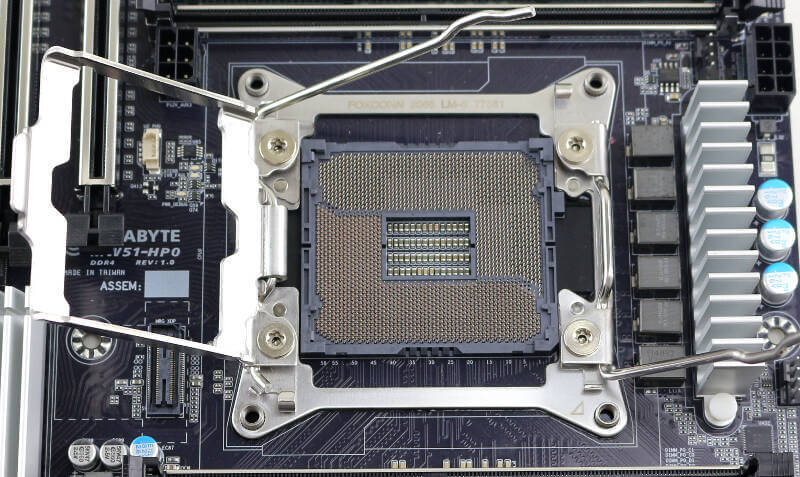 Expansion Slots
The available expansion slots are one of the MW51-HP0's clear advantage, a fact that is visible at the first glance. There are seven physical PCI-Express 3.0 x16 slots available, but not all of them run at full speed. Still, with such a compliment of slots, you can install a whole lot of processing power. Whether that will be storage controller, PCIe drives, graphics cards, or something else will be up to you. Whichever it will be, there are a lot of options.
The motherboard supports dual, triple, and quad Nvidia SLI and CrossFire setups, so that part is well covered. If your mind doesn't start to wonder now, I'd consider you weird. There are so many possibilities with this motherboard if only I had the budget. From VM setups to render rigs and storage servers, it would do it all very well.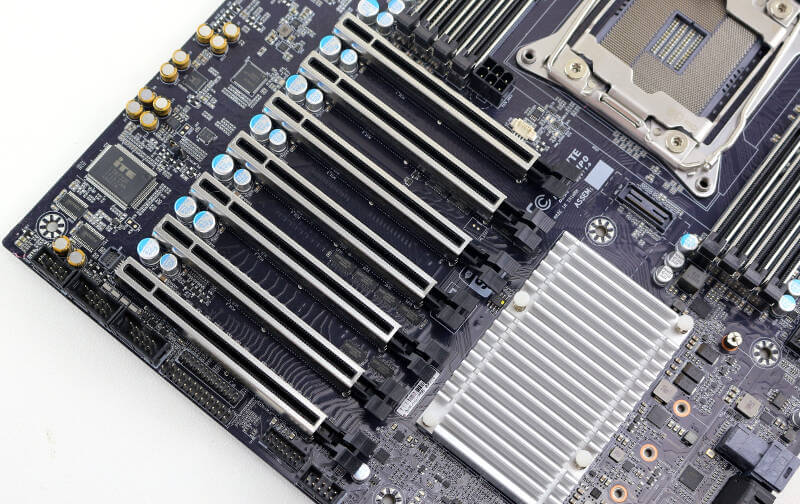 The PCIe slot layout is as follows:
1: 1 x PCIe x16 (Gen3 x16 or x8 bus) slot, shared with slot 2
2: 1 x PCIe x16 (Gen3 x0 or x8 bus) slot
3: 1 x PCIe x16 (Gen3 x16 or x8 bus) slot, shared with slot 4
4: 1 x PCIe x16 (Gen3 x0 or x8 bus) slot
5: 1 x PCIe x16 (Gen3 x16 or x8 bus) slot, shared with slot 6
6: 1 x PCIe x16 (Gen3 x0 or x8 bus) slot
7: 1 x PCIe x16 (Gen3 x16 bus) slot from CPU0
The PCI Express slots are all enforced for stability, and it also gives the motherboard an extra layer of premium looks. The motherboard design also allows users to take full advantage of the 48 PCIe lanes offered by the latest Xeon-W processors.
Storage Options
We've already covered that you can install a lot of extra storage drives and controllers in the PCIe slots, if you want to do so. But there might not be a need with what's already offered by the MW51-HP0. There are eight SATA3 ports controlled by the Intel eRST where two of them support SATA DOMs. There are two more SATA3 ports controlled by a Marvell 88SE9172 controller. Intel eRST offers support for RAID 0, 1, 5, and 10.
If traditional connection options aren't your thing, then that's no problem. The motherboard comes with two PCIe Gen3 x4 connections: One M.2 and one U.2 type. The M.2 slot takes M-key modules with 2242 to 22110 form factors while the U.2 connector is a standard Mini-SAS type. Intel Virtual RAID on CPU (VROC) is also supported.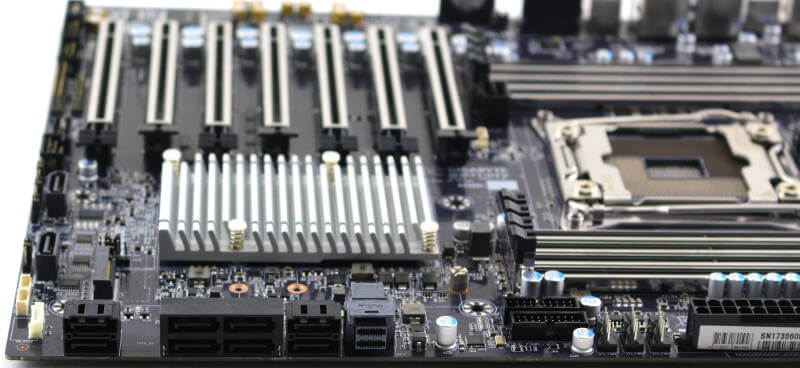 Network and USB Connections
All the internal connectivity for drives and add-in cards is good and well, but we also need to connect our peripherals and network to the system. Without, it won't do us much good. For this, we get dual Gigabit Ethernet based on Intel's i210 controller and a whole lot of USB ports. The rear IO area features eight USB 3.0 (USB 3.1 Gen.1) ports and two USB 3.1 Gen.2 ports. There is both a TypeA and a Type-C port of the latest generation, allowing you to connect any type of USB device.

Internally, you can connect more USB ports through headers. There is a single USB 2.0 header which can be used for case ports of internal hardware such as AIO water cooling, lighting controls, and similar devices. There are two USB 3.0 headers too for another 4 USB 3.0 ports. Legacy peripherals with PS2 connectors can also be connected too through a single dual-function port on the rear IO.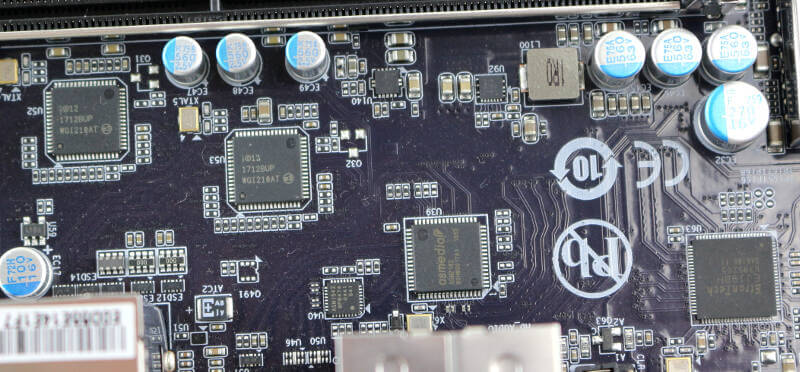 Onboard Audio and Video Features
An audio feature is more important than one thinks, even if you're not connecting any sort of speakers. If you're dealing with videos, for example, you need hardware to interpret that. Even if you aren't listening to it. The Gigabyte MW51-HP0 has a Realtek ALC1150 HD audio codec for this. It supports 7.1 channel configurations and has a SPDIF output too. The audio capacitors aren't the best, but they're high-grade as seen below.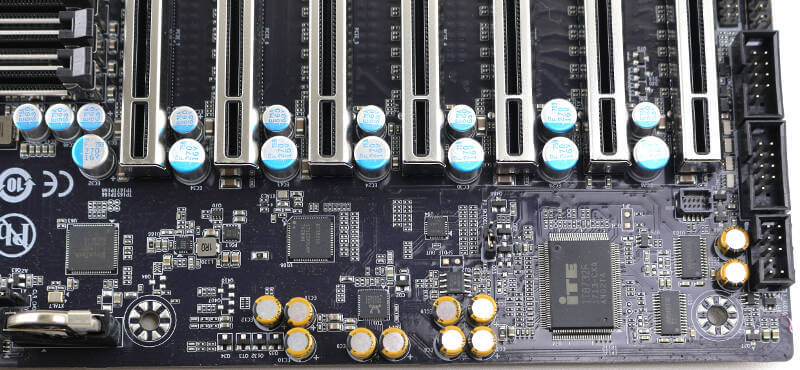 One thing you won't find on this motherboard is video output. The motherboard is designed for the Xeon-W processors and they do not have iGPU such as the desktop Core processors do. As a workstation motherboard, there is no IPMI with KVM either as we often see on server motherboards. Remote management isn't a vital feature here and as such, it won't be missed.

Additional Features and Connections
We're almost done with this page, but there are a few more things worth mentioning before we move onto a closer look at the motherboard. There are two COM headers onboard as well as a Trusted Platform Module (TPM) header for extra security. The motherboard also features a VROC connector to be used with a VROC module. In the event that you don't know of VROC yet, it allows for PCIe RAID management.
The BIOS battery's location is a bit different than we're used to. It is vertically mounted near the rear IO for easy access when the system is fully equipped with add-in cards. It can be a real pain to remove add-in cards and get access to the battery if it was located at the usual location between or near the PCIe slots and chipset.
Speaking of the BIOS, Gigabyte also added their easy-upgrade feature to this motherboard. With it, you don't need critical components such as RAM or CPU to upgrade the BIOS, nor does the system need to be powered on. You only need power to the motherboard, obviously, and you're able to upgrade the BIOS.
The MW51-HP0 features a digital CPU power management and generally high-quality components. As you've already seen in all the photos above, the board utilises high-quality capacitors all over and in more places than it is required. The end result is a motherboard which delivers the most stable power possible to all onboard and installed parts.
Feature Highlights
Supports Intel Xeon W-series processor family
Intel C422 Express chipset
Quad Channel RDIMM/LRDIMM DDR4 through 8 DIMM slots
Intel VROC ready
ASMedia 2142 USB 3.1 Gen 2 controller
Realtek ALC1150 HD audio codec
2x GbE LAN ports (Intel I210)
8x SATA III 6Gbps ports from C422, 2 of them with SATA DOM support
2x SATA III 6Gbps ports from Marvell 88SE9172 controller
M.2 and U.2 with PCIe Gen3 x4 interface
4x Full speed PCIe Gen3 x16 slots and a total of 7 PCIe expansion slots
Package and Accessories
The package design isn't a big surprise in any way, it's the one we're used to from Gigabyte's server and workstation motherbards. It's simple in the design sense, and that's good. People purchasing these boards know what they're getting ahead of their purchase and they don't need a fancy full-colour box to add to the costs.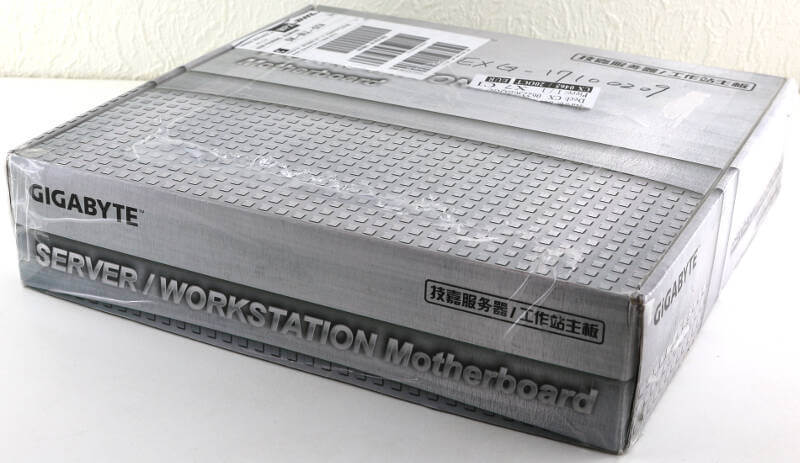 Within the box, you'll find the MW51-HP0 motherboard along with a driver disk and a quick installation guide. The two latter weren't in my early sample, but they will be in the retail package. You also get eight SATA 3 cables with a length of 50 cm as well as an IO-shield and an external thermistor cable (2P/900mm).