HIS Radeon HD 7790 Turbo 1GB Graphics Card Review
---
---
---
Chris Hadley / 8 years ago

AMD's Radeon 7790, codenamed 'Bonaire' has been in the retail channels for a few weeks now and from what I gather, it has been welcomed very kindly by the consumers with its good level of performance for its price (as shown by the number of cards that I've looked at so far). Whilst the launch is a little while ago now, there are still a few of AMD's partners that are keen for me to take a look at their cards and see how well they perform in one of the closest fought battles to be the best card that I have seen in a fair while. With different cards each giving their own edge over other brands in terms of overclocking ability, performance, cooling, temperatures and design, HIS have got their work cut out to make their card stand out over the rest.
It has been a little while since I've had a play with a HIS card – the last one being a 7750 which was launched right back at the start of last year and as we will see there are always those little things that certain brands stick to; in the case of HIS, this is the use of a green/blue PCB and blue fan – its all part of their colour scheme and it certainly makes their card that bit more distinct.
Whilst some manufacturers have updated their packaging designs over that last year or so, giving them a little bit of a face lift as well as updating the accessories that come with the cards, HIS have kept their accessory bundle pretty much the same as it has been for quite a while with a driver CD, VGA adaptor and manual alongside a flyer that highlights a couple of installation points for novice users.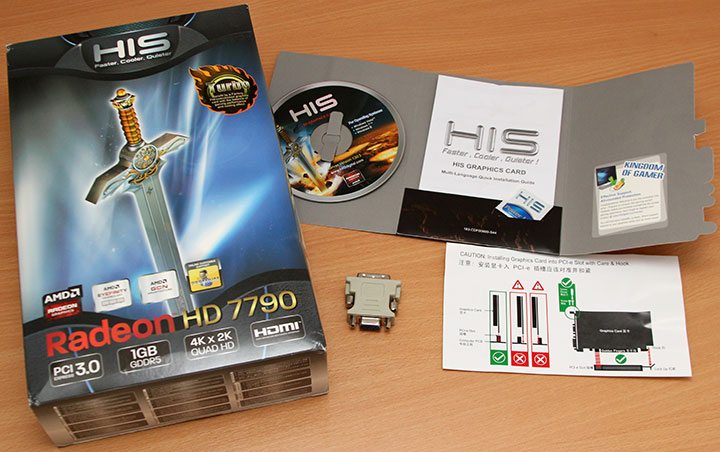 PowerColor have kept the bundle very simple, with a VGA to DVI adaptor, installation guide and a driver CD. I do note that the CD still displays the ATI branding for some reason, although a guess would be that the image that is printed on to the disc has not been updated in a long time. I'd also recommended going to the AMD website to download the latest drivers.