Icy Dock 'Black Vortex' MB074SP-B 3.5" 4-in-3 Cage Review
---
---
---
Chris Hadley / 10 years ago
Introduction
---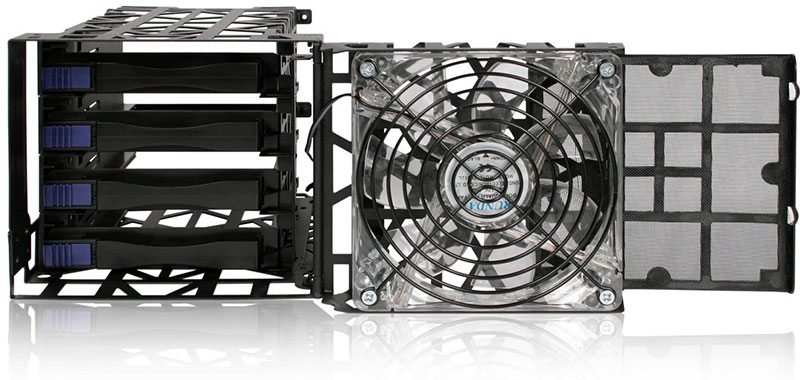 Over the last couple of years I've reviewed a fair selection of products from the Icy Dock catalogue, ranging from external drive enclosures such as the Blizzard and the MB559U3S SuperSpeed to a variety of SATA backplanes and drive bay adaptors including the FatCage MB155SP-B, MB971SP-B and MB994SP-4SB-1 Quad 2.5″ Backplane. Overall it's a fair statement to say that they have a wide variety of angles covered and the tastes of many users fulfilled with their products, whether it be through the design or the functional capability. With so many items on offer, we are a little amazed to see that Icy Dock have once again come up with a new product and this time round the product is in principle a cooled multi-bay drive adaptor. Taking up three optical drive bays, the Black Vortex MB074SP-B is able to house four 3.5″ hard drives in an open air frame design, offering a quick and simple access to one or more drives whilst offering the benefit of active cooling through a front mounted 120mm fan.
Aside from a traditional 3.5″ hard drive, the Black Vortex is also compatible with a number of Icy Dock's own 2.5″ to 3.5″  EZ-Dock and EZ-Adapter product ranges, allowing more than just a hard drive to be installed into the chassis. With so many drive bay adaptors and mounting solutions now available on the market from a number of vendors, the question stands to ask if we have enough options already available to cater every persons need, or does this unit really offer up the functionality that some users are after to mount and keep their drives cool.
Like any other Icy Dock product, the packaging is very informative with plenty of information about the cage on hand; detailing the units specifications, features and design. Inside the box things are a little more concise with a simple user installation guide and two sets of screws for fitting the brackets to each of the four drives and securing the framework into your chassis.
 [youtube]https://www.youtube.com/watch?v=Ue1hnszk35E[/youtube]