iGame Z370 Vulkan Motherboard Review
---
---
---
Peter Donnell / 3 years ago
A Closer Look
---
The Vulkan is one of the coolest looking motherboards in its class. It's not too over the top, but the aggressive angles, black PCB, and the chunky heatsinks all add up to a cool design. For anyone building a gaming system, it's sure to look great in their system no matter what hardware is hooked up to it.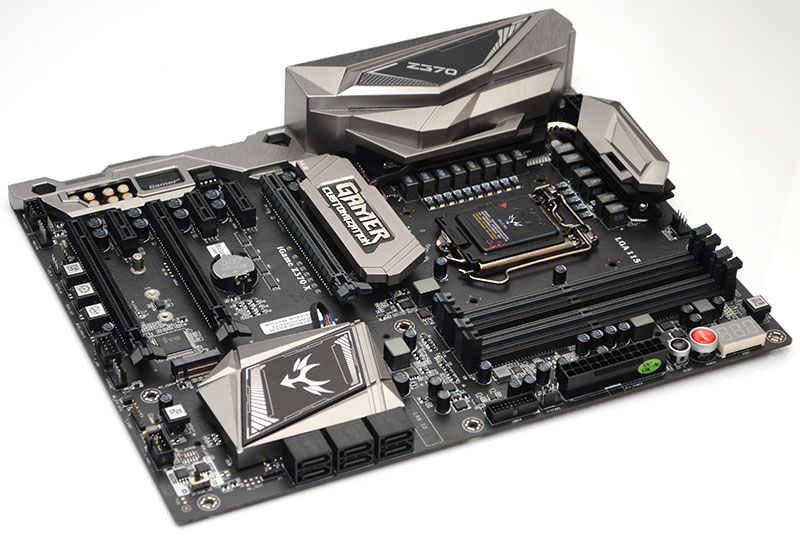 There are two chunky heatsinks for the CPU power delivery hardware. If you look closely, you'll also see a thick heat pipe linking the two blocks together. Of course, this should help the motherboard keep nice and cool while overclocking, which is always welcome.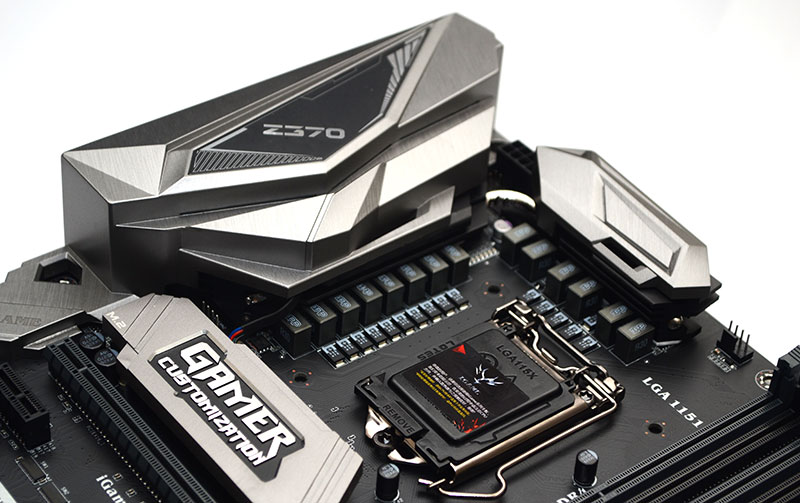 There are four DDR4slots on this motherboard, more than enough for most system builds, but all pretty straightforward. What's really cool is the inclusion of onboard power and reset controls, as well as a three digit BIOS Debug LED. These are great tools to have while overclocking and should make your life easier when things go wrong.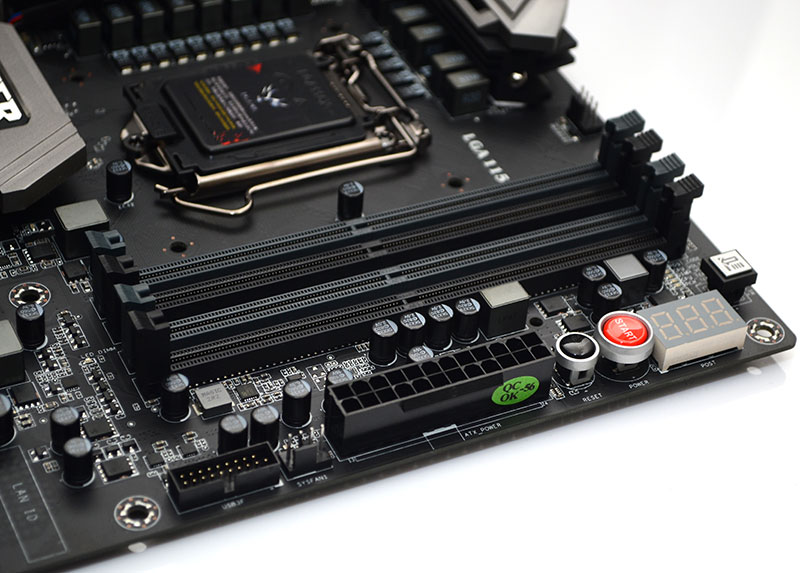 Tucked into the bottom right, you'll find six SATA ports, as well as a few more fan and USB headers. However, there's also a control for the BIOS switch, which is another great tool for overclocking. Furthermore, should one BIOS stuff it mid-update, at least you have a spare that can save your system.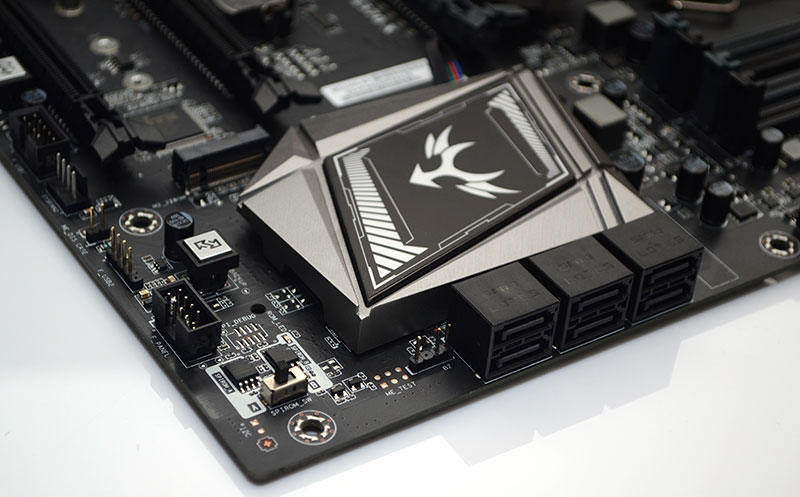 M.2 and Optane Support
There are two M.2 drive mounts on this motherboard. The first one is here, with this custom M.2 heatsink design that looks absolutely stunning. Unfortunately, the lower M.2 mount does not have a heatsink. Of course, you can use these for either M.2 storage device or the latest Intel Optane drives.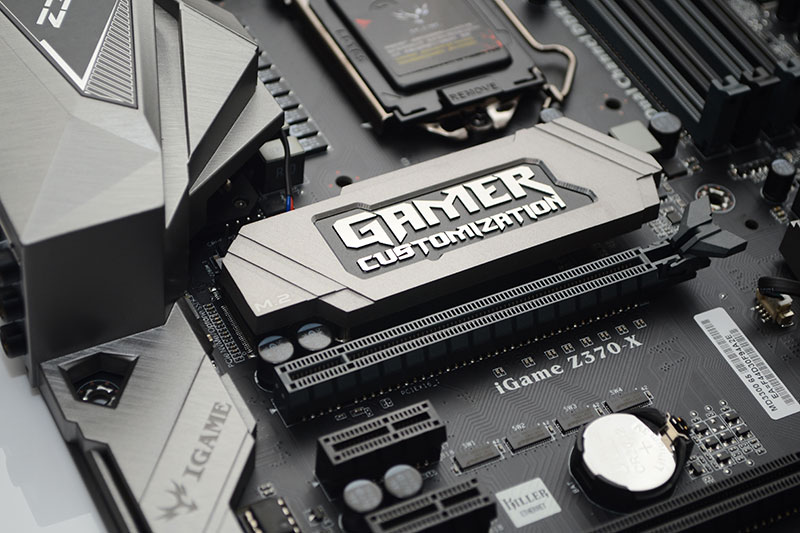 The chipset shroud features a cool logo design on the top. Of course, what's the point in gaming hardware if it doesn't have RGB! Don't worry, it does have RGB, and you can see the little hookup cable on the top left to provide it.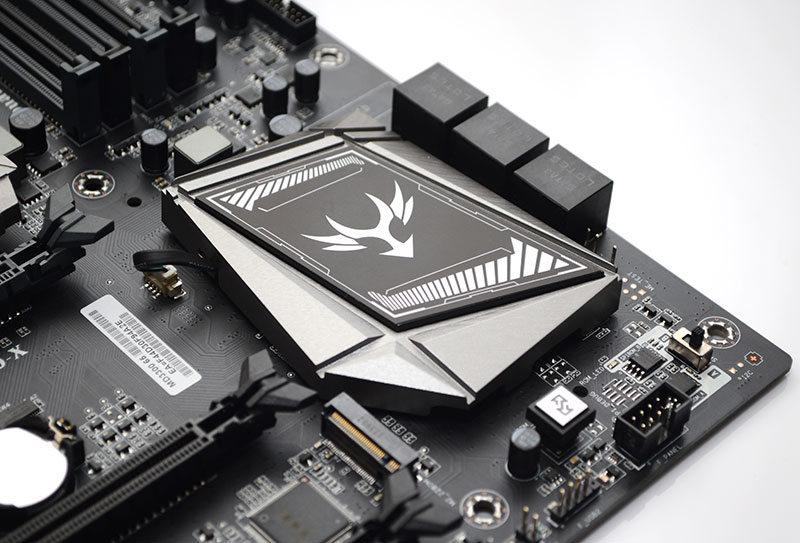 Multi-GPU Support
There are three full-size PCIe slots, and three 1x slots here, giving you plenty of room for expansion cards. The top two are well spaced, making plenty of room for thicker cards, but those running dual-slot cards should be able to install three GPUs here easily enough.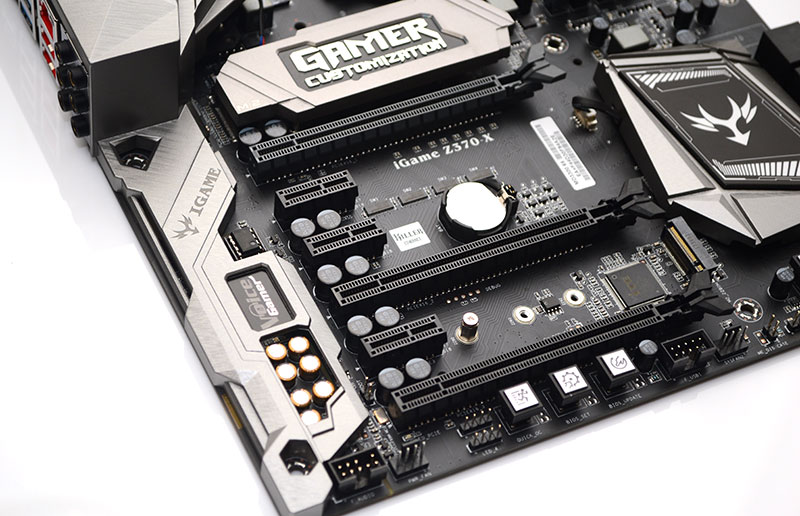 Some cool features on the bottom row too, including one I've never seen built-in as a switch before. First, you'll find the Quick OC button and BIOS Set, which is straightforward enough. However, there's also a BIOS Update function, which is pretty cool and should make that process easier for some users.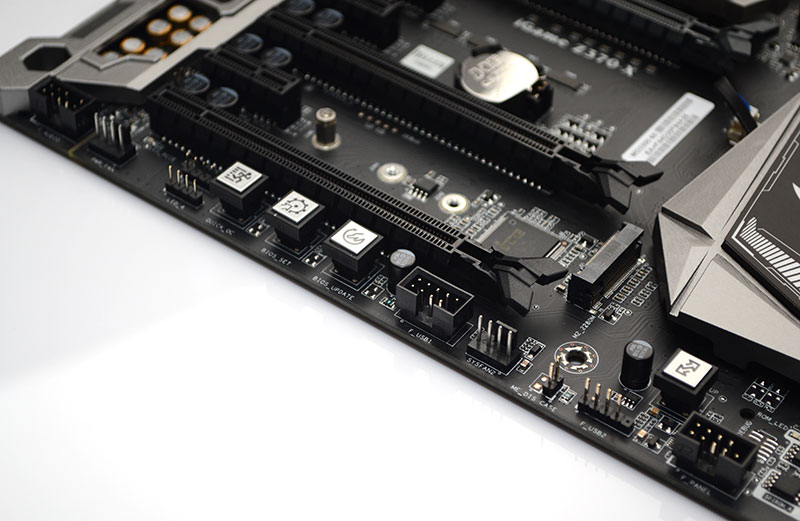 The rear I/O is well equipped too, delivering a plethora of USB ports, as well as a PS2 connection.