Intel Coffee Lake Hexacore Lineup Leaked
---
---
---
Samuel Wan / 4 years ago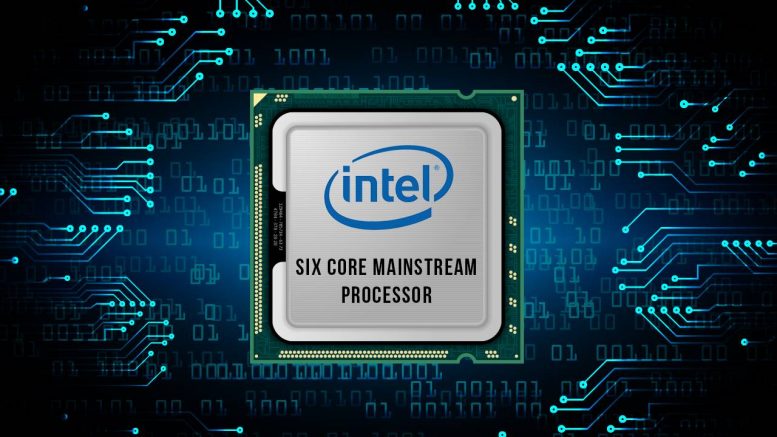 The new Intel Coffee Lake lineup is just around the corner. Ahead of its launch later this year, more specifications have been leaking weekly. So far, we've seen a CPU-Z  screenshot for one of the engineering samples, likely the Core i7 8700K. We've also seen what appears to be a quad core 15W U-series processor as well. In the latest leak, we now have more detailed specifications for 3 different hexacore processors.
Coffee Lake uses the same 14nm process as Kaby Lake and uses the architecture from Skylake. However, Intel has optimised the design even more, claiming a 30% performance increase from the same power draw. Part of this performance increase is likely due to an increased core count. The top mainstream core count goes from 4 cores 8 threads to 6 cores and 12 threads. Beyond that, Intel is keeping everything under wraps.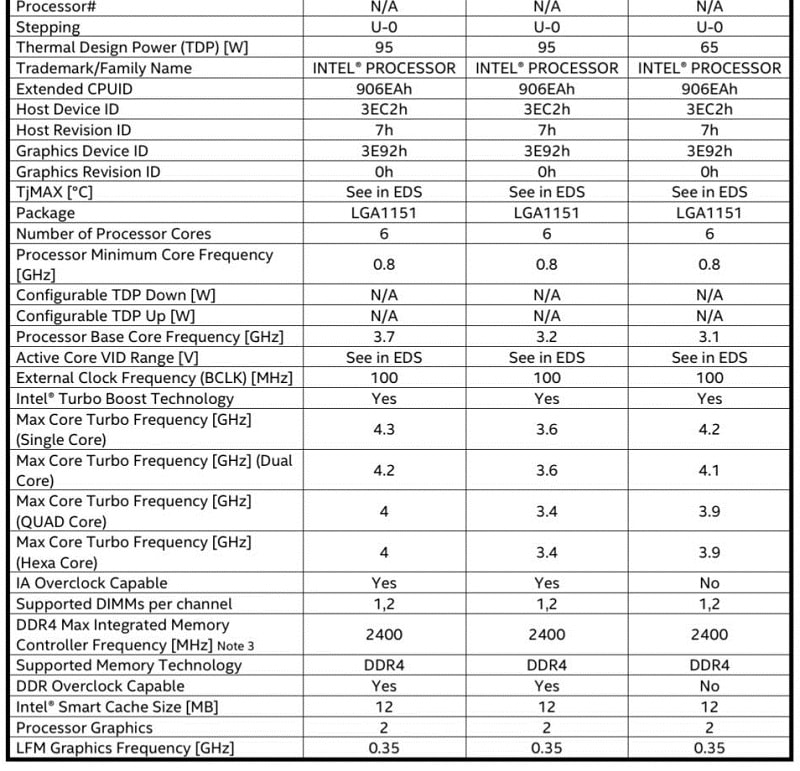 Intel Coffee Lake Lineup Shows Strong Potential
In the latest leaks, we have a spec table for 3 6 cores processors. Starting off, we have the likely i7 8700K. This chip has a 95W TDP, 3.7 GHz base clock, 4 GHz boost for 4/6 cores, 4.2 GHz for dual core and 4.3 GHz for quad core. Next up is another 95W chip but with much lower clocks. We have a 3.2 GHz base clock with 3.4 GHz boost for 4/6 cores, and 3.6 GHz boost for 1/2 cores. It is also unlocked but the clock speeds are quite low. Last of all, we have the 65W chip which actually clocks quite fast. It has a base clock of 3.1 GHz but 4/6 core turbos to 3.9 GHz. Dual core boost is 4.1 GHz while single core goes up to 4.2 GHz. This is likely an i7 T series chip.
All 3 chips use the same LGA 1151 platform so there is a chance that 100 and 200 series motherboards will work. DDR4 support maxes out at 2400 MHz along with GT2 graphics and 12MB of L3 cache. Overall, Intel looks to have a strong starting lineup for Coffee Lake. All that is left to make it competitive against AMD's Ryzen is the pricing. One thing to note is that with Core i7 and maybe Core i5 moving up to hexacore, will Core i3 become the new quads.