Intel i9-9900K Gets Listed Online for $685 CAD ($520 USD)
---
---
---
Ron Perillo / 4 years ago

First Canadian Intel i9-9900K Price Listing
Intel's upcoming Core i9-9900K is due to come out soon. Ahead of the launch, Canadian retailer DirectDial has now listed their price for the new mainstream desktop flagship CPU at $685 CAD. This converts to roughly $520 USD or £402 GBP.
The prices on DirectDial tend to be on the higher side of things in general anyway. Their i7-8700K for example retails for $515 CAD ($390 USD or £302 GBP). Whereas, the i7-8700K is priced at $479 CAD ($363 USD or £281 GBP) in major Canadian retailers such as CanadaComputers or NewEgg.ca.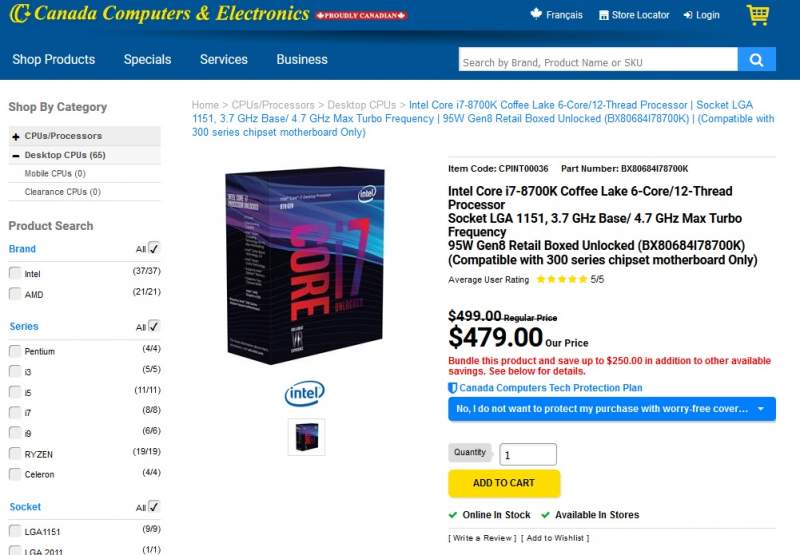 Ignore the fact that DirectDial claims their original price is actually higher and that retailers are saving even more by buying at their retail price. Speaking as a Canadian, this is a common Canadian retailer tactic. NCIX (when they were still around) did this as well and had much higher retail prices than their competitors, except they made up for it with aggressive price matching and having larger stock.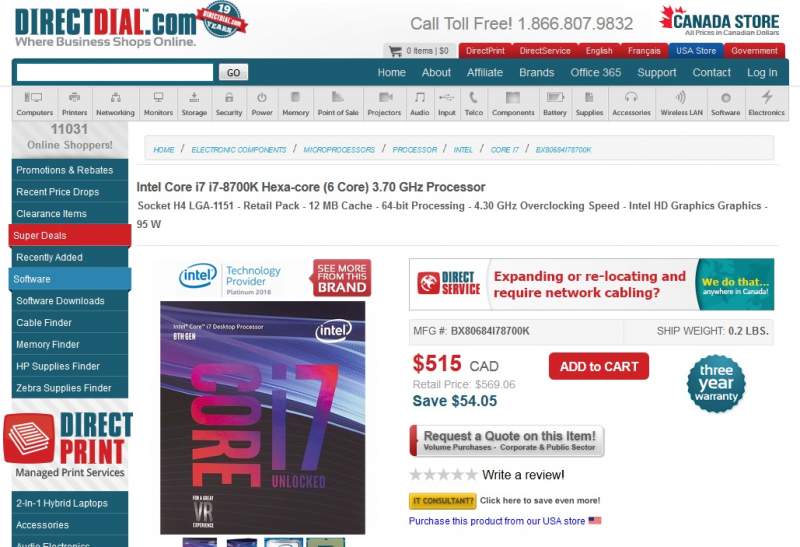 So going by this listing, we just have to factor in the percentage difference between their i7-8700K pricing and i9-9900K pricing to get the closest retail price. Instead of taking the $685 CAD at face value. The price premium is about 29~30% over the i7-8700K. So we can expect the actual MSRP to most likely be closer to $620-$625 CAD. This is equivalent to around $470 USD or £364 GBP.
What About the Intel i7-9700K and i5-9600K?
DirectDial also have these listed at $533 CAD for the Intel i7-9700K and $363 for the i5-9600K. These are equivalent to $404 USD and $275 USD respectively. In UK prices, the direct conversion is 313 GBP for the i7-9700K and 213 GBP for the i5-9600K.