Intel Optane SSD 800P 118GB M.2 PCIe SSD Review
---
---
---
Bohs Hansen / 5 years ago
Introduction
---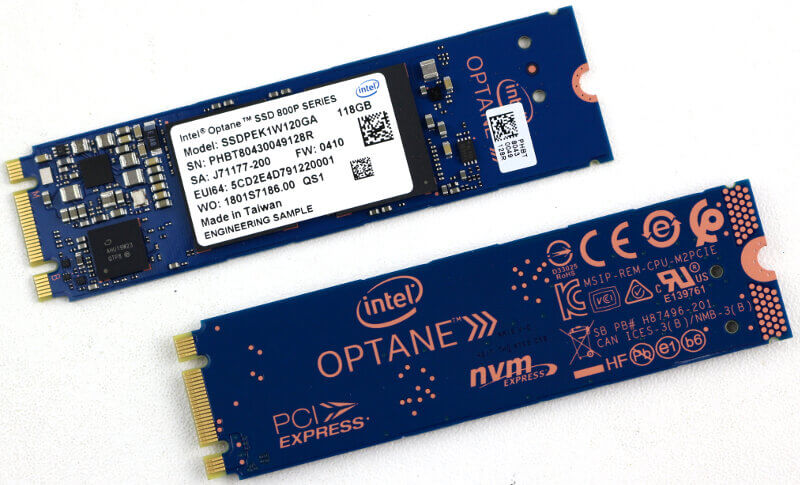 We have already had a look a the small Intel Optane SSD 800P with 58GB capacity and today it is time to test how well the larger 118GB (product link) version does. It has been a couple of weeks since the launch, and I've purposely held off writing this review until now, despite having the results shortly after the other drive. I wanted to let the bad impressions some people had sink in a little, allowing them to view this with fresh eyes.
Optane Is Similar yet Completely Different
On the surface, the Optane SSDs look the same as any other. You get a small PCB with some NAND packages and a controller. That is probably the reason why a lot of people missed the point of the drive entirely. That also includes various other reviewers out there who should know better.
The difference lays in the NAND which is 3D XPoint which is pronounced as 3D crosspoint. The name gives away how it works inside the cells; it works across all axis which is what sets it apart from traditional NAND. It is still relatively new, and it's only Intel and Micron who are behind this. That also explains why the costs are a bit higher at this point when compared to the traditional NAND.

So why should you pick Optane when it costs more? That's simple; it performs with consistency across the board. It doesn't really matter what kind of data you throw at the drive, nor does it matter how full it is. How much data has been written to the drive doesn't matter either. And there you have the difference. You truly get what you've been promised in terms of performance figures.
So what's the downside? That's also quite simple. Right now it is the price and capacity options are, when you compare them to other NAND-based offerings. But while that's true, there still is a large part of systems that can benefit highly from these drives. No, it won't be the go-to drive for gamers who wish to run their system of a single drive, including their entire gaming library. But let's face it, gaming isn't the only thing computers are used for.
Optane SSD versus Optane Memory
The first consumer products with 3D XPoint NAND we saw were the Optane memory modules. While great, they had one distinct disadvantage. You need a Z270 or newer system to utilise them while older systems would have been able to benefit highly from the technology. But that was down to the board technologies more than the drive.
The Optane SSDs, such as the 800P I'm testing today, don't have this issue. They work the same way any other PCIe-based SSD does, and they will work on any system. All you need is an M.2 slot with the capabilities to run PCIe-based drives. That fact opens the door to many uses, mainly those systems which already run on small storage setups.
Small Capacities Also have their merits
Setups with 32GB, 64GB, and 128GB aren't unusual, just turn your eyes on all the netbooks and ultrabooks out there. A lot of them don't come with more. The same goes for a lot of small form-factor systems.
A system can run off very little storage. Windows 10 doesn't require a whole lot by itself, so you just need space for your various applications. With cloud storage options and centralised storage such as NAS devices, you don't need to keep your files on your system either. That's where these Optane SSD 800P drives shine. That is, of course, if you aren't a gamer. Those big AAA games do require a lot of storage these days.

That these drives are great for mobile systems is also reflected in the fact that they draw as little as 8mW when idle.
Performance and Endurance
So, I've talked a lot about how great these new Optane SSD 800P are so far, but I haven't mentioned any performance figures yet. It's time to change that and have a look at the official ratings. Starting with the sequential performance, we have a read speed of up to 1450MB/s and a write speed of up to 640MB/s at a queue depth of 4. Usually, when we talk performance, we have figures with higher queue depth, but we'll get into that part in a little bit. While sequential performance gives us a great point of reference, the 4KB random performance is what truly matters and what makes the difference in daily operations. Here, we get up to 250K IOPS when reading and 140K IOPS when writing.
While performance is important, so is endurance. After all, you don't want your drive to die on you before its obsolete and naturally replaced with something newer and better. Intel's 3D XPoint NAND is strong in this aspect too, and we get an endurance of up to 365 TBW over a 5-year period. You'll have to completely fill and erase the drive over 3100 times to reach that number. And that's not counting caching algorithms etc.
The 5-year period for the endurance is also the warranty you get on the drives. Five years is a longer warranty then you'll find on most drives and certainly a lot more than the 2-year legal obligation within the EU.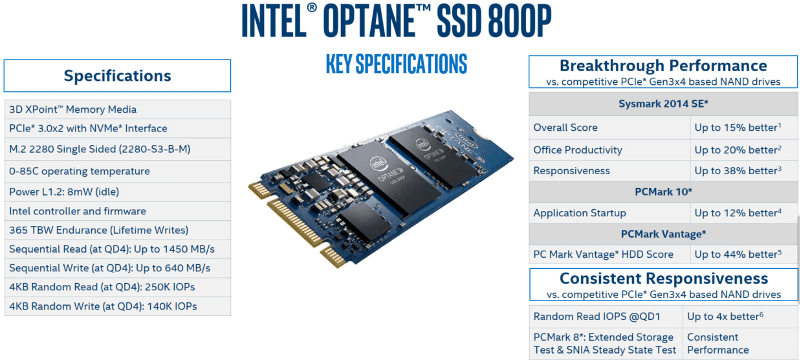 What's up With the Lower Queue Depth Ratings?
Testing a drive with higher queue depths allows for a more detailed view of what can be done with a drive, but it doesn't reflect real-world situations as much as lower queue depths do. You could compare it with an automobiles top speed; it says a lot about the power under the hood, but very few people will actually drive it at full speed. Especially not at all times. It is the same for a storage drive. Intel ran a lot of internal tests where they monitored their employees' workloads, with their permission, as well as analysed various common application and games to see what actually happens in the background. What they discovered was that it rarely went above a queue depth of 4, hence the ratings.
Internal Parts, Features, and Compatibility
The Optane drives are full Intel product, well the 3D XPoint NAND is developed together with Micron, but apart from that, it's a pure Intel drive. It's made up of the 3D XPoint NAND, Intel Interconnect IP, Intel controller, Intel software, and Intel firmware. With everything developed in-house, the compatibility between the parts should be as flawless as humanly possible.
The single-sided design also makes it highly compatible with ultra-thin mobile systems such as ultrabooks while the 2280 form factor makes it compatible with the majority of systems.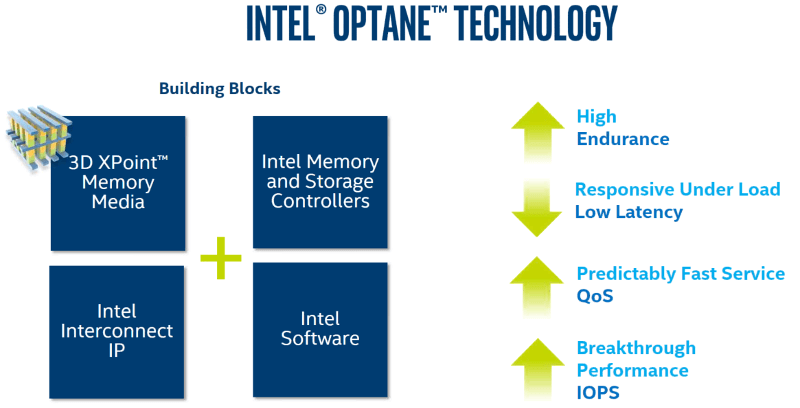 As mentioned earlier, there is no difference for the system running the Optane 800P when compared to any other NVMe PCIe-based SSD. Still, Intel wanted to make sure that it works as good as possible and for that, they worked closely with all major motherboard vendors. In fact, the drive is tested to be compatible with over 280 motherboards which are available now. It will no doubt work with more, but it's still a huge pile of validated support.
It's no problem to run the Optane 800P in RAID either. As a matter of fact, it does an amazing job in such a setup with over double scaling. The Optane SSD 800P supports RAID through the PCH as well as directly through the CPU, where supported. But we'll get to that in the next review where I'll test just that. Today we're looking at a single drive setup.
Before we get to the testing, there's only really two things left to mention. The drive is a PCIe 3.0 x2 which might be a concern for some at first glance. But it really isn't because it is plenty for the drive's capabilities.
The last thing to mention is the price point. For $129 USD you'll get this 58GB version while the 118GB will cost you $199. At least those are the official recommended retail prices. While that isn't budget, the performance certainly makes up for it. It's also a lot more affordable than the previously seen Optane SSD 900P.
So What About the Temperature?
Traditional NVMe drives run very hot. In fact, I personally don't recommend to run them without a heatsink at all. You risk damaging the drive or run into thermal throttling if you do, and no one wants either of those issues. The Optane SSD 800P doesn't have this issue. It will idle around 35 degrees and top out at 45-55 under long and heavy loads. As a comparison, a normal NVMe drive runs at 75 idle and 85+ under load. That's another big selling point for the Optane SSD and another reason why they're great in compact systems.
Feature Highlights
Full Intel product from hardware to software
High compatibility
Performance-strengths where it really matters
Effective RAID scaling
Extra-low latency
Consistent performance
Package and Accessories
The front features the Intel and Optane logos as well as the sticker with the included drive capacity.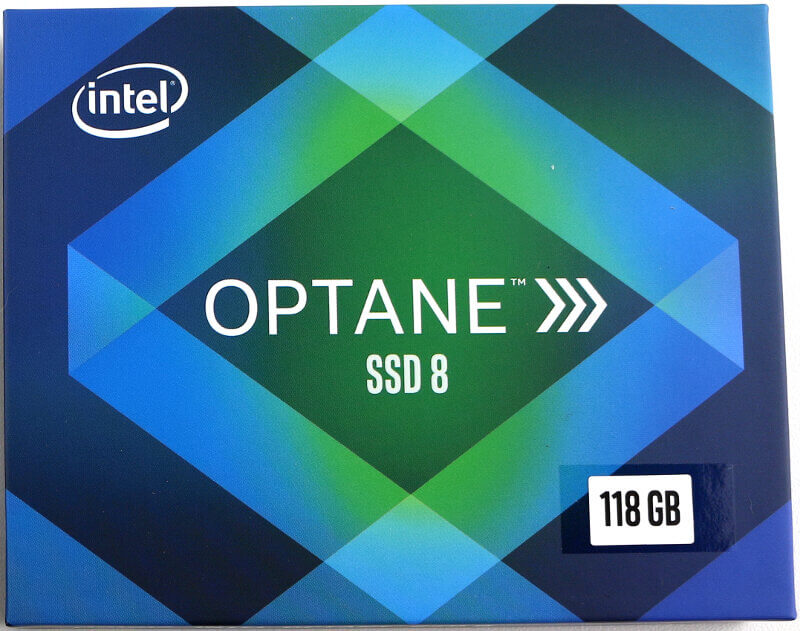 Turning the box over and we get a bit more information about the drive. The form factor and interface are both given as some of the first information, followed by the feature highlights. At the bottom, we also see the 5-year warranty.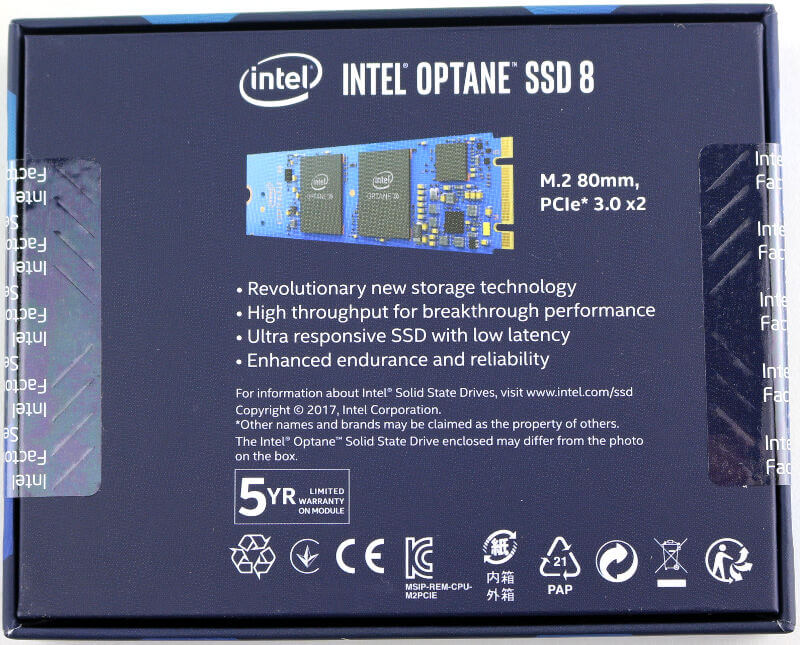 Inside the box is a small installation guide along with the drive itself.