Intel Optane SSD 800P 58GB M.2 PCIe SSD Review
---
---
---
Bohs Hansen / 5 years ago
Introduction
---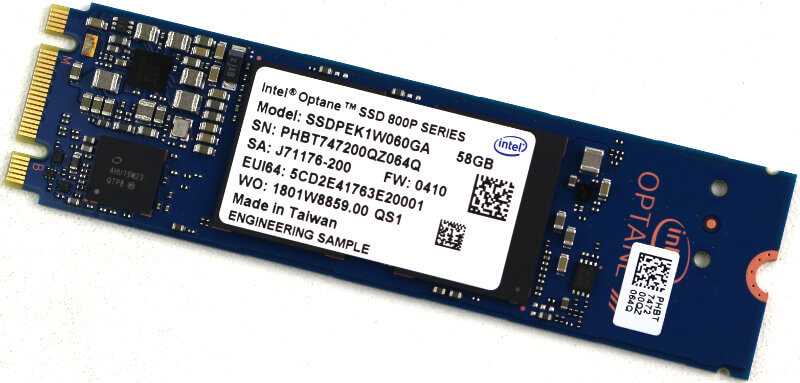 Intel is back with another drive based on their 3D XPoint NAND technology. We've previously seen the Optane caching module as well as the 900P PCIe add-in card for enthusiasts. Now, the company is ready with their first drive with this technology aimed purely at the ordinary consumer who wants that extra power where it counts, the Intel Optane SSD 800P. Today, I'm testing the smaller version with 58GB capacity, but there's also a 118GB version.
What is the difference to other SSDs?
As far as functionality goes, there is no difference between the new Intel Optane SSD 800P and any other SSD. You can install it within any system which supports M.2 PCIe-based drives as you would any other NVMe SSD. That means that you aren't limited to Z270 and newer systems such as it was the case for the Optane memory caching module.
The real difference lays within the NAND which is Intel's 3D XPoint NAND. It is the same type NAND as we've seen on the other Optane products and as such, there are high expectations to the performance of these new drives. This will be particularly visible in the latency where the Optane SSD shines.
Desktop and Mobile Usage
The new Intel Optane SSD 800P is designed for both the desktop and mobile system market. The previous drives were for the desktop market and didn't come with power saving features. The performance was key, and it still is. But Intel also added power saving features this time, allowing the drive to draw as little as 8mW when idle.
The single-sided design also makes it highly compatible with ultra-thin mobile systems such as ultrabooks while the 2280 form factor makes it compatible with the majority of systems. At that is no coincidence. These kinds of systems will benefit highly from this kind of drive which is why Intel made sure that it's an optimal companion.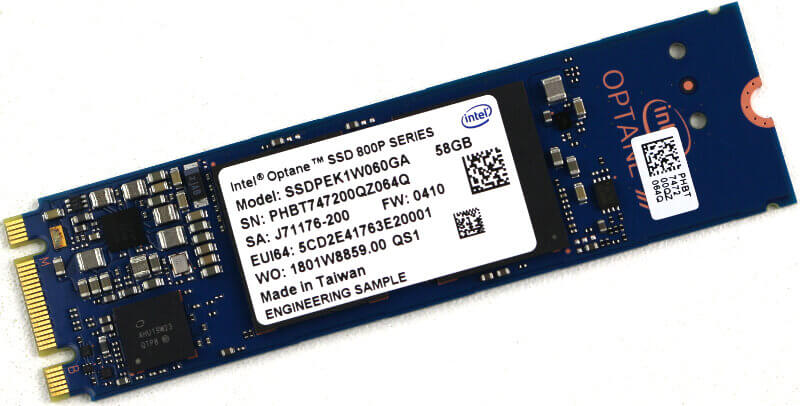 Performance and Endurance
So, I've talked a lot about how great these new Optane SSD 800P are so far, but I haven't mentioned any performance figures yet. It's time to change that and have a look at the official ratings. Starting with the sequential performance, we have a read speed of up to 1450MB/s and a write speed of up to 640MB/s at a queue depth of 4. Usually, when we talk performance, we have figures with higher queue depth, but we'll get into that part in a little bit. While sequential performance gives us a great point of reference, the 4KB random performance is what truly matters and what makes the difference in daily operations. Here, we get up to 250K IOPS when reading and 140K IOPS when writing. That's seriously impressive, especially considering the capacity.
While performance is important, so is endurance. After all, you don't want your drive to die on you before its obsolete and naturally replaced with something newer and better. Intel's 3D XPoint NAND is strong in this aspect too and we get an endurance of up to 365 TBW over a 5-year period. Now, that number is for the larger 118GB version, but even when halved, it's a lot. You'll have to completely fill and erase the drive over 3100 times to reach that number. And that's not counting caching algorithms etc.
The 5-year period for the endurance is also the warranty you get on the drives. Five years is a longer warranty then you'll find on most drives and certainly a lot more than the 2-year legal obligation (within the EU).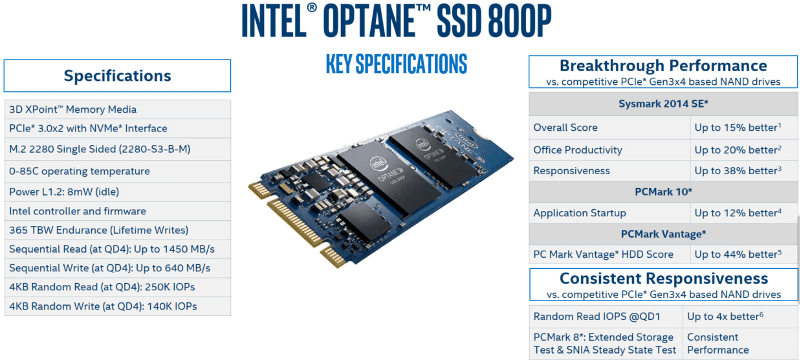 What's up with the lower queue depth ratings?
Testing a drive with higher queue depths allows for a more detailed view of what can be done with a drive, but it doesn't reflect real-world situations as much as lower queue depths do. You could compare it with an automobiles top speed; it says a lot about the power under the hood, but very few people will actually drive it at full speed. Especially not at all times. It is the same for a storage drive. Intel ran a lot of internal tests where they monitored their employees' workloads, with their permission, as well as analysed various common application and games to see what actually happens in the background. What they discovered was that it rarely went above a queue depth of 4, hence the ratings.

Internal Parts, Features, and Compatibility
The Optane drives are full Intel product, well the 3D XPoint NAND is developed together with Micron, but apart from that, it's a pure Intel drive. It's made up of the 3D XPoint NAND, Intel Interconnect IP, Intel controller, Intel software, and Intel firmware. With everything developed in-house, the compatibility between the parts should be as flawless as humanly possible.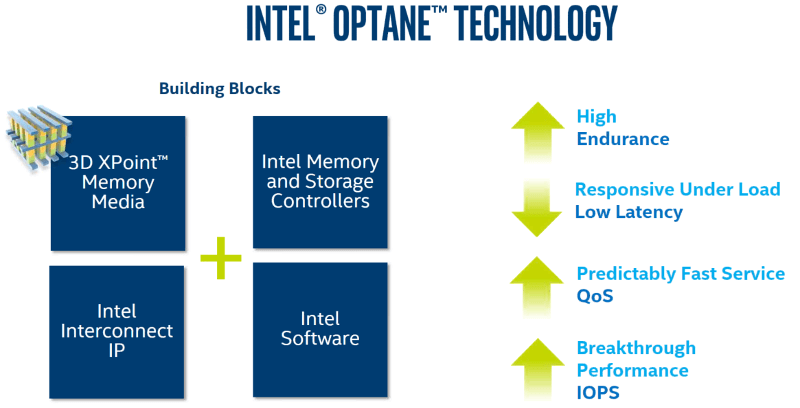 As mentioned earlier, there is no difference for the system running the Optane 800P when compared to any other NVMe PCIe-based SSD. Still, Intel wanted to make sure that it works as good as possible and for that, they worked closely with all major motherboard vendors. In fact, the drive is tested to be compatible with over 280 motherboards which are available now. It will no doubt work with more, but it's still a huge pile of validated support.
It's no problem to run the Optane 800P in RAID either. As a matter of fact, it does an amazing job in such a setup with over double scaling. The Optane SSD 800P supports RAID through the PCH as well as directly through the CPU, where supported.
Before we get to the testing, there's only really two things left to mention. The drive is a PCIe 3.0 x2 which might be a concern for some at the first glance. But it really isn't because it is plenty for the drive's capabilities.
The last thing to mention is the price point. While this review is written before the release and published at the same time as the drive will be announced, we only have the suggested retail price and not actual listings. For $129 USD you'll get this 58GB version while the larger 118GB will cost you $199. While that isn't budget, the performance certainly makes up for it. It's also a lot more affordable than the previously seen Optane SSD 900P.

Feature Highlights
Full Intel product from hardware to software
High compatibility
Performance-strengths where it really matters
Effective RAID scaling
Extra-low latency
Consistent performance
Package and Accessories
As you can see below, the package shown here is, in fact, that of the larger capacity version. While that is the case, it's the same box you'll get this 58GB version in. The only difference is the included drive and the capacity sticker. So I didn't feel anything wrong by showing this here.
The front features the Intel and Optane logos as well as the sticker with the included drive capacity.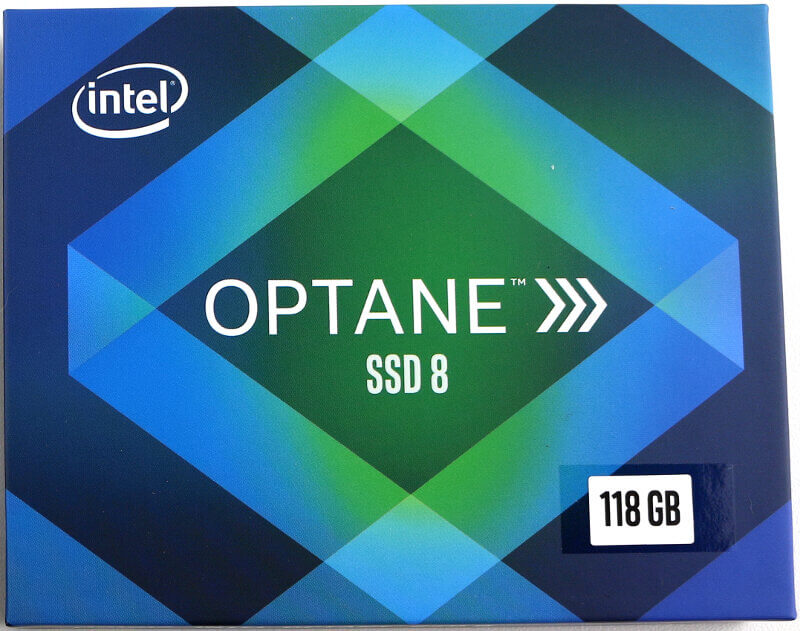 Turning the box over and we get a bit more information about the drive. The form factor and interface are both given as some of the first information, followed by the feature highlights. At the bottom, we also see the 5-year warranty.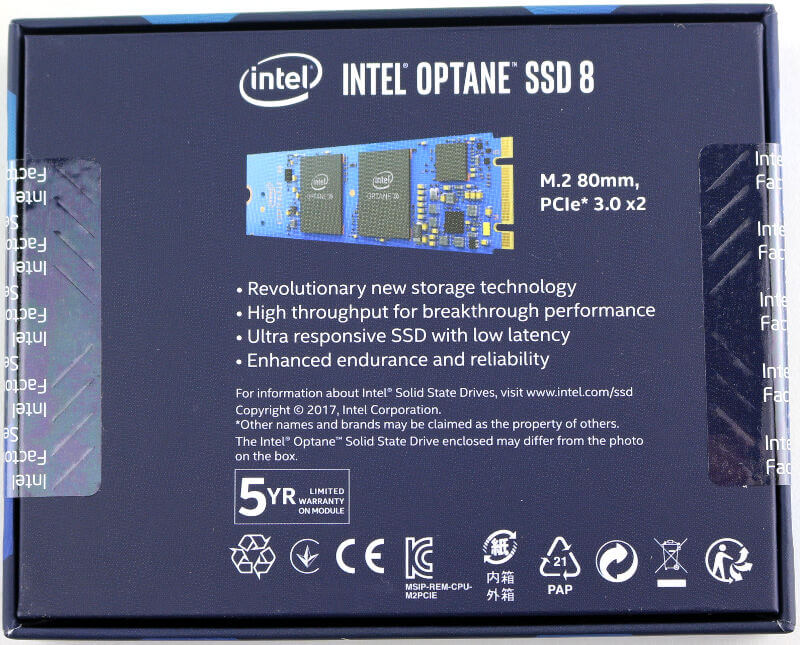 Inside the box is a small installation guide along with the drive itself.