Kartoffelkrieg – A Warhammer Type Game With Real Potatoes
---
---
---
Mike Sanders / 5 years ago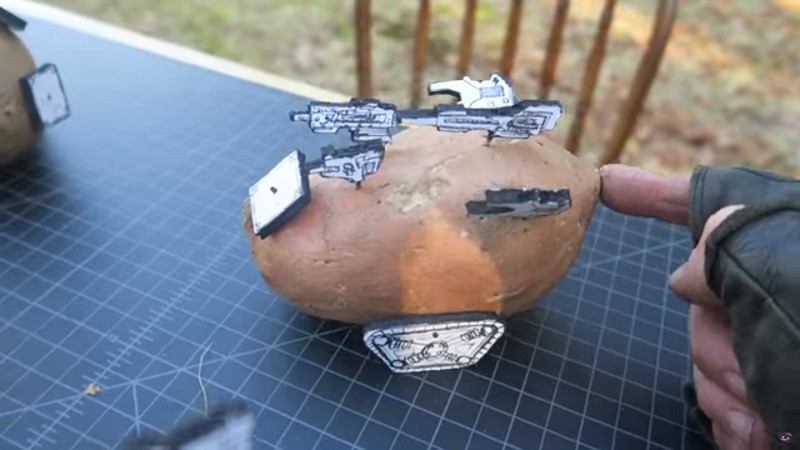 Kartoffelkrieg
I don't think it's an unfair thing to say that tabletop gaming miniatures are rather expensive. A decent 'army' in Warhammer 40,000k can easily set you back around £100-£200 and sometimes more for the big enthusiasts.
Therefore, what do you think about a boardgame where the only materials are some cutouts and potatoes? Yes, actual real physical potatoes.
Is it real?
Well, to be honest, I did wonder that myself for a while, but yes, I think this is a legitimate concept. What perhaps didn't help was the fact that in the video below has a sacks worth of bad jokes and also the host just happens to be Irish. A nation which is hardly disassociated with potatoes.
With plans to launch a Kickstarter of March 7th, it would appear that this is, while bizarre, an actual half-decent concept.
The idea of Kartoffelkrieg
You start with a potato, so far I hope that's not too complicated. You then draw random pieces from a bag and using those parts construct your battle potato. Players can then look to trade parts to make sure their war machine can move, shoot, or ideally both.
Following that, you have a 'character sheet', and 8-sided dice and you're ready to go. Similar to Warhammer games, there apparently will also be some incorporation of a line of sight and weapon ranges.
Kartoffelkrieg is not as crazy as it seems
While the idea of battling potatoes does sound a bit strange, don't forget that Mr. Potato Head started life as a toy with a 'supply your own potato' kit. All you got were all the pieces such as the mouth, nose, and eyes, you were expected to use a real potato to make your Mr. Potato Head.
For news and updates regarding this game, you can visit their official website here.
From small acorns do large oaks grow, or in this instance, potatoes?
What do you think? Is this idea a hot potato? Would you consider backing it? – Let us know in the comments!
Support eTeknix.com
By supporting eTeknix, you help us grow. And continue to bring you the latest news, reviews, and competitions. Follow us on Facebook and Twitter to keep up with the latest technology. Share your favourite articles, chat with the team and more. Also check out eTeknix YouTube, where you'll find our latest video reviews, event coverage and features in 4K!
Check out our Latest Video