MSI GTX 780 Lightning 3GB Graphics Card Review
---
---
---
Ryan Martin / 10 years ago
Introduction
---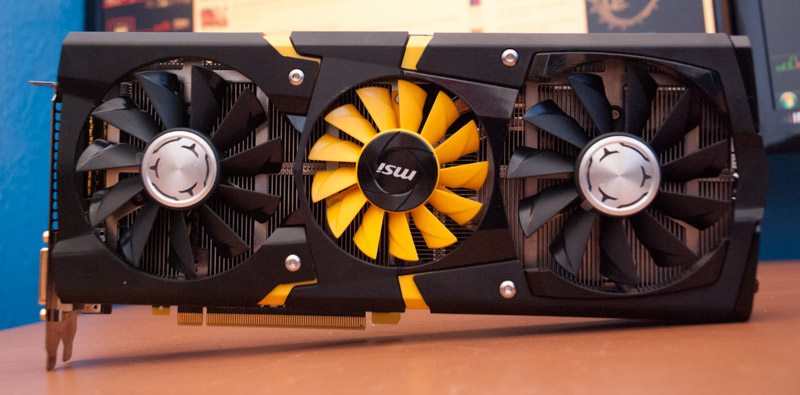 MSI's GTX 780 Lightning was a graphics card that was hotly anticipated by the graphics card enthusiasts of a green persuasion. Announced about 3 months ago the MSI GTX 780 Lighting is a feature packed Nvidia graphics card with seven 8mm heat pipes, three fans and a mammoth heatsink. Two of the fans are 90mm while the middle one is 80mm. The MSI GTX 780 Lighting comes with a pretty nice out the box clock speed of 980/1033MHz core/boost and is much faster than the stock GTX 780 which has speeds of 863/900MHz core/boost. Sadly the memory doesn't get any special treatment and comes with the stock amount at the stock speed of 6GHz. MSI have made some very high-end adjustments to the power delivery system removing Nvidia restrictions, adding a 16 phase VRM and providing an independent memory power source. MSI have also equipped their "GPU reactor" on the rear of the card to provide additional filtering for the power input which should increase stability when overclocking.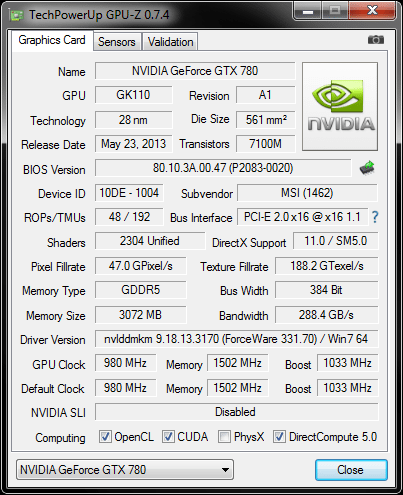 A second BIOS is provided too to allow you to go forth and overclock until your heart's content. If you stuff things up then you always have the original BIOS to fall back onto to fix the second one. As always we've got the usual marketing bonanza about the quality of the components – Military Class 4 is the short version. The longer versions is that it satisfies Military Standard 810G, has DrMOS 4, a double-sided CopperMOS thermal, Tantalum Hi-C Cap cores, polished surface Super Ferrite Chokes (SFCs) and corrosion proof Dark Solid CAPs. For the extreme overclocker there is the ability to measure GPU, memory and MOSFET temperatures as well as adjust GPU, memory and PLL voltages. Three V-Check point cables are provided to allow for a multi-meter connection to the card for more accurate voltage monitoring.
To top everything off MSI provide their own exclusive VGA fan control software designed only for this graphics card. It gives you the ability to control each of the fans independently or allow it to be controlled automatically by PWM controls as each fan has its own PWM connection.
MSI's packaging bares the slogan "built to be perfect", talk about blowing your own trumpet! All we can say is the bar is set high so let us hope it delivers.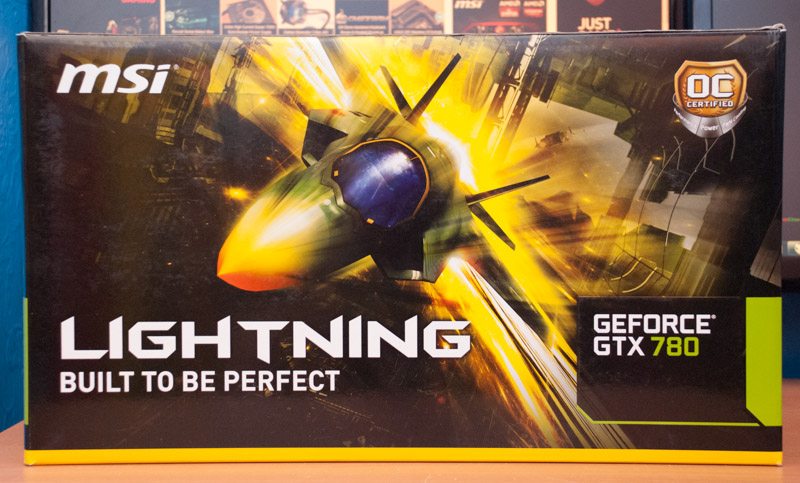 The back details the key features more, of course its a bit small to read so for the full details you can check the product page on the MSI website.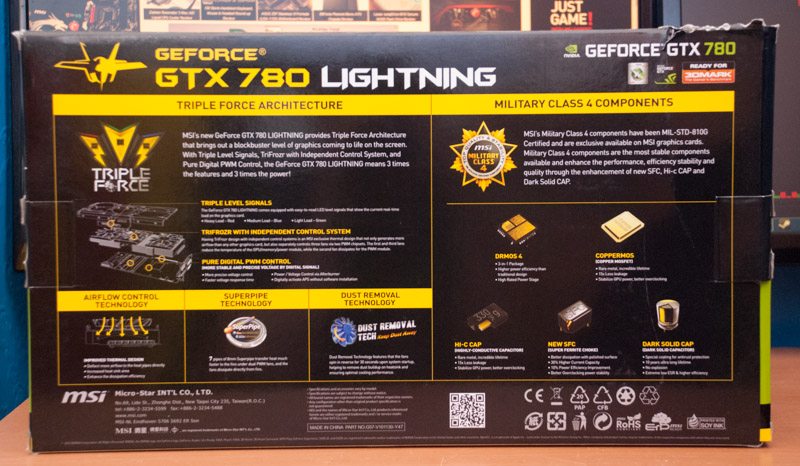 Inside the box there is an elaborate accessory draw in which is a black SLI bridge, DVI to VGA adapter (why oh why), a set of screws, a MOS heatsink with thermal pads, three V-Check point cables, a quick user's guide, certificate of qualtiy & stability and a driver CD.