MSI Vortex G65VR 6RE GTX 1070 SLI Gaming PC Review
---
---
---
John Williamson / 6 years ago
Introduction
---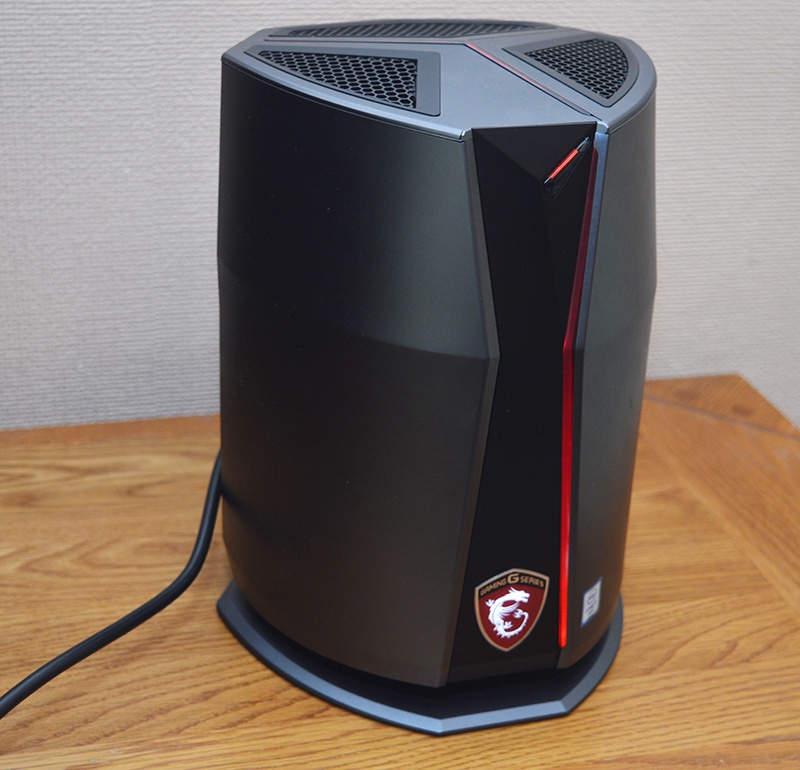 The typical PC form factor has progressively evolved over time due to the advent of die shrinks and other efficiency savings which make compact systems a viable purchase. Unless you're opting for a build with multiple graphics cards, it's possible to construct an extremely powerful machine in a sleek and slimline chassis. Saying that, full tower cases provide better airflow due to the larger surface area and tiny ITX cube cases tend to be reserved for low-end HTPC usage scenarios. Despite the higher thermal loads, consumers appear to be embracing smaller hardware and enjoy the concept of downsizing their PC. This market trend has inspired manufacturers to draft innovative, interesting designs which could potentially change the way we perceive systems with exceptional gaming credentials.
During CES this year, MSI unveiled the Vortex which employs a really unusual cylindrical shape and embedded RGB lighting. The original model accommodated either two GTX 960 or GTX 980 MXM cards in an SLI configuration and a remarkable cooling solution given the space constraints. Honestly, I was astounded by MSI's ingenuity and if you'd like to learn more, please remember to visit the Vortex G65 6QF's review. Since the original unit's release, NVIDIA has revolutionised the notion of mobile graphics solutions and narrowed the gap between discrete versions and MXM boards. Subsequently, Pascal systems are able to offer monumental performance improvements while being highly efficient thanks to the 16nm FinFET manufacturing process. Of course, NVIDIA's architecture doesn't solve the issues in certain games with lacklustre SLI support and this can be perceived as a flaw of the Vortex.
Despite this concern, the Vortex remains an attractive package, especially when opting for the G65VR 6RE's revised specification. This creation utilises an Intel Core i7-6700K at the stock frequency, 32GB Kingston dual-channel DDR4 2133MHz RAM and a 256GB NVMe RAID array capable of miraculous read/write rates. On another note, the system has a 1TB secondary hard drive, two GTX 1070 cards running in SLI and a 450W gold rated power supply. The package also comes with a huge range of software and supports Thunderbolt 3. Currently, the MSI Vortex G65VR 6RE has a recommended retail price of £2499 which means its appeal is undeniably niche. Saying that, I welcome the idea of choice and giving consumers the option to select something truly different.
Specifications
Name: MSI Vortex G65VR 6RE
Processor: Intel Core i7-6700K up to 4.0GHz (Sport Mode)
Processor Cooler: MSI Storm Cooling system
System Memory: Kingston 32GB quad-channel DDR4 2400MHz
Main Boot Drive: Kingston 128GB x 2 NVMe (256GB) RAID
Additional Storage Drive(s): 1TB 7200RPM
Graphics card: NVIDIA GeForce GTX 1070 with 8GB GDDR5 SLI (MXM)
Power Supply: Embedded 450W 80 Plus Gold Certification PSU
Peripherals: N/A
Monitor: N/A
Optical Drive: N/A
Wireless: Killer Wireless 1535
OS: Windows 10 Home
Weight: 4KG
Dimensions: 202.5 mm x 191.7 mm x 278.0 mm (WxDxH)
Warranty: 2-years
Price: £2499.99
Packaging and Accessories
The MSI Vortex G65VR 6RE arrives in a compact, square-shaped box which is based on a stylish yet minimalistic approach. On the front section, there's a gorgeous snapshot of the system in action and some small details about its suitability in VR scenarios. Additionally, the handle and relatively lightweight construction mean it's portable enough to carry to a LAN event or something similar.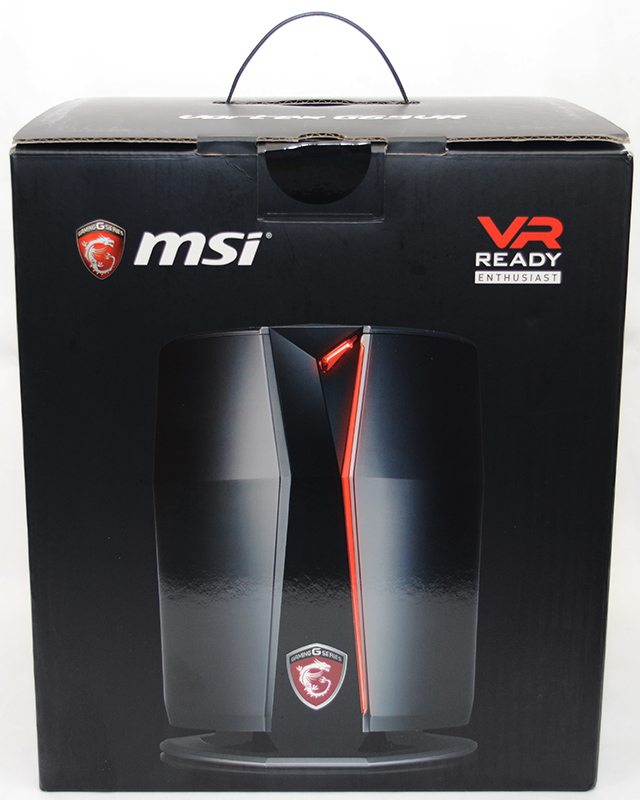 Turning the package to one side reveals a huge array of information spanning from the system's graphics setup all the way to the Killer DoubleShot-X3 Pro networking hardware. As you can see, key features are presented in a slick manner and the text is easy-to-understand even if you're not technically minded. Also, the tagline, "size of a console, power of a PC" is very striking and clearly outlines what the product is trying to achieve.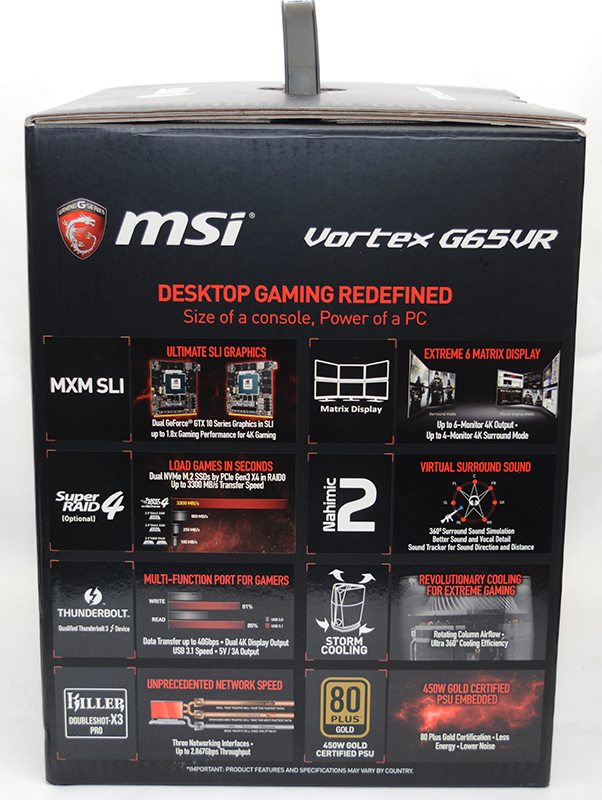 The back portion contains another bold image of the system and proudly displays MSI's quintessential Gaming Dragon logo. Additionally, the packaging allows the end-user to inspect the integrated connectors including USB 3.0, HDMI 2.0 and mini-DisplayPort.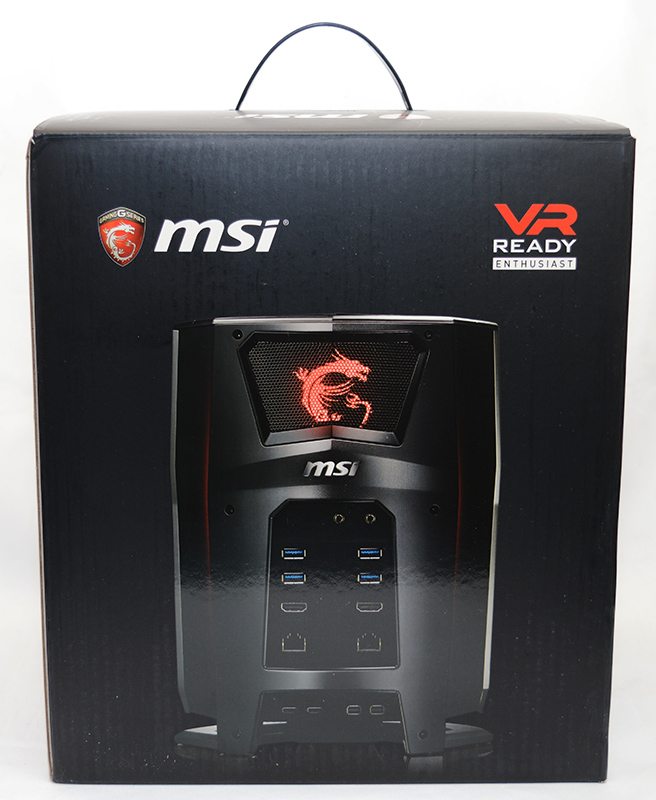 MSI have deployed two soft foam inserts which are surprisingly thick and protect the system extraordinarily well. This is due to the foam being rather sturdy and effectively holding the product in a stable position. Honestly, I highly doubt you'll encounter any reliability issues during transit and applaud MSI's attention-to-detail when it comes to cushioning the system properly. From this image, we can see that a protective cover surrounds the system to reduce the probability of cosmetic marks occurring.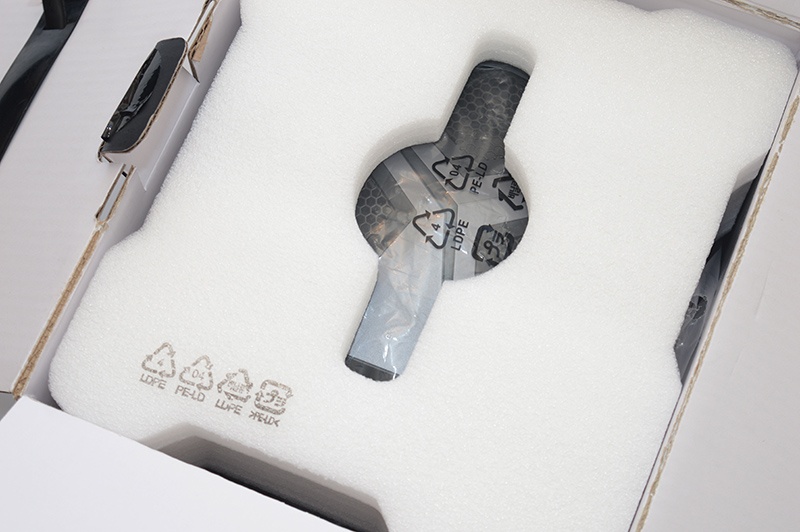 In terms of accessories, the system is bundled with a limited warranty card, user's guide, Hot Key F3 Windows 7 instructions, CE compliance booklet, warranty service book, competition notice and UK power cord.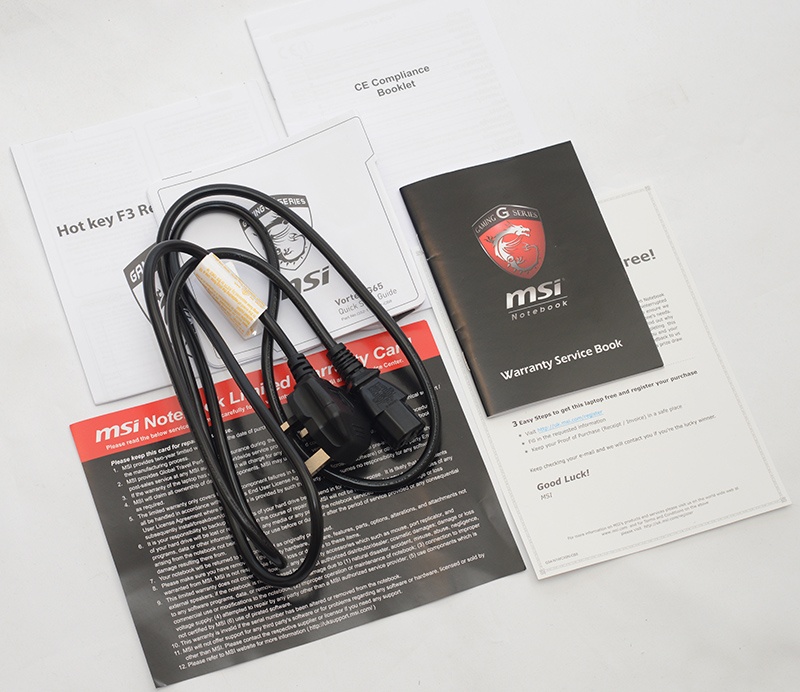 CPU-Z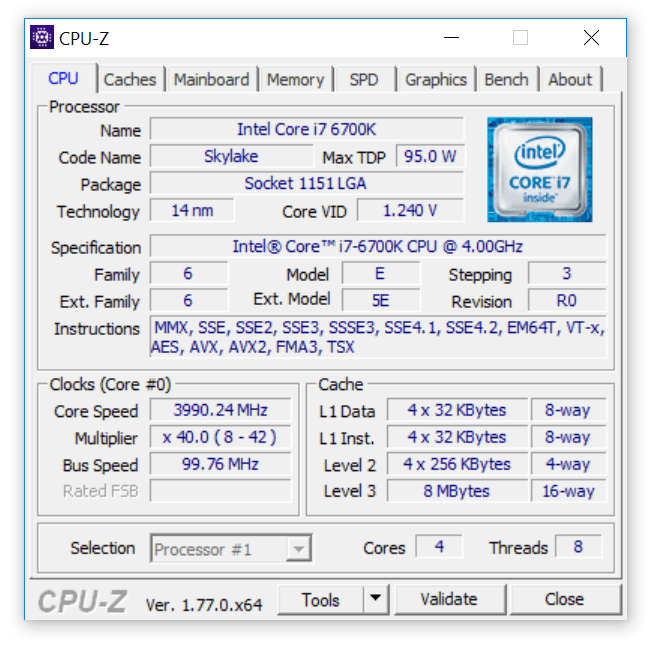 GPU-Z