Weather Satellite Picks Up Massive Swarm of Butterflies
---
---
---
Mike Sanders / 4 years ago

Weather Station Left Scratching Their Heads!
Weather satellites can be very useful. If for no other reason than detecting the weather, they can help us determine what is happening and what is on the way. They have, however, been more of an instrument of confusion and panic as a massive image appeared which made no sense to the meteorologists.
People who work with weather satellites clearly understand that occasional, large bodies can appear on the screen. This is most commonly seen with birds, particularly during migratory season. However, what appeared on their radar had them completely stumped reports Metro.
The 'cloud' was initially thought to be birds, however, their lack of movement (southward) did not make any sense. It ended up being revealed to be a massive swarm of butterflies.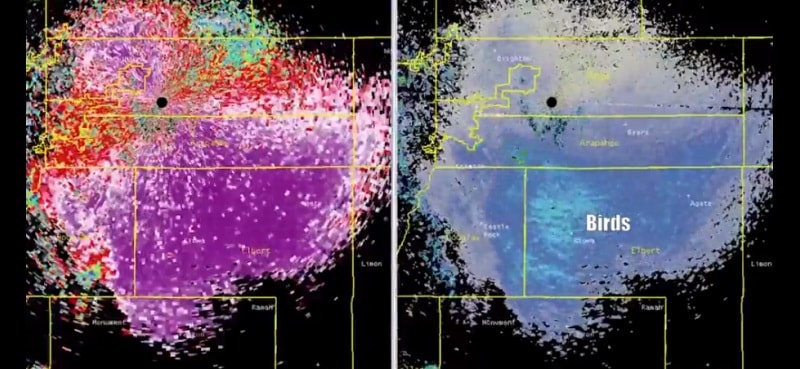 Just how big was this swarm?
As can be seen in the images above, the weather station in Colorado was well accustomed to seeing birds. The pattern, when compared to the butterflies is clearly very similar.
Even the colors themselves are unusual and I should note, have not been added for effect. As you can see the birds are reasonable uniform yet the butterflies are a range of colors. This beautiful pattern is solely due to the movement and pattern of the butterflies.
This isn't the first time a butterfly swarm has been recorded by a weather satellite. It is, however, certainly one of the most unique images recorded.
The swam was found to contain millions of Painted Lady Butterflies and was recorded at nearly 70 miles wide. There is, at present, no sign of Mothra, but Godzilla is on standby just in case. Hopefully, Japan has control of its X-Ray satellites by that point.
While some will find this amazing, others will find this deeply disturbing! What do you think? Let us know in the comments!