Noctua NH-D15 D-Type Premium CPU Cooler Review
---
---
---
Peter Donnell / 9 years ago
Introduction
---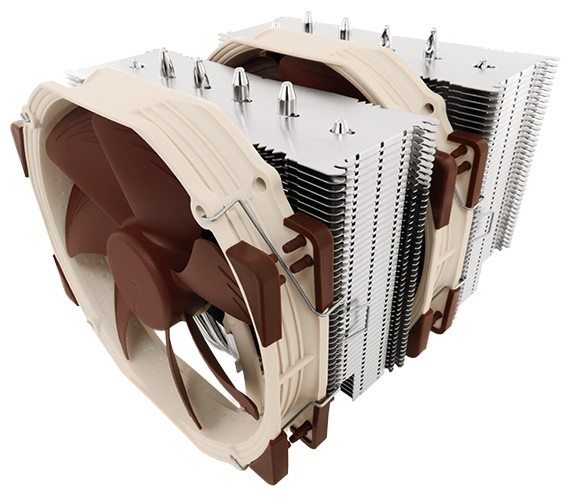 Noctua are one of the best CPU cooler manufacturers around, their CPU coolers have pushed air cooling to new highs over the last few years and most importantly, their NH-D14 was and still is one of the best on the market. The rule generally goes that if something isn't broken, it doesn't need fixing, but the NH-D14 is getting a little older now and the competition from companies like be quiet! and Thermaltake (to name but a few) means that Noctua have to do something to stay relevant. The NH-D15 is based on the NH-D14 design, but brings with a it a few tweaks and improvements that Noctua hope will help them compete with many of the newer rival products.
Noctua are a premium brand, and as a consequence, their products are often quite expensive. Price around £75 the NH-D15 costs about the same as most mid range AIO water coolers, many of which offer some pretty incredible performance figures in terms of CPU cooling and overall acoustic performance, so there is no doubt in my mind that the NH-D15 has got its work cut out. That being said, there may be a lot of benefits to water cooling, but the same is true of air cooling, not forgetting that fact that there are still those loyal to air cooling, or that are too afraid to dabble with liquid cooling. On top of all that, not all chassis have room for a radiator, so it will be very interesting indeed to see how the NH-D15 stacks up against its air and water cooled rivals, especially within such a premium price bracket.
All major socket types are supported, the only tricky part being that this cooler is pretty large, clocking in at 165mm tall with the fans mounted and a weight of up to 1320g should you have all the fans installed, so you best check your chassis has clearance or you may not get your side panel back in place.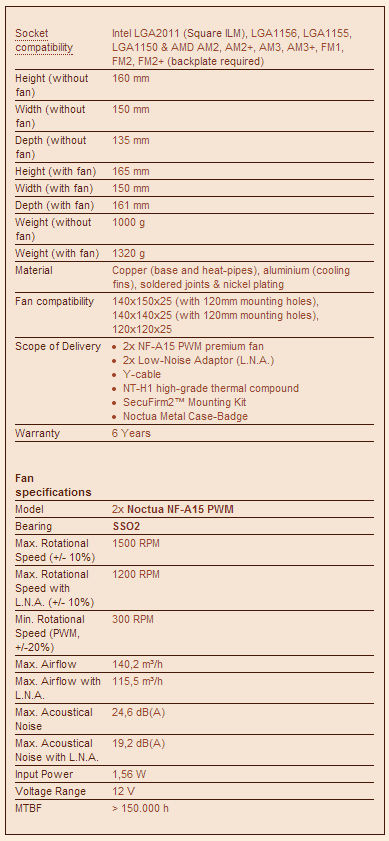 The packaging is nicely design and features a quick run down of the major features on the front, as well as the full technical specifications down the right side (see above)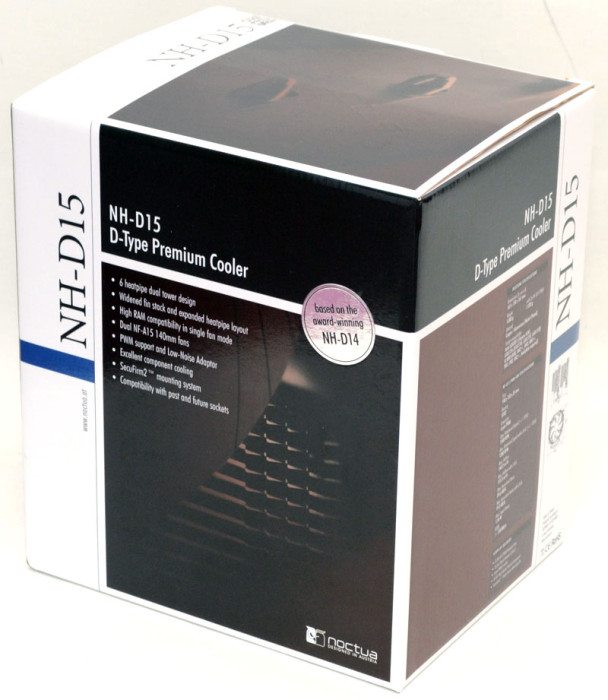 In the box you'll find even more boxes, as every component is neatly packaged and protected.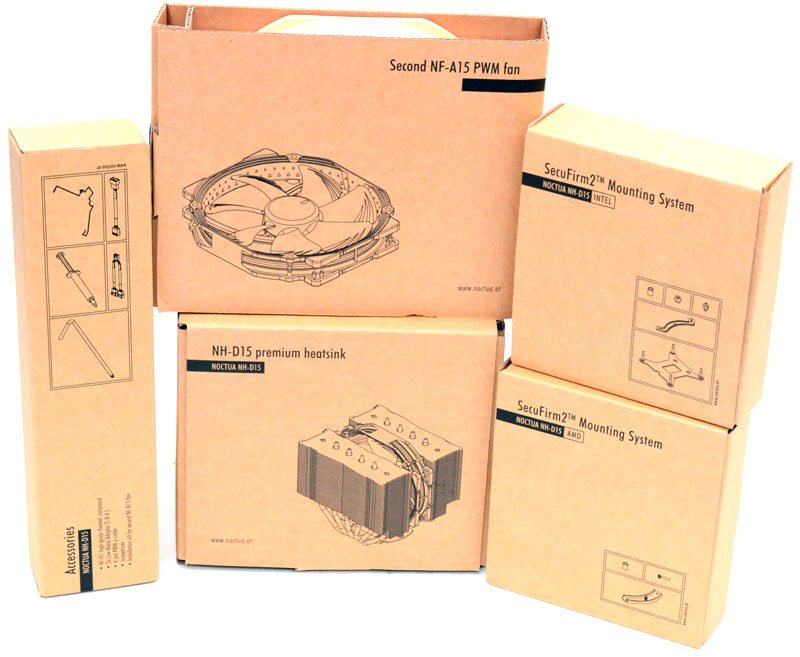 In the Intel mounting box you'll find a back plate with screws pre-fitted, two support bars, some spacers, screws and bolts, as well as a pair of easy to follow installation guides.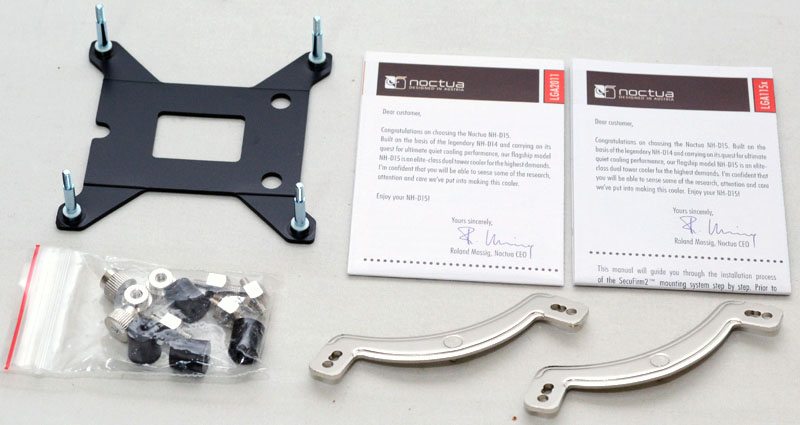 The AMD box contains a few screws and two support bars.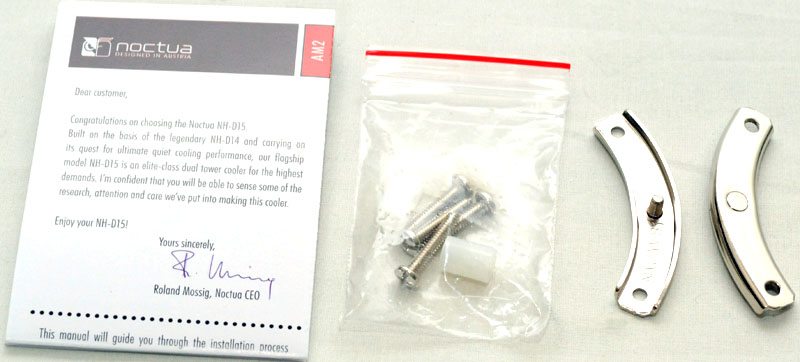 The main components box has some high quality thermal grease, rubber fan mounting pegs, four fan mounting screws, a Y-split fan cable, two low speed fan power adaptor cables, two fan mounting clips, a Noctua chassis sticker and finally an L shaped screw driver.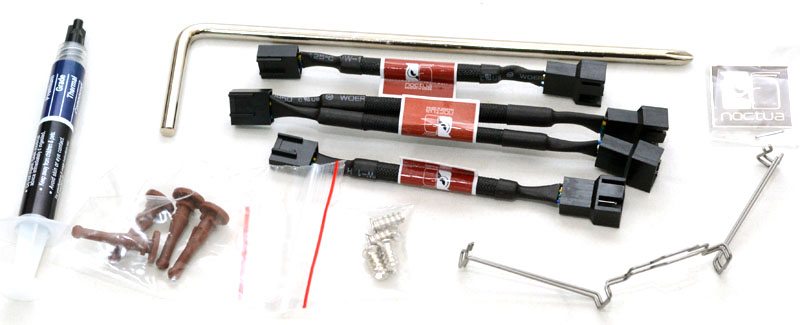 The both of the included fans are typical Noctua, with their unique blend of brown and cream colours. Both fans measure 140mm and features rubber and vibration mounts and a 4-pin PWM braided cable.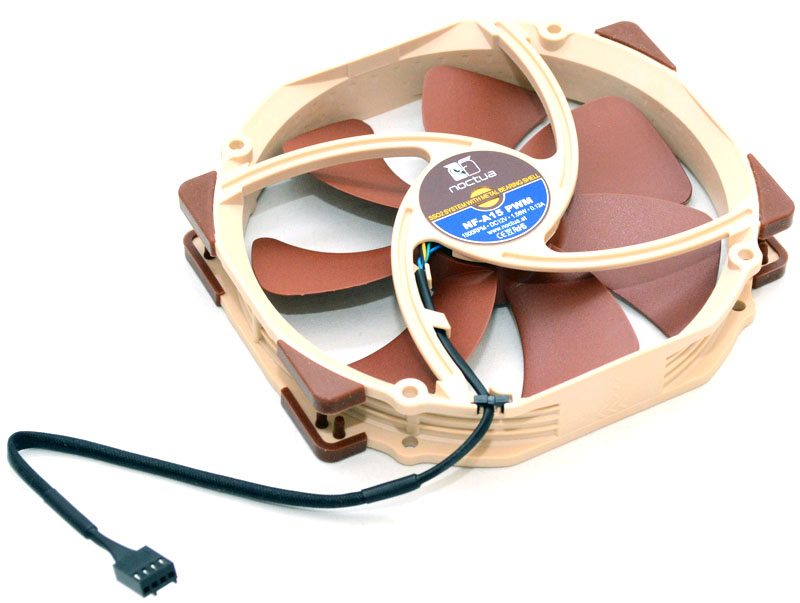 I can't say I'm a fan (no pun intended) of this colour scheme, but perhaps Noctua will release a revised edition that includes their new black and grey fans.