Noontec TerraMaster D4-310 4-Bay USB Type-C DAS Review
---
---
---
Bohs Hansen / 6 years ago
Introduction
---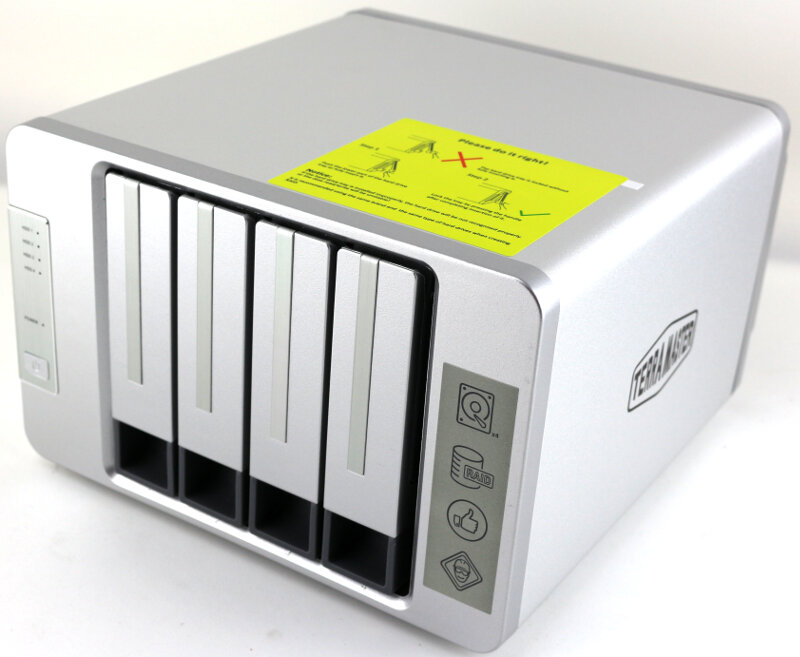 I have had a close look at a lot of storage devices of various types here at eTeknix, but there have been few DAS units between them. Today I'm taking the Noontec TerraMaster D4-310 4-bay Direct Attached Storage unit for a spin in the testing area and a closer look at the details.
The difference between a NAS and a DAS is that the NAS is connected through your Network while the DAS is connected directly to a single system. There are a variety of connection options for DAS units, and the TerraMaster D4-310 features USB as its connection option. This DAS connects through a USB Type-C port on the unit to a Type-A port on your host system. While it does use a Type-C port, it isn't a USB 3.1 unit yet – it's only USB 3.0. Still, that should be plenty for the intended usage area and installed drives.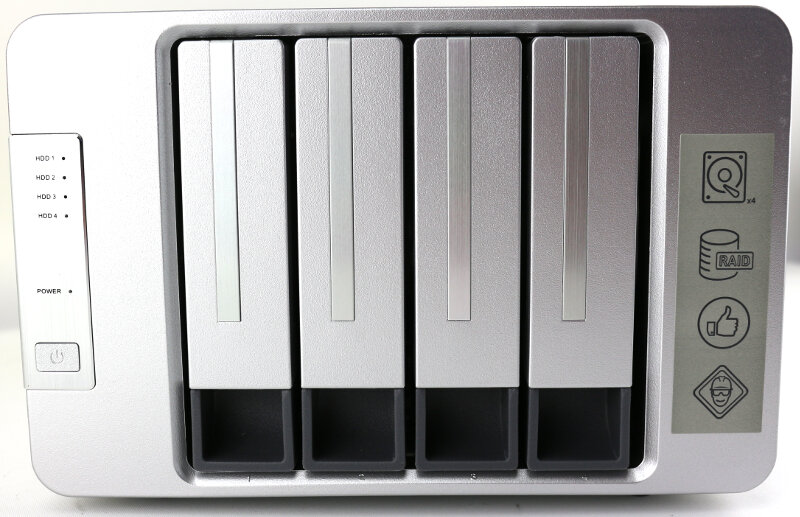 The enclosure itself is crafted out of aluminium which looks great and also helps the unit to stay cool. When the passive cooling from the enclosure isn't enough, then it has two low-noise fans that will help with the cooling.
With four drive bays in the D4-310, we can have up to 32TB storage capacity in a blazing fast setup. Very few NAS units and network setups can compete with this kind of speeds. While the performance naturally depends on the type of drives used, the D4-310 can perform with over 400MB/s. That kind of storage capacity and speed makes it perfect for designers, graphic editors, photographers, and other people that edit, copy, and move a lot of large files on a regular basis.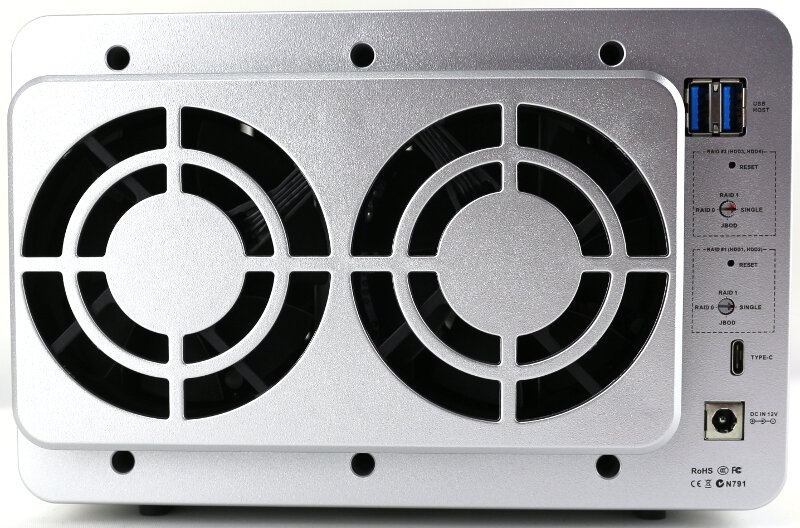 While the TerraMaster D4-310 has four drive bays, it doesn't offer RAID 5 and RAID 6 setups. Instead, it groups the drives into two groups of two drives that each have RAID 0, RAID 1, JBOD, or Single drive modes available. That also means that you theoretically could set a soft RAID 10 from two hardware RAID 1 arrays, but I couldn't get that to work in Windows.
Compatibility isn't an issue either. The D4-310 comes with full support for both Windows and Mac OS controlled systems. The Type-A connector on the cable also makes sure that it will be compatible with the widest array of devices. Should you have a newer system that comes with USB Type-C on its own, then you could invest in an aftermarket Type-C to Type-C cable.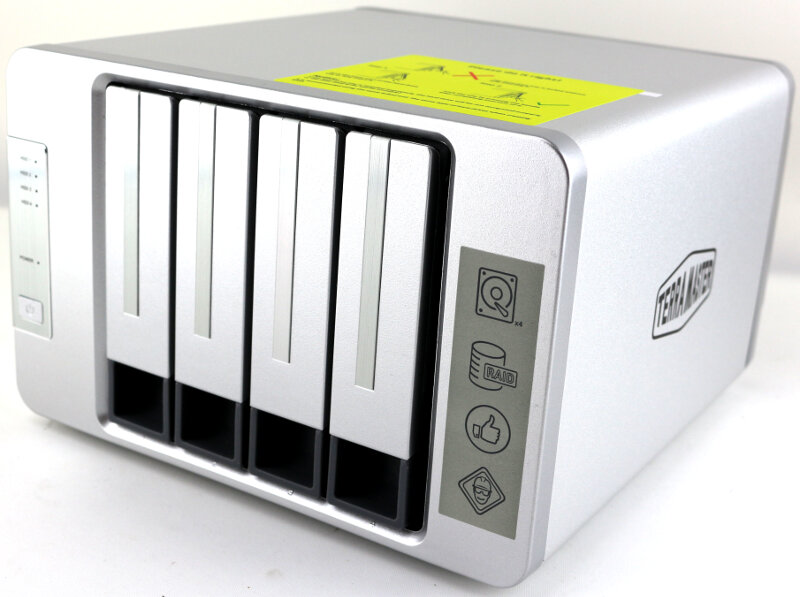 A storage capacity of 32TB is a lot, but it might not be enough. Running low on USB ports on the host system can also be a problem when you use DAS units. But neither is an issue for the D4-310 that also features two USB 3.0 host ports. Those allow you to connect and daisy chain other storage units, flash drives, enclosures, cameras and other USB-based devices.
Feature Highlights
Supports two sets of RAID
Transfer speeds above 400MB/s possible
Aluminium enclosure and low-noise fans
USB Type-C interface
Up to 32TB raw capacity
SSD, HDD, and SSHD compatible
Packaging and Accessories
The packaging is very similar to the one that we saw on the recently tested NAS unit of theirs. A simple blue box that doesn't reveal much on its own.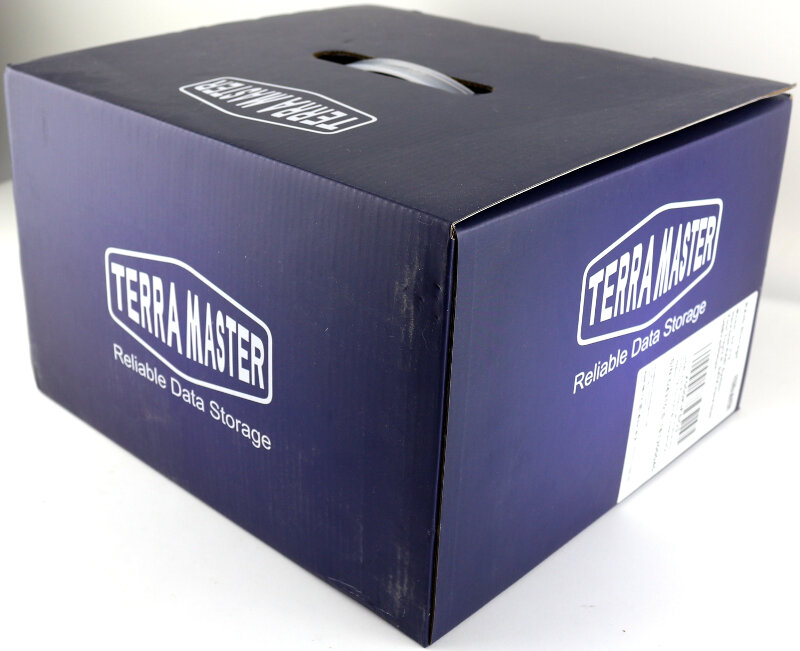 On the side is a small sticker that tells you what's inside the box and its basic specifications along with the serial.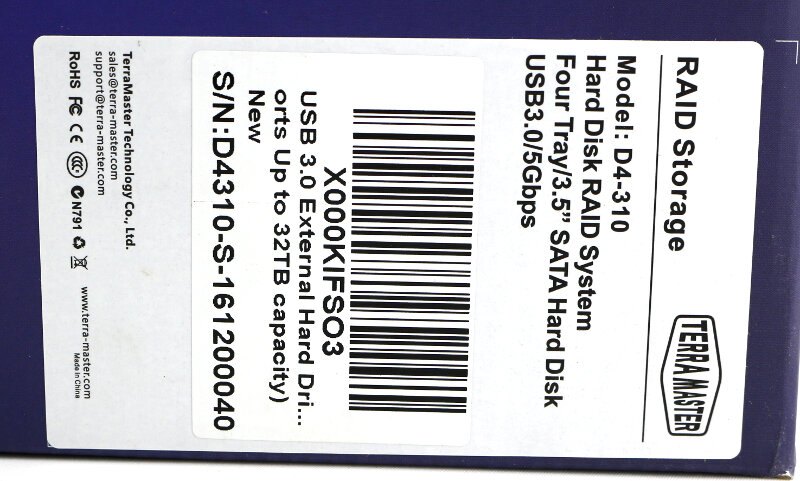 Inside is the NAS itself as well as a bunch of accessories. Noontec's attention to details shows here too with all items being neatly wrapped up in individual bags, each sealed with a TerraMaster sticker.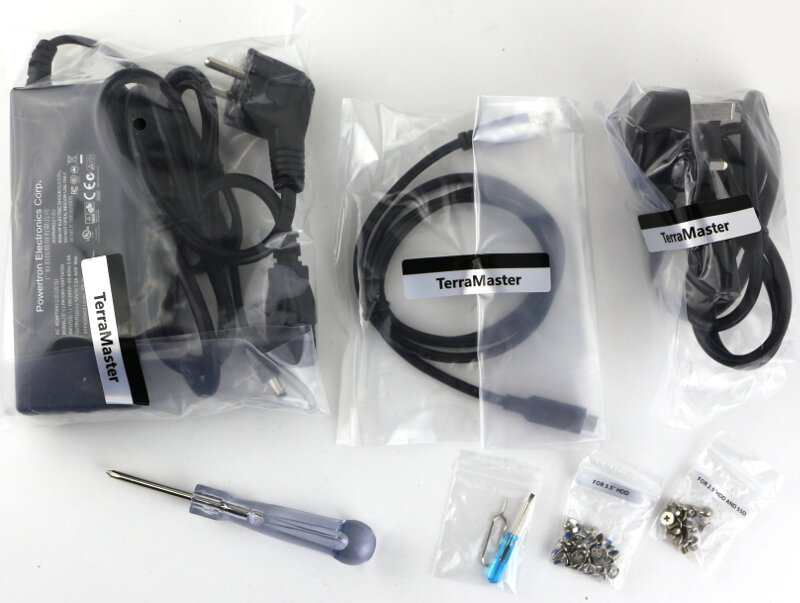 There is a power supply brick along with two connection cables, a UK and an EU plug. Whether that is because of this being a review sample is unknown, but there will at the very least be the appropriate cable for the region you purchased it in.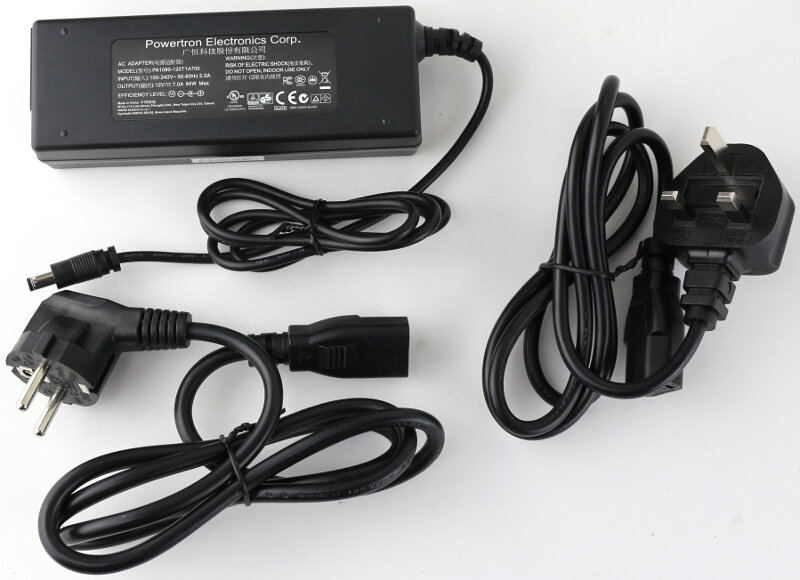 There are screws for five 3.5-inch and five 2.5-inch drives even though this unit only is a 4-bay unit. That's great as its good to have some spare in case you drop one or two. There's also a screwdriver for these screws included, so you don't have to have any tools on your own to get the D4-310 up and running. The tiny screwdriver and pin pusher are for the RAID selection on the unit.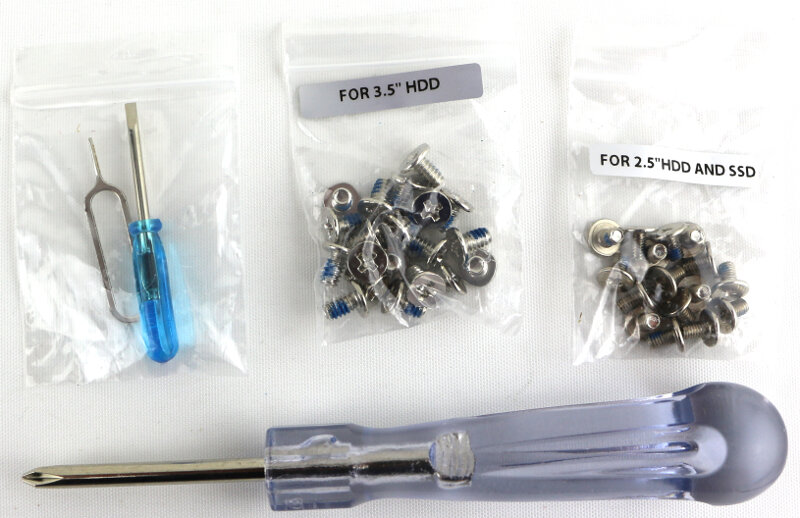 There's also the obligatory limited warranty along with a link to the quick installation guide of the unit. The guide includes everything from the physical setup to the drive assignment in your operating system.