Nvidia Cancels the 4080 12GB – What Future Does This GPU Now Have?
---
---
---
Mike Sanders / 2 months ago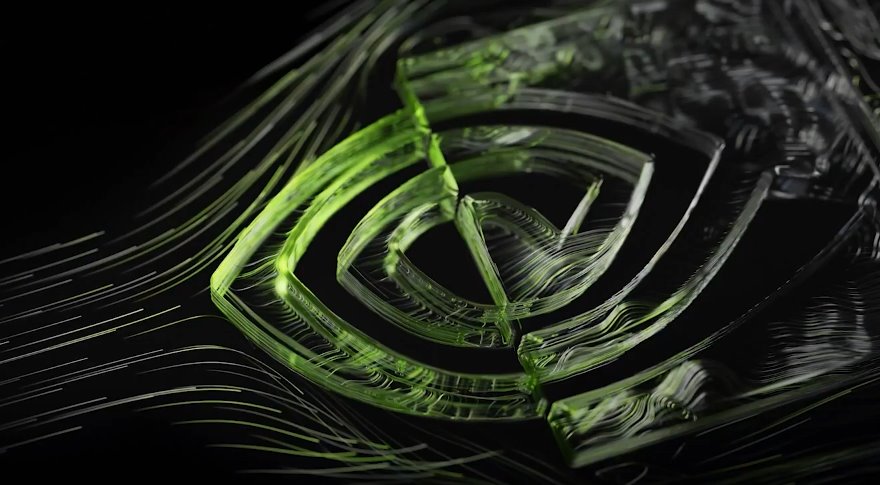 Nvidia recently confirmed that they could be officially cancelling ("unlaunching" to use their own words) its GeForce RTX 4080 12GB graphics card which was set to release in just around a month's time. – Citing that it was 'not named right', I have to start this by admitting that I took more than a little amusement in the fact that Nvidia has attempted here to make it appear that the 4080 12GB being misbranded was a realisation they came to on their own volition. You know, with it apparently having absolutely nothing to do with the fact that pretty much the entire tech world called them out on this point.
The key issue, of course, is that while it's entirely viable and permissible to have two GPUs falling under the same branding with differing VRAM variants, it's another point entirely when, with the 4080 specifically, Nvidia attempted to make it appear that the only key difference between the two (on the surface) was the amount of VRAM. And with the 16GB featuring vastly superior specifications, that clearly wasn't the case.
It ultimately led many to conclude, including me, that the 4080 12GB was really a 4080 at all. Why would Nvidia choose to call it a 4080 though? Well, almost certainly due to the fact that with it apparently sitting in a higher tier, they could warrant charging a notably higher price for it!
With Nvidia deciding to backtrack on this decision, however, what is the future of the GPU formerly known as the 4080 12GB?
The GPU Formally Known as the Nvidia GeForce RTX 4080 12GB
Nvidia entirely failed to convince anyone that the 4080 12GB was truly a 4080 graphics card and you only have to look at the specifications (chart below) to easily see that the 16GB and 12GB variants were not even remotely similar to each other (despite sharing the same branding). – Overall, it is hard to escape the conclusion that Nvidia only chose to call the 12GB version a 4080 to warrant adding another $150-$200 onto its MSRP.
With it now being cancelled though, what the hell are they going to do with it now? They've already concluded that it can't be called a 4080, so presuming they choose to keep the GPU specifications, the reality is that this will likely end up being the 4070 or 4070 Ti.
Here, however, Nvidia may have painted itself into a corner.
With Nvidia already confirming an MSRP of $899 for the 4080 12GB GPU, this is undoubtedly a price which surely can not be held at the 4070 or even 4070 Ti level just on a branding/prestige ethos alone. – Even worse though, if Nvidia does choose to keep the specs but lowers its price to fall more in line with their 4070 tier, then it'll only highlight just how much they tried to con people by calling it a 4080 in the first place!
Anyway, you look at this, presuming Nvidia does plan to keep this SKU alive, I can't see how they can bring it to the market without pissing someone off. Speaking of which…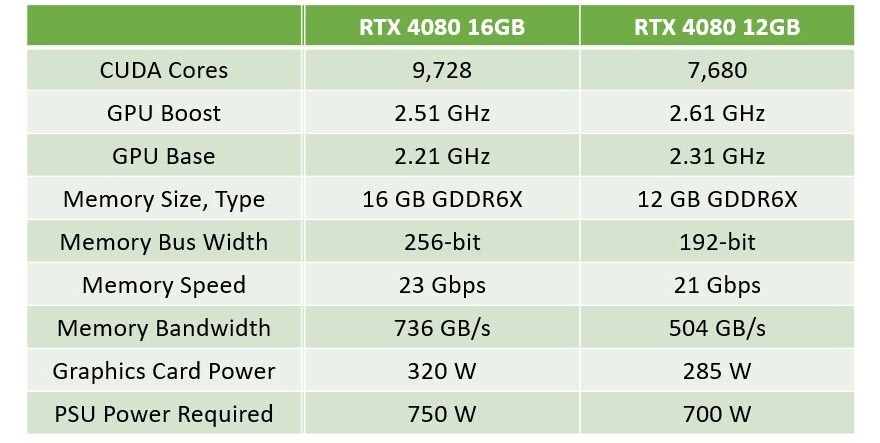 Spare A Thought Too for AIB Partners!
We should note that consumers are not the only people reeling from this decision. Spare some thought for AIB partners who almost certainly have production of custom 4080 12GB graphics cards in place, and likely also the packaging too.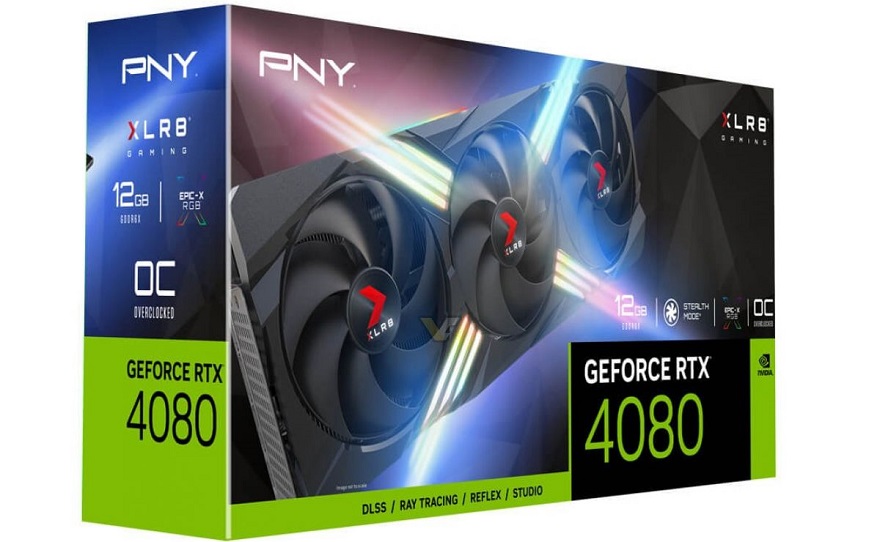 Oh sure, a quick jig of the VGA BIOS can easily change its displayed name to something like a 4070 or 4070 Ti, but that's not exactly going to help them in terms of any branding actually on the GPU itself, and not to mention the boxwork and packaging which has already undoubtedly been printed and assembled in preparation for its formerly intended release next month.
Will Nvidia compensate them for this decision? We doubt it. And suddenly EVGA deciding to abandon Nvidia's ship possibly makes a lot more sense!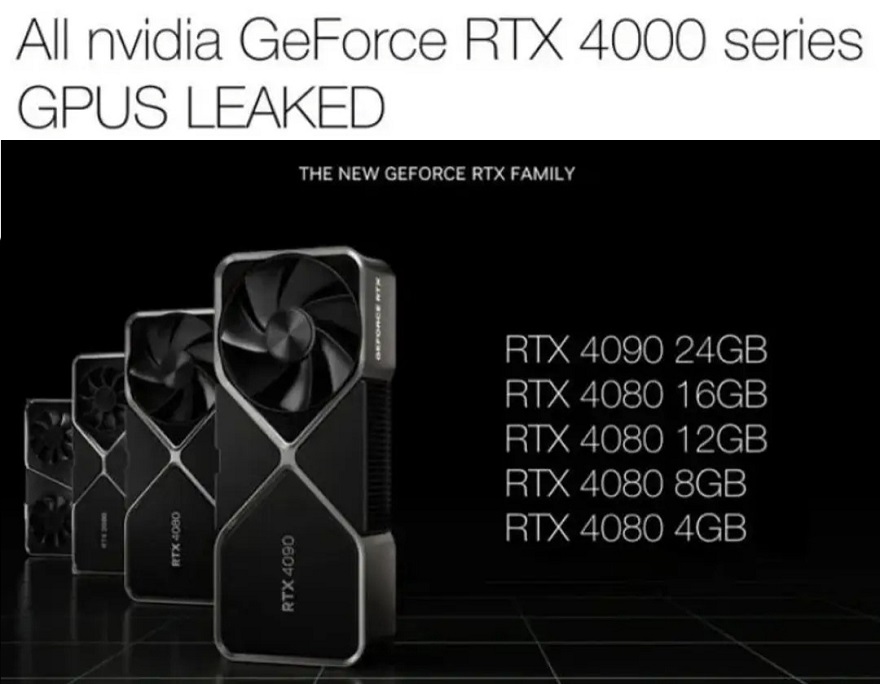 What Happens Next?
The decision has already led to the community coming up with a number of memes. A pretty good one can be seen above where it's suggested that Nvidia will just call everything in the 40XX line-up a 4080 just so that they can charge more for it.
For the moment though, I expect this GPU to be 're-launched' in about 2-3 months' time as the 4070 Ti. As for how much Nvidia will charge for it though, well, I still suspect they're going to hold the $899 price tag, but at this point, I can't see any good way out of this situation for them.
Nvidia was already struggling with getting good faith from consumers. Particularly so following their active interest in prioritising cryptocurrency miners over consumers. This latest blunder though undoubtedly isn't going to help that situation and unless they just hold up their hands and admit the truth, I don't think anyone is really going to be happy about whatever comes off the GPU formerly known as the 4080 12GB.
What do you think though? – Let us know in the comments!