Nvidia GTX 1080 Ti CPU Showdown
---
---
---
Peter Donnell / 7 years ago
Introduction
---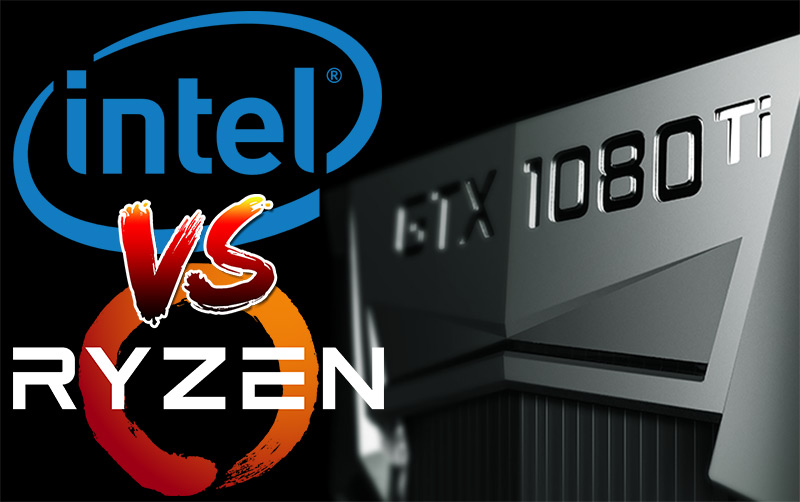 There's been a lot of chatter online this last few weeks about Ryzen. AMD themselves wanted people to know just how well the chip could compete with Intel, either at stock clocks or by overclocking the AMD chip to bring it up to and over the performance of the Intel offerings. Of course, the key factor after that was to give you comparable performance, yet do it at a lower price point.
What better way (and if you have a better way, we'll do our best to test it) to find out the performance than putting the Nvidia GTX 1080 Ti 11GB graphics card in our MSI X370 XPOWER Gaming Titanium AM4 motherboard with the flagship AMD 1800X processor and testing the heck out of it. Then we'll put it in our usual Gigabyte X99 Gaming G1 2011-3 with the Intel Core i7 5820K processor, which we use to test all of our graphics cards. Then to keep things fresh, we'll throw the Intel i7-7700K into a Gigabyte Aorus Z270 motherboard, and put simply, see what happens when we fire up a few games!
Check out Part 2! Ryzen Vs Intel GTX 1080 Ti Showdown Revisited: More Resolutions, Overclocks & Games here.
We recently tested the 1800X and were very impressed with its performance; you can check out the review here. We saw many comments about Ryzen not being ideal for gaming, which we think relates to bugs with memory performance. By diving into these further tests today, we hope to clear some of that up and see how it does at 1080P, 1440P and 2160P (better known as 4K to the cool kids).
If you want to learn more about the hardware this feature focuses on, Check out our review of the Ryzen 1800X here, the MSI X370 AM4 Motherboard here, and the GTX 1080 Ti here. However, if you just want to look at some lovely scoreboards for games, head on over to the next few pages!