Palit GameRock Premium GTX 1070 Graphics Card Review
---
---
---
John Williamson / 7 years ago
A Closer Look
---
Unlike the majority of graphics cards on the market which employ a fairly safe colour scheme to maximise the target audience, Palit have thrown the rulebook away and deployed a truly unique blue and white combination. While this makes it unsuitable for some builds, it's refreshing to see something original which divides opinion. Personally, I believe it's better to cause heated discussion among hardware enthusiasts instead of producing a mundane product which fails to stand out from the crowd. The graphics card's striking blue cover contrasts with the white hue rather well and even the GameRock logo has been positioned in a suitable area. This results in a streamlined finish and every aspect has been carefully considered when forging this stunning aesthetic.
On a more technical note, the Palit GameRock Premium GTX 1070 revolves around an 8-phase PWM to deliver reliable power even when a hefty manual overclock has been applied. This is assisted by the DrMOS circuit design commonly seen on high-end server processors to reduce heat. Also, the graphics card has a dual BIOS which automatically activates a protection mechanism when one of the BIOS chips develops a fault.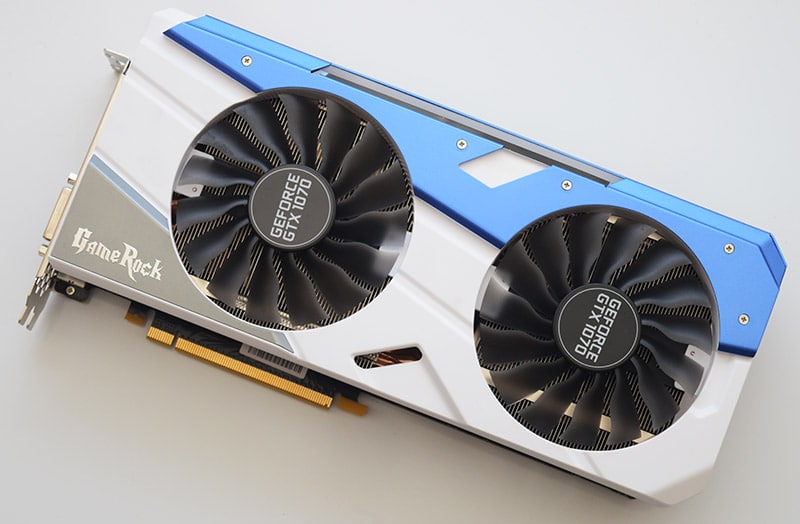 The graphics card's substantial weight and 2.5 slot design require a strong backplate to reduce unwanted droop. Thankfully, Palit has included a very sturdy backplate which looks amazing and ensures the graphics card doesn't veer to one side in an unattractive manner.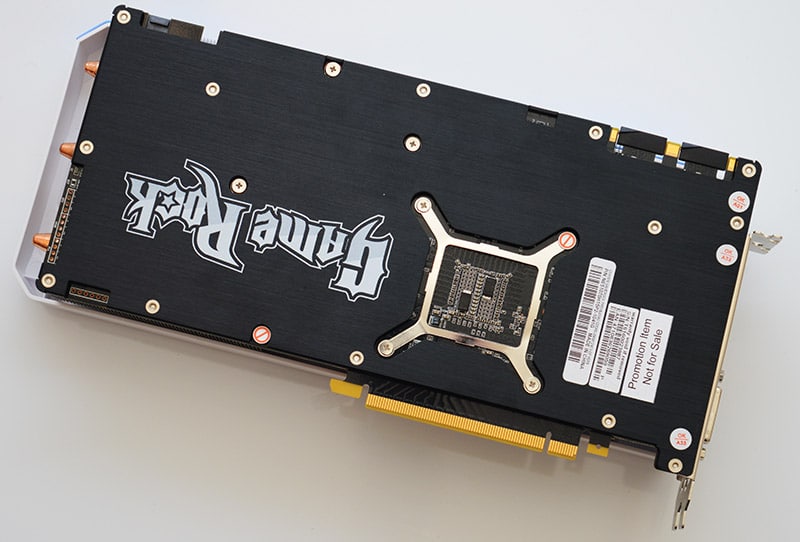 Palit's cooling solution is based around five copper heat-pipes and a massive aluminium heatsink. The heatsink's unbelievable size and dense fin array result in cooler temperatures at lower RPM values. Additionally, the large copper base makes direct contact with the GPU core and performs 22% better than Palit's previous cooler.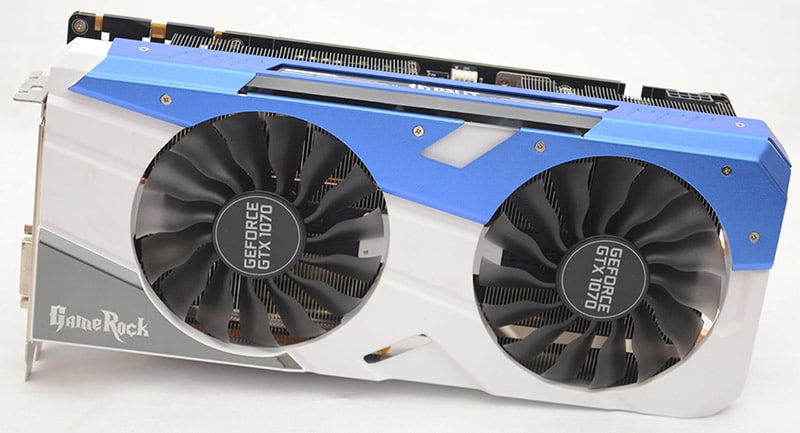 The dual 10cm TurboFans offer superb airflow and employ alternating blade rotations to optimise cooling performance. This means the adjacent fan rotates in an opposite direction to reduce turbulence and maximise the noise to cooling ratio.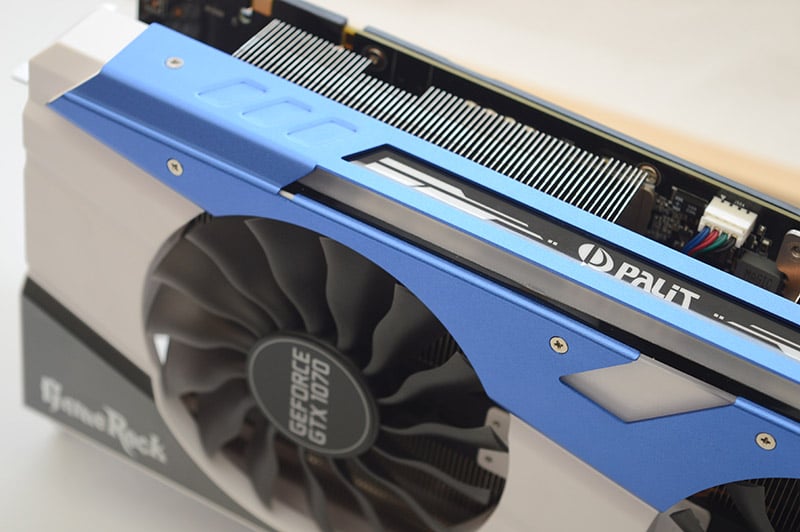 From an overhead perspective, we can see the gorgeous Palit branding, unbelievably large heatsink and thick backplate. Even this image struggles to convey how massive the GPU is.

As expected, the Palit GameRock Premium GTX 1070 utilises a single 8-pin connector and doesn't deviate from the default power configuration. Even on the GTX 1080, I haven't seen a major benefit from adding another 6-pin connector.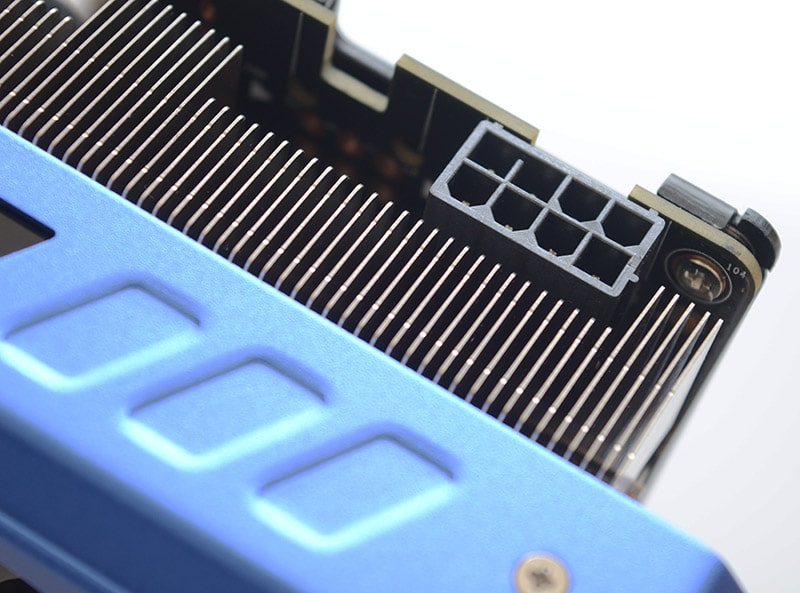 The graphics card incorporates solder unlock points for professional overclocking and has GPU, VRAM and PLL read-outs.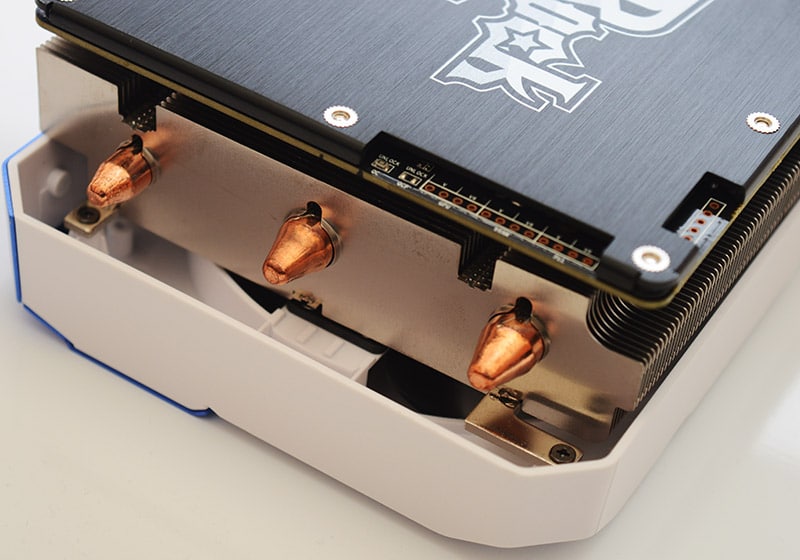 Connectivity-wise, the product houses a dual-link DVI-D connector, three Displayport 1.4 and a single HDMI 2.0b. On another note, the honeycomb bracket increases airflow by up to 15% and exhausts heat through the honeycomb bracket.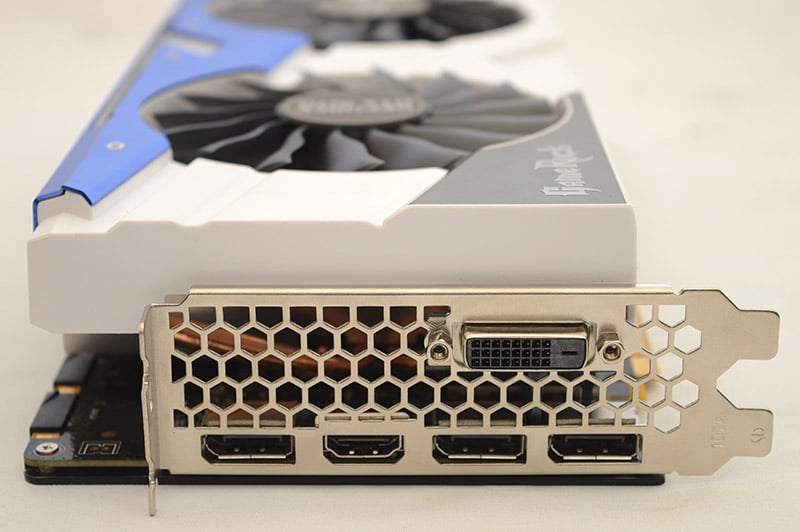 The Palit GameRock Premium GTX 1070 contains customizable RGB illumination although the software is very basic and pales in comparison to the competition. Thankfully, it's still possible to choose from various still colours, adjust the lighting based on thermal loads and enjoy a stunning rainbow effect.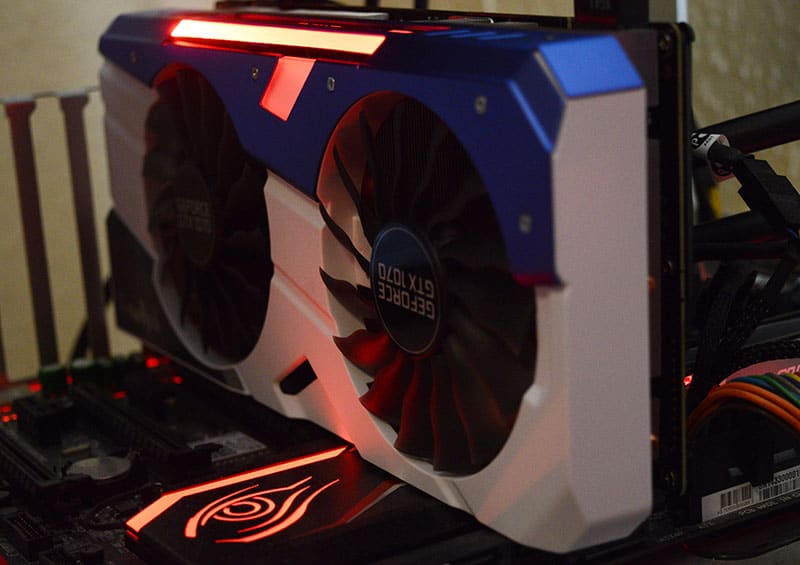 Up close, we can see the gorgeous illuminated section which proudly displays the Palit logo and interesting decals. The brightness uniformity is excellent and adds a spectacular touch to any custom build.