QNAP SilentNAS HS-210 2-Bay NAS Review
---
---
---
Chris Hadley / 9 years ago
Introduction
---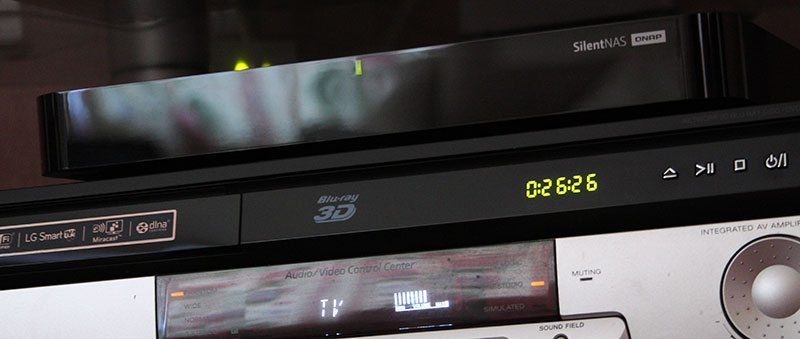 When we look at where a NAS is typically designed to be placed, integration into a home A/V setup is not overly common surprisingly. Whilst there are a countless number of two and four bay systems that offer media playback capabilities, which I will add is great to see for the SOHO markets, their tower like design is not always that convenient to fit in with the DVD players, surround sound systems and game console stack that many of us have underneath our TV's in the lounge – like the photo above funnily enough which is a quick glimpse into the system that we are taking a look at today.
QNAP as we know are one of the big players in the NAS market, lining up alongside Thecus, Asustor and Synology to name but a few and like everyone else, their product range spreads out from the basic single bay systems that are found on the entry-level end of the scale, right up to the 16+ bay rackmount systems that are built for enterprise and datacentre use. What QNAP have noticed though is that there is a gap in the market for systems like the one in hand today and considering many home users are now looking towards a network storage solution for their home media, now is a perfect time to hit that market with a system that blends right in to the A/V stacks that we all have in one way or another.
Built around a two bay design and supporting the latest 5TB drives, the HS-210 SilentNAS is, as the name would suggest, a system that takes noise head on and following some carefully planned design work, they have created a system that is totally passive with no fans included in the system. No fans = no noise and whilst we do have to account for the fact that spinning platter do generate a certain level of acoustic output, they are nowhere near as acoustic as they were only a few years ago. Another challenge that QNAP have decided to take on is hiding the drive bays away from view. Whereas having drive bays on view on a typical desktop NAS, in a home theater setup they're not the most elegant of objects to look at, so a front cover that hides the bays away acts as a simple, yet effective solution.
In addition to offering up the looks that home theatre users are likely to want, QNAP are aware that the price point is also key to securing the purchase, so a price point of around $290 / £240 should whet the appetite of any tech enthusiast – at least that is the theory.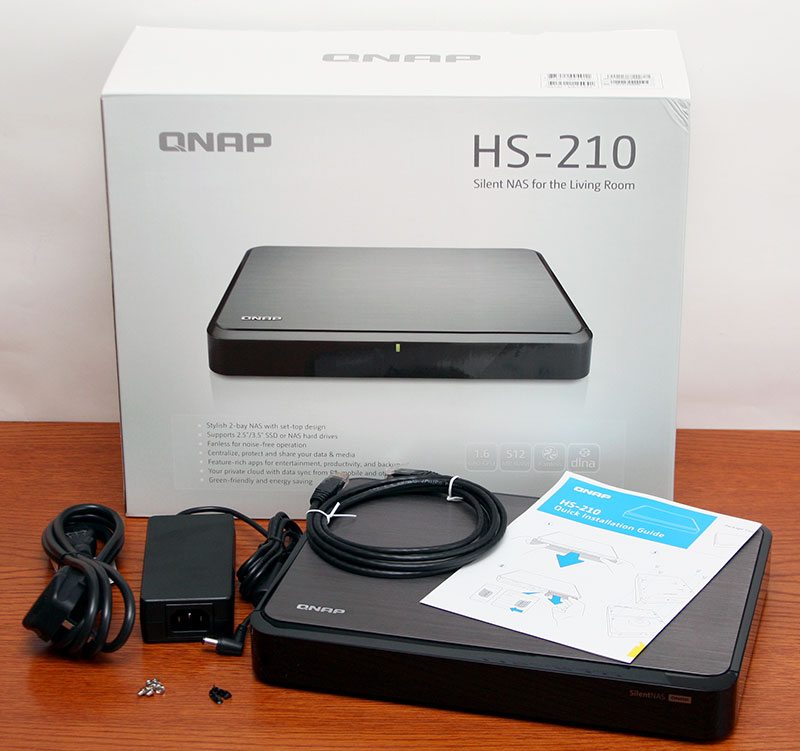 There is no surprises in seeing a simple and to the point kit list with this being an entry-level system. Along side a quick setup guide and a couple of sets of screws for 2.5″ and 3.5″ drives, we get a single Ethernet cable and a DC power adaptor with regional mains cable to suit.