Razer Nabu Smartband Review
---
---
---
Peter Donnell / 8 years ago
Introduction
---
Smart wearables are nothing new, but it's certainly still a growing market. With that in mind, it makes sense that gaming brands such as Razer would want to get in on the action, they already make a wide range of peripherals, and while I'm sure they would love us all to sit at our desks using Razer hardware, gamers need to get exercise too. Being able to track your fitness is no bad thing, especially if you're trying to get in shape, but the Razer Nabu offers a little more than your average connected sportswear.
"Stay on top of everything when the Nabu notifies you of incoming calls, texts, emails, and other app alerts discreetly via the private message screen and a gentle vibration." – Said Razer.
All the basics of a fitness band are available here, as the Nabu will use its accelerometer and built-in algorithms to give you real-time feedback on the band, as well as in the dedicated mobile app. You can track your steps walked, distance travelled, calories burnt, hours slept, active minutes and personal goals. The sleep tracker is a cool feature, as it'll measure the actual duration you slept once you've finally stopped fidgeting, the sleep quality, again no doubt tracking the amount of times you turn in your sleep, as well as offering you a silent alarm via its vibration function; handy if you want to get up for your morning coffee without waking the kids.
Check out this cool product video from Razer, although amazingly it's NSFW and features quite a lot of graphic violence… cool! Zombie dismembering aside, it does a great job of demonstrating many of the features of the Nabu.
Display and Sensor
OLED 128×16 single color
3-axis accelerometer
Cylindrical vibration motor
Hardware
Single button for OLED screen access and other specific functions
Lithium-polymer battery with up to 6 days battery life
Rain, sweat, and splash proof. Not suitable for showering and submerging.
Charging via proprietary USB cable.
Wireless syncing with mobile devices via Bluetooth LE.
Tested devices
iPhone 5/5S/6/6 Plus with iOS 8 (or higher)
Android 4.3 (or higher) device with Bluetooth Lower Energy (BT 4.0 or higher).
Click here for a list of tested Android devices.
There are even more cool features too, such as shaking hands with another Nabu owner and you can exchange social media information and more! With support from a wide range of popular applications, you can ensure you get all the information you need, right when you need it, all right on the built-in OLED display on the top of the wristband.
As with any other Razer product, the NABU is very nicely packaged, with a clear image of the product on the front and, of course, those more than familiar Razer colours.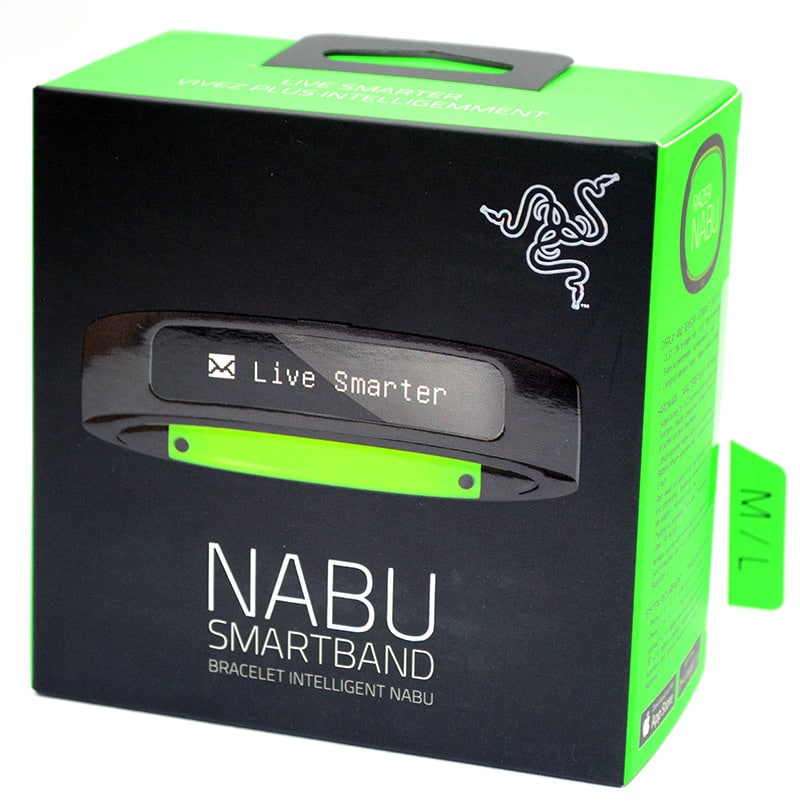 Around the back of the box, a quick technical rundown, as well as a plastic panel that acts as a size guide for the wristband; very handy!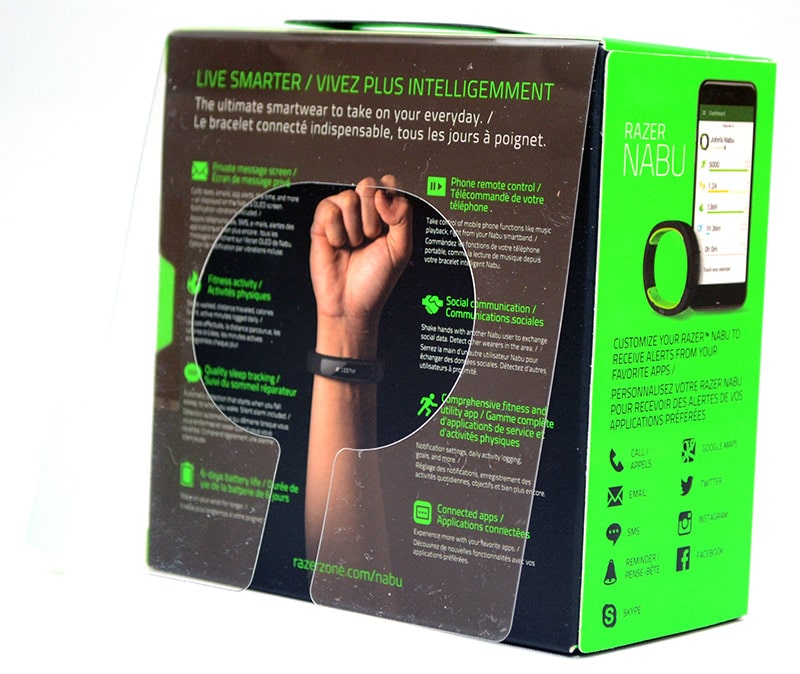 Open the box and you'll find, ta da! Another box.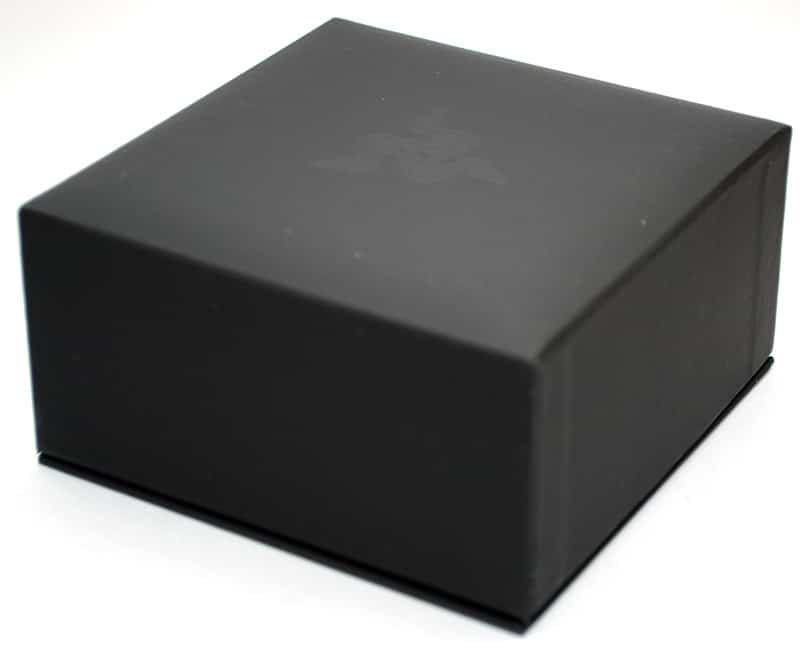 This one is more like a presentation box, and you'll find a nicely secured NABU wristband on the interior, as well as a small pull-out drawer at the base for the accessories.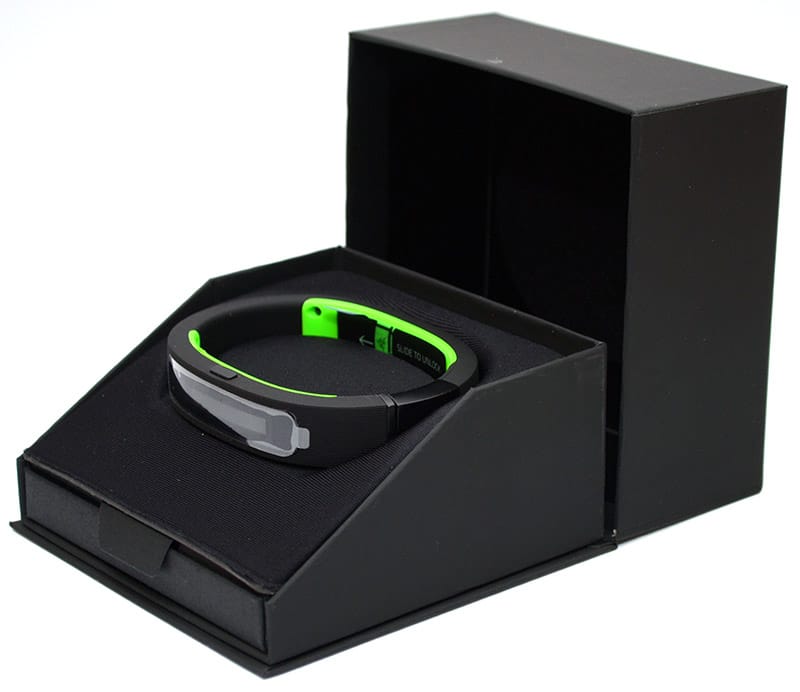 There's a small USB charging cable, which naturally comes with the Razer Green header, a small link attachment for the wristband to adjust the size, and the usual documentation.