Roccat KAIN 200 AIMO Gaming Mouse Review
---
---
---
Peter Donnell / 2 years ago
A Closer Look & Performance
Now, if you clicked the link to our review of the Roccat KAIN 120 AIMO, then you'll be forgiven for feeling a bit of deja vu. The mouse looks identical to the 120 because it actually is. The design is fantastic though, and it's easily one of the best looking mice Roccat has ever products. So while they've gone for the same design twice, it honestly doesn't dilute the design one bit.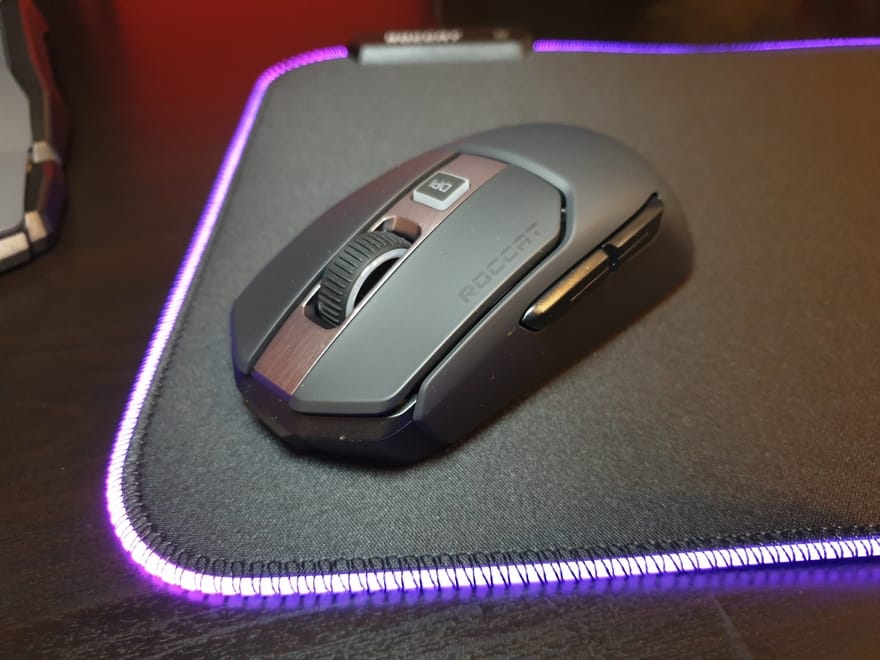 It features superb build quality though. The main body is a moulded and durable plastic shell. It's quite hard-wearing but it has a slightly soft texture too it, almost like it's coated with a hardened layer of latex. Like many Roccat products, it features their iconic logo. It always reminds me of the 90's cartoon Swat Cats, but I'm likely one of about three people who remember it.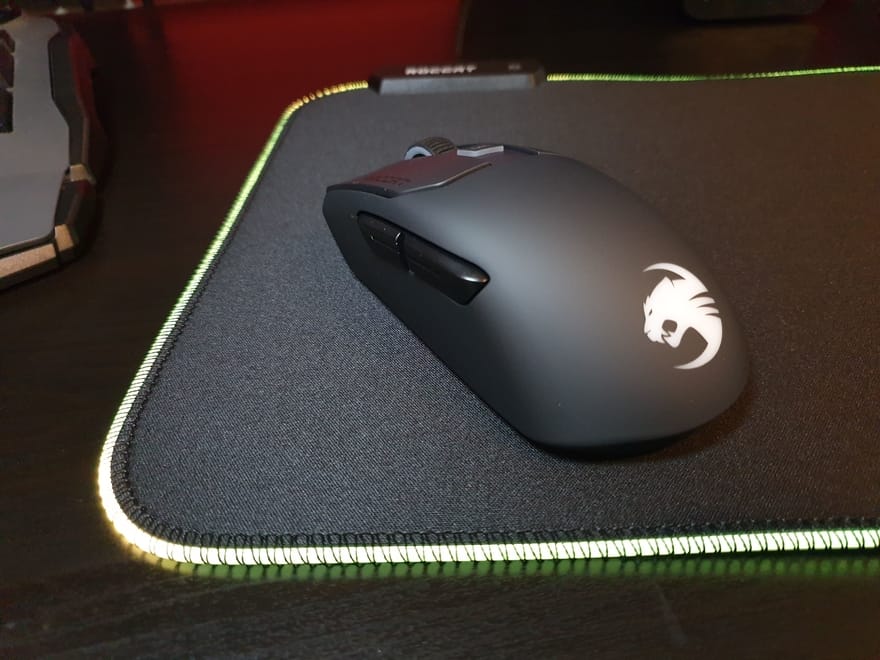 Ergonomics
The mouse is tuned for right-handed use only, which means you get two large buttons on the left, but it's pretty much blank on the right. The ergonomics of the side tuck under a little too, allowing an easy grip of the mouse. It also makes it easy to pick the mouse up, which is pretty important for a wireless mouse in my opinion.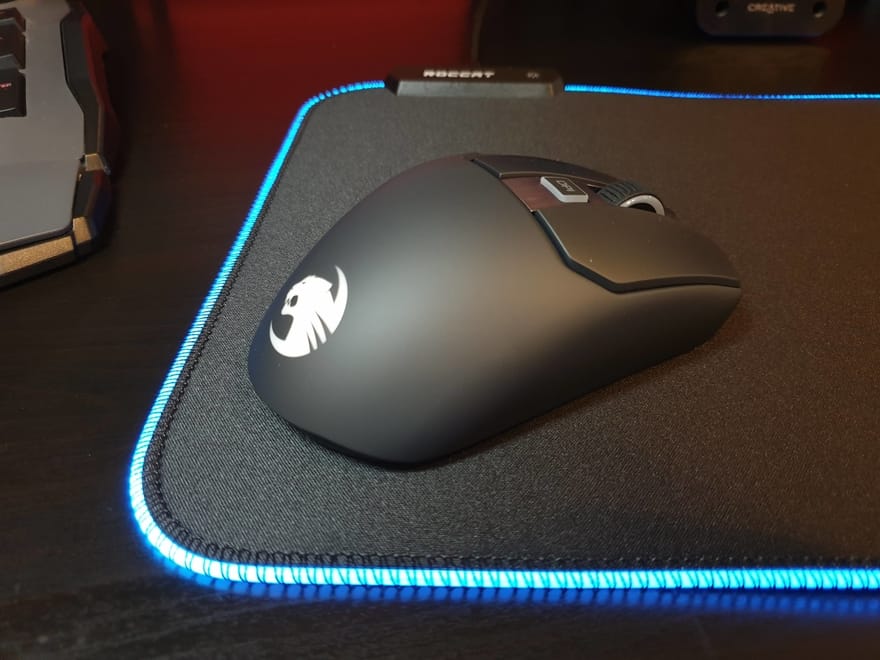 Comfortable
You can see that the mouse leans to the right a little bit too. The angle means that your wrist doesn't have to twist quite as far to get a good grip. Overall, this will help with longterm comfort during those long work and gaming sessions.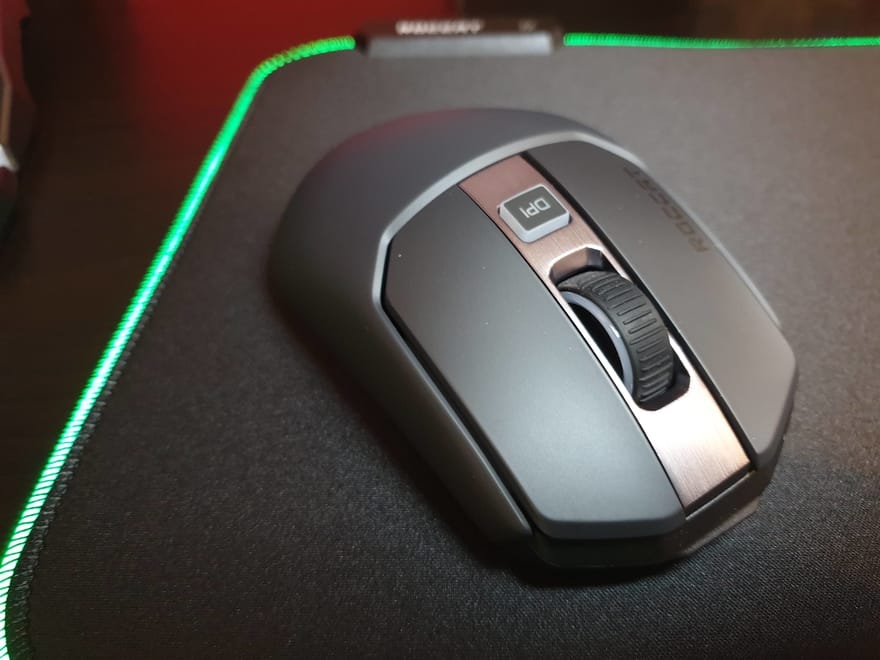 Titan Wheel
The little details go a long way here too, with a brushed metal stripe running down the centre of the mouse. I really like this design and the mixture of textures and surfaces gives a premium quality look and feel. Of course, sunk into the middle you'll also find their new Titan wheel. It's nicely weighted and oversized, giving it really good control. It is clickable, and it has a durable grip coating too.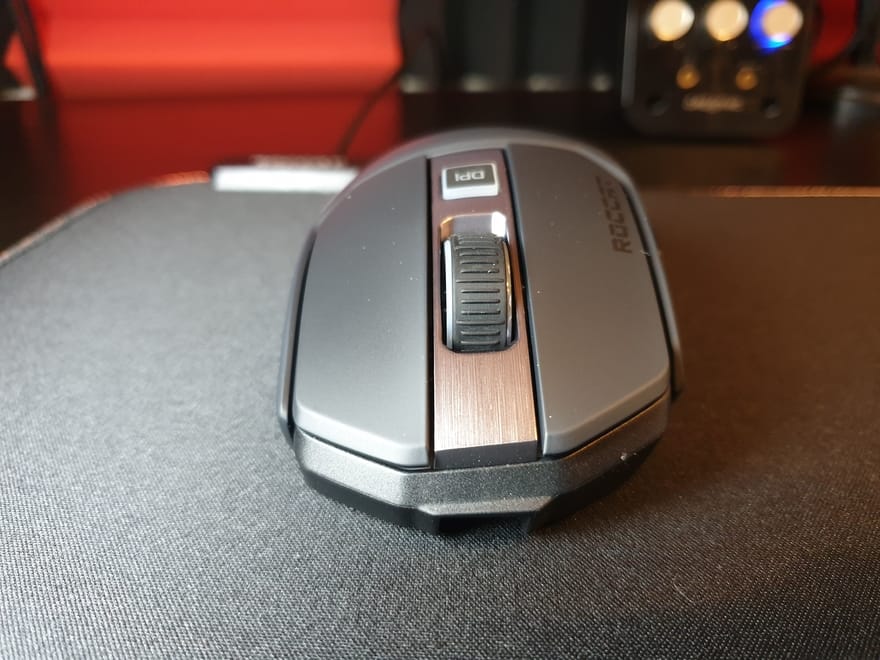 PixArt
While the Titan click is a big selling point for this mouse, so is the PixArt PWM3335 sensor. It's capable of 40G acceleration and 400ips tracking with zero acceleration and angle snapping issues. It's one of the best gaming sensors out there right now. However, bad sensors are pretty much becoming a thing of the past these days.
Of course, there's another couple of features tucked in here too. On the bottom, there's a master power button, as well as a pairing button. Plus, towards the front, there's a recessed USB port to hook up the included cable.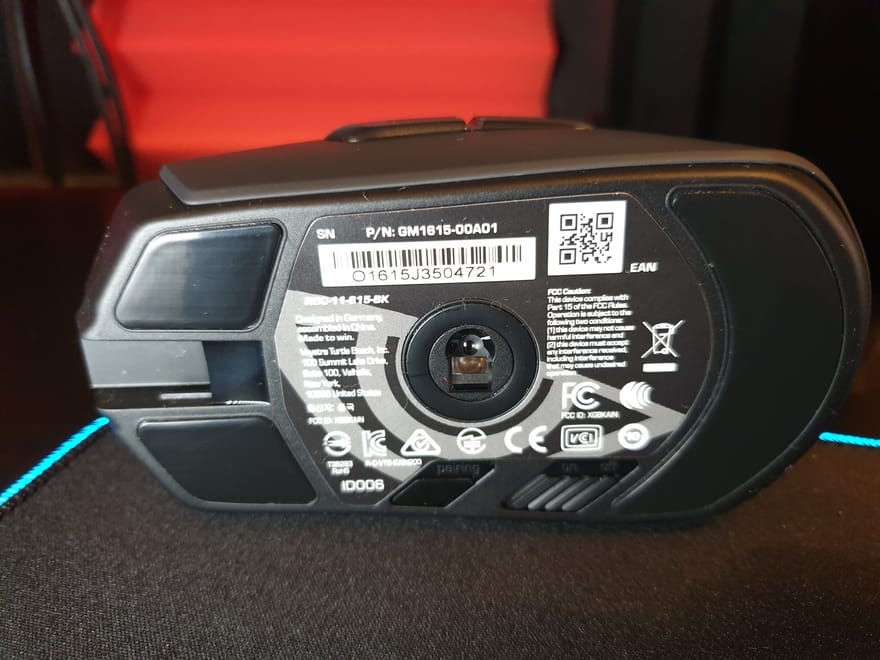 Performance
The KAIN 200 AIMO is a fantastic looking mouse, and while all they've done is make it optionally wireless vs the KAIN 120 AIMO, it's a hell of an upgrade. Wireless gaming mice are a far cry of the lag-riddled crap connectivity of yesteryear. This one feels just as snappy, nimble and capable with the wire removed as it does with the wire installed.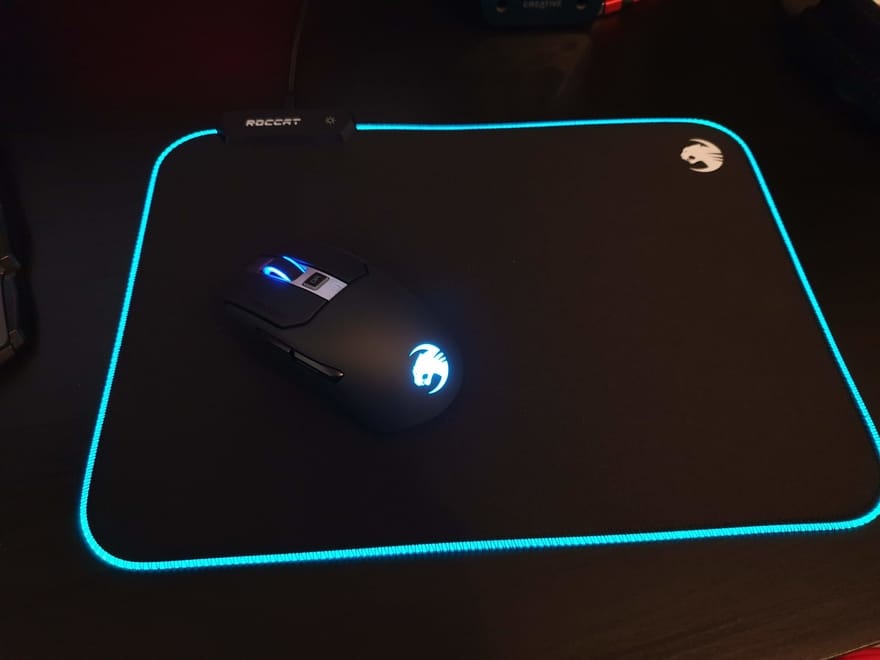 Of course, not being tethered to a cable has a lot of advantages too. If you have a PC in an awkward spot, such as wall-mounted, it's one less cable to route. While you're gaming, the cable can't snag on the desk because there is no cable. Plus, if you stream PC games to your TV, you can use a lapboard or similar to use your mouse in the living room. There's a lot of options here though, and being able to make it wired again is a welcome addition as it means you can play while it charges. With 50+ hours gameplay without the RGB and around 35 hours with the RGB on, you won't be charging very often.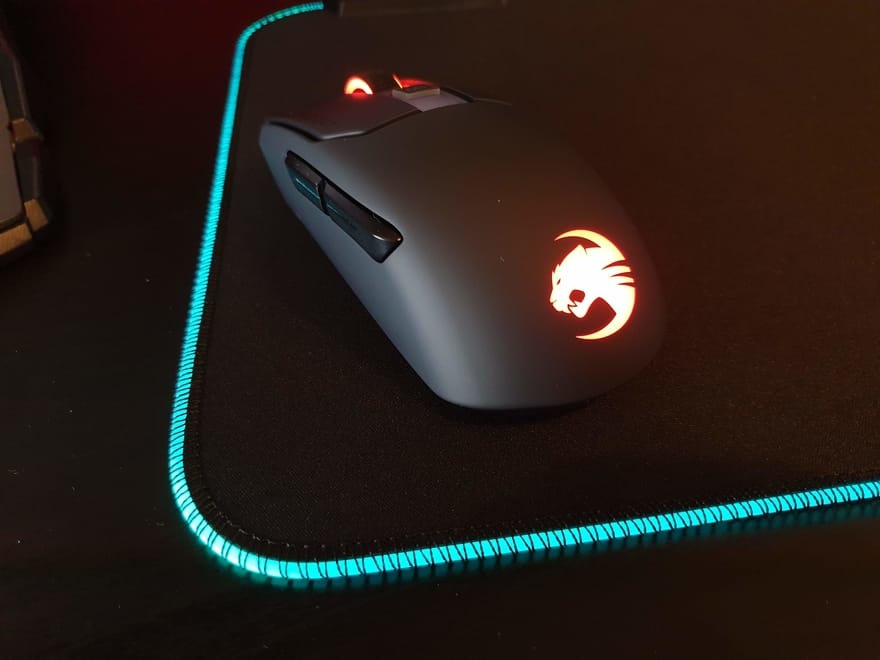 The RGB is pretty understated and I like that. It doesn't have a huge amount of edge lighting and it isn't too distracting. The colours are vibrant though, and you can tinker with the lighting on the inner part of the scroll wheel.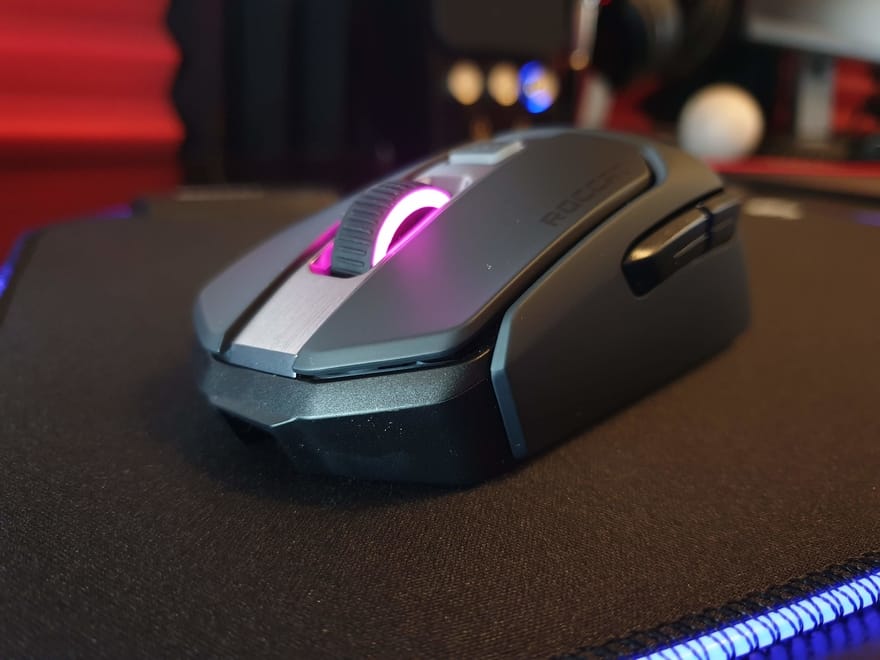 There's also a light on the rear logo too which is really cool. Of course, you can set effects, patterns and all the usual. However, I tend to set a single colour and leave it, or even set a unique colour to each profile/DPI so you can keep a visual tab on what mode the mouse is using at that time.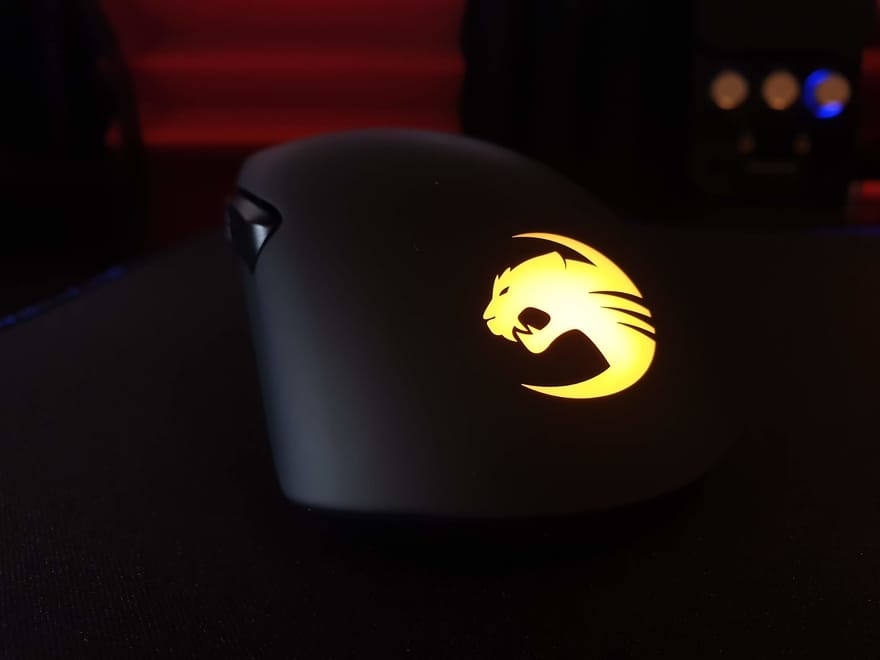 Control
The grip on this mouse is really good, I do find it very comfortable to hold and use. It's not got any crazy features either, which is good as it feels focused. You have those two lovely Omron switches on the LMB and RMB, with Roccat's custom weighted click mechanism adding to the precision. The massive scroll wheel is great too, it's nice and wide, making it comfortable to use.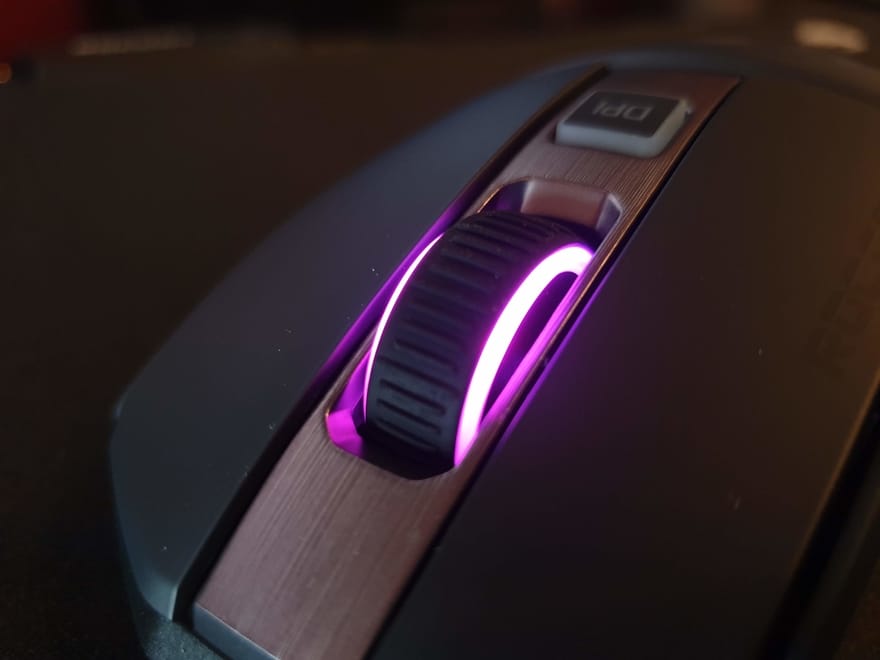 The ergonomics are pretty flexible too, with it proving suitable for a full palm grip like this. Typically of Roccat, it's a slightly larger mouse, so it's accommodating to my long fingers.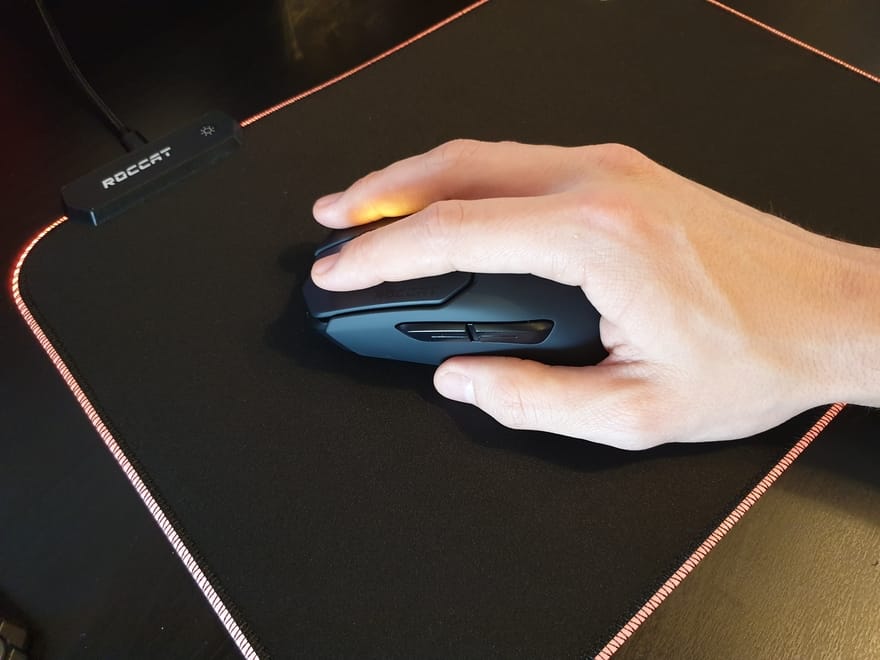 Yet the shape of it allows for comfortable use in a claw or hybrid grip too. The mouse has a really good weight and overall balance to it. It's not massively light, but it feels lighter than it is thanks to the fantastic amounts of glide it has on just about any surface.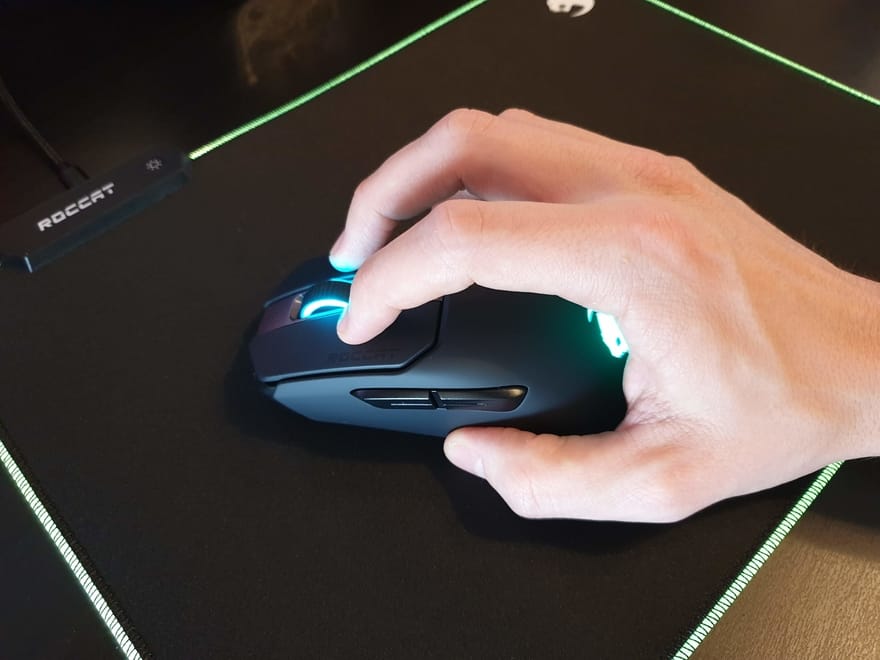 Plus, with Roccat's software, you can sync up the lighting on all your AIMO products. I may not review mouse mats, but dang do these two look good together!