Sapphire Nitro+ RX 470 OC Graphics Card Review
---
---
---
John Williamson / 5 years ago
A Closer Look
---
From a visual standpoint, Sapphire's latest cooling hardware is sublime and revolves around an elegant design strategy. Instead of trying to merge far too many colours together in an unattractive fashion, Sapphire decided to keep things simple and uphold the notion that less is more. This neutral colour scheme isn't overbearing and should compliment a wide range of gaming systems sporting contrasting colour schemes.
I'm particularly fond of the small indentations scattered across the matte gunmetal shroud. This finish resists finger marks and dust built-up rather well and captures people's attention. It's probably the best looking graphics card I've seen for a long time and evokes a premium feel.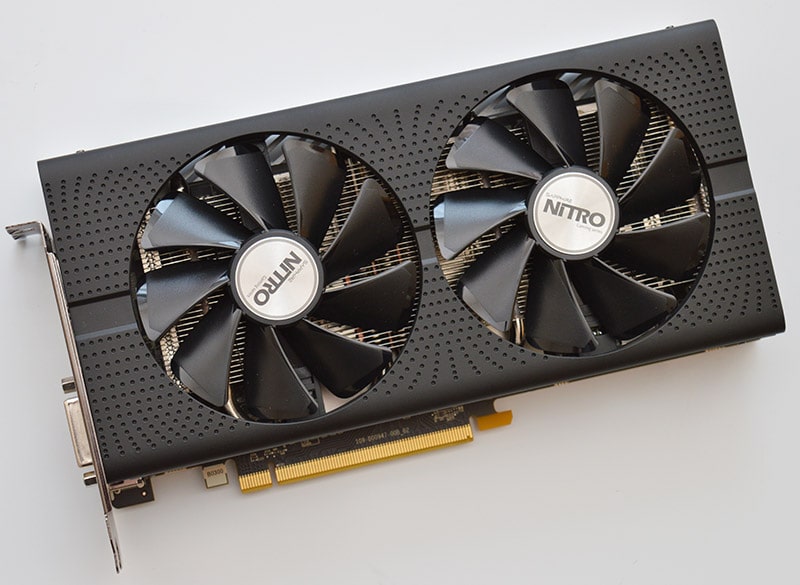 On a more technical note, the Sapphire Nitro+ RX 470 OC has a custom PCB, dense fin array aluminium heatsink and nickel plated copper heat-pipes. Also, high-quality Black Diamond Chokes 4 have been utilised which reduce coil temperatures by 15% compared to the previous version. Evidently, Sapphire haven't made any cutbacks and bundled the best possible selection of components.
While the front section looks absolutely breathtaking, the backplate is the real showpiece. In my opinion, this is the best-looking backplate ever created and I particularly love the gorgeous colour coordination and sleek lines. Even the Nitro branding adds to the backplate's aesthetic appeal and everything is beautifully balanced.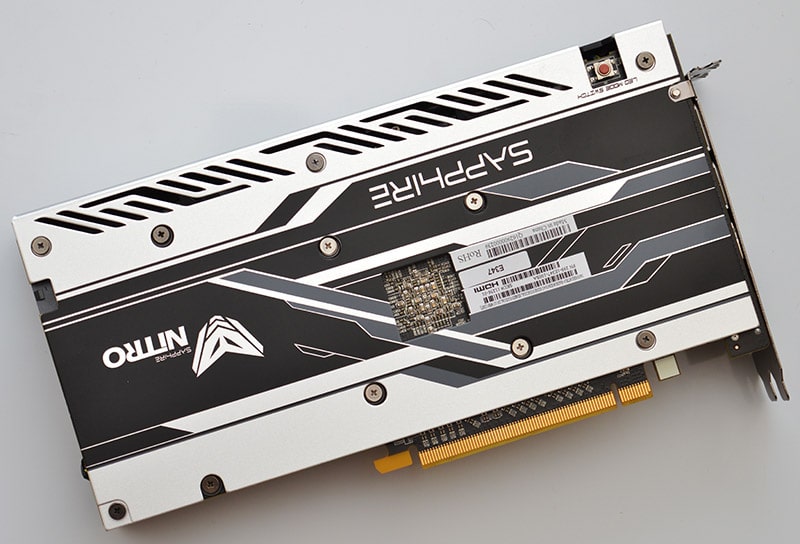 The latest version of Sapphire's cooling fans offers 85% longer lifespan than the previous generation. Even more impressive, these 95mm dual bearing fans are 10% quieter and can easily be replaced just in case any technical problems arise. Replacing the fans is a rudimentary process  and involves unscrewing a single screw which holds them firmly in position. Sapphire selected this method to prevent users from accidentally removing the fans when handling the graphics card. It's also possible that some users might find it too satisfying when using a clicking mechanism and remove the fans on a regular basis without a logical reason.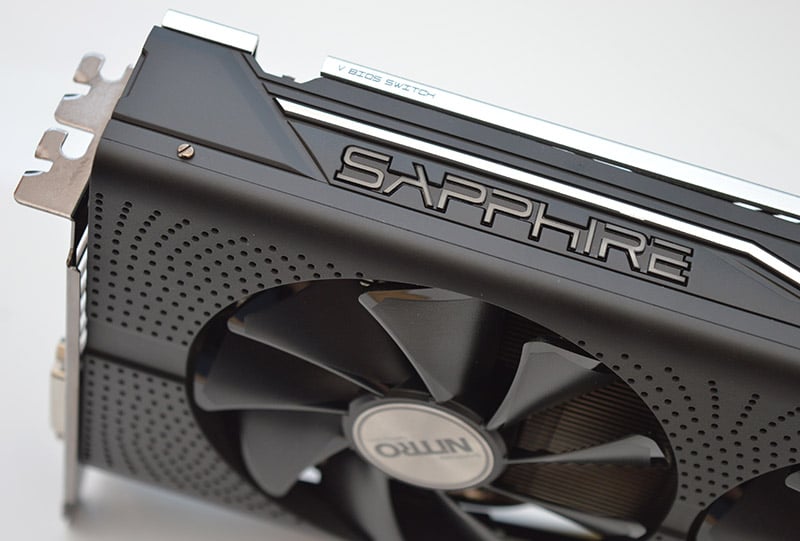 The ability to remove the fans improves RMA times and simplifies the process. Now, consumers can request replacement fans and not have to send the GPU to a repair centre at their cost. This makes sense because the fans are the most likely element to fail over time. Not only that, an upcoming update to Sapphire's overclocking utility will also allow the end-user to receive help and perform fan diagnostics. Removing the fans is handy to eliminate dust build-up which has the potential to impact on fan efficiency. Thankfully, Sapphire's fan removal system is brilliant and provides the end-user with greater flexibility.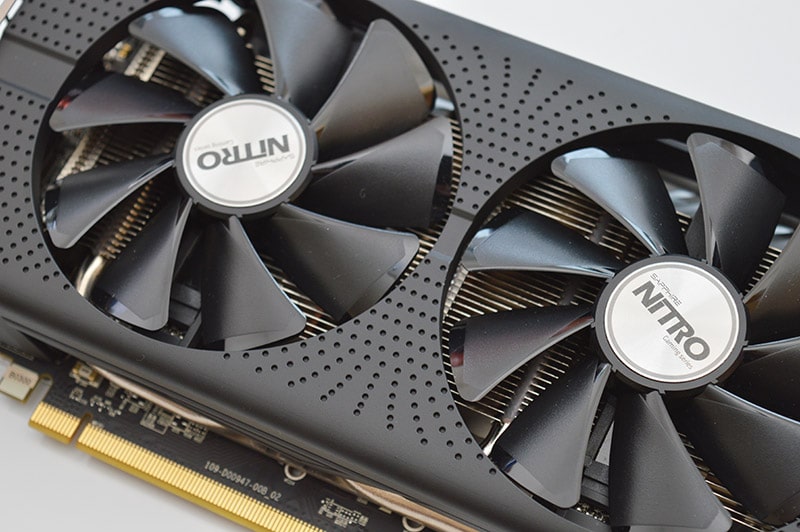 Unlike the Sapphire reference model, an 8-pin PCI-E connector has been used to enhance the overclocking headroom and ensure the GPU has enough power in extreme usage scenarios. Also, notice the side positioning similar to the R9 Nano which is fairly unusual but another excellent addition. From this image, we can see the thick custom PCB and aluminium heatsink.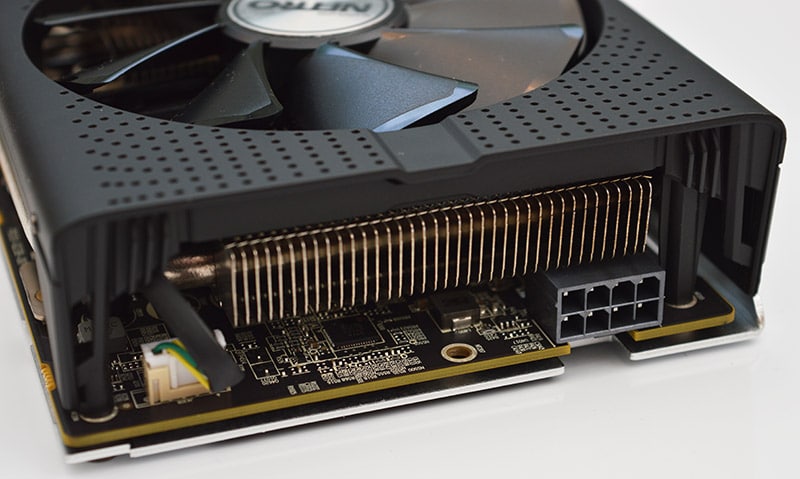 In a similar vein to the Sapphire Nitro+ RX 480 OC, the graphics card has a BIOS switch featuring two modes. The silent profile is designed for those who value noise at the expense of performance while the higher-end BIOS features an impressive 1260MHz clock. In contrast to many of their competitors, Sapphire focused on a manual BIOS switch instead of a software implementation. I prefer this because it's not a resource hog and adds less bloatware to your gaming PC.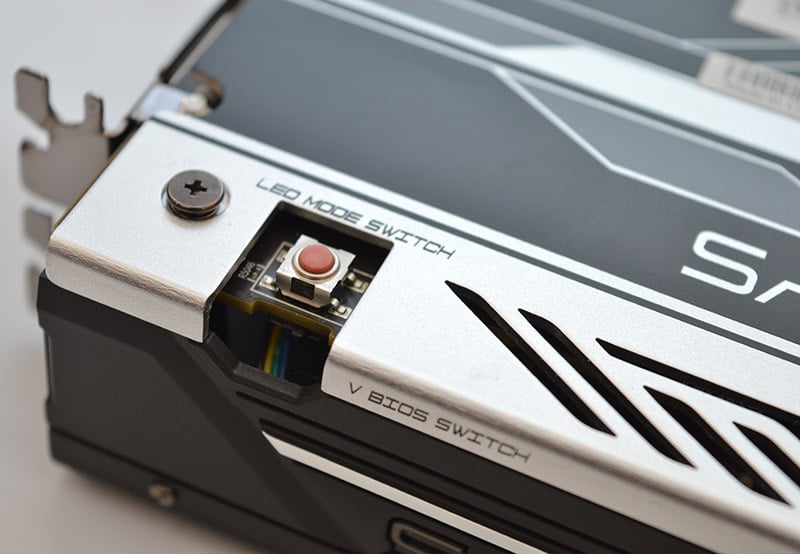 The company's new Nitro Glow technology incorporates a wide range of RGB lighting options including static, rainbow shift, change colour by fan speed, and PCB temperature. Of course, RGB lighting isn't to everyone's tastes and it's possible to disable the illumination using an onboard switch. By default, the graphics card employs a static blue colour which fits in with Sapphire's theme. The lighting revolves around Sapphire's name and isn't too ostentatious. Please note, an upcoming revision to Sapphire's TriXX 3.0 software will include lighting customization upon release.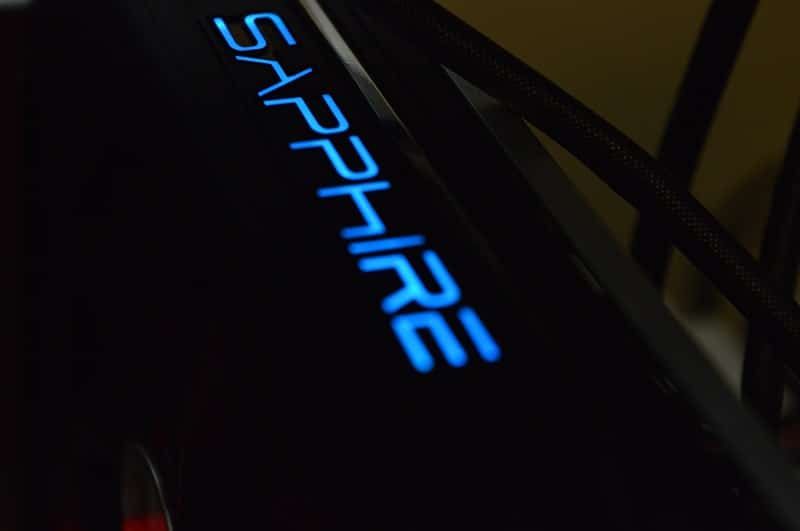 The rear I/O contains two DisplayPort 1.4, a dual-link DVI-D and two HDMI 2.0b. AMD's latest architecture supports HDR and 4K h.265 encode/decode. As you can see from the photo below, Sapphire included optimised air vents in the I/O section to maximise airflow and in turn, reduce temperatures.