Silicon Power Armor A85 1TB Rugged USB 3.0 HDD Review
---
---
---
Bohs Hansen / 7 years ago
Introduction
---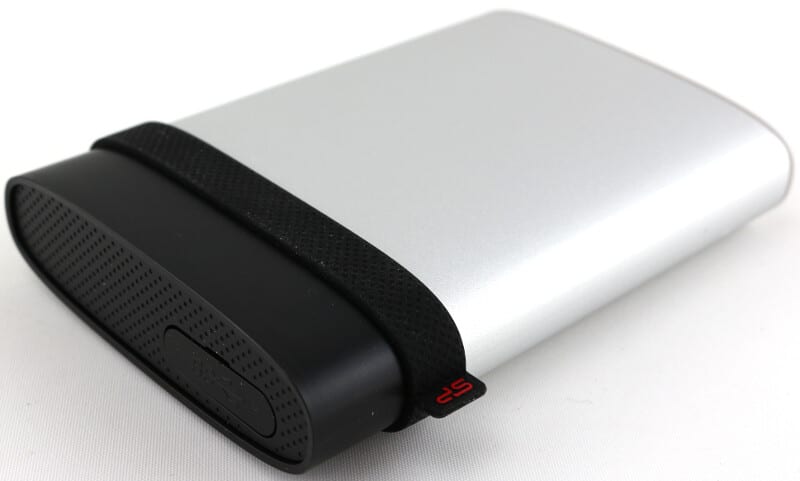 Today's review is one of the fun ones and one that I've been looking forward to since I got the shipping information on it. Today I have a special drive in the testing area, the Silicon Power Armor A85. It is a portable and rugged USB hard disk drive with 1GB capacity. Other capacity options include 500GB, 2TB, 3TB, and also an impressive 4TB sized one.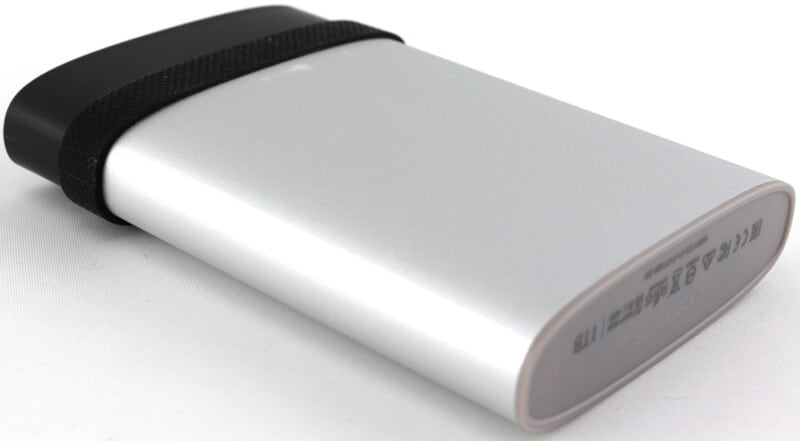 Whether you're just a clumsy user that tends to drop things or your active and on the go all the time, you will want to choose a sturdy external storage medium. The Silicon Power Armor A85 is such a drive as it is both waterproof and shockproof, meeting the IP68 standards. This is achieved through a three-piece design with an aluminium exterior, seamless rubber covering, and an internal hard drive suspension system.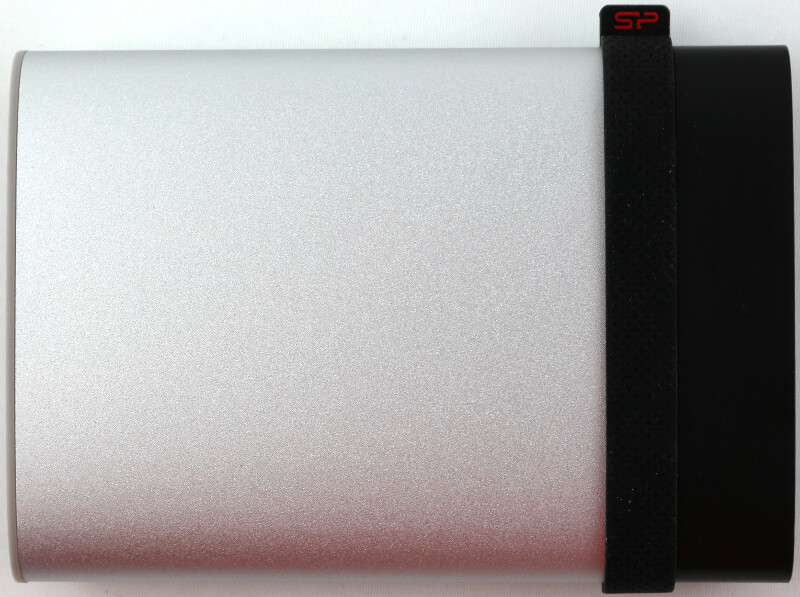 The internal suspension system makes the first layer of defense, giving it an excellent vibration damping function. The second layer applies rubber covering to provide shockproof capability through a buffer effect. Last but not least, the heavy-duty aluminum case creates the third layer of protection against pressure. On top of the physical resistance, the drive also offers file resistance in the form of software. The SP HDD Lock Utility is a free software that lets you encrypt the entire drive and the SP Widget software provides functions such as backup and restore as well as AES 256-bit encryption and cloud storage connectivity.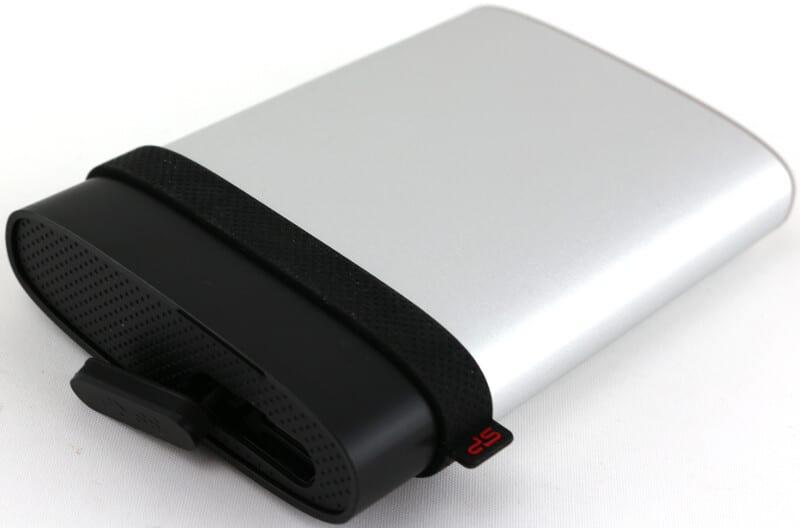 We should dive a little deeper into the details in regards to the resistance, as most people probably don't know what these certifications include. The SP Armor A85 is compliant with the U.S. military drop-test standards MIL-STD 810G Method 516.7 Procedure IV, transit drop test. This is a freefall test from 122cm height on 26 contact points. The transit drop test is to perform 26 drops on each face, edge, and corner from a height of 122cm above the floor. The drops could be divided among no more than 5 test items. The IP68 certification promises no penetration of dust and a protection against water immersion for more than 30 minutes at a depth of up to 1 meter. Further, the drive can withstand a pressure up to 500kg of force.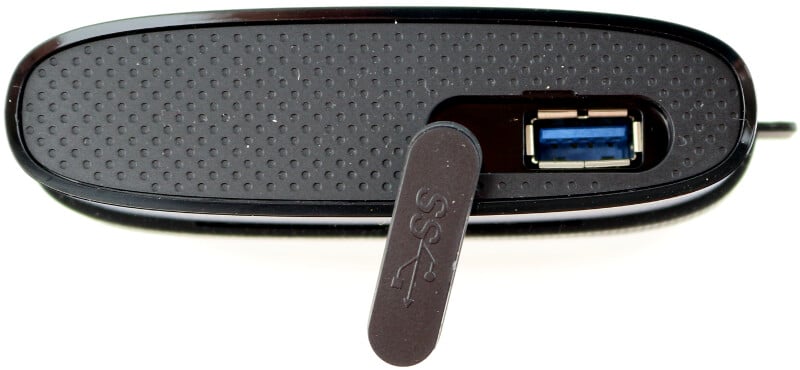 Functionality is one side of it all, design is another. Silicon Power didn't fail here either as the metallic casing provides a great look and the sandblasted surface also provides a great resistance to scratches, fingerprints, and dirt.

The small rubber band around the drive isn't just for design, although it does give it a final touch. It is in fact a clever little gadget to easily pack the USB cable with the drive. Just slip it under the rubber ring and you got both the drive and cable together.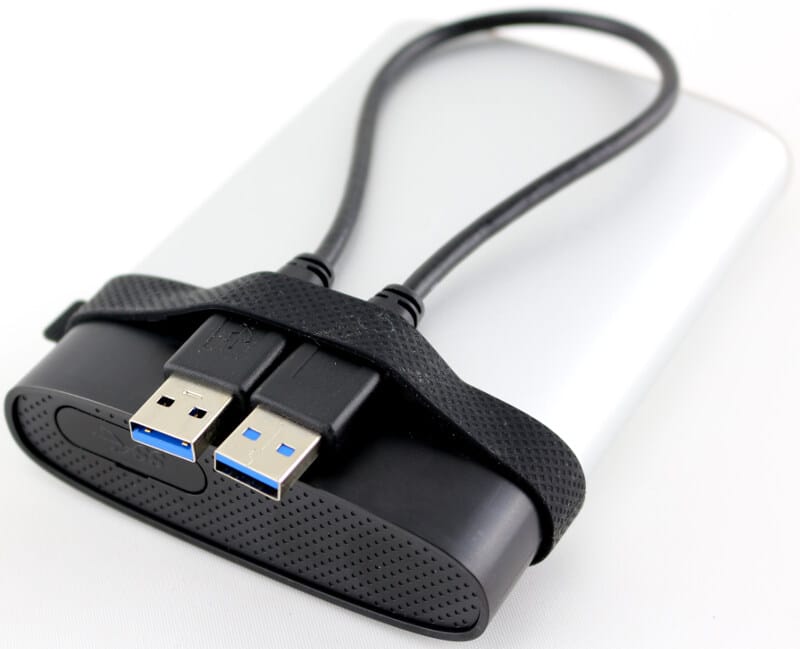 Feature Highlights
Compliant with the U.S. military drop-test standards MIL-STD 810G Method 516.7 Procedure IV (transit drop test), a free fall test (122cm) on 26 contact points.
Advanced internal hard drive suspension system
Meet IP68 dustproof/waterproof standard
Pressure-resistant with aluminum casing
SuperSpeed USB 3.1 Gen1 (USB 3.0) interface
Intelligent cable-carry design
Easy to plug and use; no external adapter required
Offers SP HDD Lock Utility free software download for full disk encryption
Free-download SP Widget software provides powerful functions such as data backup & restore, AES 256-bit encryption, and cloud storage for efficient data management.
Package and Accessories
The Armor A85 comes in a package that shows the included drive off through the transparent front. You also get all the vital information on the drive right on the front, such as capacity, connection type, and warranty.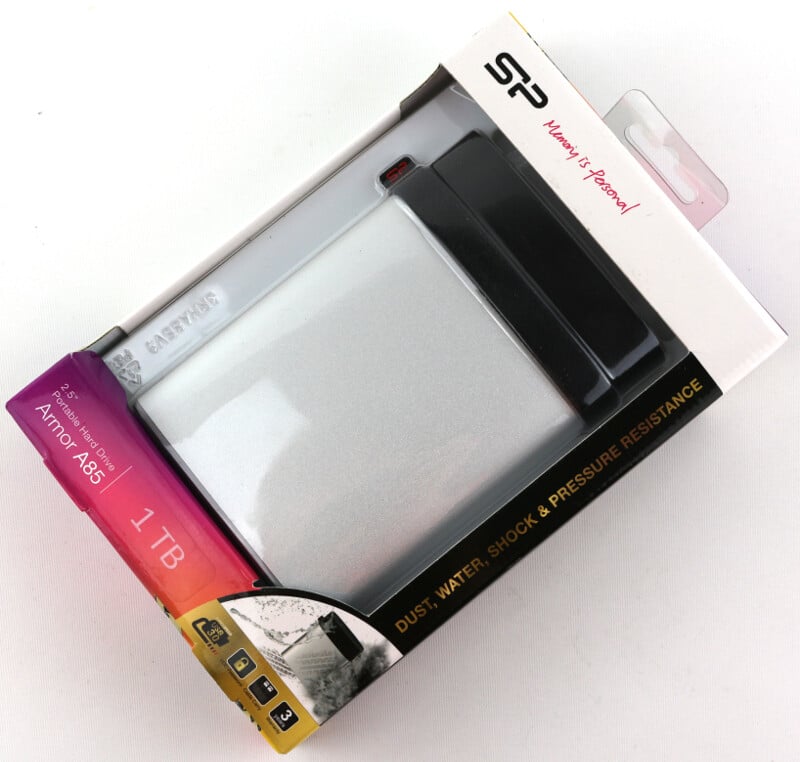 The rear has more details on the drives features and the full specification listing.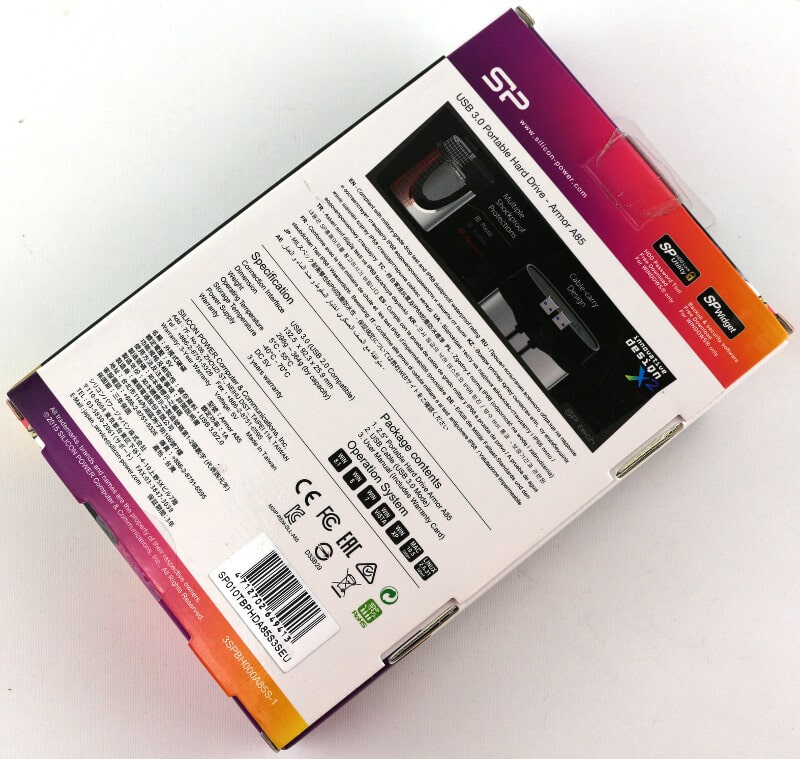 Inside the box is a small user manual besides the USB 3.0 type-A to type-A connector cable and the drive itself.