SilverStone TS231U-C Dual-Bay USB-C RAID Enclosure Review
---
---
---
Bohs Hansen / 6 years ago
Introduction
---
Today we're taking a look at a DAS in one of its simplest forms: The SilverStone TS231U-C 2-bay RAID enclosure with 10Gbps USB-C connection. While it might be a simple DAS, it comes with the latest connection technologies.
Design
SilverStone's TS231U-C might be a simple DAS (Direct Attached Storage), but it still packs the features you want and a little bit more. But let us talk a bit about the general design first. The unit is quite compact and you'll easily find a place to put it. That is good and not only because the included cable isn't very long. The device itself is made from an SECC body with an aluminium finish. The aluminium doesn't just look good, it also helps the unit with the cooling. But that isn't enough to deliver a secure operation and that's why it also has a 70mm low noise fan.
The installation is plug-and-play all the way through. The drive bays are built for tool-less and tray-less installation. While that is cool, it does bring along the limitation of only supporting one size of drives.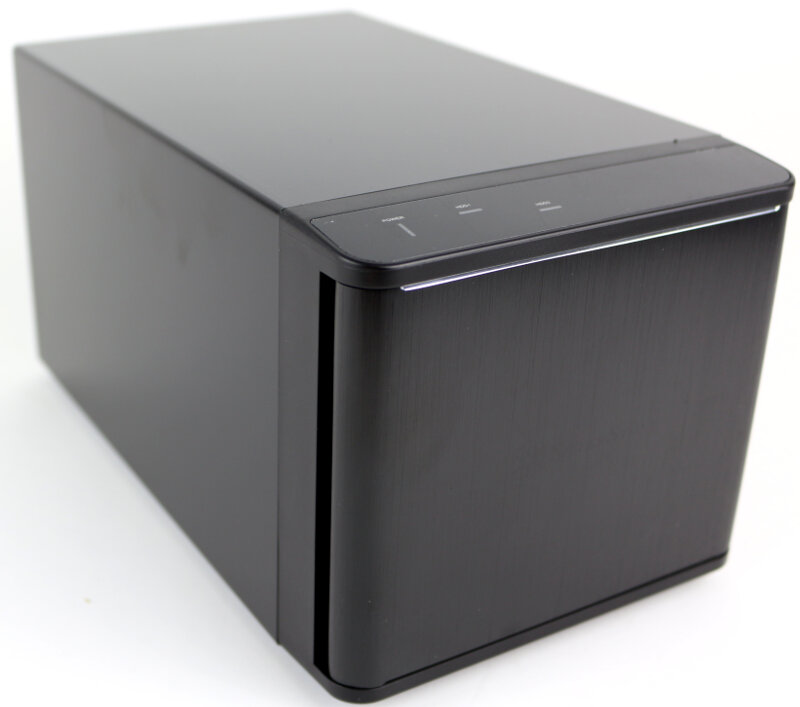 Connectivity
With the latest generation USB and the newest connector type, the TS231U-C is well equipped. The USB 3.1 Gen.2 standard allows for 10Gbps throughput while the reversible Type-C connector offers convenience. SilverStone added a Type-C to Type-A cable with this DAS which allows for maximum compatibility with previous USB standards.
UASP is supported too, that is if your operating system supports it. Windows 8 and newer versions do, and that should cover the majority of users. With UASP (USB Serial Attached Protocol), the system is able to talk more efficiently with the connected drives thanks to more command queues.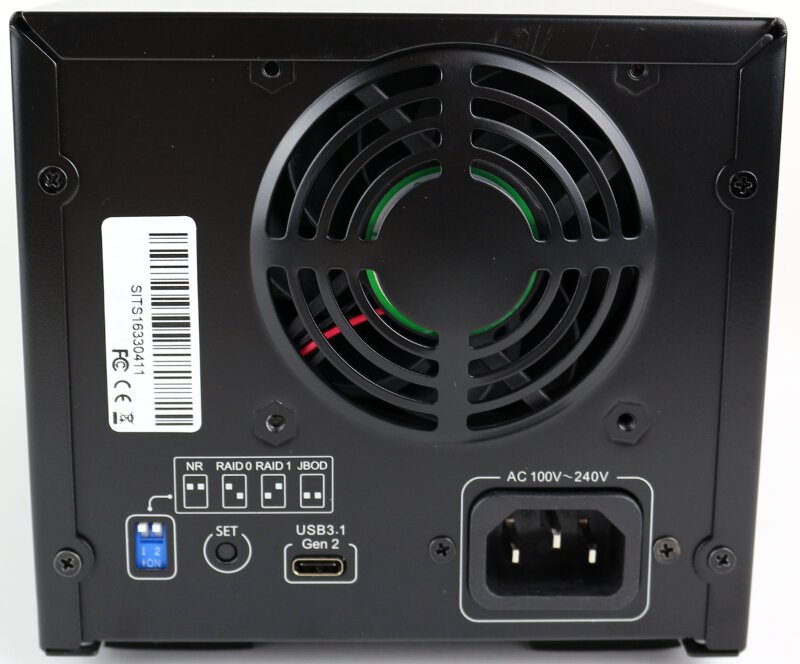 Drive Modes and Supported Drives
We're past the time where drive capacity could be an issue. The TS231U-C supports all types of 3.5-inch hard disk drives, no matter their capacity. The unit also supports plug-and-play usage and hot-swapping of the drives.
With two drive bays available, we get RAID 0 and RAID 1 modes along with a JBOD span and a single drive mode. It is a little bit of a shame that the DAS doesn't support 2.5-inch drives as it would be a perfect unit for an SSD RAID setup. With the 10Gbps performance of the USB 3.1 Gen.2 bus, there's enough bandwidth available.
While it isn't officially supported, I'll naturally try to install SSDs in it anyway with the help of some adapters. Whether I'll be successful or not is something you'll see on the following pages.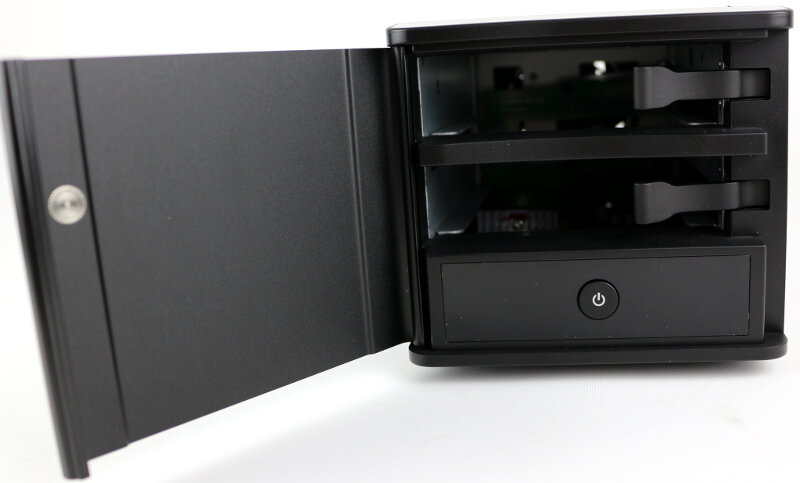 The Power Supply
SilverStone opted for an internal power supply in the TS231U-C and I love that. It makes the setup easier as well as cleaner. You don't have an extra power brick or AC/DC adapter laying around or taking up huge spaces at your outlet.
The power supply delivers 12V and 4A which equals 48W. Plenty for two HDDs and the built-in system for the hardware RAID.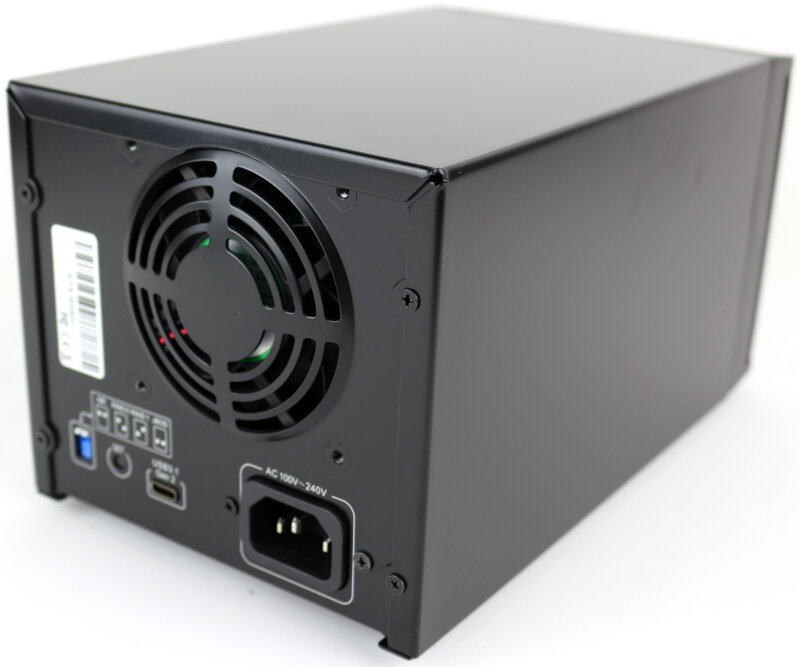 Controllers doing the work
There are two main controllers inside the SilverStone TS231U-C that do most of the work. There is the ASM1352R which is ASMedia's single chip solution to bridge USB 3.1 to a dual SATA interface. It also integrates ASMedia's proprietary HydraTeK technology. With it, it supports RAID0 (Strip), RAID1 (Mirror), JBOD and Span (BIG) with low power consumption. And all while it keeps the resource usage free from the main CPU. The second controller is the ASM1542 which is a passive 10Gbps signal switch.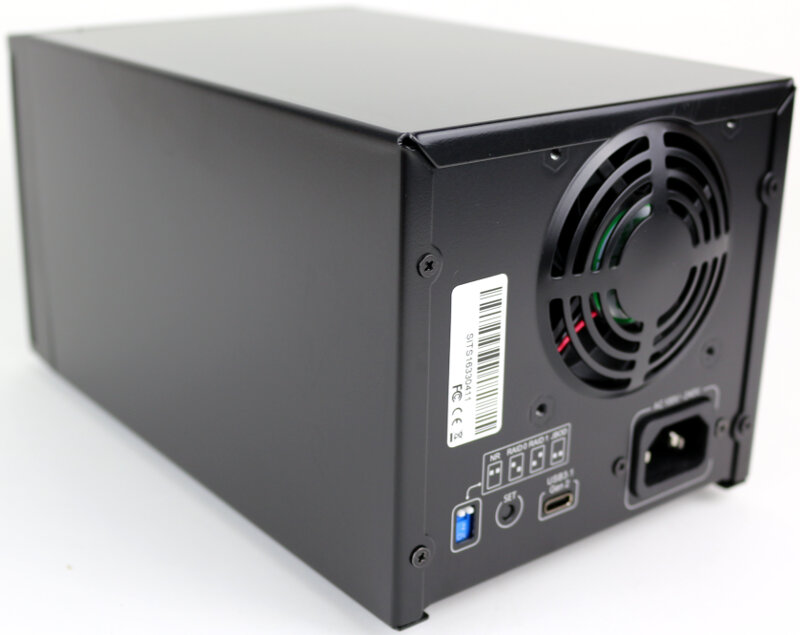 Feature Highlights
USB 3.1 Type-C connector with Gen2 up to 10Gb/s super speed transfer rate
Configurable RAID function (RAID 0, RAID 1, JBOD, Non-RAID)
Compact and screw-less design for easy HDD installation
Supports UASP (USB Attached SCSI Protocol) function for even faster performance
Aluminium body with Tool-free design
Supports all 3.5-inch SATA drives up to any capacity
Plug & play with support for hot-swapping
Specifications
Model No.: SST-TS231U-C
Colour: Black
Material: Aluminium and SECC body
Cooling system: 70mm x 15mm low noise fan x 1
Operating system support:
Microsoft Windows 7 (32bit/64bit), 8/8.1/10 (32bit/64bit) or future release version
Mac OS 10.5 or above
Power Supply:
Internal universal power supply design
Input: AC 100-240V, 50Hz / 60Hz
Output: DC +12V / 4A
Drive support: 3.5″
Enclosure Interface: USB 3.1 Gen2 up to 10Gbps (Compatible with USB 3.0 / 2.0 / 1.1)
LED indicator:
Solid Blue: Power on
Blinking Blue: Read / Write
Solid Red: Rebuilding
Blinking Red: Drive not recognised
Chipset: ASM1352R A1, ASM1542
Drive interface support: SATA I / II / III
RAID mode support: RAID 0, RAID 1, JBOD, Non-RAID
Enclosure connector: USB 3.1 Type-C
Environment:
Operating Temperature: 5°C ~ 35°C
Operating Humidity: 20%RH ~ 80%RH
Storage Temperature: -20°C ~ 50°C
Storage Humidity: 20%RH ~ 80%RH
Net Weight: 1983±20g
Dimension: 130mm (W) x 115mm (H) x 221.35mm (D) (without feet)