Spanish Police Raid Property Expecting Drugs – Find Crypto-Miners Instead!
---
---
---
Mike Sanders / 1 year ago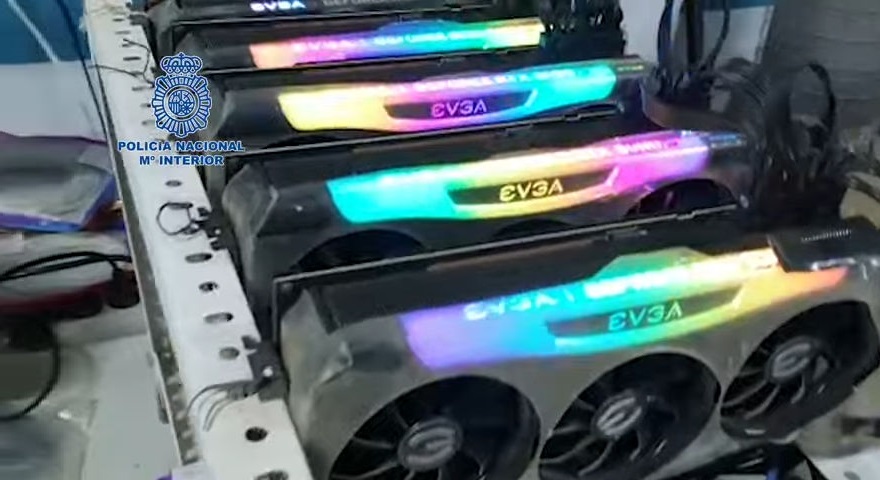 With the growth of cryptocurrency mining operations, in order to boost their profitability, a portion of their (less ethical) owners decide that it would be a lot more cost-effective to, you know, not actually pay for the masses of electricity they are using. In something of an interesting coincidence, however, this is the exact same mindset that many marijuana farms tend to take as well. – Given the more longstanding and familiar issue with the latter though, when police discover a location where power is being stolen, they tend to, more often than not, assume that when their size 12 boots kick down the door, they're going to find a drug operation.
Following a report via Videocardz, however, and in something that is not the first time this mistake has been made, Spanish Police conducted a raid on a property expecting to find a field of marijuana plants. Instead, though, they found a cryptocurrency mining setup!
Spanish Police Accidentally Discover Illegal Mining Operation!
Now, as noted above, this is not the first time such a mix-up has come to our attention. Last May, for example, a police raid in the West Midlands (UK) made a similarly accidental discovery as, practically identical to this, power was being stolen that led to the presumption that the authorities were going to find a drug operation. – And there, of course, you hit the issue here.
Cryptocurrency mining, in the general wider international sense, is perfectly legal. This is, however, presuming that the person/s involved in it are paying for their electricity! – As part of an official statement, Spanish police have said:
"Police investigations began on a possible indoor marijuana plantation that could be located in some stables located in Santiponce. After carrying out the first inquiries, the agents realized that the existing indications did not correspond to the cultivation of marijuana, but rather that these facilities could be hosting a cryptocurrency farm of which there are hardly any records in Spain"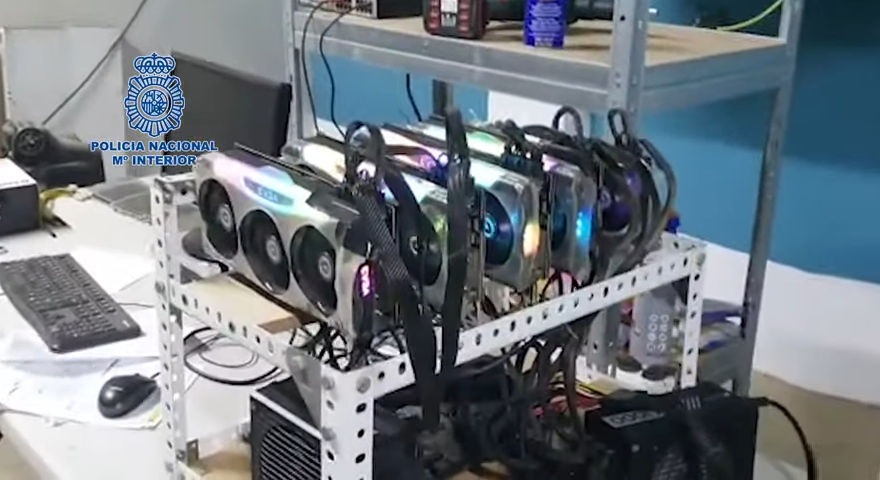 What Do We Think?
As we noted in the last instance, it does appear that police may have to open their scope to consider that when a power theft is identified, it may not necessarily be for the production of illicit substances. Cryptocurrency mining should also, without a doubt, be a considered possibility. – This doesn't, of course, change the legal issue or, indeed, the need for the police to pay the owner an unannounced visit. It does, however, seem that this is a mistake/presumption that may need to be addressed or at least further considered in the coming years.
With around €50,000 worth of equipment having been seized, including €13,000 worth of what appears to be EVGA graphics cards (which by today's standard could well be as little as 6-7 models), however, while it would appear that the raid has not initially led to any major arrests, somebody somewhere is probably having a bad day over this!
What do you think? – Let us know in the comments!