Supermicro X11SPI-TF LGA-3647 Motherboard Review
---
---
---
Bohs Hansen / 5 years ago
Introduction, Specifications, and Packaging
---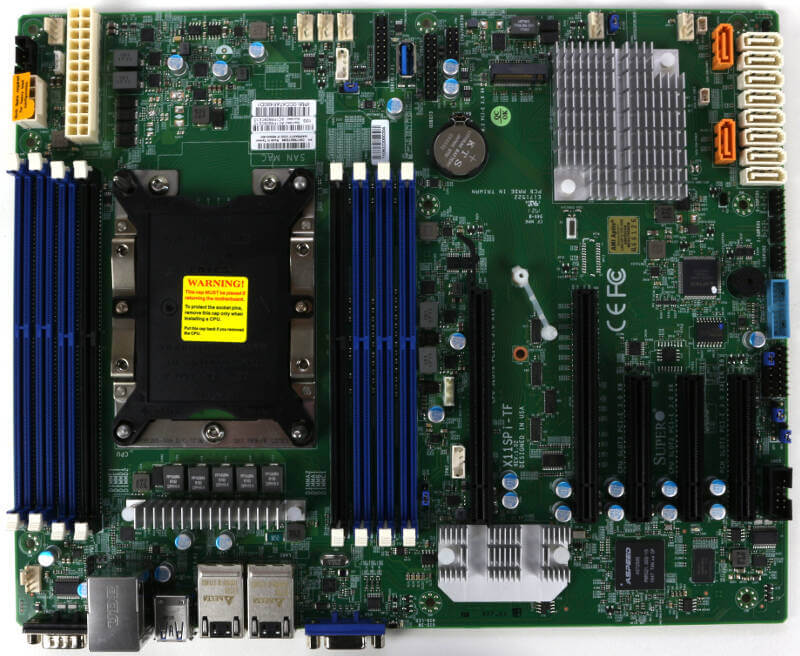 Today's review opens up a new series of motherboard reviews where we once again take a peek at the server and workstation sector. We have Intel's new Xeon Scalable processors in the lab and the first motherboard to be tested is the X11SPi-TF from Supermicro. It (Link) is a single-socket motherboard based on the C622 chipset with great connectivity, including 10GbE. Supermicro is without a doubt one of the leaders in the server field which makes it fitting to start with one of their boards.
Supermicro X11SPI-TF Server Motherboard
Supermicro's X11SPI-TF single socket P (LGA 3647) is a server motherboard with an ATX form factor. It utilises Intel's C622 chipset which has 20 PCIe lanes, 10 USB 3.0 ports, 14 SATA ports, and 8x PCIe Uplink. The chipset also offers support for Intel Virtualization technology (VT-d), vPro, RST enterprise, Node Manager, and Platform Trust Technology (PTT).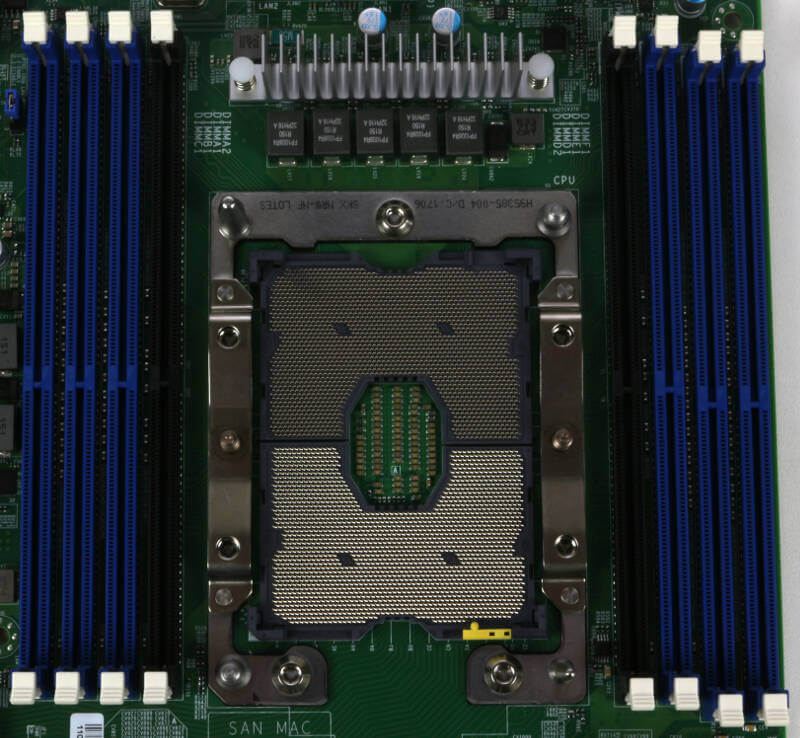 The X11SPi-TF can accommodate one Xeon Scalable processor with a TDP up to 205W and 28 cores. The motherboard supports DDR4-2666MHz memory with up to 1TB ECC 3DS LRDIMM, 512GB ECC LRDIMM, or 256GB ECC RDIMM with its eight 288-pin DIMM slots. Memory speeds from 1600MHz to 2666MHz are all supported, so you don't have to get the fastest possible.
Expansion Slots
We get an excellent add-in card support on the Supermicro X11SPi-TF motherboard. It has two PCIe 3.0 x16 and three PCIe 3.0 x8 slots. The first slot runs at full x16 while the next x16 and x8 share as either x16 x0 or x8 x8. The last PCIe x8 slot only runs x4 speeds but allows for a physical x8 card. Besides the PCIe slots themselves, there's also a PCIe M.2 slot with gen.3 x4 speed.
Storage Options and USB
Storage is a strong selling point for this motherboard as we get 10 SATA3 ports supported by the C622 chipset. They offer RAID 0/1/5/10 with enterprise RST. Two of the ten SATA ports are SuperDOM ports which come with built-in power. These two are perfect for a DOM OS setup while you keep the other eight ports free for high-capacity enterprise drives. With two ports, you can even RAID them for a performance or redundancy boost.
There's also room for one M.2 SSD on the X11SPi-TF, and that is another excellent option for an OS drive. The slot supports 2280 and 22110 sized modules, and it takes SATA as well as PCIe-based NVMe drives. With it, you can get a high-speed OS drive, exceeding 3000MB/s performance. It could also be used for a cache drive, for example. There are many options.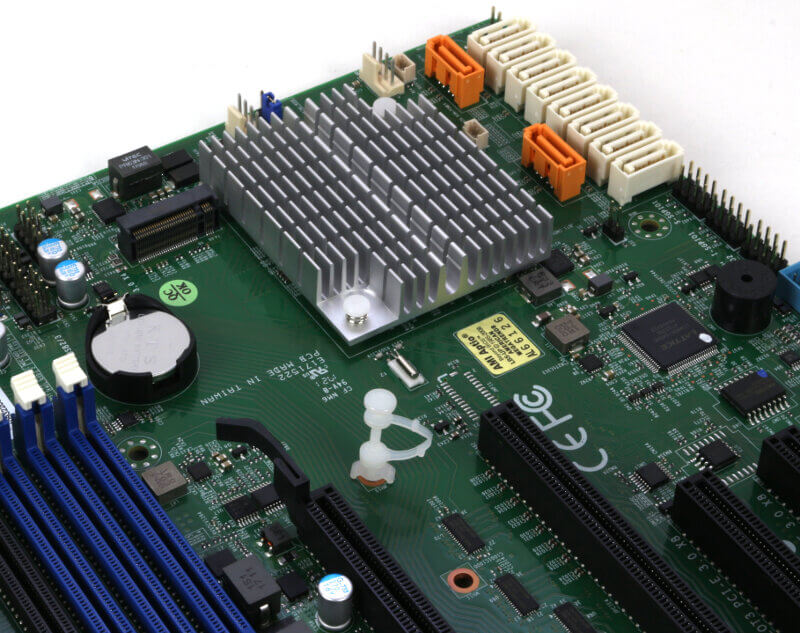 The rear panel features two USB 2.0 and two USB 3.0 ports. Another four USB 2 and two USB 3 ports can be connected through onboard headers. A feature I love to see on any motherboard designed for a head-less setup is the internal onboard USB port. On this motherboard, it's a high-speed USB 3.0 port. There are various usages for this port, such as OS backup, diagnostic tools, and more.
Networking and Remote Management
Dual network connectivity is normal these days, at least on enthusiast boards. The X11SPi-TF features dual LAN too, but it's with ten times the performance. The two RJ45 ports run 10GBase-T controlled by an Intel X722 and X557 setup. 10GbE has made its firm impact in the enterprise sector, and it's no longer a rarity. I for one love this as slow network connectivity easily turns into the bottleneck for systems as powerful as them built on a motherboard like this.
The third network port is Gigabit, and it is for the remote management. We get a full IPMI 2.0 support through the Aspeed AST2500 chip. It offers onboard graphics with a D-Sub VGA port too which is a nice bonus that allows local control without the need for an extra graphics cards. You might want to use the PCIe slots for something more useful such as storage controllers.

More Connectivity
There are 2 COM ports on the X11SPi-TF too. One of them is located at the rear IO panel while the other one is offered via onboard header. That isn't a whole lot of external connectivity, but it's plenty for this kind of motherboard. Adding sound or a whole lot of extra USB ports would only increase the price while never being used by anyone.
Feature Highlights
Intel Xeon Scalable processor support for up to 205W TDP
Intel C622 chipset with 10 SATA3 6Gbps ports
Up to 1TB ECC 3DS LRDIMM DDR4-2666MHz through 8x DIMM slots
Dual 10 Gigabit Ethernet LAN ports
2 SuperDOM with built-in power
M.2 NGFF connector for PCIe or SATA
Onboard USB Type-A port
IPMI 2.0 with Aspeed 2500 and VGA output
Specifications
The specifications are valid at the time of review. They may be subject to change on possible future revisions of the motherboard.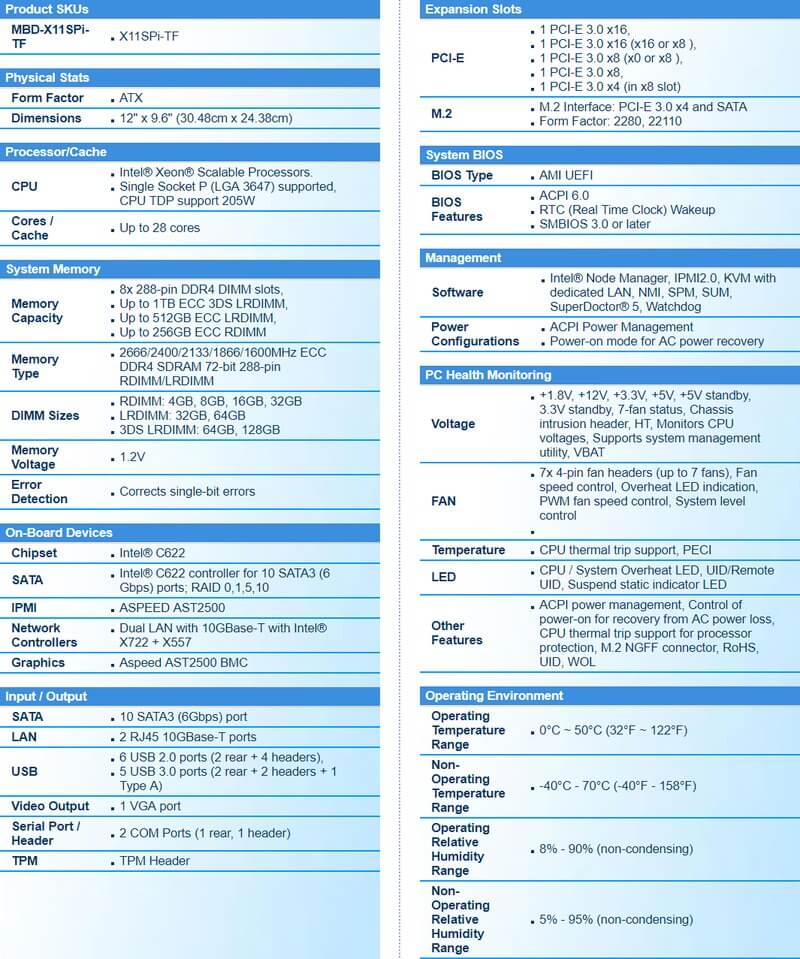 Package and Accessories
Normally, there are accessories. The bulk package includes two SATA cables and an I/O shield while the retail package has the I/O shield, six SATA cables, and a quick reference guide.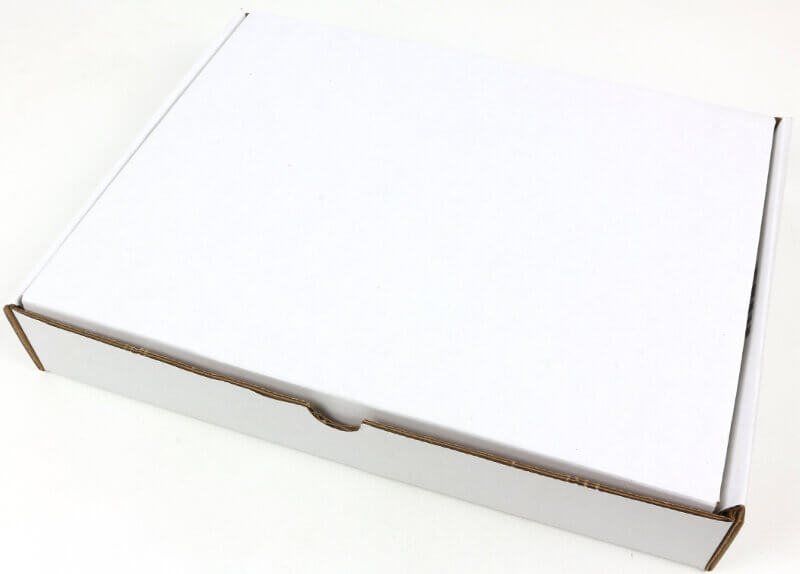 However, my early review sample contained the motherboard only. That's no problem for the review, but it logically means that I can't show you the included accessories. Then again, we've all seen SATA cables and IO shields before.