SureFire 1TB SSD & 2TB HDD External Drive Review
---
---
---
Peter Donnell / 1 year ago

For the most part, I think we can agree that storage can be a little bit boring. However, while it may not always light your world on fire, it's still good to know you have a reliable and easily accessible backup of your important data. Family photos, those important work documents, etc. Again, that's just making it a little more boring too, so today, I'm going to focus on something fun. Gaming is a big part of many of our lives, and with lockdown persisting for many of us, gaming is a bigger part of our daily routine than usual.
Games are Getting Bigger
Games just keep on getting bigger and bigger too, with many AAA blockbusters now clocking in at 100GB or more. I'm looking at you Call of Duty, and I'm not looking happy while I do it. How can an FPS take up the same space at a global-scale flight sim? Seriously. From PC to console, the demand for game storage is quite literally growing.
Internet Speeds
Furthermore, internet speeds aren't always brilliant for everyone. I've had my fair share of lousy internet over the years. Downloading a game on multiple computers just isn't an option for some people. However, downloading it and creating a backup that you can move to the other computer is a big advantage.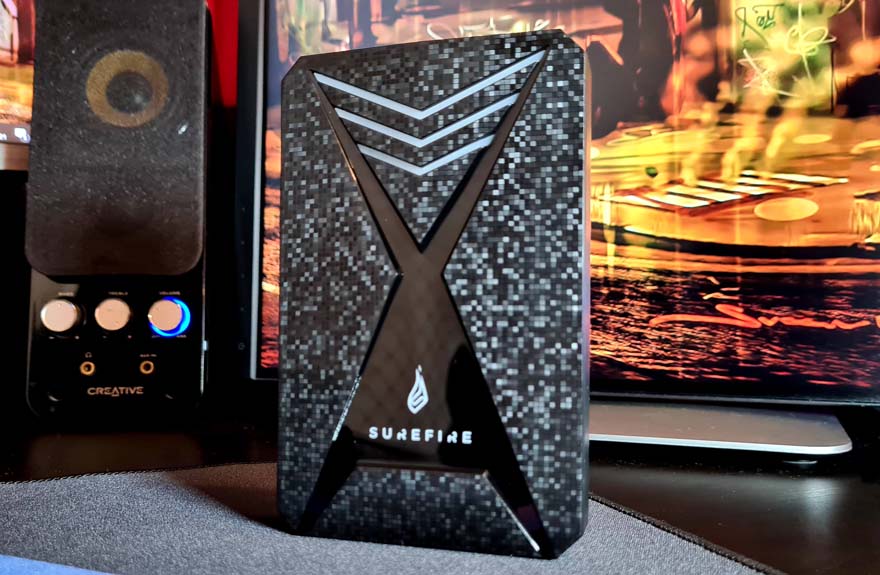 SureFire 1TB SSD & 2TB HDD
Furthermore, if you're limited on storage space on your computer, you can keep your games on the external drive, enabling you to keep your Steam (or other services) library free of the main drive, and portable. The same is true of consoles, and you can install games to the drive, or keep them backed up so you don't have to redownload them next time you want to play them.
Surefire sent me two of their latest external drives. One is an HDD, which offers larger capacities, albeit at the slower speeds of an HDD but it's perfect for backing up larger games. Plus, I have their portable SSD, which has a smaller capacity, but has much higher read and write speeds; perfect for running games directly off of the drive.
What SureFire Had to Say
"PlayStations, Xboxes, laptops and PCs have limited storage capacities and the latest games quickly fill them up leaving no space for new titles. The new SureFire External Gaming SSDs and Hard Drives provide purpose-built extended storage for gamers looking to save their gaming library in a convenient, high capacity, on-the-go device. SureFire Gaming Hard Drives and SSDs are plug-and-play which allows players to get up and running in minutes, and being compact in size with no power cable, it makes them highly convenient for the living room or to easily take to another location to play there." – SureFire