Swann DVR8-4550 8-Channel Full HD Security Kit Review
---
---
---
Bohs Hansen / 7 years ago
Introduction
---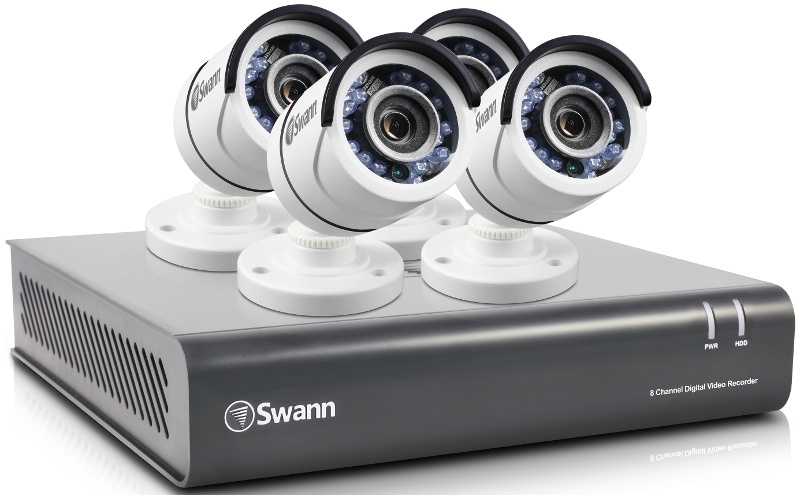 Whether you want to secure your home or your business, one of the easiest ways to get started is by getting a quality starter kit that has everything you will need to get started included in a single box. Today, I am taking a closer look as just such a kit as I got the Swann DVR8-4550 8-channel 1080p HD digital video recorder kit in the office and this set comes with four full-HD cameras and all cables that we will need to set it up included.
There can be quite a few reasons why you might want a security system. Maybe you just want an extra layer of security at home, just in case, or maybe you want to secure your business with it – or maybe even just keep an eye on your pets and kids while you're out. Whichever reason it might be, the Swann DVR8-4550 kit will suit most needs.

We do get a lot in this starter kit. It comes with four cameras included and supports the addition of another four cameras to the video recorder. The four included cameras are Swann PRO-T853 cameras and they're quite nice with their full HD video recording and 80-degree field-of-view. They can be used both indoor and outdoor as they are IP66 rated which means that they are "dust tight" and protected against heavy seas or powerful jets of water.
A lot of the time, a security system's importance is during the night and that's no issue for these Swann cameras either with their 30 meters night vision capabilities. As outdoor-rated cameras, they also need a good temperature tolerance and that's present too with a rated operating temperature from minus 20 degrees to plus 50 degrees Celcius. The only thing missing from these cameras is a microphone, that is if you also want sound.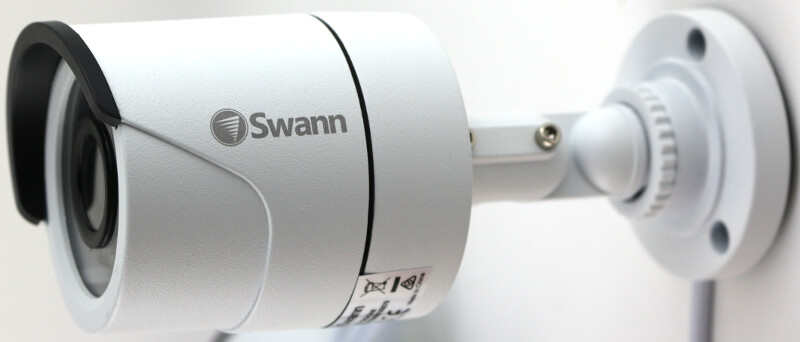 The included DVR8-4550 digital video recorder supports 8 channels and comes with both HDMI and VGA (D-Sub) output for a resolution up to 1080p. The built-in 2TB hard disk drive allows for easy "set & forget" as that can hold recordings from 8 channels for 160 days (with 15% motion events at lowest settings). Where the cameras didn't have any microphone, the DVR has both an RCA connector for audio input and one for audio output.
The two built-in USB ports allow you to connect external storage for backups as well as a mouse for the control of the system – and Swann even included a mouse in the package. As I mentioned above, the set comes with everything you need to get started right out of the box. Where USB 2.0 is slow for storage, the Gigabit Ethernet port allows for network and internet connection to the surveillance system. This way, you can remotely monitor your setup and that includes mobile phones and tablets thanks to the Android and iOS apps. Sadly there isn't a Windows 10 app yet which would suit a surveillance system well.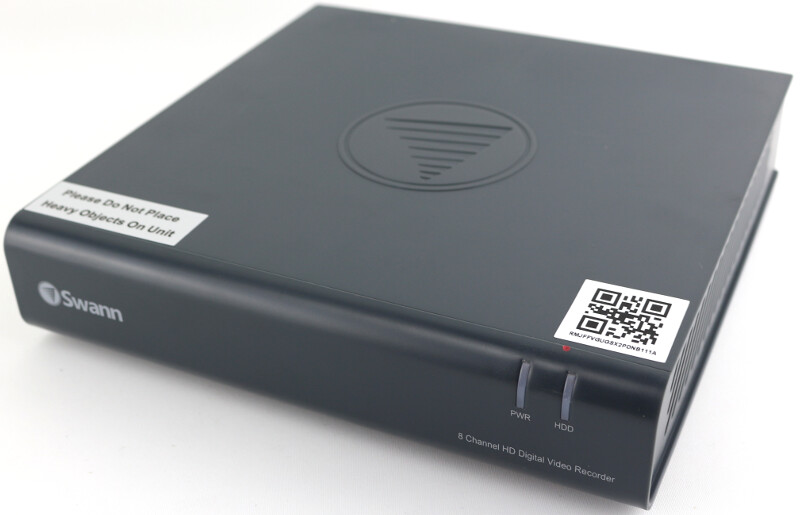 Overall, a pretty amazing system with live view or playback of video in high definition on your HDTV, LCD screen or monitor via HDMI connection as well as surveillance in the palm of your hand with live viewing on smartphone and tablets including using the free SwannView Link app.
Cut the cost of crime & know what's happening with this expandable HD security system to suit homes, offices, small businesses, and retail stores. The included stickers for doors and windows might even prevent crimes from happening in the first place as criminals will know that the premises are under surveillance.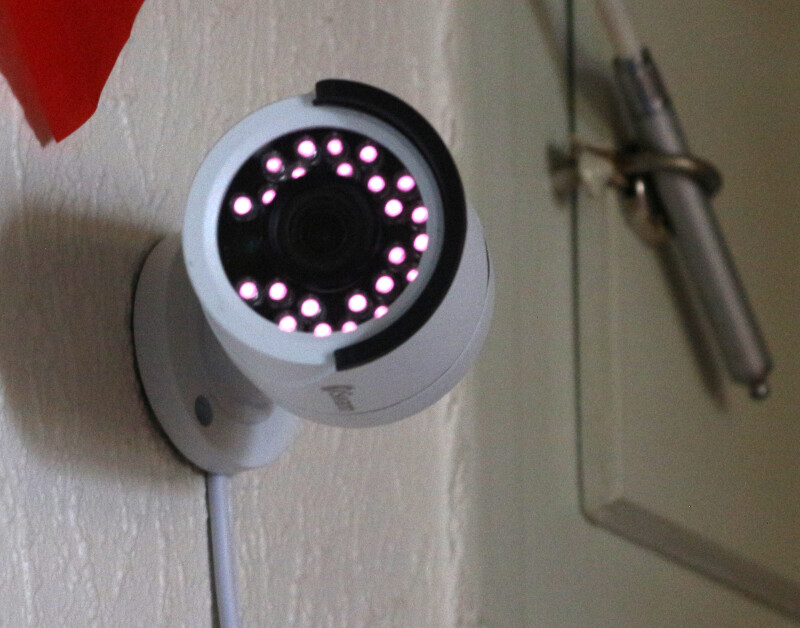 Another bonus to owning a Swann security set is the lifetime of customer support. For the entire product's life, you'll have 24/7 customer support to help you with any problem you might run into.
Feature Highlights
View 8 cameras at once, 4 in quad mode, or one at a time
Amazing HD Live viewing and playback from four 1080p cameras
Long 160-days recording to pre-installed 2TB hard drive
Powerful day and night vision up to 30 meters
Durable camera casing with IP66 rating
Visible cameras and stickers deter crime from happening
Easy do-it-yourself installation with cables and connectors included
Motion Detection
DVR Specifications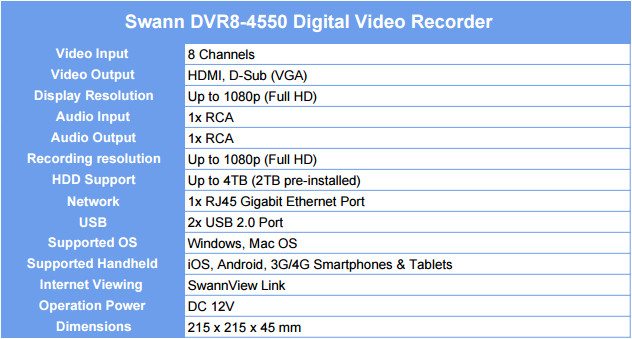 Camera Specifications

Packaging
There is no doubt about what you're getting when you look the box for the Swann DVR8-4550 kit. The front displays all the vital features as well as the included DVR and cameras.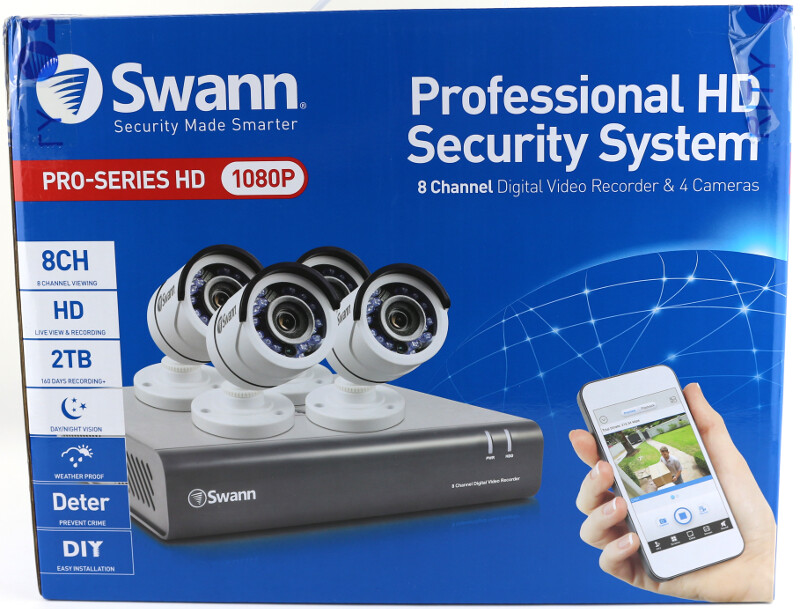 The rear side explains the kits purpose in more detail and also lists the complete package content.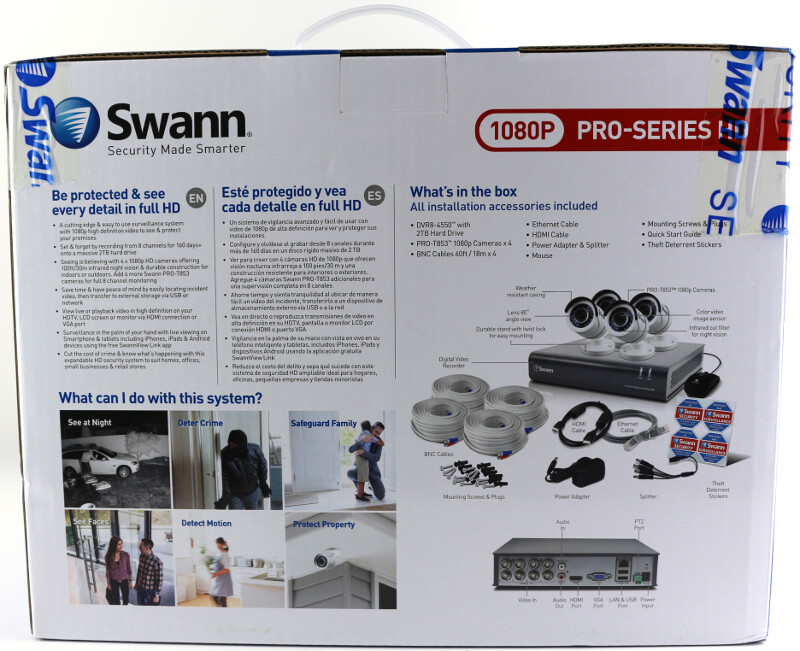 The box sides also provide us with a lot of information such as the SwannLink support and Lifetime 24/7 customer support for the full life of the product.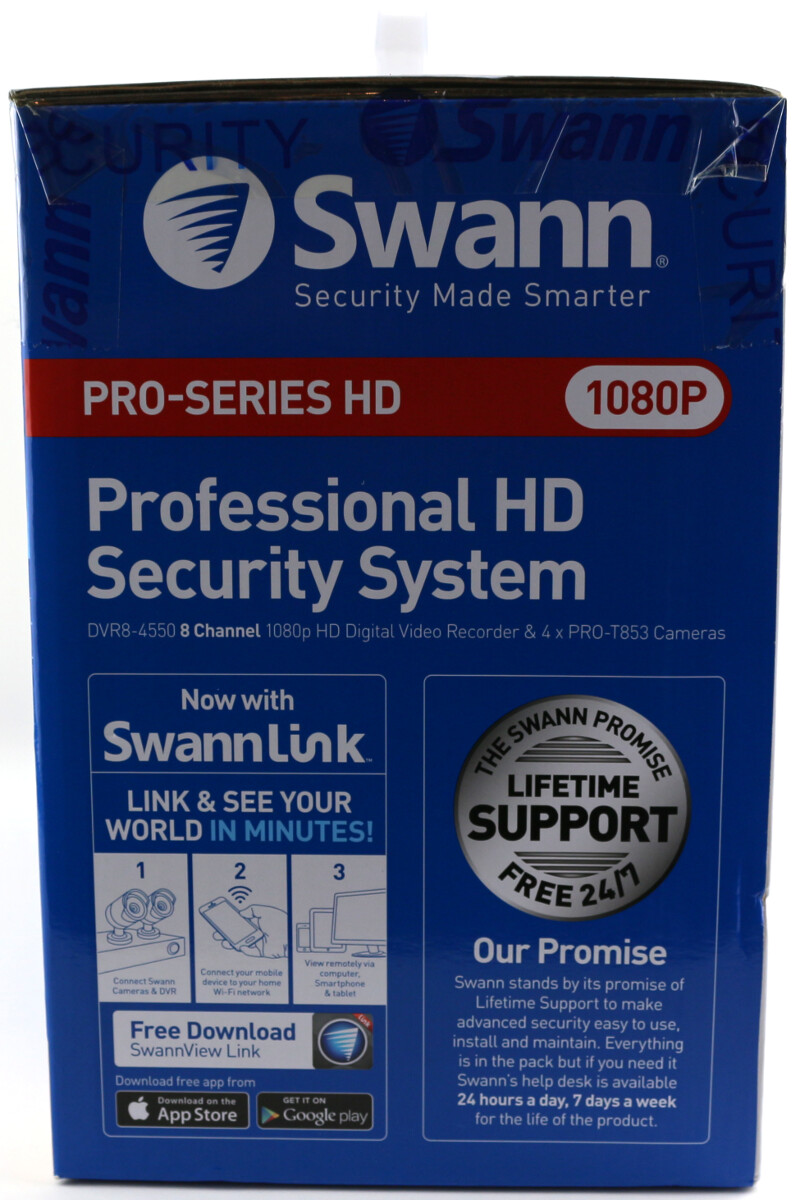 The other side features some info on the DVRs dashboard and the camera's quality along with more feature highlights.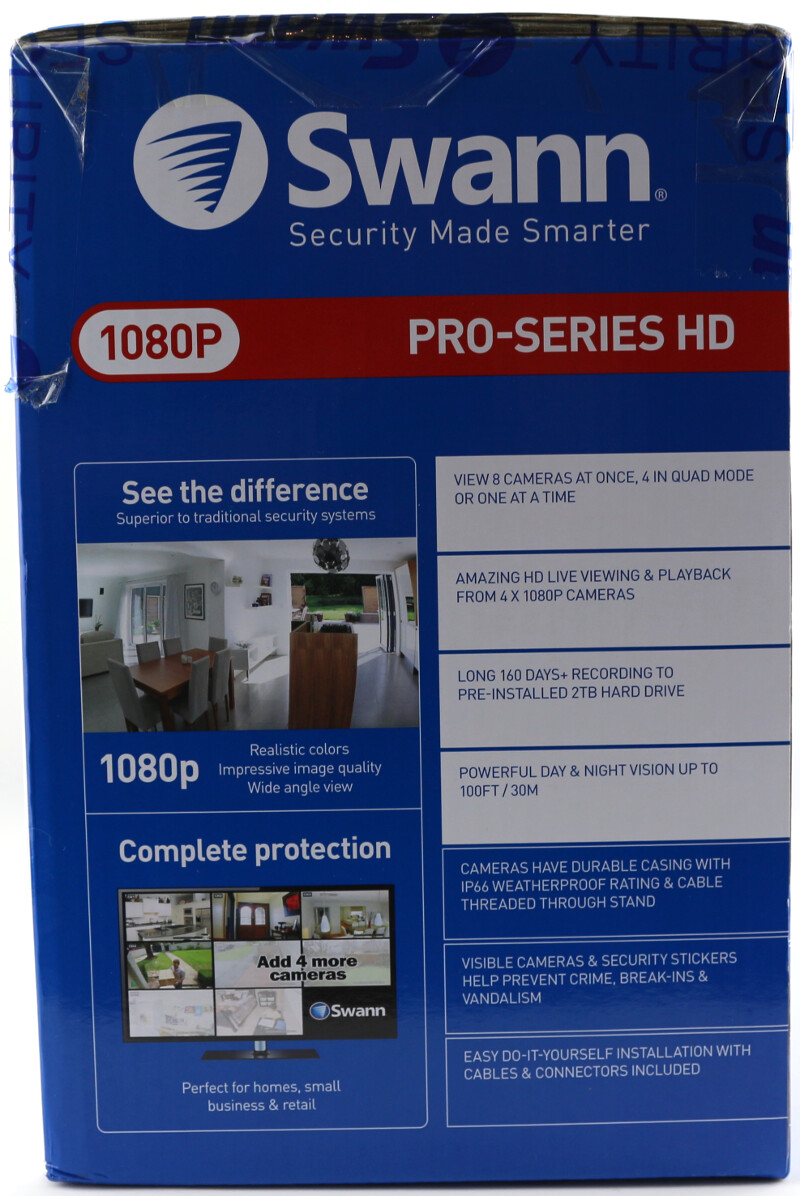 Even while we're unboxing the device we're presented with more information that will help us set our new surveillance kit up in the right order. Colour coded leaflets help with that.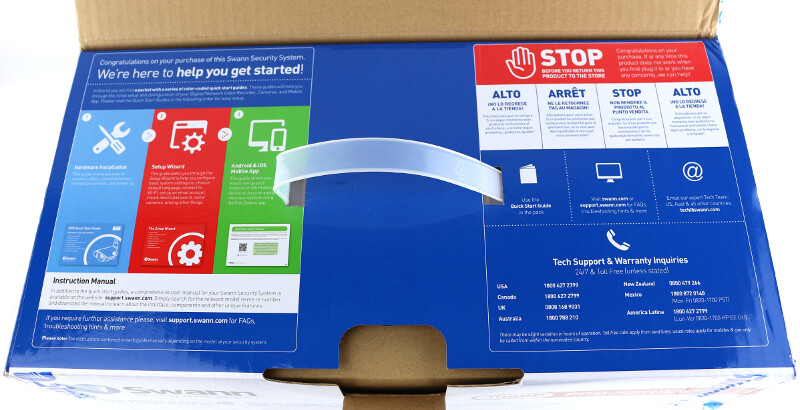 Inside the large box, we find two smaller boxes and we'll take a look at what's inside those on the next page.