Synology DiskStation DS418 4-Bay NAS Review
---
---
---
Bohs Hansen / 4 years ago
Introduction
---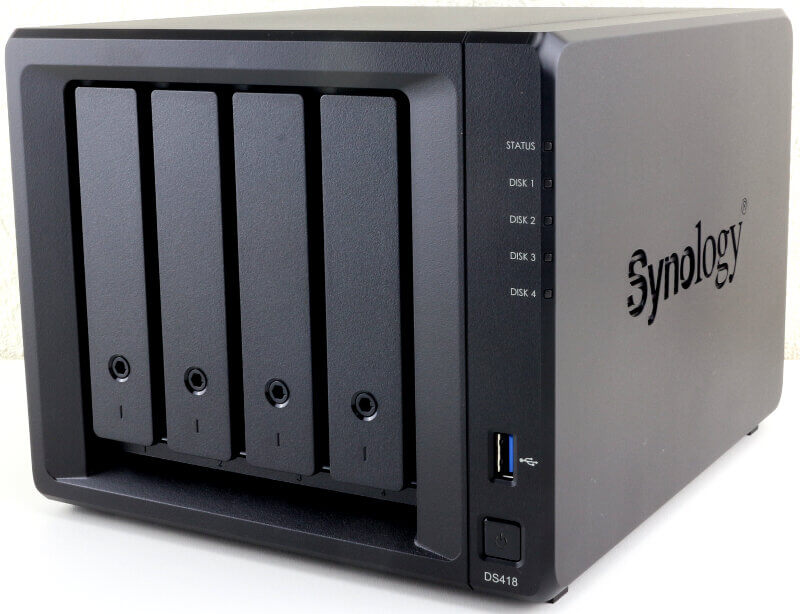 Today we're taking a look at a basic but very competent 4-bay NAS, the DiskStation DS418 (product link) made by Synology. The word basic shouldn't be taken out of context though, it's a NAS with good hardware specs, but it is one that only comes with the things you really need. In return, you get a NAS which delivers where it matters without breaking the budget.
Synology DiskStation DS418 Hardware
Within the DS418 beats a quad-core processor with a base clock of 1.4GHz which is coupled with 2GB DDR4 memory. The processor used is the Realtek RTD1296 which is a 64-bit processor. It comes with hardware encryptions engine as well as 10-bit H.265 hardware transcoding engine.
Things are also basic but good when it comes to the connection options. The DS418 features dual Gigabit Ethernet for failover and aggregation as well as two USB 3.0 ports. A lot of SOHO users might think, I don't need dual ethernet, but SMB admins will feel joy over it. While a dual-port setup isn't optimal in every situation, it increases the possibilities.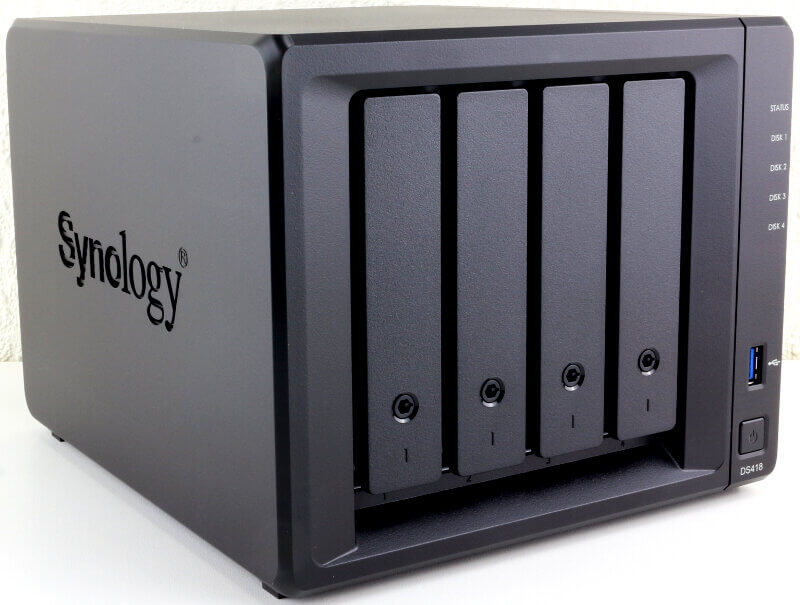 While 2 USB 3.0 ports don't sound like a lot, it will be more than enough for most people. You rarely have more than one portable device connected at once, and as such, two is sufficient. But if you want to have something connected permanently, then there's the second port. One is located on the rear side while the other is on the front for easy access. What more could you want?
Drive Options and File System
With four internal drives, you can easily install up to 48TB raw capacity within the DS418. It is using the EXT4 file system, so those hoping for BTRFS will have to choose another device. Still, the NAS supports single volumes up to 108TB as more can be attached by the use of Synology's external USB 3.0 enclosures.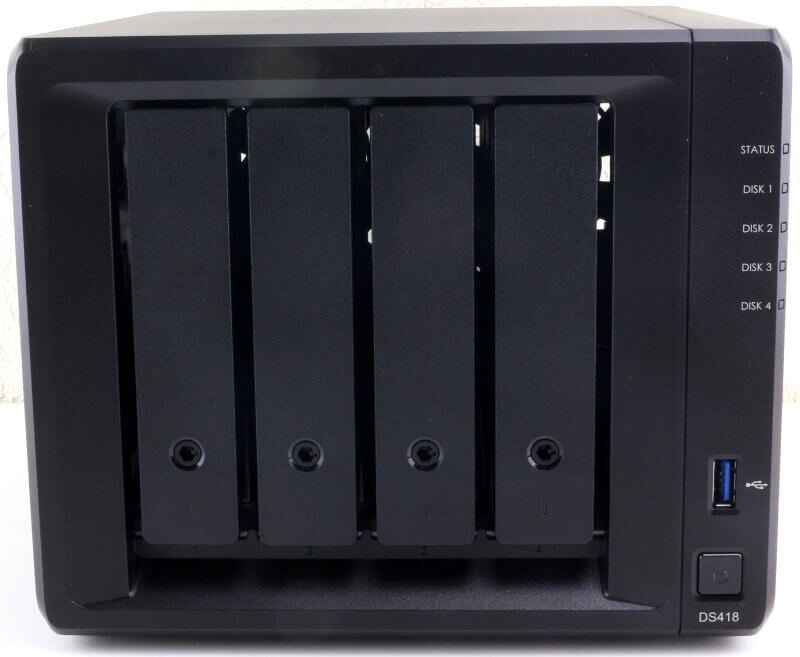 Externally, you can connect close to any file system that pleases you. From EXT3 and EXT4 over FAT to NTFS and HFS+. exFAT is also supported, but it requires a small fee for a licence. That can be bought directly through the Package Center though, so it's easy and it won't cost a lot either. While no one likes paying extra, you can't fault Synology for this. It is the file format that needs to be licensed, and it's the same for any non-windows system.
Cooling, Noise and Lights
The DS418 is well cooled by the two built-in 92mm fans. There are several fan profiles, allowing you to pick something else than the default in case that doesn't suit your needs. The fans can run full-speed mode, in a cool mode, or in the quiet mode. With the default settings, which are more than sufficient for almost everyone, the NAS runs at a mere 20.9 dBA noise level. That's barely audible. Of course, the installed drives make noise too and which you install can affect the overall noise generation.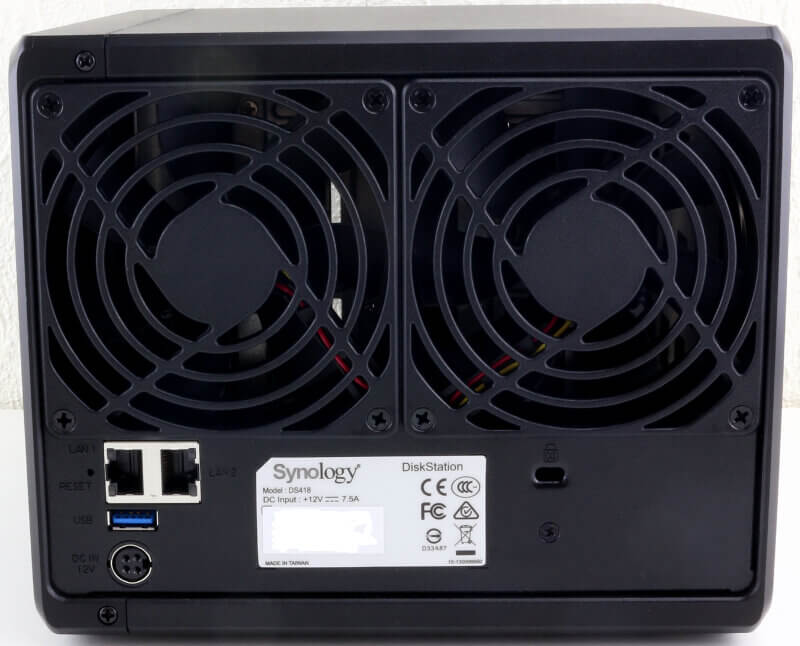 All the indicators and LEDs on the front are adjustable, which is a huge bonus. Long gone are the times where you were bothered by blinking or bright LEDs in the corner of your eyes. Or maybe the NAS is placed in a room you want to go entire dark at times, a bedroom for example. That's no issue with the DS418 either.
Power Consumption and Remote Awakening
Another great feature is the Wake-on-LAN which is quite common and present in almost every NAS these days. Why should the NAS run when you don't need it? Save the power and extend the life of your hardware at the same time. Synology also offers wake-on-WAN with the DS418, allowing you to wake it from anywhere. That is particularly useful when you connect home using your mobile devices. Synology has a full set of available mobile apps for the three major mobile operating systems: Android, iOS, and Windows Mobile. With such a set of apps at your fingertips, you get a lot of possibilities. Forgot to start a download or want to stream what's stored on your NAS? No problem with the DS418.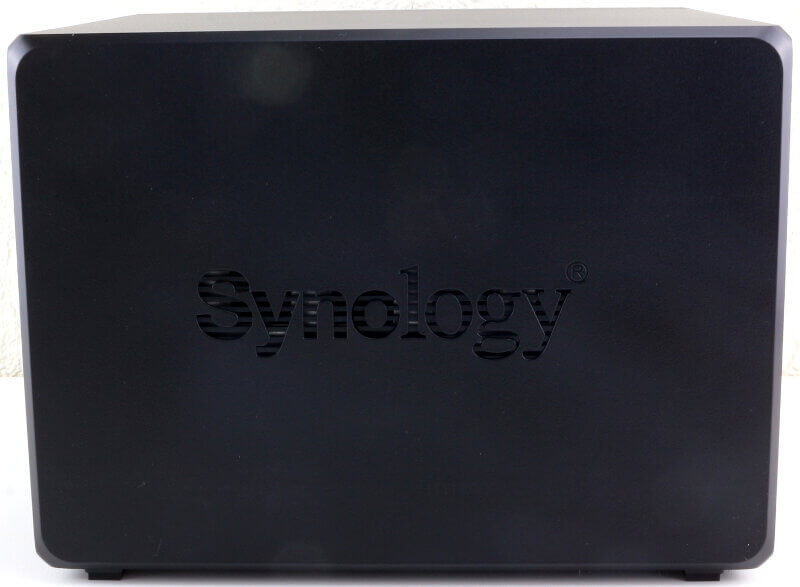 For a four-bay NAS, the DS418 is quite economical too. That is partially due to the CPU choice. It consumes about 26.5W during access and as little as 8.8W when the drives are hibernating. Of course, the overall power consumption will depend on which drives you have installed. The 90W PSU will easily be enough no matter which drives you opt for.
Feature Highlights
64-bit Quad-Core processor and 2GB DDR4 memory
On-the-fly hardware-transcoding with 10-bit 4K H.265 video
Hardware encryption engine
Dual Gigabit Ethernet for up to 226MB/s sequential throughput
Two USB 3.0 ports
Wake on LAN and WAN feature
iOS, Android, and Windows Mobile companion apps
Package and Accessories
Synology's NAS packaging is quite simple, and I really like that. They don't waste a lot of resources on full-colour boxes that no one looks at once the device has been unpacked. That said, the box has every bit of information that you'll need. Instead, it's printed labels which are located on either side of the box.
The front-facing label showcases the included device along with the four most prominent feature highlights.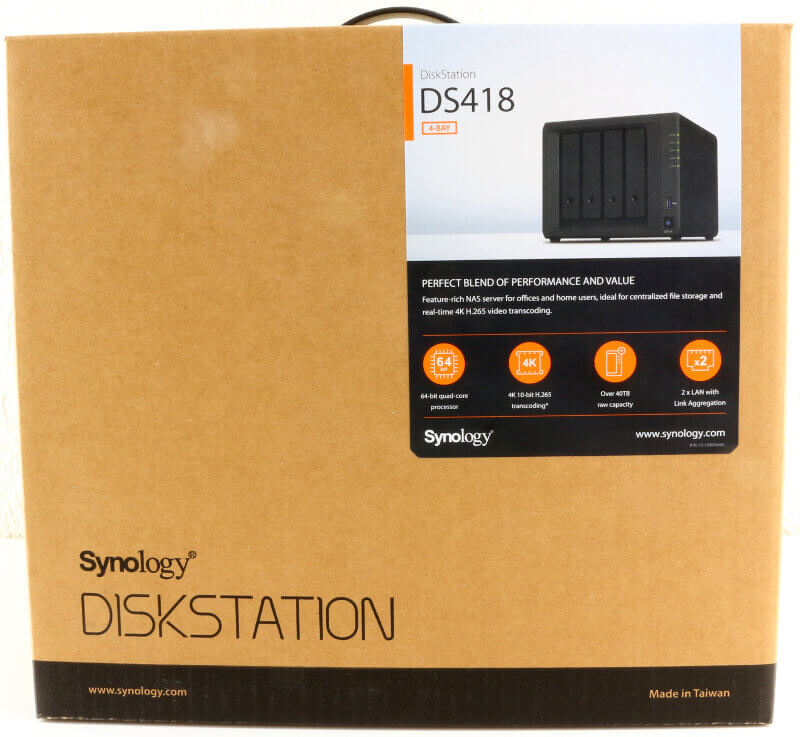 On the rear side, you'll find the specifications along with a list of what's included in the box. There's also a diagram of the device itself with what is located where and what it is.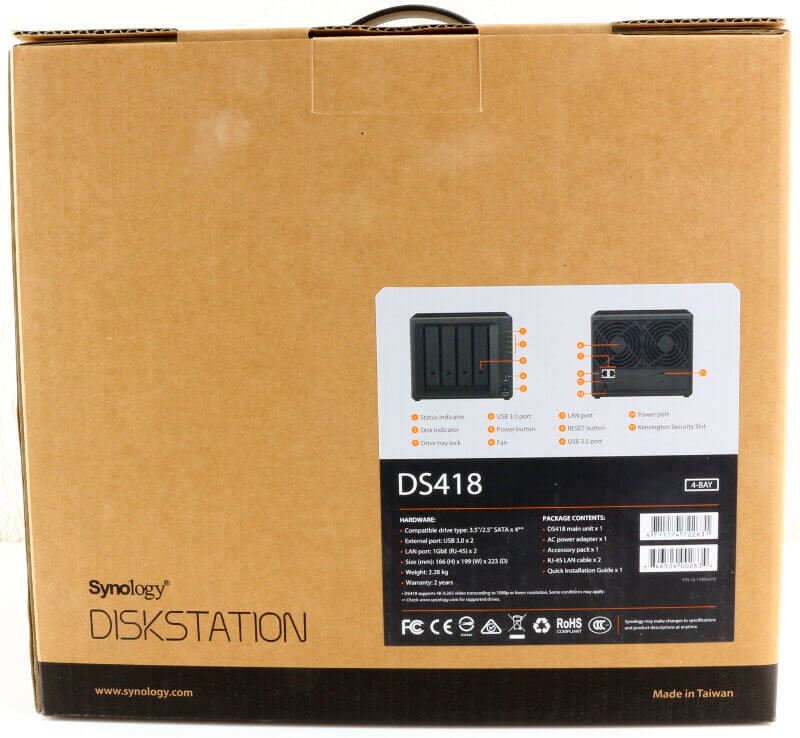 Within the box is the NAS itself, naturally, but also an external power supply with a cable that fits the region you purchased it in. In this case, it is a German/EU power cable, but if you get it in the UK or the US, or somewhere else, you'll get a cable for that region.
You also get two LAN cables, making everything ready for a full dual-GbE setup. There are a couple of keys to lock the drive trays too, a pack of screws, and a few notes such as the quick installation guide. You also get a free trial of the C2 backup program included.