Thecus N2810 2-Bay 4K Capable SMB NAS Review
---
---
---
Bohs Hansen / 7 years ago
Introduction
---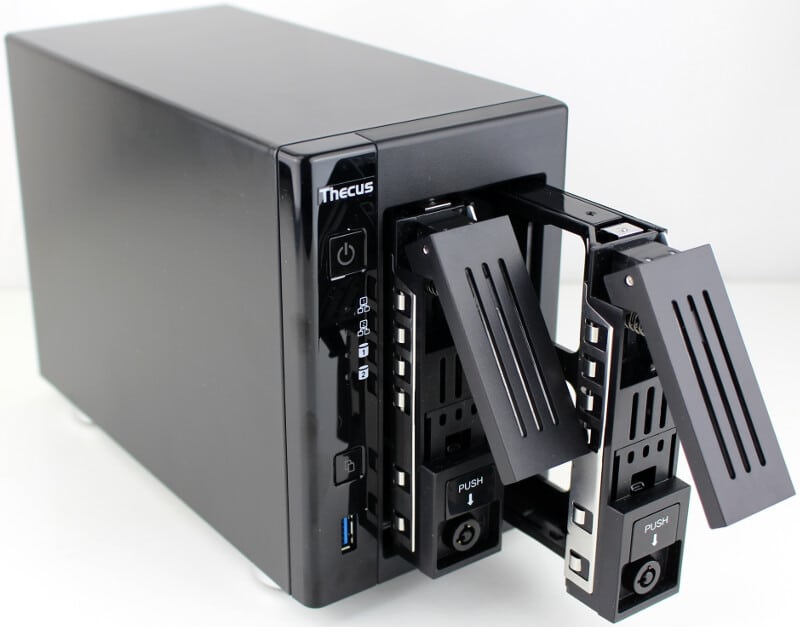 Today's review is a little bit special as I don't just get the chance to test one of the newest NAS on the market, but also a new operating system at the same time. Thecus N2810 2-bay SMB multimedia NAS server with 4K playback is in the testing area and it comes with Thecus' brand new ThecusOS 7.0.
Thecus N2810 NAS is powered by an Intel Celeron N3050 Braswell dual-core processor with 1.6GHz base clock and a 2.16GHz burst speed. This is a great processor for NAS usage as it's both powerful and energy-efficient. On top of that, the N2810 supports hardware AES 256-bit encryption for that extra layer of security without impacting performance the way a software solution will. This is backed by 2GB DDR3 memory, but you can upgrade the system to a maximum of 8GB DDR3 RAM should you require more. The standard 2GB should still be plenty for normal usage scenarios and seamless 4K media playback.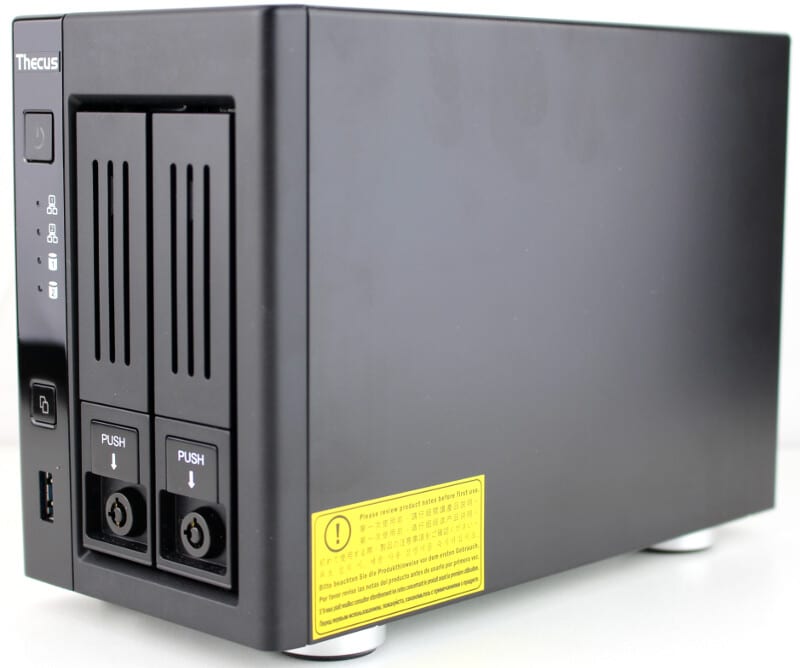 Thecus opted for a full USB 3.0 setup which is a nice thing to see. Thanks to the USB bus' compatibility you can easily use legacy devices while having maximum speed on your modern equipment such as high-end flash drives and external SSDs. There are two USB 3.0 ports on the rear and one on the front. The front port also features a convenient one-touch copy button that allows you to copy content to or from a USB drive with a single press of the button.
The two RJ45 Gigabit Ethernet ports on the N2810 support 10/100/1000 BASE-TX Auto MDI/MDI-X and Wake-on-LAN. You can naturally also set them up for link aggregation and Thecus allows you to set all seven modes: Load balance, Failover, 802.3ad, Balance-XOR, Balance-TLB, Balance-ALB, and Broadcast.
There is also the HDMI port for direct playback on your TV or monitor without the need for any other device at all. This is a feature we see more and more on modern NAS devices and it is one that I really love. While streaming is great, a direct connection allows for higher compatibility with formats and there are fewer points of failure or lag on the way. That said, the Thecus N2810 has absolutely no trouble streaming either, but we'll get to that later.
Keen eyes will already have spotted the serial UART port too and that isn't something that we usually see on NAS devices, it is however an awesome feature. We sometimes find the port on the PCB, but rarely on the device itself. UART stands for Universal Asynchronous Receiver/Transmitter and is part of the serial communication protocol.
The N2810 is the first Thecus NAS to run the completely new ThecusOS 7.0 operating system and user interface. The refreshed OS offers an easy to use and intuitive user interface and quite a lot of new features over the previous OS including the new Photo Station, Thecus App Center with over 700 apps, and user profiles. Besides the design and feature improvements, it also got a push in regards to the performance where it gets even more out of your hardware.
The N2810 steps up to the challenges that 4K playback creates and provides a robust hardware platform that is able to handle multiple tasks with ease. The built-in HDMI port allows you to transform the NAS into a multimedia hub by connecting it directly to your TV or media center to utilize the power of KODI. There are plenty of streaming options too with basic DLNA as well as Plex Media Server that can stream to your consoles with ease. The server can also automatically assemble iTunes, iPhoto, and Aperture content. Apple TV and Chromecast are both supported too, completing the circle of media abilities.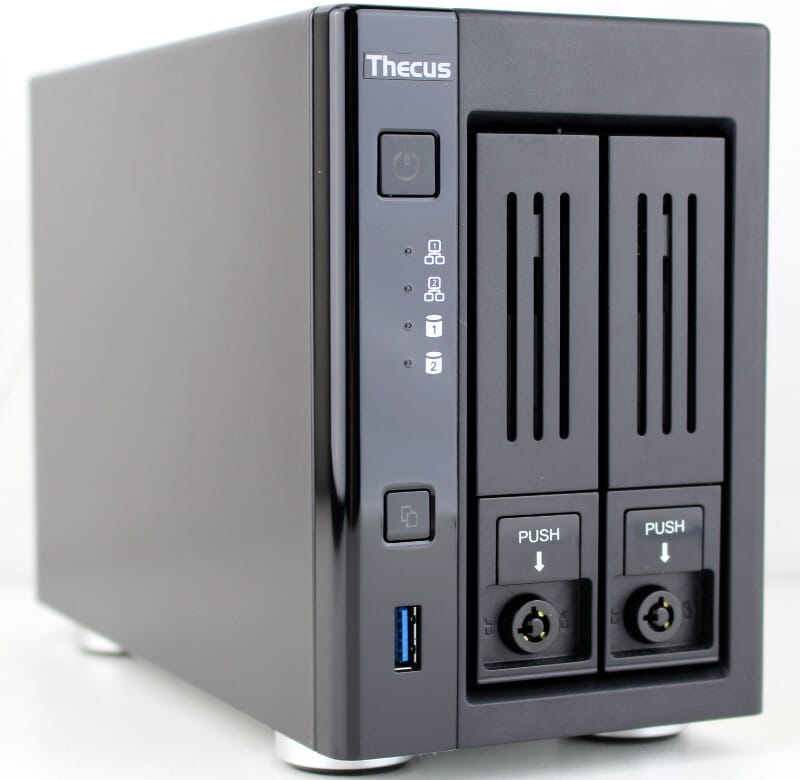 The N2810 is an SMB NAS and as such comes with a comprehensive list of enterprise-oriented features too, although none of them are limited to firms and enterprises, home users can take equal advantage of them. The Thecus System Failover feature is a fault tolerance process that creates mirrored data volumes. With at least two Thecus NAS available, data is copied by schedule and all changes are mirrored between the two NAS. While the second NAS is not visible, it communicates with the primary NAS. In the event of a power or network failure, a scheduled maintenance, or other unforeseen circumstances, System Failover automatically redirects operations to the secondary Thecus NAS, which then acts as the primary NAS.
Local failover is also achieved easily with a Thecus NAS and Snapshots. With BTRFS support, users can enjoy the simplicity of snapshot backups through BTRFS subvolumes. Snapshots of data at various time points can be manually or automatically made and just as easily later restored to rollback files or folders to previous states.
To complete the backup and failover abilities, the N2810 comes bundled with Acronis Backup Software that can backup all your data to the NAS with a single click as well as local backups and Time Machine support. Real-time remote replication (Rsync) is naturally also supported and it is one of the easiest to use and widest available backup methods.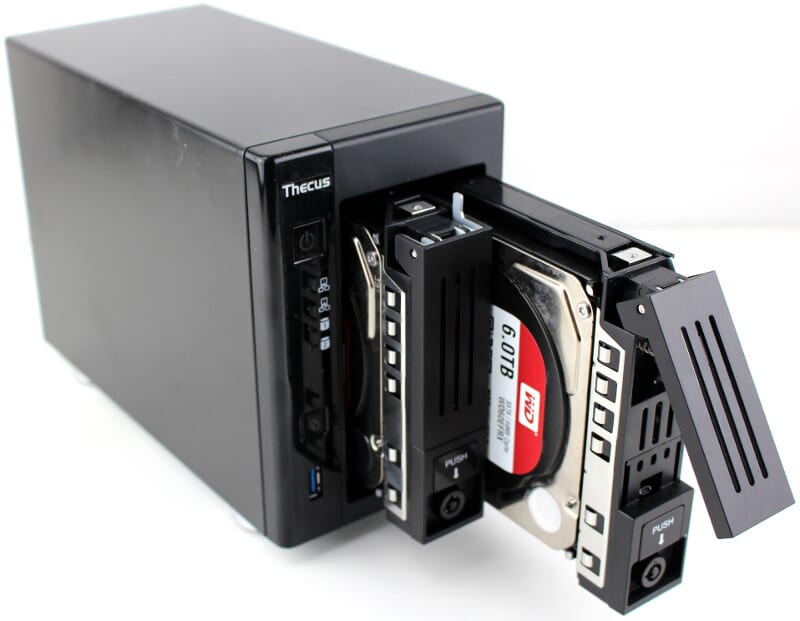 Security is an important factor on a NAS, after all, it's the device that holds all your files, memories, and data. Whether you're an enterprise user or a home user, a virtual private network can come in very handy. The N2810 can operate as a VPN server and allow users to remotely access through a secure network.
Thecus also added Intel Security to the package that gives you an active defense against viruses that might have made it onto your NAS. The software protects you by scanning the files on your NAS and defending it against possible threats. Intel Security is the world's largest dedicated security technology company and Thecus users will be able to benefit from Intel Security's powerful software on their NAS entirely for free.
With the Thecus N2810, it is also an easy task to set up your own personal cloud service that will work with mobile iOS and Android devices with the use of Thecus' T-OnTheGo app and your PCs. The mobile app enables users to access, copy, stream, and edit any data between their NAS and mobile device. Your own personal cloud, available from anywhere with internet access. The access from anywhere is made as easy as it could be thanks to the built-in DDNS feature that will give your NAS a name rather than a difficult to remember and mostly changing IP address.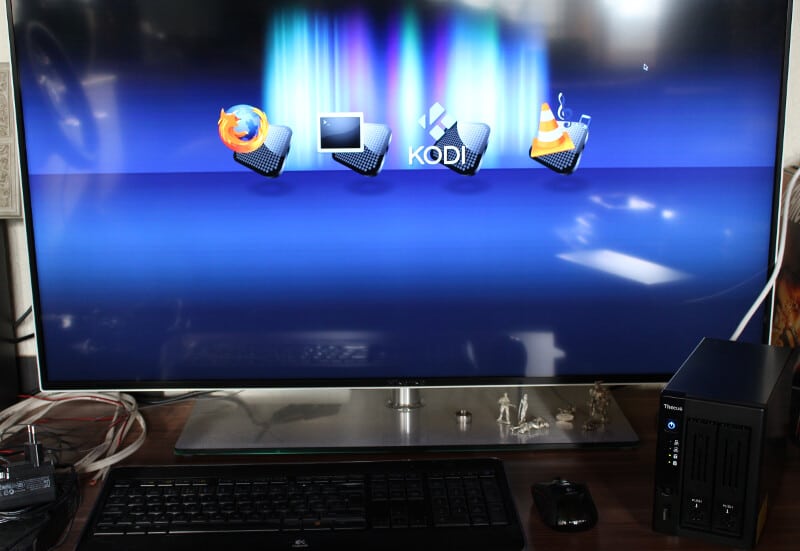 You can also reverse the whole thing and use the public cloud systems together with the N2810 NAS. The system will work with DropBox, Amazon S3, and ElephantDrive cloud backup functionality. Guard your data with RAID at home and an additional level of protection in the Cloud. Just drag and drop files into the folder on your NAS and access them on any computer or mobile device with DropBox, Amazon S3 or ElephantDrive.
With currently available hard disk drives you get up to 8TB in the consumer sector and 10TB in the enterprise sector. With two drive bays at your disposal, that's already a lot of storage and you can take maximum advantage of this storage thanks to iSCSI and the efficiency of iSCSI thin provisioning. Connect through iSCSI for the fastest data transfer speeds available and make wasted disk space a thing of the past with thin provisioning's flexible storage functionality.
Feature Highlights
Embedded with Intel Celeron N3050 Dual Core CPU
Running on the newly-designed and enhanced ThecusOS 7.0
Seamless 4K Multimedia Playback
Uninterrupted Accessibility with Thecus System Failover
Secure Remote Access with Virtual Private Network (VPN)
Faster Transfers: 2 LAN Ports for Link Aggregation
99% Virus Prevention: Bundled with Free Intel Security
Complete Client Side Protection: Bundled with Free Acronis Software
Packaging and Accessories
Thecus packed the N2810 in a beautiful box that clearly shows the intended usage, as a 4K capable multimedia center.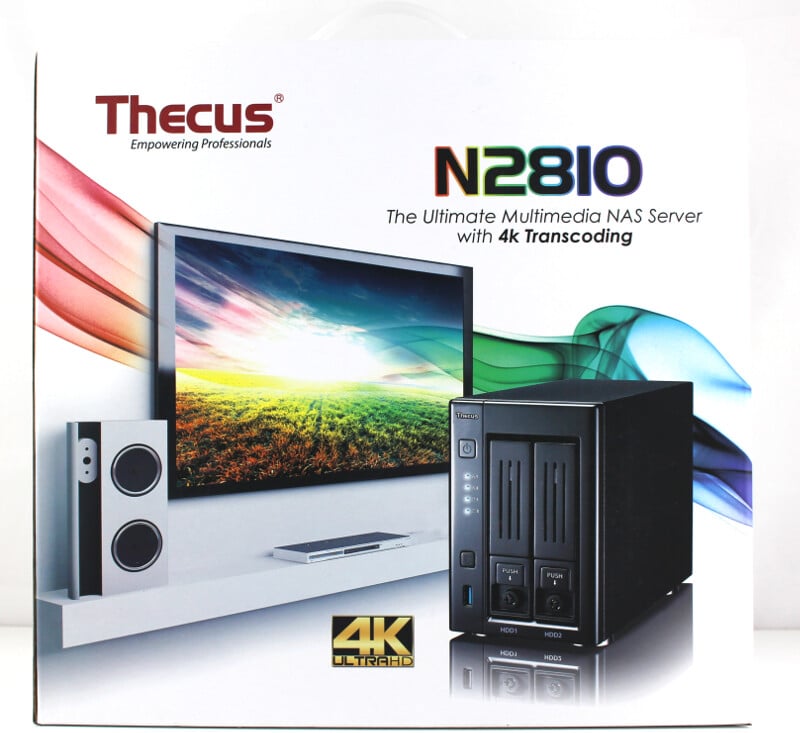 The rear of the box continues the beautiful full-colour wrapping with the feature highlights. There's no doubt that you have a premium device in your hands when you look at the package.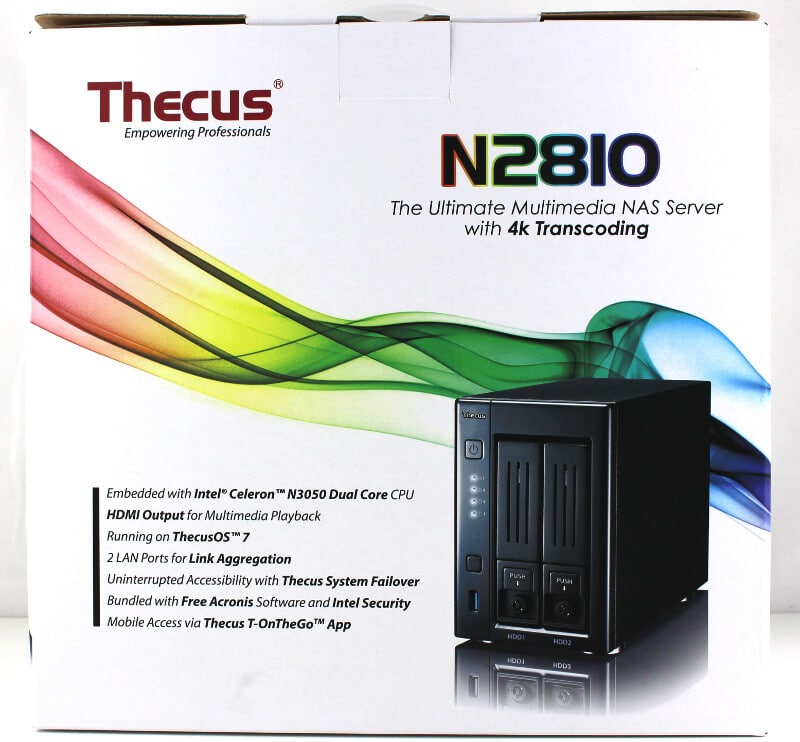 It continues on the sides where the brand new Thecus OS 7 is presented on one side.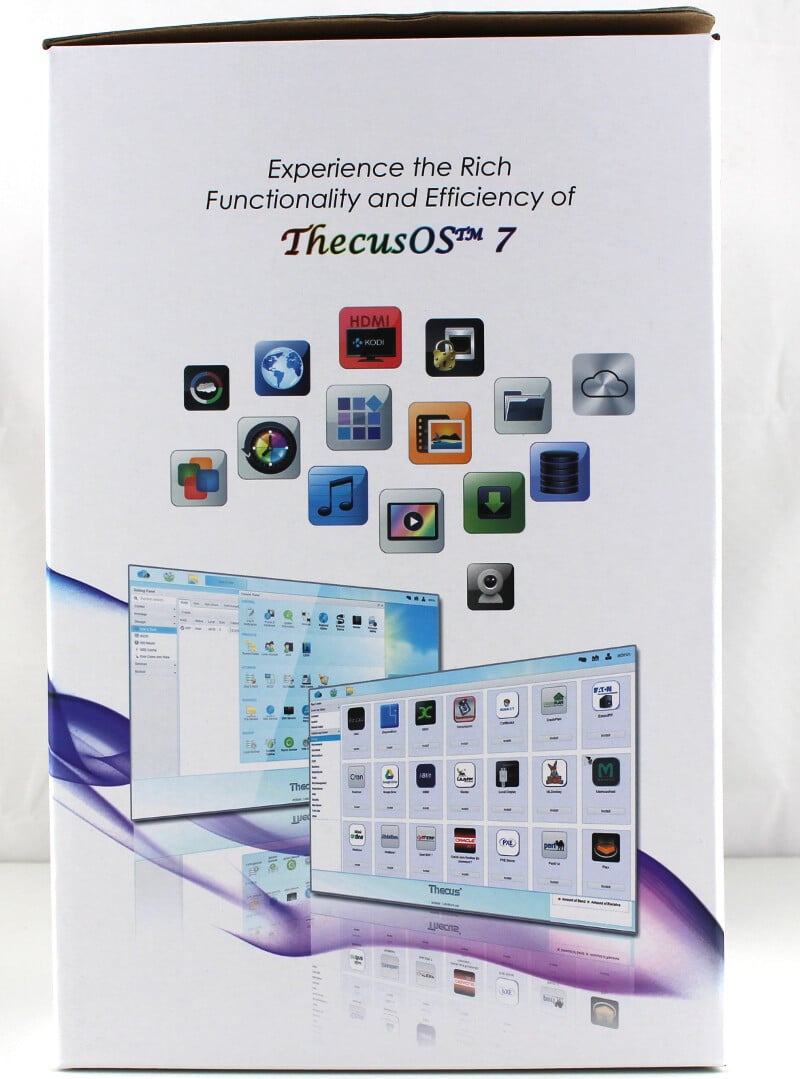 The second side reveals the hardware specifications, device size,  and package content.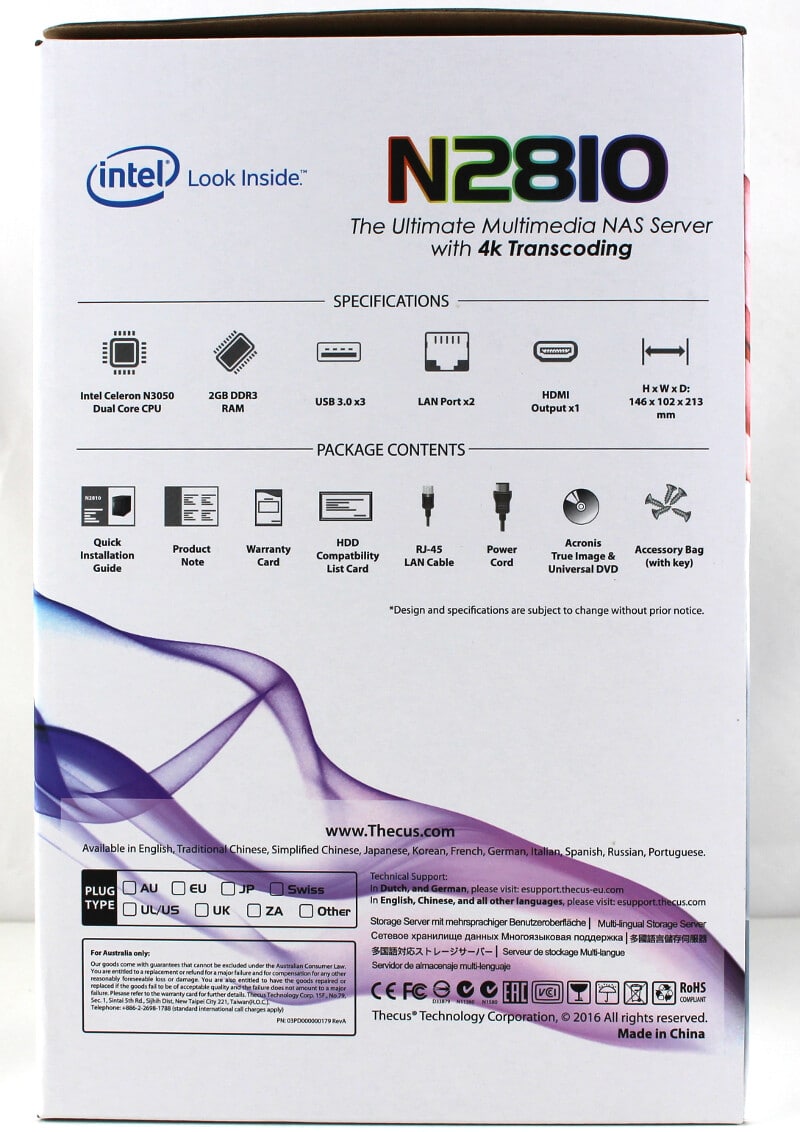 Inside the product is a quick installation guide and a product disk as well as the warranty card and product notes.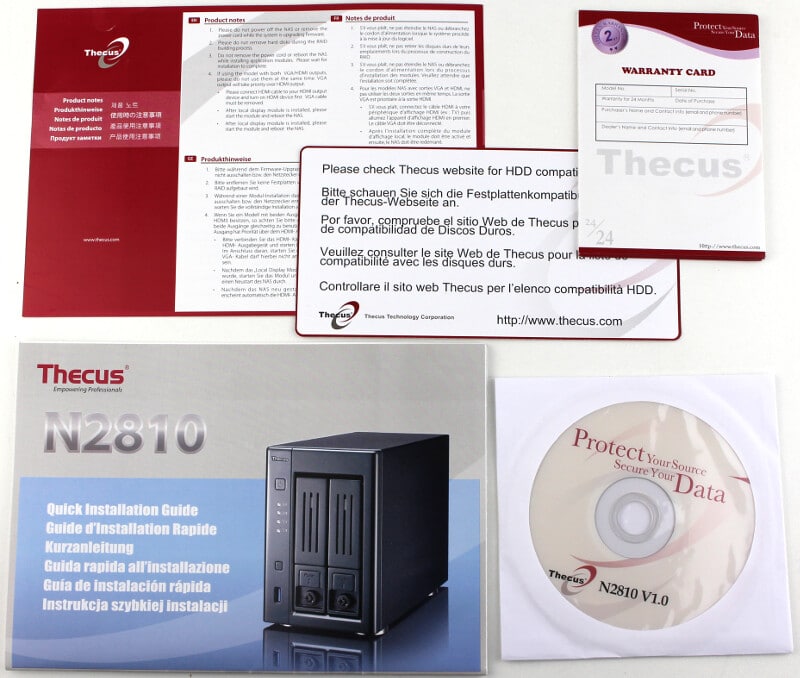 Besides the manuals and the NAS itself, there is also a power adapter with connection cord, two sets of drive tray keys, an RJ45 LAN cable, and a security latch for the power cable that can prevent accidental removal.