Thermaltake 300 TG Snow ARGB Case Review
---
---
---
Peter Donnell / 6 months ago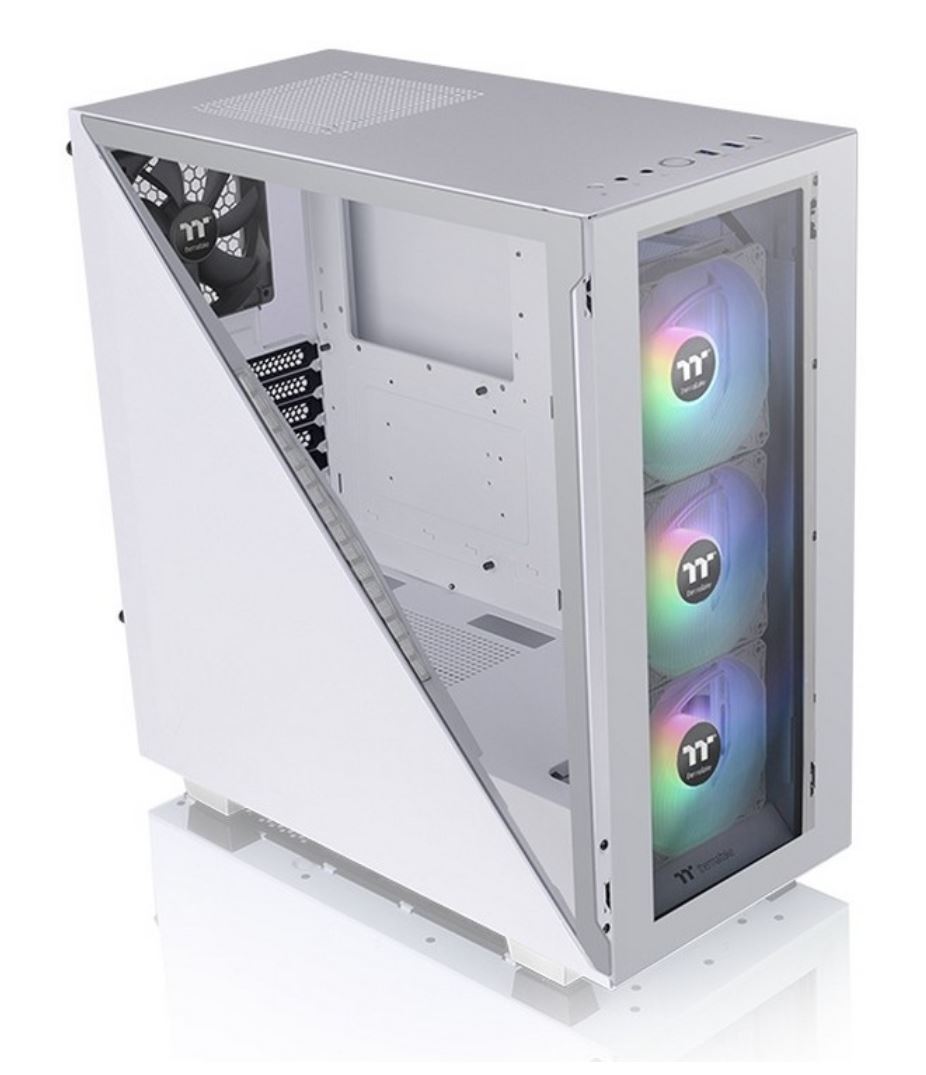 Thermaltake has one of the broadest ranges of PC cases on the market, with something for every budget, size, and style. However, they've decided to broaden their range even further with the new 300 TG, which takes one of their existing cases but puts a new visual spin on it. Why have a full side of tempered glass, when you can have a half of it? Strange I know, but when I saw the pictures of it, I just had to get one into the office for a closer look.
Thermaltake 300 TG Snow ARGB
Aside from the quirky angular side panel and dual tempered glass windows, the Thermaltake 300 TG seems to be hitting all the usual marks for a high-end PC case. It comes in both black and white, and I have the white version in for review (also known as the Snow Edition). It comes with ARGB fans pre-installed, as well as an ARGB control hub too. I have seen a version that comes with no fans if you want to go your own route too, so don't feel tied to their solutions if you don't want them. There's room for an ATX motherboard, large graphics cards, vertical GPU mounting, a PSU shroud, liquid cooling support and plenty more beyond.
Features
ATX Form Factor Motherboard Support
Full-Length PSU Cover
3 x ARGB 120mm Fans pre-installed
Triangulated side panel design
Vented front and side panels
Dual AIO mounting locations
Optional storage for HDD/SSD
Patented rotational expansion slots for standard or vertical installations of Graphics, Capture or other devices
2 x USB 3.0, 1 x Type-C, 1 x Headphone, 1 x Mic Ports
What Thermaltake Had to Say
"Thermaltake designed a brand-new case series that contains a mixture of open frame style elements and customizable options blending all the functionalities into the Divider Series. The most exceptional feature of the Divider 300 TG Mid Tower Chassis is the two symmetrical triangular pieces comprised of a steel panel and tempered glass window. These panels are tool-free and easy to remove, offering a clear view of the components inside. The Divider 300 TG Snow Mid Tower Chassis is the next-gen gaming PC case for regular users, enthusiasts, and gamers, giving them unprecedented satisfaction." – Thermaltake
TT Premium
To continue achieving the corporate mission of delivering the perfect user experience, Thermaltake developed "TT Premium" with the essence of combining supreme quality products with a new logo design. TT Premium is far more than just a guarantee of quality. Behind the name, it represents the passion in DIY, Modding and Thermaltake's desire to be the most innovative brand in the PC hardware market. To satisfy the demand of the high-end PC users, TT Premium follows its core values of Excellent Quality, Unique Design, Diverse Combinations and Boundless Creativity to provide a high-performance PC product for every enthusiast.