WD Red 10TB 3.5-Inch SOHO NAS Hard Disk Review
---
---
---
Bohs Hansen / 3 years ago
WD RED 10TB 3.5-Inch NAS Hard Disk
---
I have performed extensive tests with WD's Red series of drives and today it is time to take a look at the newest drive in the series, the 10TB model (WD100EFAX). This large-capacity NAS hard disk doesn't just bring increased capacity, it also features a bigger cache and a better performance.
WD Red NAS Hard Disk
WD's Red series is designed for SOHO users with a need of 1 to 8 drive bays. If you require more drive bays, you should take a look at the Red Pro series instead. With them, you can safely scale up to 16 bays. The 10TB version I'm testing today is the biggest version, but there are a lot more capacity options. There are 2.5-inch drives as small as 750GB and everything in between. While you are limited to 8 drives in a unit with these, we got to remember that those still carry 80TB raw capacity for your storage pool. That's not too shabby.
The Red series of hard disks have a spindle speed of 5400RPM. It makes them a little slower than their 7200RPM counterparts, but it also makes them less noisy. Depending on where you plan to locate your NAS, noise might be a vital factor. And it should note that just because I say slower, that doesn't mean that this drive is slow. Far from it. The 10TB WD Red hard disk is rated for a sustained performance of 210MB/s. The drive also features the largest cache in the series as it comes with 256MB. That's double the amount of the 8TB and four times that of the 6TB version.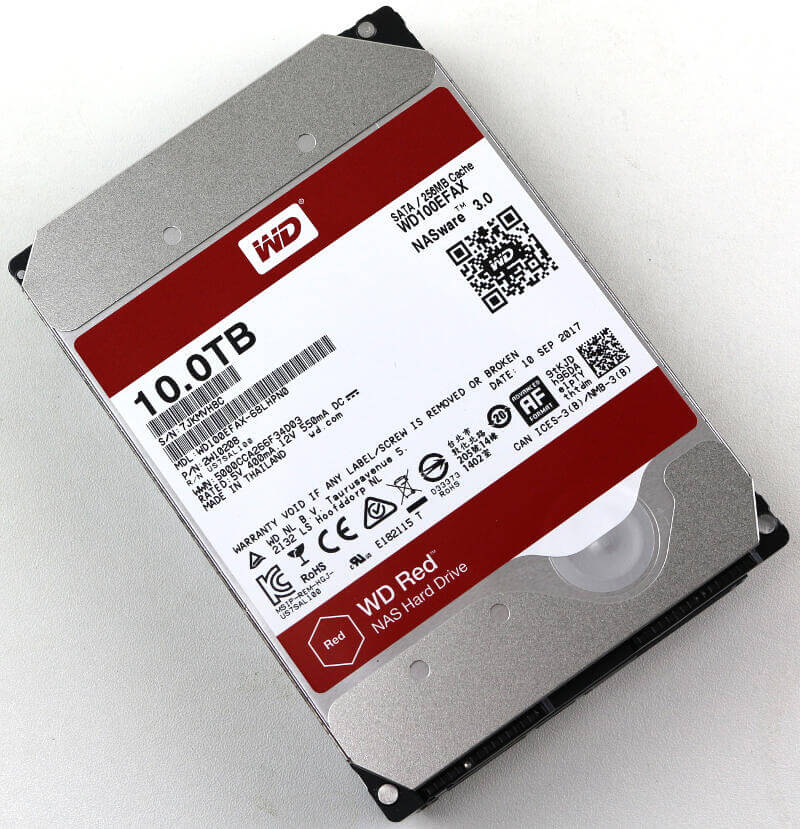 Designed for NAS usage
Hard drives might look the same on the outside, but they aren't on the inside. Desktop drives aren't built for the load and on-time required for 24/7 usage and as such shouldn't be used in your NAS. That's where NAS drives come into play as they bridge the gap between desktop drives and enterprise drives. You get a drive that is built to handle permanent usage as well as the vibrations happening in multi-drive setups.
WD Red drives are built with features to handle NAS usage, starting with the NASware 3.0 firmware. Vibration sensors will adjust for vibrations and they can safely be used in NAS systems with up to 8 bays. Should you require more, then WD has the Red Pro series available.
The anti-vibration technology is called 3D Active Balance Plus. It helps to ensure your data is protected from excessive vibration and noise in a NAS or RAID environment. The dual-plane balance control maintains your drive's performance over time.

Noise and Power Consumption
When it comes to home NAS systems, noise is an important factor. It is also a reason to pick a 5400 RPM drive such as this WD Red. The 10TB version of the Red NAS HDD is rated at 20 dBA during idle and 29dBA during seek operations. For those with smaller WD Red drives, that's 5 dBA less than the 6TB version when idling.
Power consumption is another vital factor when we talk 24/7 running drives. The 10TB WD Red takes as little as 2.8W when idle, 5.7W during active read and writes, and all the way down to 0.5W when in sleep or standby mode.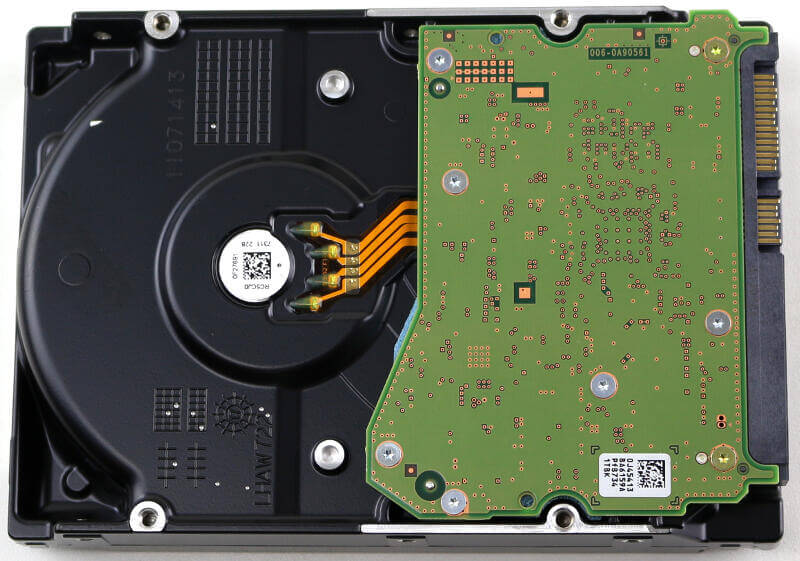 Endurance and Warranty
The basic WD Red series is designed for SOHO users and has endurance ratings to match that. It has an MTBF of 1 million hours, a workload rating of 180TB/year, and it can handle 600K load/unload cycles. Western Digital also backs the WD Red with a 3-year limited warranty and premium support.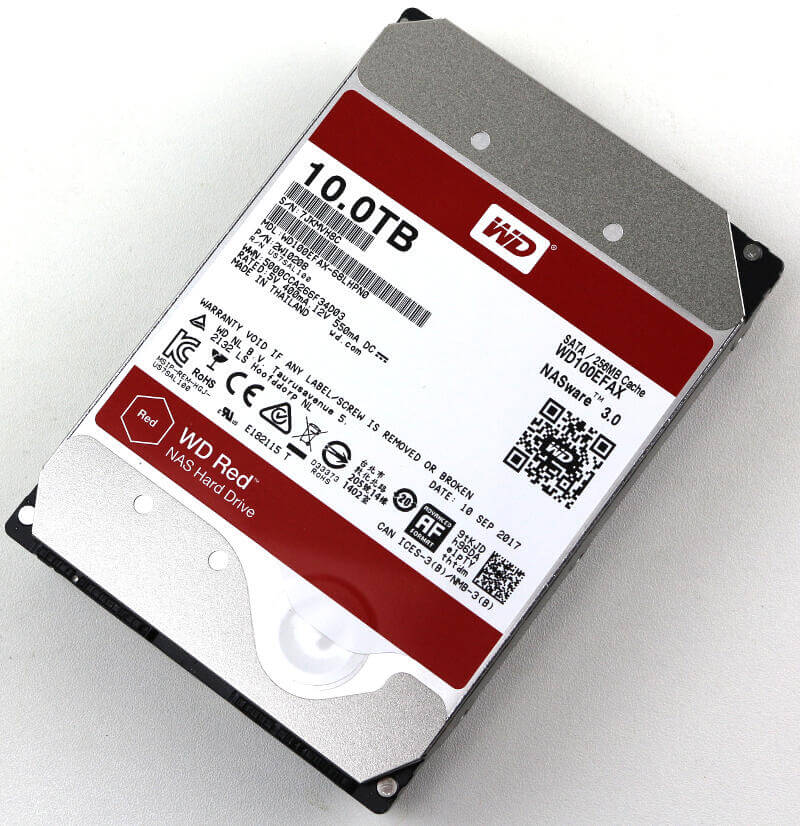 Feature Highlights
Specifications
The specifications are taken directly from the manufacturer offered details. They are valid at the time of review, but they might be subject to change in possible future revisions of the products.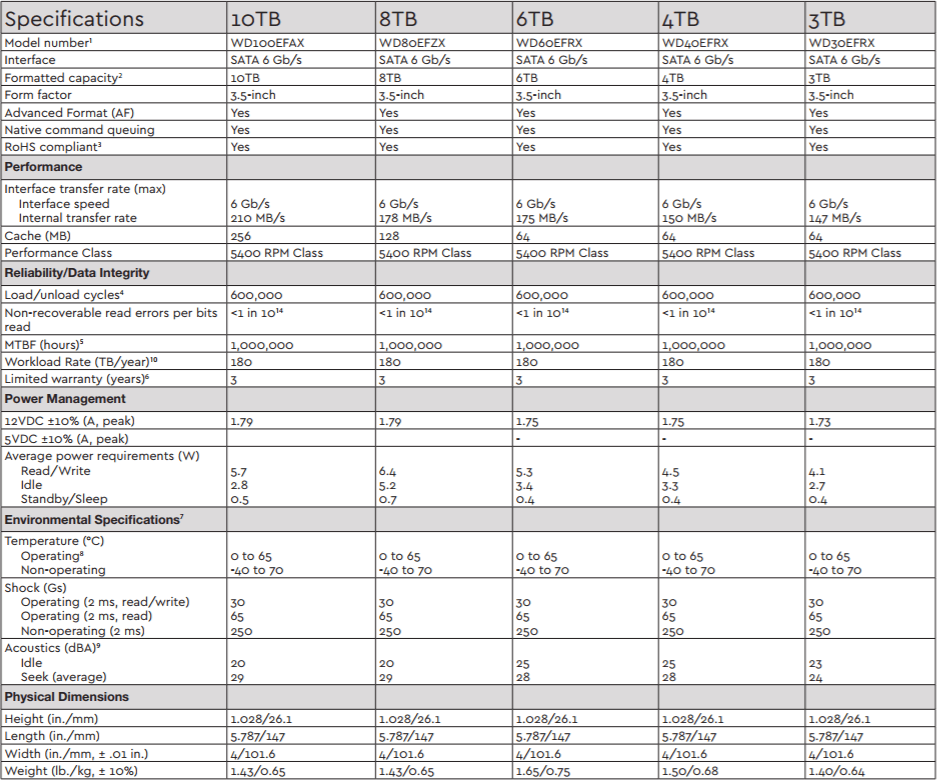 Package and Accessories
As reviewers, we don't always get the retail package and that is also the case with this drive. The package isn't relevant to our performance tests, so the only difference is that we can't show the package. And that really isn't a big deal.