XFX RX 480 GTR Black Edition Graphics Card Review
---
---
---
John Williamson / 6 years ago
Introduction
---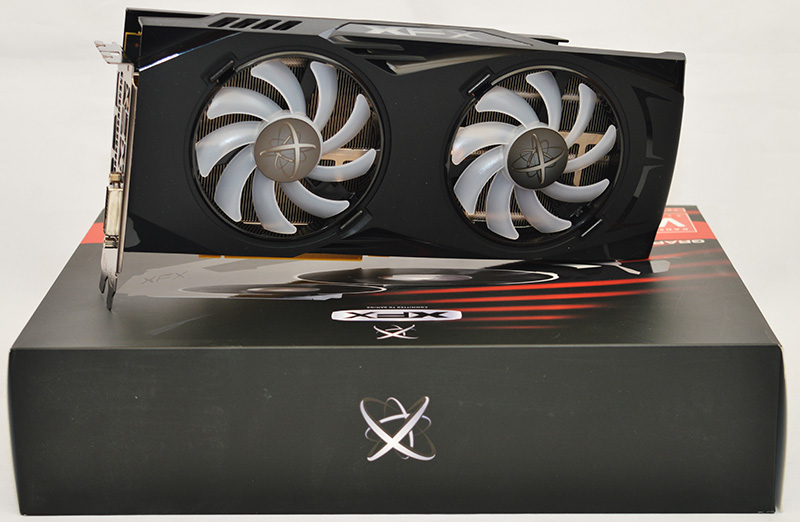 The RX 480 is AMD's flagship product in the Polaris series and designed to provide a stellar PC gaming experience without breaking the bank. Rather impressively, this mainstream graphics card can maintain fluid frame rates while powering some of the most demanding games available today. Not only that, the RX 480 supports FreeSync, Eyefinity and has an architecture built from the ground up for the latest APIs including Vulkan. Of course, there's fierce competition around the £200 mark in the form of the GTX 1060 and AMD's previous generation offerings. Although, the RX 480's ability to deploy asynchronous compute efficiently makes it a good investment for the future.
Since the RX 480's official release, add-in-board partners have produced their own custom versions sporting a higher engine clock and more proficient cooling hardware. As a result, aftermarket solutions can uphold a stable frequency which leads to a more consistent frame rate. Previously, we've looked at the Sapphire Nitro+ RX 480 and commended its unusual styling and build quality. Another viable option is the XFX RX 480 GTR Black Edition which employs an innovative fan replacement system requiring no screws. Also, the graphics card has two BIOS modes which allow to you prioritise raw performance or opt for a profile outputting less noise. Interestingly, the performance mode's 1338MHz frequency is higher than the ASUS STRIX GAMING RX 480 but it's still slightly behind Sapphire's custom model. Currently priced at £259.99, the XFX RX 480 GTR Black Edition offers compelling value and should compete rather nicely with the GTX 1060.
Specifications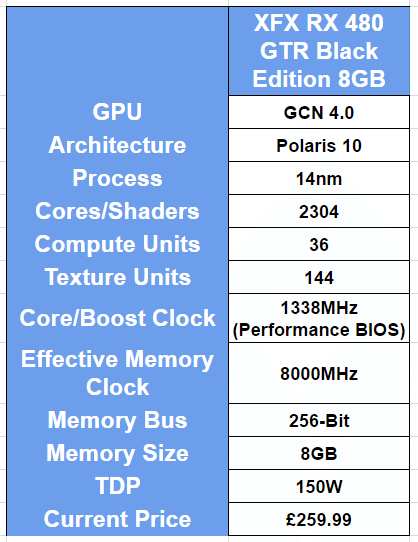 Packaging and Accessories
XFX were kind enough to send the graphics card and some red LED fans. These fans are an optional extra and retail for £16.32. The graphics card's packaging has an attractive design which instantly captures your attention and contains information about the Polaris architecture.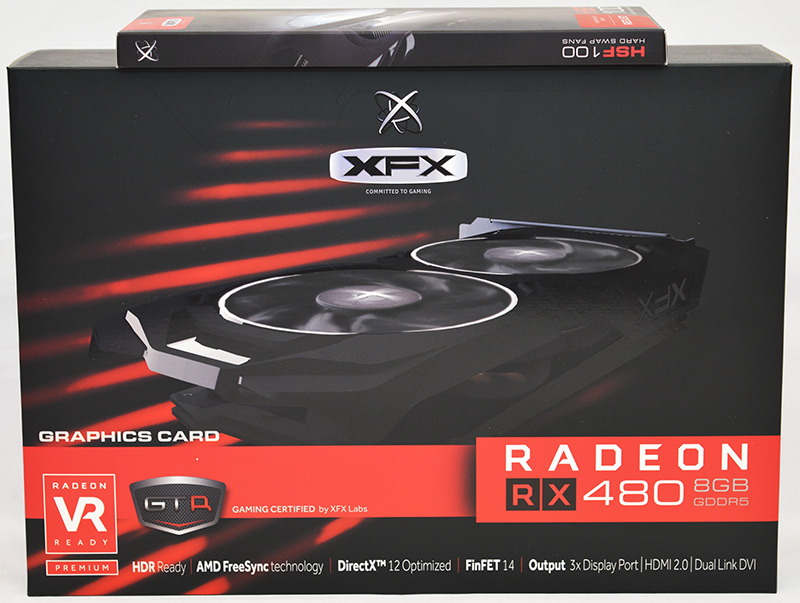 On the opposite side, the end-user is presented with an explanation of the GPU's cooling hardware, auto load sensing fan and interchangeable fan mechanism. Additionally, the clear, high-quality diagrams encourage you to read the text and find out more about the product's unique features.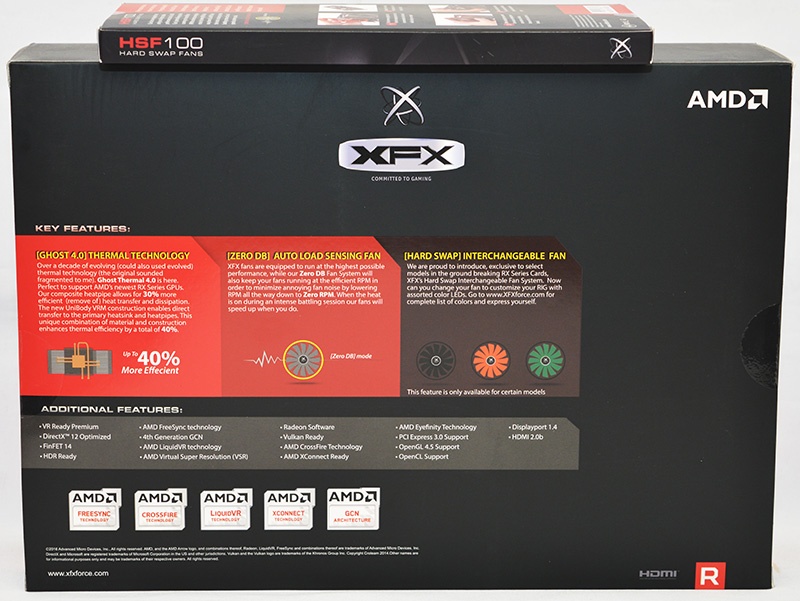 In terms of accessories, the graphics card comes with an installation guide, driver/utilities disk and a PCI-E adapter.