XFX RX 480 GTR Black Edition Graphics Card Review
---
---
---
John Williamson / 5 years ago
A Closer Look
---
The XFX RX 480 GTR Black Edition features a neutral matte black aesthetic which complements a wide range of components. To create a more distinctive appearance, some glossy accents were added which contrasts with the matte sections in a pleasant manner. Even though the graphics card's design doesn't look particularly inspiring, the matte coating ensures it doesn't become engulfed with dust. Given the price point, the plastic shroud is surprisingly sturdy and attached using a solid mechanism.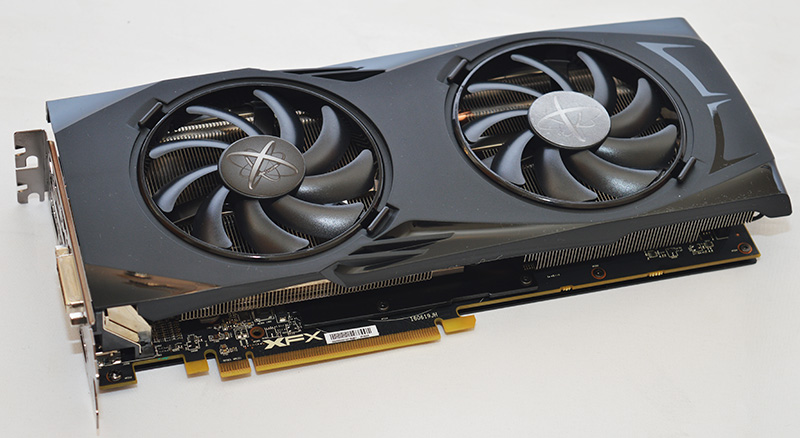 Here we can see the graphics card has an attractive aluminium backplate which reduces GPU droop while improving the product's appearance. The backplate sports a gorgeous XFX logo and incorporates ventilation holes to help hot air to escape from the PCB. Also, the backplate is quite thick and greatly enhances the graphics card's resistance against those adopting a heavy-handed approach.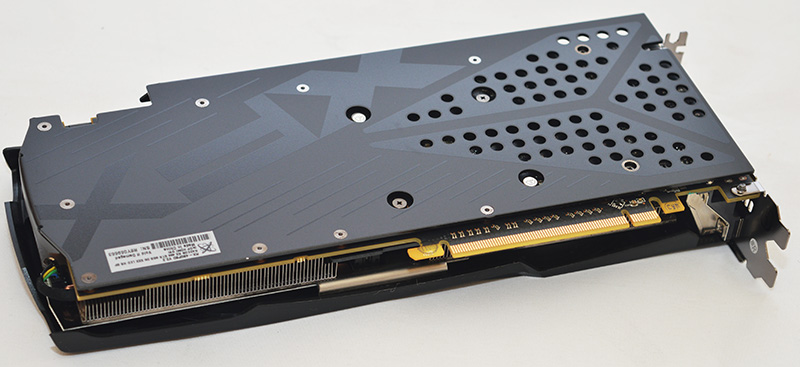 XFX has employed a substantial cooling solution which revolves around four composite copper heat pipes consisting of a hollow pipe, liquid, microgrooved surface and sintered layer microdents. This ingenious design increases the surface area by 30%, leading to a significant temperature drop. On another note, the high-performance unibody heatsink connects to the copper heat pipes and makes direct contact with the GPU's core. The dense fin array and open design combine to maintain a good amount of airflow as well as limiting turbulence.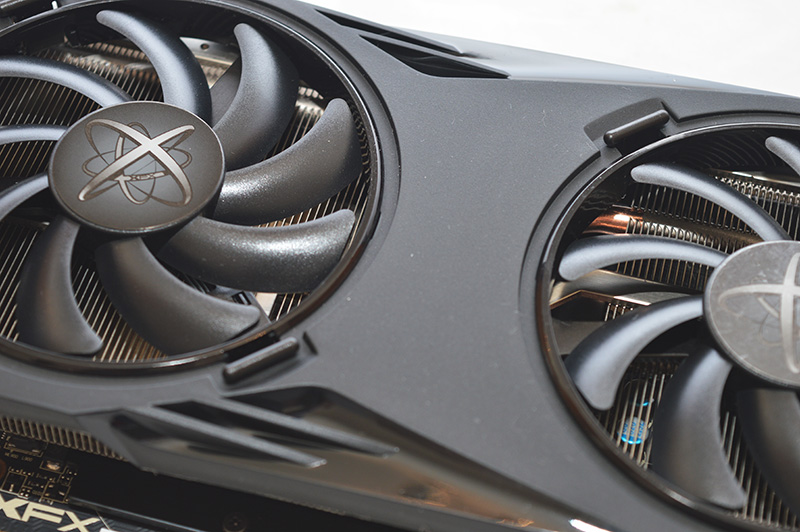 The company also developed a new method of cooling the VRM and memory through a thermal pad. This is a welcome inclusion which keeps the VRMs within a more sensible operating temperature and protects the memory from failure as time goes on.

XFX's exclusive low-noise XL inductors use multiple layers to seal the inductors and almost eliminate buzzing commonly seen on lower-end components. The clean PCB layout and exemplary power delivery is a testament to product's build quality and I wouldn't expect any issues to arise even when using high voltages.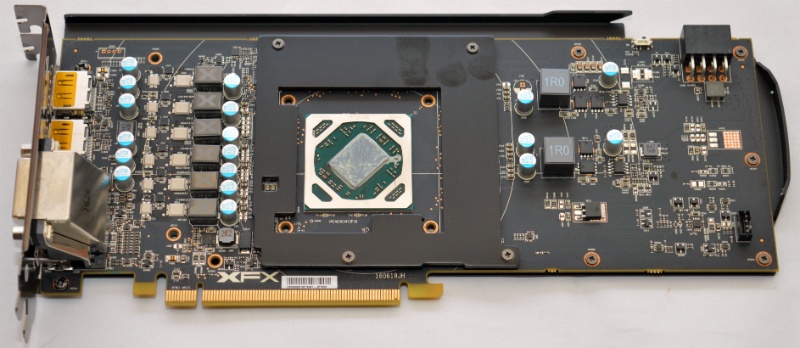 Replacing a graphics card's fans used to be a complex process and often forced the end-user to ship the entire product for a lengthy RMA. This is really inconvenient and an inefficient way of dealing with the root problem. Thankfully, XFX has designed a toolless method of swapping out the fans which take a matter of seconds. All you have to do is simply press the two catches and lift the fan upwards. This is very useful if a fan becomes faulty because XFX can ship out a replacement in the knowledge it will be installed correctly. Also, the option to uncouple the fans makes it more likely for you to thoroughly clean them which should prolong their lifespan.
The auto load sensing fans continuously monitor thermal readings and adjust the RPM values accordingly. During idle scenarios, the fans can switch off completely and provide a silent desktop experience.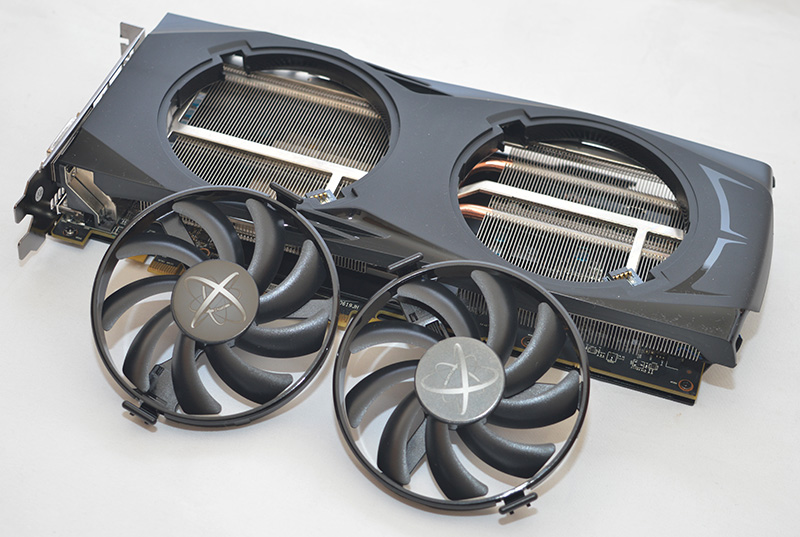 Evidently, a major benefit of the inventive fan mounting system is the flexibility to install LED fans which dramatically change the graphics card's style. In an ideal world, I'd prefer these to be included by default but this isn't possible due to the lack of RGB customisation. Instead, it's better to target a cheaper base price and give people the option to choose red, blue or white LED fans. Selecting one of these as standard might limit the product's appeal due to a colour clash.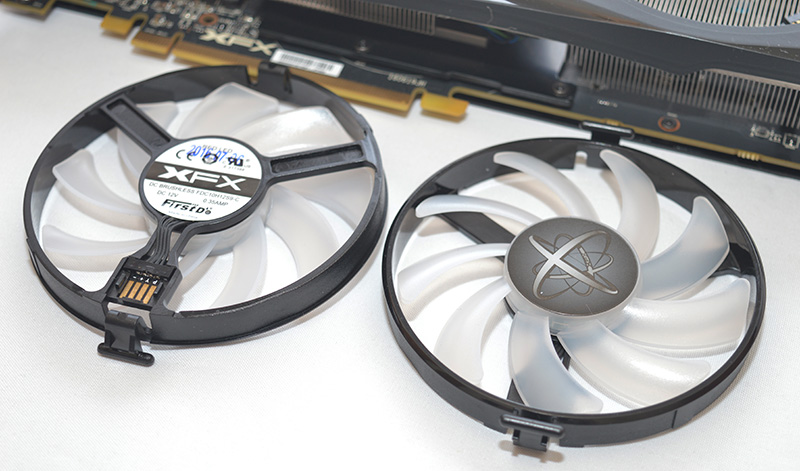 The graphics card requires a single 8-pin PCI-E connector which can easily contend with a hefty overclock. Additionally, the GPU has a BIOS switch which cycles between the performance mode running at 1338MHz and a quieter profile based on a 1288MHz frequency. The emergence of two profiles is useful if one becomes corrupt and you need to test the card's stability.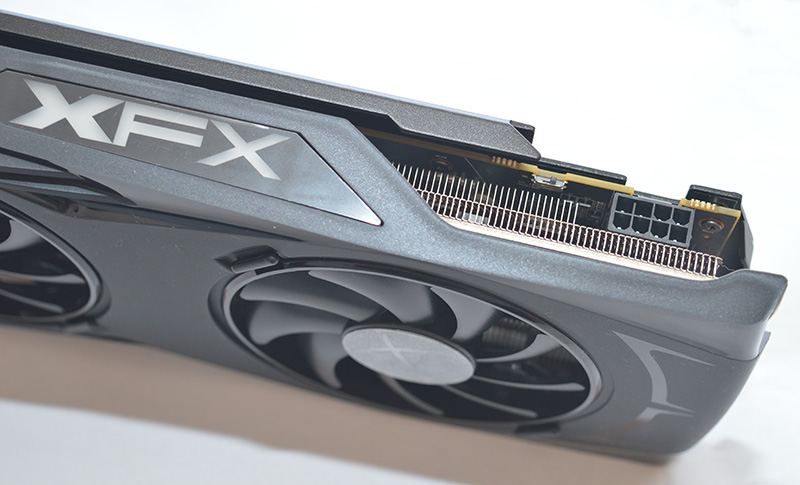 Connectivity-wise, the graphics card opts for a dual-link DVI-D port, three Displayport 1.4 and HDMI 2.0b.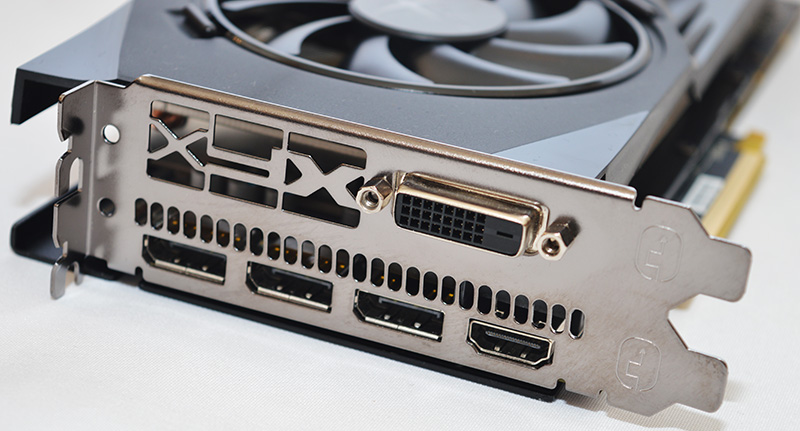 Once powered on, the XFX logo illuminates in a white shade and adds a more spectacular touch. If you decide to install the optional LED fans, the end result is stunning and I adore the vibrant red colour. This brings a new lease of life into the GPU's appearance and I'd recommend the LED fans for this reason alone.