Antec DF700 FLUX Case Review
---
---
---
Peter Donnell / 3 years ago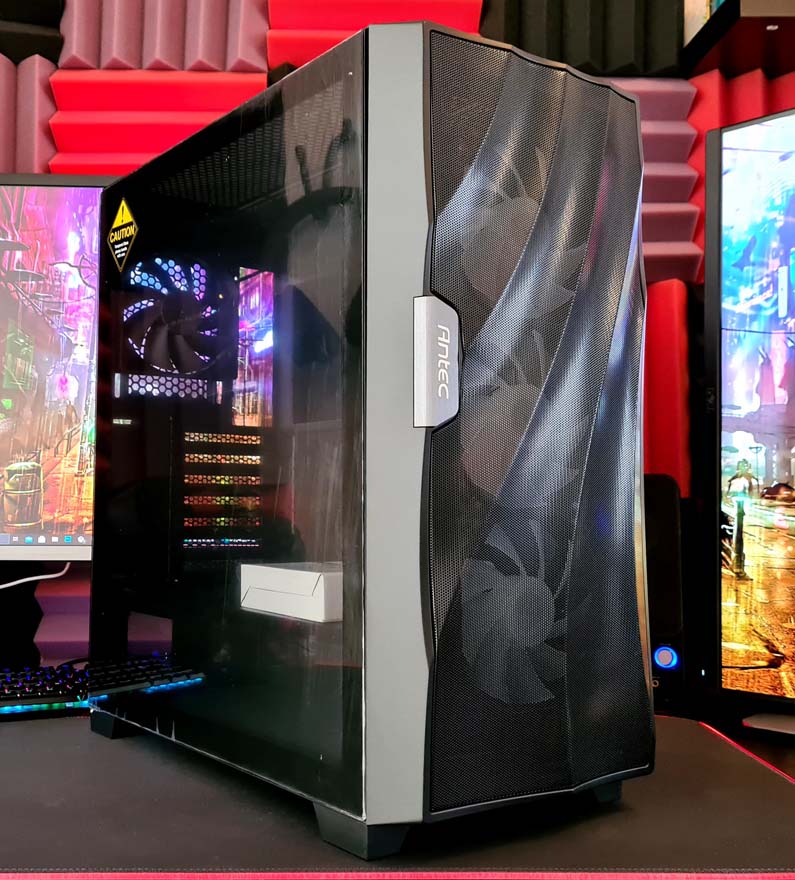 Antec has been making cases for longer than I can remember, from affordable boxes up to some truly bonkers concepts. It seems they've had a little of something for everyone over the last couple of decades. Their new DF700 really caught my interest, though, as it has a really funky looking front panel that I just had to check out in person. Of course, once I saw the rest of the specifications, I knew this case was going to be something pretty special, and with a price around £70, it sounded like it could be one of the best cases hitting the market this year!
Antec DF700 FLUX
The mid-tower case market is extremely competitive, but this one is coming in at a fairly reasonable price. However, despite that, Antec has crammed an astonishing level of features into it. You get a tempered glass side panel, three built-in 120mm ARGB fans, a built-in fan and RGB control hub, dust filters on all intakes, impressive fan/radiator support, a high-airflow design for maximum performance, a PSU shroud, stealth drive mounts, cable routing, and so much more. Basically, if there's a box to tick, it's ticked.
Features
The Ultimate Thermal Performance for Gaming Cases – The DF700 FLUX mid-tower gaming case is well equipped with an industry-leading design of advanced ventilation, taking the Antec Dark League gaming cases to the next generation.
Why the New Cooling Solution? – When Intel and AMD announced their latest CPUs, they all deliver remarkable performance upgrades and better productivity, it also means the functional requirement of PC equipment needs to be taken to the next level, especially the thermal performance. To cope with the stress of enhanced heat dissipation, Antec developed a revolutionary structure for airflow, providing an improved and powerful cooling solution for your system. The F-LUX Platform.
F-LUX Platform – What is the F-LUX Platform? The definition of FLUX is Flow Luxury. The F-LUX Platform is a new industry-leading and highly efficient design by Antec featuring an advanced case structure for excellent airflow combined with 5 x 120 mm fans included. A core element of the design ethos was to enhance GPU cooling performance.
Colour Your System – You only need the LED mode button to control all the addressable LEDs – or you can sync it with the motherboard to enjoy more custom light effects.
Go with the Flow – The front panel is designed by adopting a three-dimensional wave-shaped mesh, presenting a smoothly minimalist looking. With massive ventilation in the front, the DF700 FLUX can easily project attractive light effects and enhance cooling.
4mm Tempered Glass Side Panel – Tool-free thumbscrew design at the rear of the tempered glass side panel, which gives you quick access to the interior, and enhances the solidity.
Make it Cooler – DF700 FLUX keeps your gear cool, with room for up to 360mm radiator in the front and top.
Product Trailer