Donald Trump Manages to Break the Great Firewall of China with Twitter Post
---
---
---
Mike Sanders / 5 years ago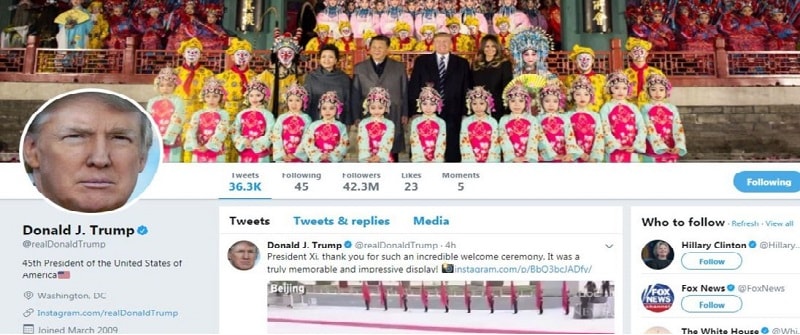 Donald Trump Breaks the Great Firewall of China
China has quite a number of very strict 'moral codes'. A lot of these are based on the internet. Specifically what the Government declares is suitable for the public.
PlayerUnknowns BattleGrounds and Fortnite were recently targeted by the Chinese government as being unsuitable game formats. This, despite them being massively popular in the country.
One of the more notable restrictions within the country is social media. Put simply it is practically banned. Facebook and Twitter are not allowed in China.
The restrictions are so severe that the internet blockage has been dubbed 'The Great Firewall of China'.
Donald Trump, however, has managed to break the Great Wall following his visit to the country reports SkyNews.
https://twitter.com/realDonaldTrump/status/928519663780208640
Twitter Banned in China – Except for the President
Donald Trump is a massive fan of the social media site. Despite his account recently being deleted by a former Twitter employee.
He has even gone so far as to give it a lot of credit for creating his Presidency.
Following his state visit to China, the President has posted several tweets on his trip. Presumably, he has done this with permission of the Chinese government. Then again, if he didn't have their approval, would he even care?
It represents a major breakthrough of sorts. It is the first, semi-permitted, Twitter post from a visiting politician to China. There are, however, a few doubters out there. Some suspect that the President may have used some external satellite source to post the pictures. Where's the fun in that though?
Fortunately, the President has been very positive in his posts with no gaffs seemingly evident. Perhaps he has visited to get some pointers on how to build a wall.
In addition, Donald Trump's profile picture has also been changed. It now shows him with the Chinese Premier, his new best friend. Hopefully, this signifies a new 'thawing' of relations between the East and West.
What do you think? Has Trump cracked the Great Firewall? Has he made a political faux pas? – Let us know in the comments!