Henry Cavill Confirmed as Geralt in Netflix' The Witcher Series
---
---
---
Ron Perillo / 4 years ago

From Superman to The Witcher
Henry Cavill expressed interest in playing Geralt of Rivia four weeks ago. Now, Netflix finally confirmed that he will indeed play the lead role in the Netflix TV series adaptation.
Obviously, this is a big "get" for the 8-part live action TV series. It is not always that you can get a Hollywood A-lister to star in a TV series, let alone one on a streaming platform. Then again, Cavill himself has expressed interest in playing the role early on. Stating that he is a fan of the game. He even admits that he just replayed Witcher 3 recently again.
He was also very receptive of the fan support who want him for the role. Posting images like this mock up of himself as Geralt by famed Photoshop poster artist Boss Logic.
https://www.instagram.com/p/BmPFDjClzOO/?utm_source=ig_web_copy_link
How Did the Internet React to This Casting?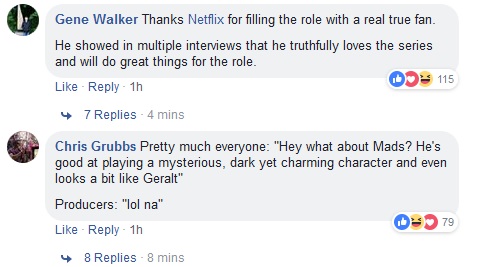 As usual, while there are plenty who are happy with the casting decision. There are always fans who have somebody else in mind and object to the casting. Many ask why not Mads Mikkelsen instead, who does seem to have a strong resemblance to the character. Also, Mikkelsen's imdb page suggests he has free time to do it as well, with his future projects now in post-production.
He was my first meeting. I didn't have writers or scripts yet – just a greenlight and a lot of passion. That was four months ago, and I've never forgotten the passion he brought. He IS Geralt. He always has been. I'm so thrilled to welcome HENRY CAVILL to the #Witcher family.

— Lauren S. Hissrich (@LHissrich) September 4, 2018
Showrunner Lauren Hissrich's announcement Tweet sheds some light on why they chose Cavill. It is obvious that he wanted this role and that his meeting with the producers went well last month. Hissrich even states that Cavill was actually the first actor they met for the role. Even before they had a script ready, he wanted to be on-board.