Highlights of the Black Friday Deals Including a 32″ Monitor
---
---
---
Mike Sanders / 4 years ago
Black Friday has already started – We highlight some of the best deals!
Yes, it's that time again. Black Friday has loomed. So if you're looking to bag a bargain (particularly with Christmas on the horizon) given all the different retailers involved, it can be hard to know where to look.
We at eTeknix, therefore, have highlighted some of what we feel are the best deals to be had.
Overclockers have already done their main launch which we have already discussed. You can check their awesome sale out here.

AOC Q3279VWF
Firstly, starting with something I was very much looking for. This is a 32″ monitor with a 2560×1440 resolution giving 1440p graphics. Running at a very impressive 75HZ if you can't afford the step up to 4k, this is a fantastic alternative.
At as low as £199.99 as well, this is obscenely inexpensive for a monitor of this size and quality.
Due for release this Thursday, my advice is to move quickly – This deal isn't going to be around for long!
The site link can be found here.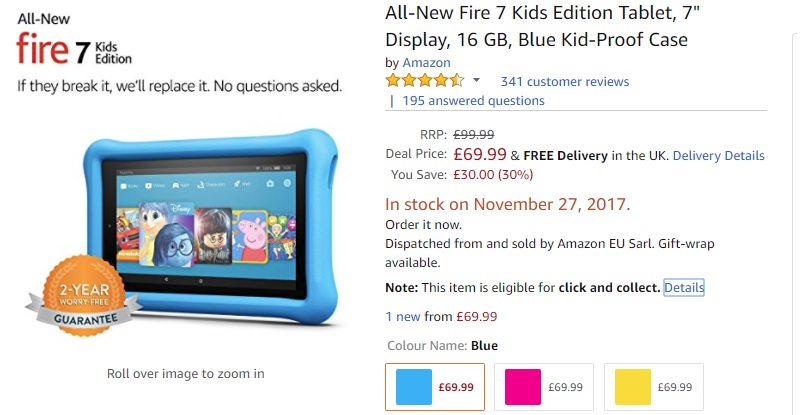 The All-New Kindle Fire 7 – Kids Edition
For those of us with small children, trusting them with your tablet or mobile phone is a risk. For just £69.99 this children friendly tablet comes with a solid 16gb of data, a decent 7″ screen and (more importantly) a 2-year warranty!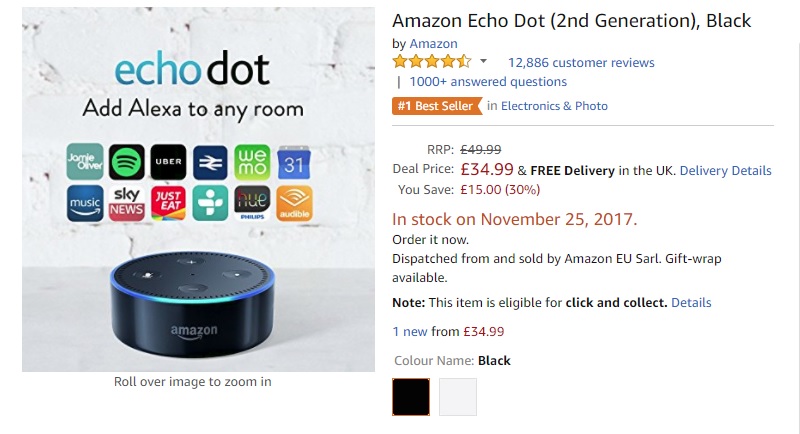 Amazon Echo Dot (2nd Generation)
The Amazon Alexa has been one of the 'must have' gadgets this year. Therefore, why not enhance it with the echo dot. For just £34.99 this is going to be one of Amazons major movers this year.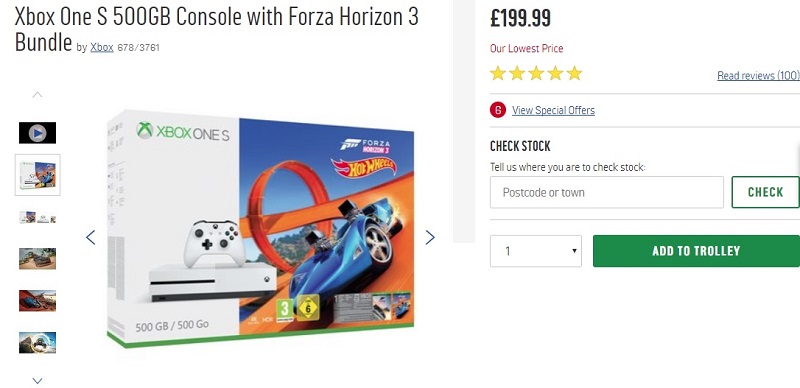 Xbox One S 500gb Console with Forza Horizon 3
Ok, so the Xbox One isn't exactly brand new, but for £199 it's certainly worth a look. If you consider alone that a copy of Forza 3 will be at least £40, with that an Xbox Controller costing no less than £50, when you break this down, it's a great deal for many reasons.
Now admittedly, Forza Horizon 3 isn't the latest game, and that is a little disappointing, but for less than £200 you're going to struggle to find a better console deal.
PS4 Slim 500gb with Star Wars Battlefront 2
While a little more expensive than the Xbox, this does include a brand new title. For just the extra £30, this is priced competitively enough to perhaps tempt a few of those potential Xbox sales over.
The store page can be viewed here.
Megadrive Classic Game Console
Finally, if you're a little cash-strapped, but into your gaming, for just £34.99 you can play 81 of some of the Megadrives most loved titles.
The beauty of this, compared with the alternative NES/SNES classic is that this has an actual working cartridge port slot. Therefore, in addition to the 81 built-in games, if you wish, you can even pull your old cartridges out the loft.
The shop page can be viewed here.
Black Friday madness!
While Black Friday and Cyber Monday might be a hit and miss affair, there are bargains out there if you look although it can sometimes be difficult to find them. As far as I'm concerned we are all in this together and, in addition, it's surely better to share the deals.
What do you think? Know any awesome deals we missed? Pleased or disappointed with the deals so far? – Let us know in the comments!