Intel Xeon W-2155 10-Core/20-Thread LGA2066 Processor Review
---
---
---
Bohs Hansen / 3 years ago
The Setup and Test Methodology
---
It is not an easy job to come up with fair tests for a processor. After all, you can't run a CPU without a lot of other hardware, and all that hardware will affect the results. Still, I've tried to dig out as many tests as possible which show what the processor is capable of. Hopefully, it will show us where the strengths and weaknesses are located.
Since the last review, we had to make a few changes to the methodology due to changes in technology. Our old graphics card is no longer supported by many motherboards, so that had to be replaced. At the same time, SATA has turned into a true legacy device when it comes to booting. As a result, we've switched to an NVMe PCIe drive as OS drive. We've also switched the OS to Windows 10 for compatibility reasons. Windows Server was creating more and more issues with driver availability and benchmark software, which is the reason.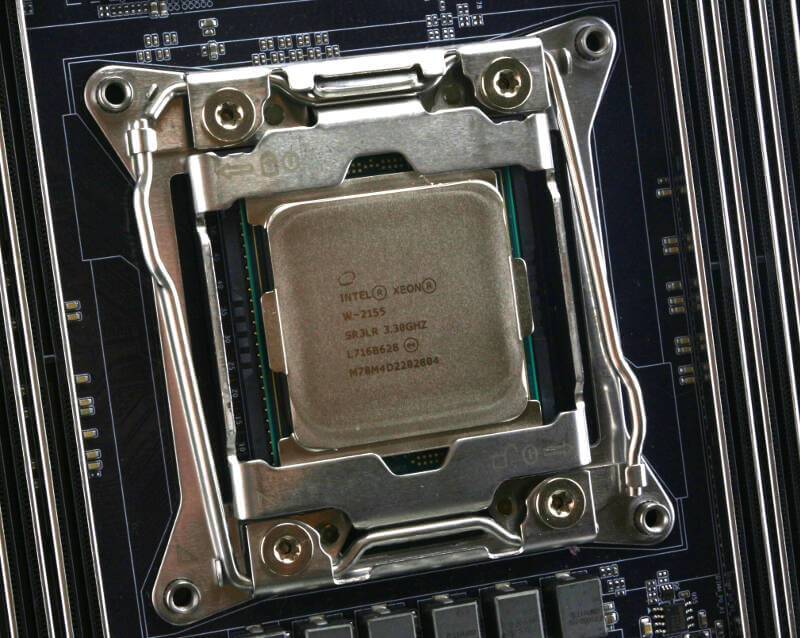 Additional Hardware
Benchmark Suites
Suites are popular too as they offer up a whole lot of results with very little effort. We'll be using AIDA64, GeekBench4, and PerformanceTest 8 here.
AIDA64 Engineering Edition
GeekBench 4
PerformanceTest 8
Calculation Tests
Having the CPU calculate is an easy way to show how well it does. The quicker the test is performed, the better the performance. For these tests, I've picked Super Pi and wPrime. Both are applications familiar to most, and the results are easily comparable.
SuperPi Mod 1.9 WP
wPrime 2.10
Rendering Tests
Rendering tests are mostly handled by your graphics card, but not solely. While these aren't exactly intended areas of operation, they do offer us comparable figures between our reviews. We'll be using HandBrake for H.265 conversion of 4K video as well as Cinebench 11.5 and 15 here.
Cinebench R11.5
Cinebench R15.0
HandBrake 4
SiSoft Sandra and SpecWPC
SiSoftware's Sandra is technically a benchmark suite too, but it offers a lot more details. It tests more and different things, so it deserves its own category. SpecWPC is also a whole set of tests and an industry standard. The results are directly comparable with other reviews which makes it great. Most professionals won't look at anything else.
SiSoftware Sandra Platinum SP4
SpecWPC 1.2
Memory Performance
Memory is another thing which is affected by a processors capabilities and performance. For that reason, I've chosen to include those test results too.
AIDA64 Engineering Edition
GeekBench 4
PerformanceTest 8
SiSoftware Sandra Platinum SP2/SP4
Review Notes
It should be noted that some charts don't make a whole lot of sense right now. The previous generation was tested with different software and there has been a hardware upgrade since we started our LGA3647 reviews. We no longer have the predecessors available, but we will retest the current generation Xeon processors and update them with new and comparable values. So please keep that in mind for the comparison charts where GPU and storage has an effect. Pure calculation benchmarks should not be affected as they rely on the CPUs hardware capabilities alone.