Micron To Release QLC Based Enterprise SSDs in 2018
---
---
---
Samuel Wan / 5 years ago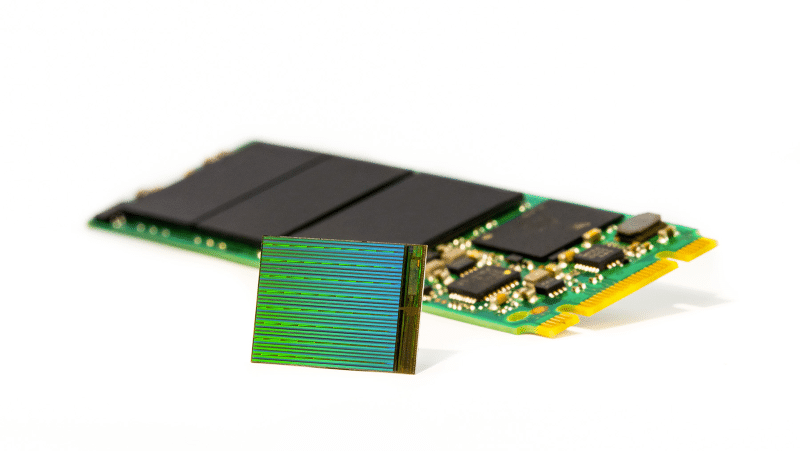 Micron Believes QLC Ready for Enterprise SSDs
Since the rise of SSDs, NAND flash has come a long way. The first drives used SLC (Single Layer Cell) while later models utilised MLC (Multi Layer Cell) and TLC (Triple Layer Cell). To meet growing demand, all the NAND producers have been working on QLC (Quad Level Cell) for SSDs. The first to achieve this goal may be Micron with their later enterprise drives. The company plans to release QLC Micron enterprise SSDs for 2018.
QLC is nothing new to flash memory, as a logical progression of technology. SLC stored just a single bit while MLC and TLC increased that to 2 and 3 bits respectively. QLC takes it a step further to 4 bits per cell. Each bit is differentiated as a separate voltage state. With more voltage states, it becomes harder to keep them separate and also longer to process. Failure to determine the correct voltage state can lead to data loss. Storing more bits also causes the NAND flash endurance to drop.  Due to these problems, NAND producers have refrained from using QLC in SSDs.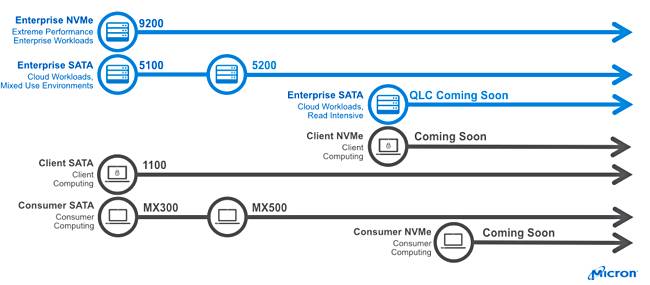 QLC Will First See WORM Applications
Micron appears to have surmounted these difficulties with the new enterprise drives. The goal is to position the drives at a similar cost to HDDs per GB. The main workloads will be WORM workloads (Write Once, Read Many). This keeps down the number of writes as writes are the most destructive. Furthermore, the use of 3D NAND allows higher process nodes to be used, improving endurance. Finally, Micron has likely also developed new forms of ECC to speed up access and reduce errors. Toshiba has managed to hit 1000 cycles for 3D QLC so Micron has likely hit this as well.
With these developments, perhaps consumer QLC drives will arrive in later 2018 or 2019. Consumer USB flash drives already make use of QLC so SSDs are the logical progression. Making cheap SSDs would benefit a lot of users, even if used in WORM. Gamers would be a major market as games don't see too many updates. Furthermore, even if endurance is lower, QLC could be used as a cheap cache. Hopefully, we will see consumer QLC drives soon after the enterprise ones launch. Toshiba is also planning on QLC drives for 2018 as well so Micron will be seeing some competition.
Support eTeknix.com
By supporting eTeknix, you help us grow and continue to bring you the latest news, reviews, and competitions. Follow us on Facebook and Twitter to keep up with the latest technology, share your favourite articles, chat with the team and more. Also check out eTeknix YouTube, where you'll find our latest video reviews, event coverage and features in 4K!
Check out our Latest Video