Plextor M9PeY 512GB PCIe NVMe SSD with RGB Review
---
---
---
Bohs Hansen / 5 years ago
Introduction
---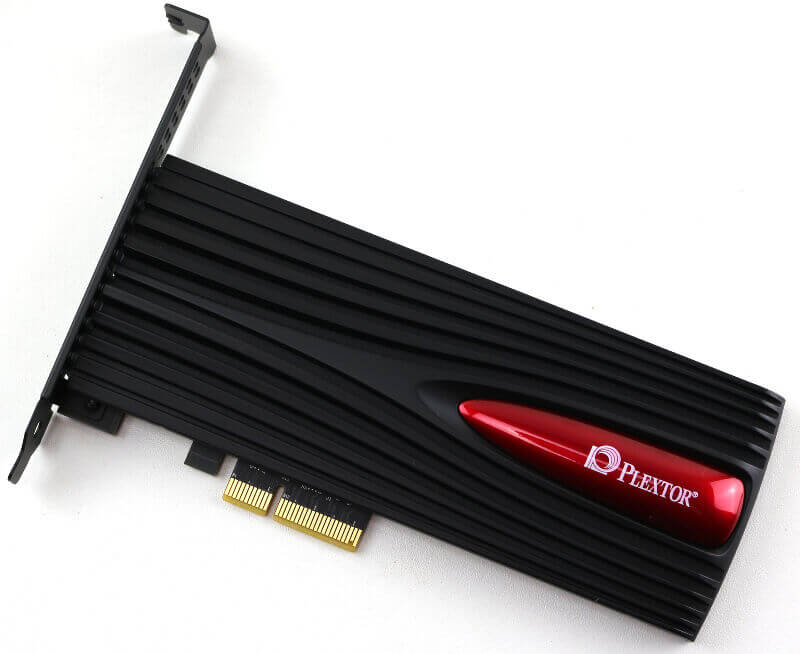 It is time to take a look at Plextor's brand new M9 series and the first entry in the series is the M9Pe. I have the PCIe version, M9PeY, in the lab today which is the PCIe HHHL version of the drive. Besides the PCIe version, there are two different M.2 models available.
Plextor has shown a strong presence in the NVMe sector with the M8 series. We first saw the M8Pe series and later the M8Se series. Both are great drives, but it is time for them to move to the side. The new M9Pe series leverages what the company learned from the predecessor which they coupled with the latest NAND technology. The result is a great-looking drive which also features RGB lighting.
Fay Ho, Head of Channel Markets at LITE-ON Storage SBG said, "The rapid growth of eSports gaming has been one of our inspirations in developing products and relevant technologies that provide gamers, amateur or professional, the competitive edge and reliability they need."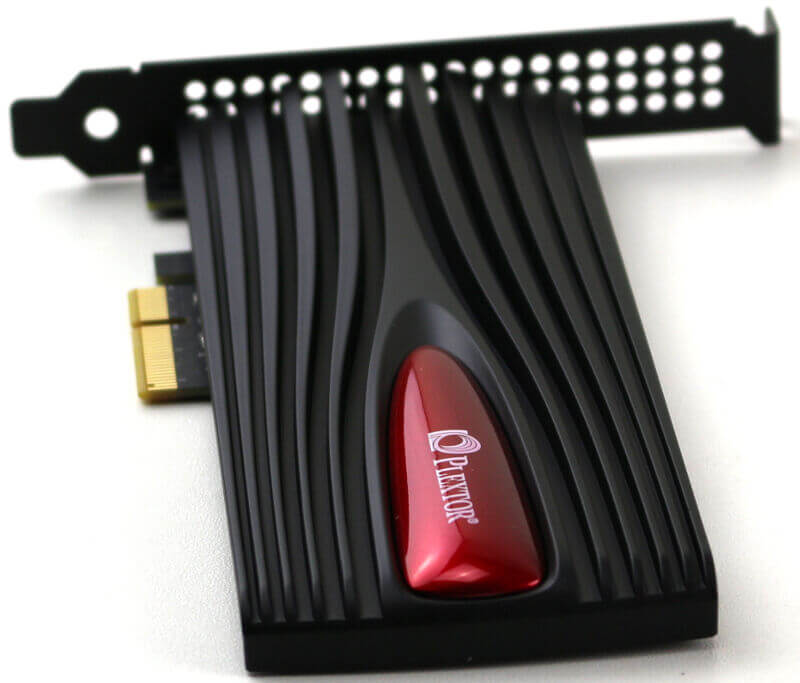 Plextor M9Pe Series
Plextor's new M9Pe series comes in three different versions, just as the two M8 series did. There is the option of an M.2 module without a heatsink, an M.2 module with a heatsink, or the PCIe add-in card which I have in the office today. Which you should pick depends on your setup and available connections. The bare module is intended for notebooks with limited space and built-in cooling solutions while the other two are for desktop usage.
A heatsink on an SSD is a great thing, at least when we talk NVMe drives. These drives run with a temperature between 70 and 80 degrees when they aren't equipped with a heatsink and that may cause performance throttling. Since no one wants that, we should make sure our high-performance drive runs as cool as possible at all times. The PCIe add-in card features a massive heatsink which does a great job at that, easily keeping the drive around 40 degrees.
All three versions are made up of the same components, besides the heatsink and PCB material, of course. The PCIe version also features RGB lighting which you'll either consider cool or annoying. I like it. Capacity wise, you get three options to pick between. There are options of 256GB, 512GB, and 1TB.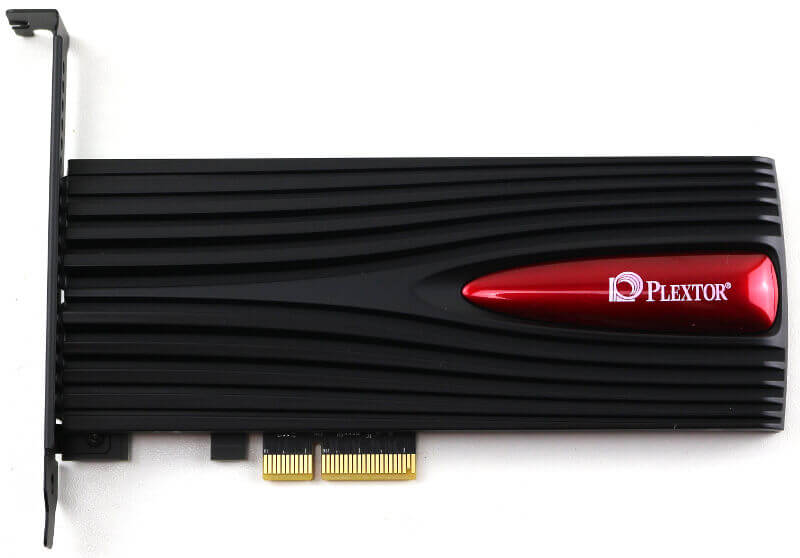 RGB Infused Heatsink
The new M9PeY HHHL version sports the same design of heatsink as the M8Se did, only with a red accent instead of a blue. Besides the small colour change, the new heatsink is infused with an eye-catching, 3-mode, RGB LED lighting. Everything else in the system has RGB these days, so why shouldn't your storage drive? Whether you're a fan of RGB or not, it looks pretty sweet.
The LEDs light up red once powered on and rotate to different colours while in standby mode. During read/write processes, it plays the full spectrum of colours.
Performance
We've established that the heatsink will make sure that we don't run into thermal throttling, but we haven't talked performance figures yet. It is time to remedy that and we'll get right to the numbers. The 512GB version that I have in the office today has a sequential performance of 3200 MB/s when reading and 2000MB/s when writing. That's already impressive as is, but it's the random performance that really shows the drive's strength. It has a rating of 340K IOPS when reading and 280K when writing.
The smaller 256GB version of the drive comes in at 3000MB/s and 1000MB/s at sequential read and writes while the random performance is rated at 180K/160K. While it's less than the bigger version, it's still double that of an enthusiast SATA3 drive. The largest 1TB version is also the one with the best performance. It has a sequential performance of 3200/2100 MB/s and a random performance of 400K/300K IOPS.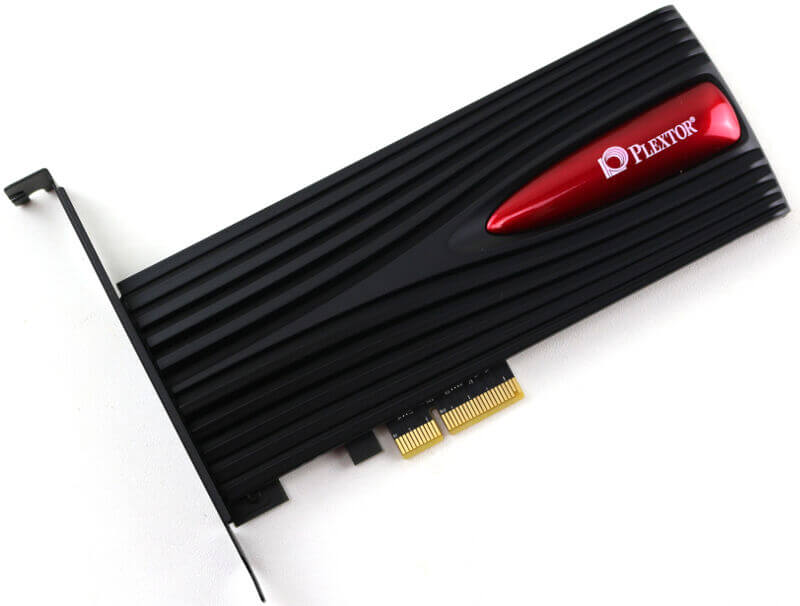 Hardware
The drive features a flagship controller, the Marvell 88SS1093, and it is built with 64layer 3D NAND to deliver the best gaming performance. That's not just a clever marketing label as we saw in the performance rating above. More specifically, the NAND is Toshiba's BiCS3 3D TLC NAND. You also get low latencies from this NVMe1.2 PCIe Gen 3×4 drive. The two smaller versions of the drive feature 512MB DDR3 cache while the 1TB version has a whole GB of cache.
The cache helps with burst speeds, but it isn't enough on its own to deliver such impressive a performance. The thing which really makes a difference is the PlexNitro write acceleration technology. Where other drives use a small percentage of the NAND as static SLC-mode NAND, Plextor drives take a different approach. The SLC-mode part can be assigned and changed on the fly, allowing the drive to deliver better than average throughput. Other features include LDPC error correction technology and S.M.A.R.T. health status.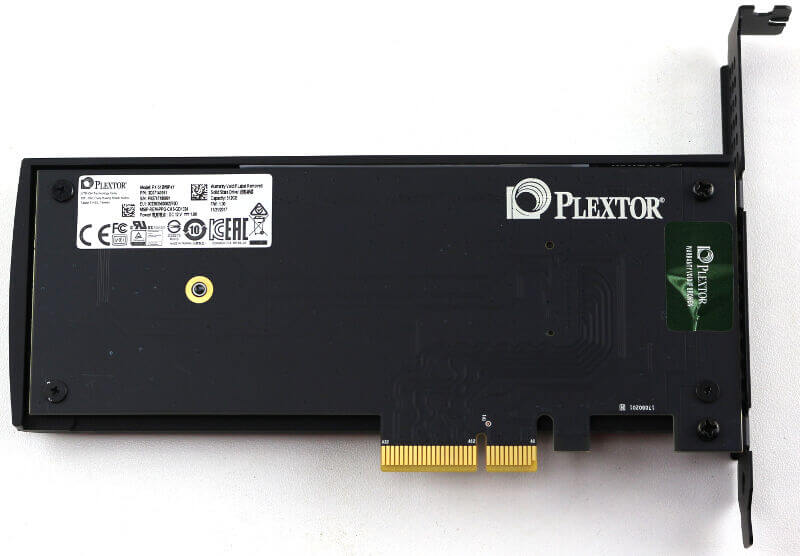 Endurance and Warranty
Plextor's M9Pe series comes with a Mean Time Before Failure of 1.5 million hours. On top of that, it is backed by a 5-year service warranty to provide that extra peace of mind. It's also worth mentioning that the 512GB drive has an endurance rating of 320TBW (160TB per 256GB capacity).
Feature Highlights
Performance of 400K/300K IOPS and 3200/2100MB/s
HHHL-compatible for small form factor builds
Advanced Heatsink with RGB lighting
Up to 1TB capacity
Full capacity available through PlexNitro technology.

Specifications
The specifications are valid at the time of review. They might be subject to future changes in possible product revisions.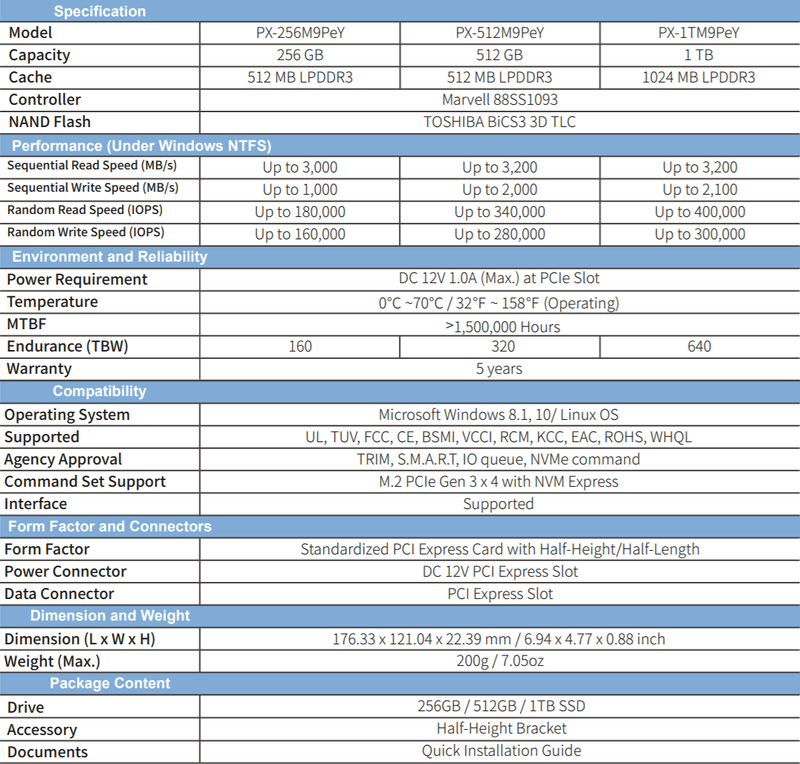 Package and Accessories
The package is as colourful as the RGB features. The front doesn't display the included drive as such, but it does list all the important parts.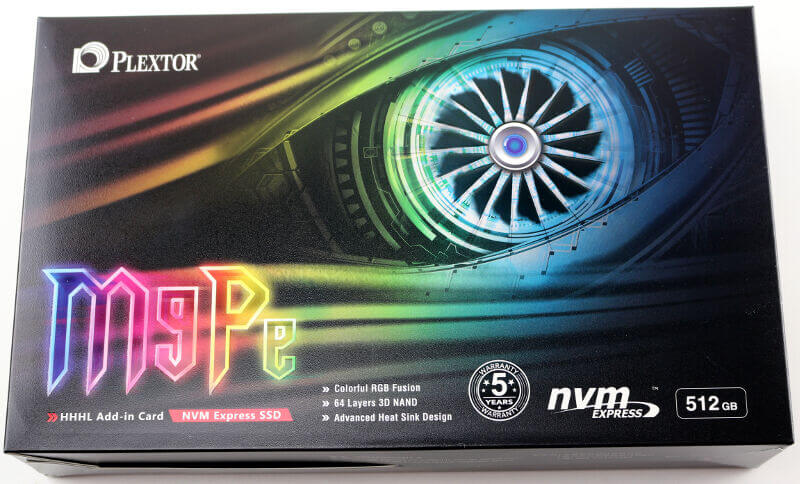 The back side has details towards the performance and other specifications.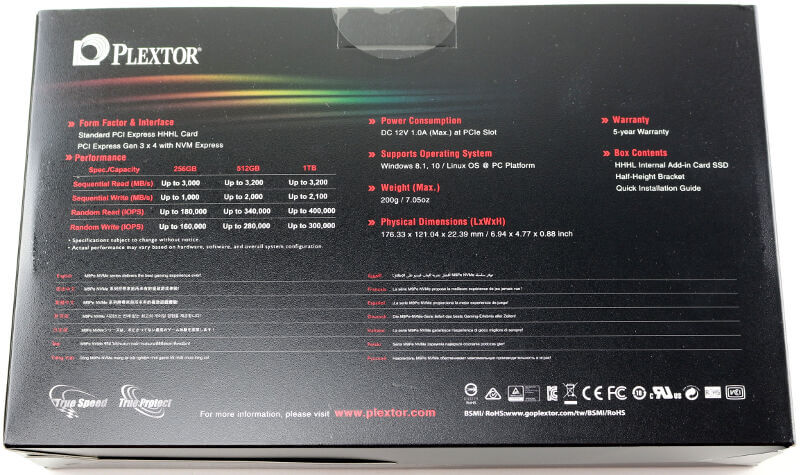 Everything is packed nicely inside, making sure everything arrives in prime condition.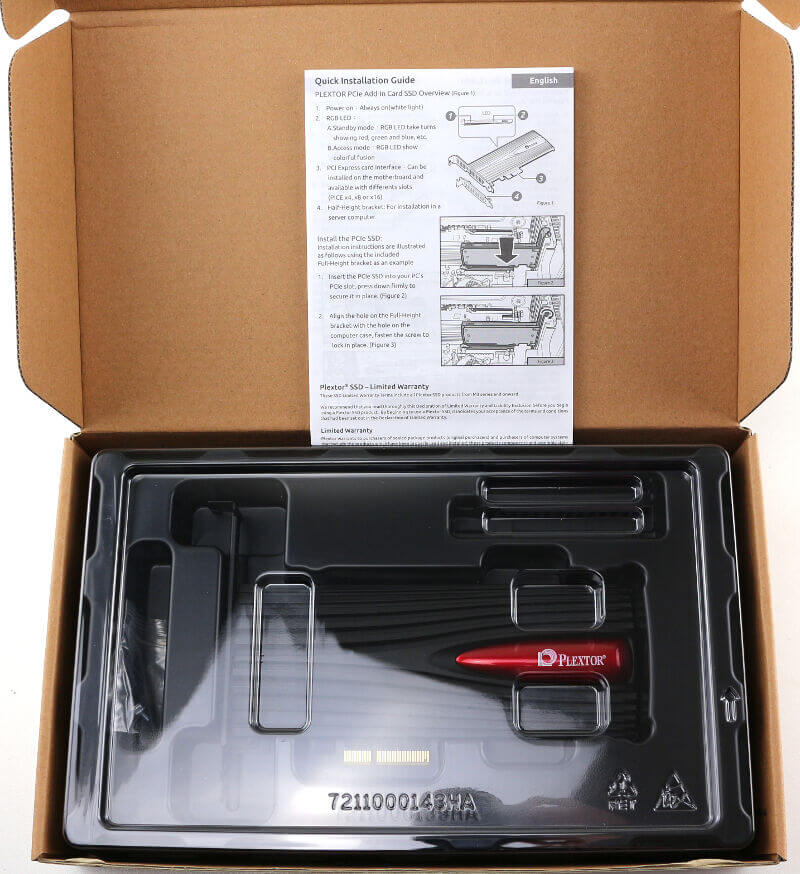 Besides the SSD itself, you also get a low-profile bracket for use with SFF systems, a mounting screw in case your case doesn't have any, and a Quick Installation Guide.