Turtle Beach Recon 200 Gen 2 Gaming Headset Review
---
---
---
Peter Donnell / 2 years ago
Turtle Beach is one of the biggest names in the world when it comes to gaming headsets. They've been making headsets for every console you can think of, PC, mobile devices and more for almost 20 years now, albeit the company has been around a lot longer than that. While they recently announced their new Recon 200 Gen 2 Gaming Headset, it was 3 years and 9 days ago that I reviewed the original Ear Force Recon 200 headset. And I said "The inclusion of a built-in microphone, on headset controls, multi-format support, dual audio controls, leather padded ear cups, powerful drivers, great aesthetics and build quality, and an incredibly wallet-friendly price, make the Recon 200 one of the hottest gaming bargains of 2018 so far. Highly recommended!" Of course, I'm expecting something broadly similar or at least a bit better from the new model, and it'll be interesting to see how the two stack up.
Turtle Beach Recon 200 Gen 2
This headset promises to deliver on the same party trick as the old model. It's a wired headset, but it has a built-in battery and amplifier. So it doesn't matter what you plug it into, Xbox, PlayStation, Switch, your phone, TV, Sega MegaDrive… whatever, it's not important. However, when you do, you can use the built-in power amp on the headset to deliver a more powerful sound. That means even on passive microphone connections via the 3.5mm jack, you can still use variable mic monitoring. It'll last 12 hours before needing a charge, but once the battery is gone, you can play and charge via USB or just use it as a standard set unamplified headset.
Next-Gen Comfort – New for the Gen 2, athletic fabric and softer memory foam ear cushions keep you cool and comfortable over hours of gaming.
Amplified Audio – Amplification drives 40mm speakers to deliver immersive, detailed gaming audio plus always on bass boost & variable mic monitoring.
Glasses-Friendly Comfort – Patented ProSpecs dual-foam ear cushions alleviate pressure so gamers with glasses can play in comfort.
12-Hour Power – A 12-hour battery delivers amazing, amplified audio features including always-on bass boost and variable mic monitoring.
Multiplatform Compatibility – Works perfectly with your favorite game consoles, controllers, mobile devices, or anything with a standard 3.5mm jack.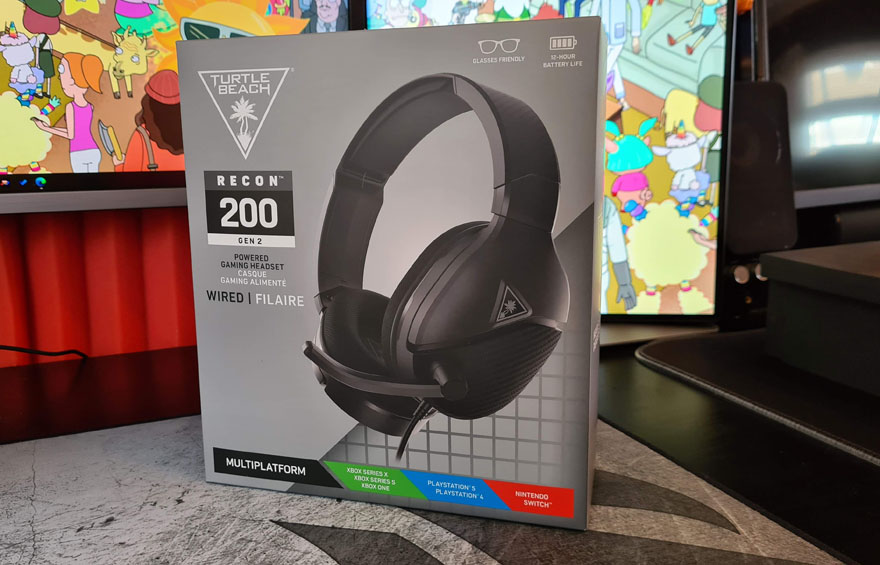 What Turtle Beach Had to Say
"Powered by a rechargeable 12-hour battery, the Turtle Beach® Recon™ 200 Gen 2 multiplatform gaming headset delivers powerful, amplified audio with bass boost and variable mic monitoring so you can hear the volume of your voice in the headset. But we get it, 12-hours can go by quickly, so the Recon™ 200 Gen 2 can keep going without power in passive mode for game audio*. Whether you're chatting with teammates or trash-talking the enemy, the high-sensitivity flip-to-mute mic picks up your comms loud and clear. New ultra-soft memory foam ear cushions with ProSpecs™ and a strengthened, metal-reinforced headband provides plush comfort and durability over hours of gaming." – Turtle Beach
Launch Trailer