AMD Threadripper 2990X 32C/64T CPU Price Listed in Canada
---
---
---
Ron Perillo / 5 years ago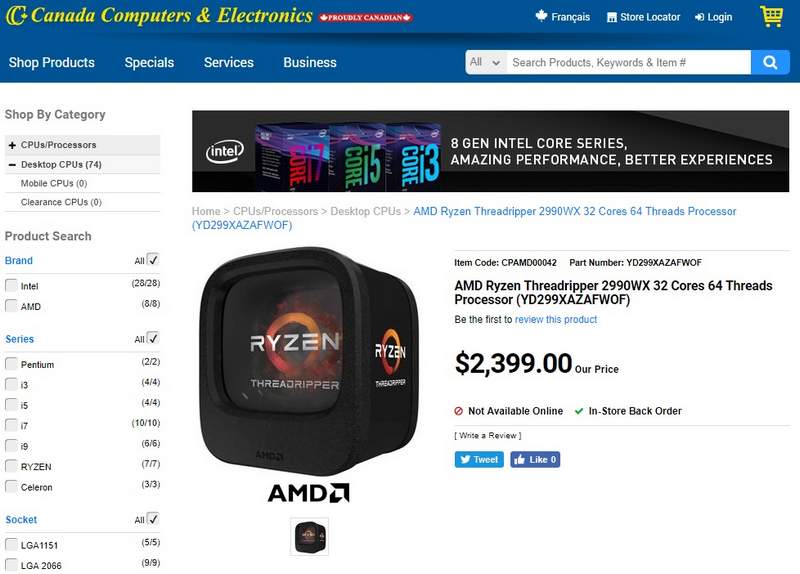 Threadripper 2 Price Listed in Canada
AMD's Second Generation Threadripper processors are almost here. In fact, the prices for the first generation CPUs already started dropping last month. Also, others stores have begun listing (accidental or otherwise) the prices for the upcoming CPUs. This time it is Canada Computers putting up the new flagship 2990X on their site. With NCIX dead, Canada Computers is pretty much the premiere hardware store in the country. So this is not some fringe retail site listing any premature information.
According to Canada Computers, this flagship CPU has a $2,399 Canadian dollar list price. It is also confirmed to have the model number YD299XAZAFWOF, so this is not a mistake in the listing. Although interestingly, it lists the TDP as 250W, which is much higher than the first generation's 180W. In terms of pricing comparison, the first generation Threadripper 1950X is listed on Canada Computers currently for $999 CAD after a $300 discount off $1299 CAD.
When is the AMD Ryzen Threadripper 2 Coming Out?
AMD promised a Q3 2018 launch date during the Computex 2018 keynote announcement. Initial expectations point towards a later September launch. However, if it benchmarks are leaking out now and stores are listing it, the next generation Ryzen Threadripper CPUs might be launching a month or two earlier than that.
Considering the first generation Threadripper discount ends on August 25, these new processors will most likely launch around that time.