Ashes of the Singularity Public Beta Released
---
---
---
Ashley Allen / 6 years ago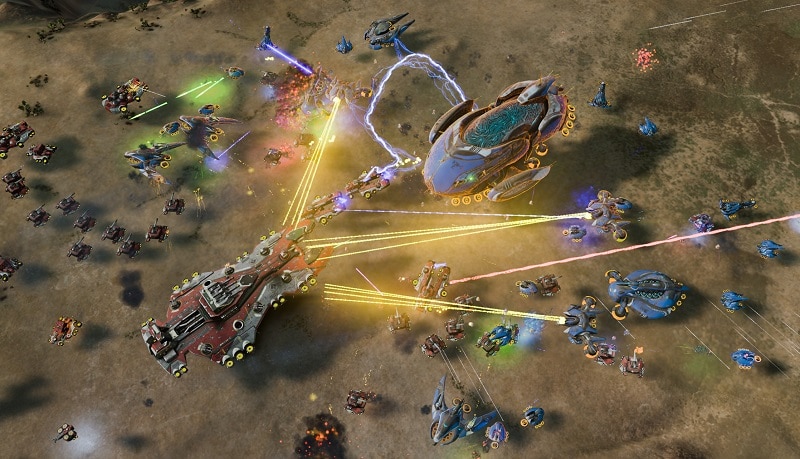 The first public beta of Stardock's real-time sci-fi strategy game, Ashes of the Singularity, has been released. Ashes of the Singularity is the first game to support DirectX 12 natively, powered by the Nitrous engine, which is said to be able to handle busy screens with interactive and visual complexity.
"In Ashes of the Singularity, gamers aren't fighting a battle, they're fighting a war," Brad Wardell, CEO of Stardock, said. "Players command thousands of units across a vast battlefield while building up their economic and technological might."
"Over the past few months we've worked closely with AMD and NVIDIA to fully leverage their hardware," he added. "Our alpha testers have reported substantial performance gains, which is allowing us to begin lowering the hardware requirements."
According to the announcement of the public beta on the official website, the game boasts:
The first native DirectX 12 game allowing each CPU core to command the player's GPU simultaneously, which allows for an order of magnitude more rendered units to be on screen at the same time than previous RTS games.
A multi-core real-time strategy AI that allows for excellent single player RTS gaming.
A new native 64-bit 3D engine called Nitrous that makes full use of the features of DirectX 11 and DirectX 12, allowing for thousands of light sources on screen simultaneously.
A new type of unit group organization known as a "meta" unit that makes it easy for players to manage potentially tens of thousands of units across a world.
Advanced Nitrous 3D engine allows players to zoom out on the map without having to transform the map into a simplified view of the battlefield.
"Our goal with Ashes is to help introduce a new generation of gamers to real-time strategy games," Wardell said. "We want to make a game where players can invite their friends in and be up and playing relatively quickly without a lengthy explanation about how to play."
The Ashes of the Singularity public beta is available now from Steam and GOG.