Intel Optane SSD 800P M.2 PCIe SSD RAID Review
---
---
---
Bohs Hansen / 3 years ago
Introduction
---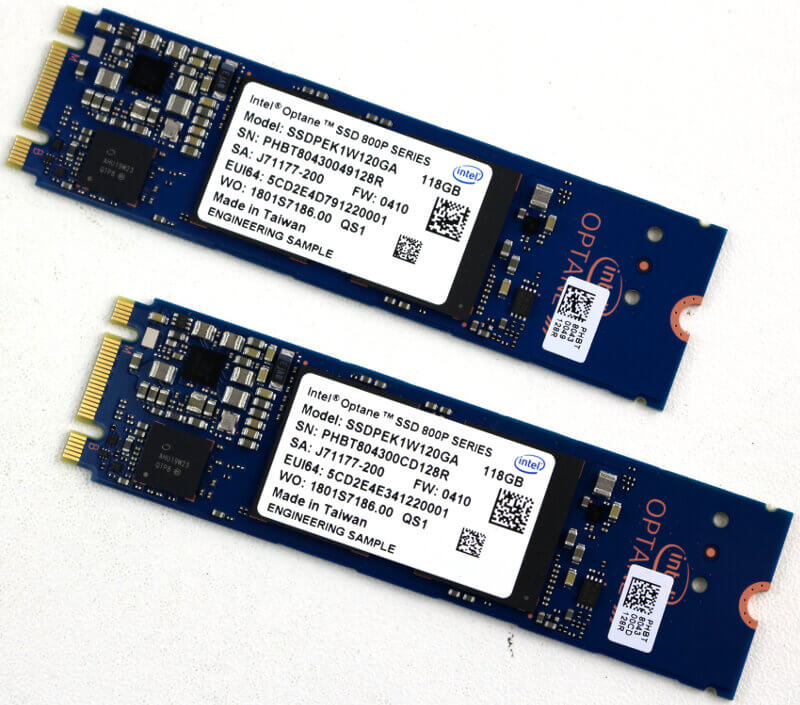 After having a look at the Intel Optane SSD 800p with 58GB and 118GB capacity individually, it is time to have a look at how well the series performs in a RAID setup. After all, Intel sent me two of their 118GB drives (product link) for just this purpose.
Intel Optane 800p in RAID
One thing that came as a surprise to many during the pre-launch conference call about this drive was the RAID capabilities. Not that you can RAID the drive itself, but how well it will perform in such a setup. You can create RAID setups for almost any drive, but you won't get a 100% scaling as you'd expect. That's more or less a given. Or is it?
Intel's Optane 800p promises just that, a better scaling. That is also what this review today is about, to check up on that and see if that statement holds up in our own tests.
Optane 800p Hardware
I won't go too much into the details of these drives today, you can check our two previous reviews in the series for more details. Still, let us take a quick look at what you get with an Optane 800p drive.
The Optane SSD 800p is a full Intel product. The NAND utilised is 3D XPoint and the controller and firmware are Intel's too. From the system's point of view, the Optane SSD 800p is a PCIe NVMe module like any other. That means that you can install it in any system that will run such a drive without consideration for chipset or generation.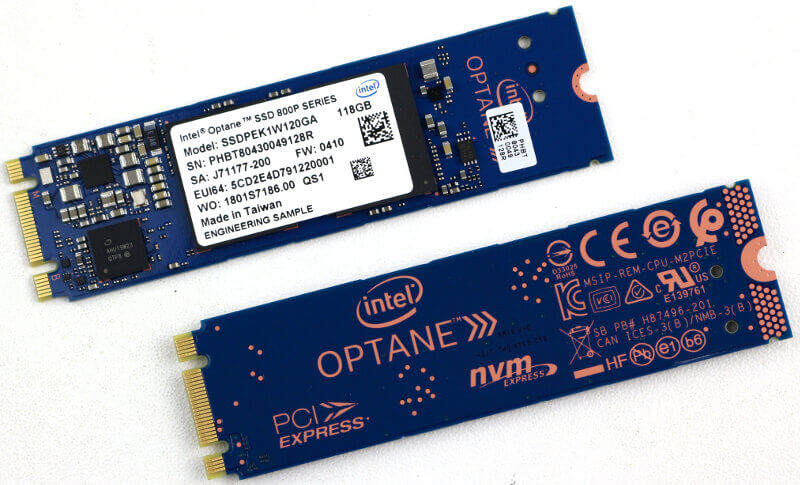 The 3D XPoint NAND is what separates these from other NVMe drives. The NAND has a better interconnect between the individual cells which allow it to perform consistently across all data types and fillage scenarios. We've already confirmed that in our previous reviews. It also lets the Optane SSDs perform with very low latencies. The drives operate best at low queue depths where most operations actually are performed, and that's by design.
Another bonus with the Optane SSD 800p is the low temperature at which it runs. There is a lot less risk of running into thermal throttling due to heat as the drive runs at about half the temperature of other NVMe drives. So there's no need to worry about the drive not having a heatsink. It also makes them optimal choices for SFF and laptop systems which can't accommodate high-end cooling solutions.
Package and Accessories
The Optane SSD 800p, or SSD8 as it's also known, comes in a little square box. It isn't much larger than a deck of cards, because it doesn't have to be. The colouring is classic Intel, leaving no doubt who it's from. Beside the drive name and Intel logo, there isn't a whole lot to see on the front. Well, the capacity included within is printed on a small sticker too.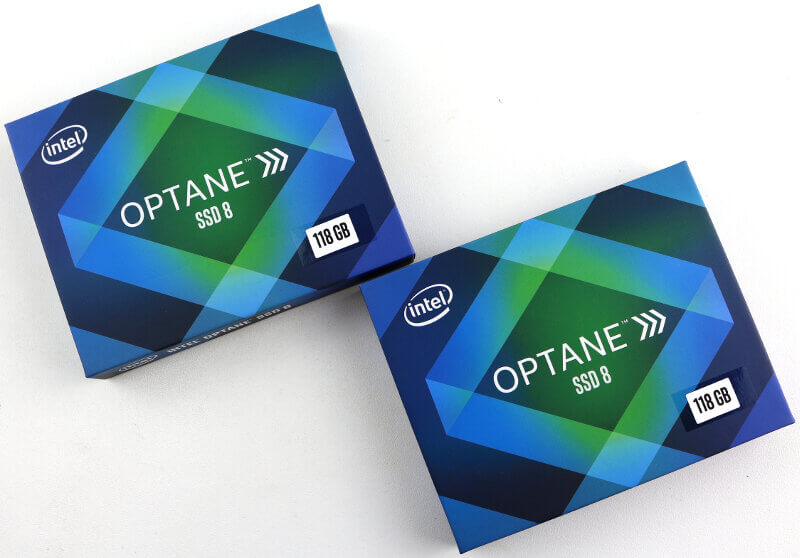 Inside each box is the drive, securely packed in a small plastic wrapper.
There's also a small note about Intel SSDs with installation instructions, should you need that. I doubt many will, but it's still good to see included.