The Elder Scrolls Online 8 Years Old Today And It's Never Been Better!
---
---
---
Peter Donnell / 1 month ago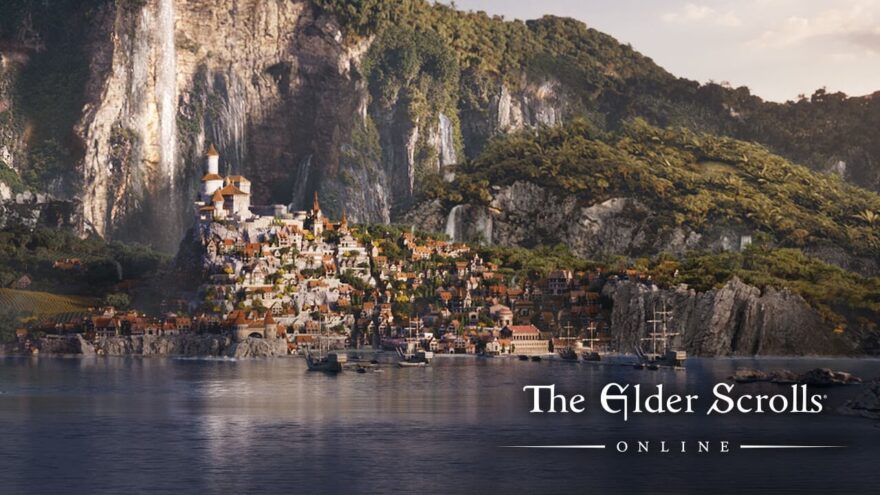 Usually, the older an MMO gets, the more complicated it can be to really get into it as a new player. However, if anything, The Elder Scrolls Online has become much more accessible over the years, and it seems to be in a bit of a sweet spot right now. One thing is for certain though, the steady update and release schedule is not slowing down, and it looks like ESO will be with us for years to come still.
Update 33
The game recently got its 33rd major update, and the teams at Bethesda/Zenimax continue to improve the quality of life for players. Does it still have its issues? Of course, it does, it's a massive online game and suffers from similar issues to most other online games. However, recent updates have been heavily focused on server-side performance, such as changing the achievement system, putting old accounts into cold storage, and more. The result is a game that now plays smoother and loads faster.
Systems to improve the drop rates of missing gear from dungeons, the new competitive and collectable (in-game) card game, and the new hybrid build system allowing damage to scale from whichever is highest, for more unique uses of the Stamina and Magicka stats; a welcome breath of fresh air for some PVE builds In my opinion.
Graphics
The graphics still hold up great too. The game may be 8-years old, but its visuals are far from dated. Sure, there's room for improvement, but typically online games do try to be more accessible to older hardware rather than push the limits as AAA single-player experiences do. That being said, the game supports high refresh rates, and high resolutions, and even has Nvidia DLSS and DLAA technology. I run it at 4K with DLSS Quality and everything else is maxed out, and it looks stunning!
The game recently got updated on consoles, allowing the newer generation to get a graphics and performance boost. While no details are out there right now, I have heard whispers of some continued goals to improve things in the future. I wouldn't be surprised if some form of ray traced shadows, or AMD FSR made its way in in the next year or so.
End Game, Before and Beyond
The end game experience in ESO is one of the best out there, but the road to get there is even better. Many MMOs are focused on the grind to get to the end game and THEN you start to see what it's really about. However, The Elder Scrolls Online has a really solid story in every single zone, DLC, and more. The quests and structure remind me more of Oblivion than Skyrim, but that's no bad thing. I actually played ESO as a single-player game for around 4 years, doing each year's new DLC and zone expansion. Recent years have seen the release of the Kahjit homeland Elswyr, then we have the Greymore expansion dealing with Vampires in Skyrim, and Blackwood too. Now, we're into the Breton storyline as they go to the High Isle expansion in the coming months.
However, when you do hit the maximum gear level (CP160), it really just feels like a new beginning. ESO has a huge number of dungeons, which can be run as (up to) a four-person team. Then they can all be run on Veteran difficulty, and even have various stages of Veteran Hard Modes for some seriously hard challenges (especially on the more modern DLC dungeons). And if that's not enough, there is a wide range of 12 person trials, which are even tougher. This all feeds into the gear system, making runs to enhance your build, do new runs, keep up with the meta builds, etc. If you're feeling really brave, this gear can then be taken into the Cyrodil PVP, which is just a big endless war… so yeah, 8 years in, and I still haven't "completed" everything that's in the game.
But This Game Sucks, I Tried it Years Ago!?
Yeah, you're not wrong. When it first launched, ESO was not a good game at all. Sure, it looked good, the voice acting was great, etc. However, the progression system, skill points systems, armour system, and the way exploration was effectively punished if you weren't at a high enough level… yeah all that crap is GONE. They release the One Tamriel update years ago, allowing you to effectively go anywhere. The PVE game now scales a lot better, and you really can explore any zone, any main story, in any order you like. The levelling and gear systems have seen more than one significant overhaul, and the new max level (CP3600) and the new armoury system allow you to change builds quickly and easily. It's a great system.
Room For Improvement?
Of course there is! But so far, ESO has never been as good as it is right now. While you can play with the base version of the game, the latest expansions usually come bundled together if you buy the most recent addition. Furthermore, the ESO+ subscription is one of the better value setups for an MMO as it rewards crown story currency (premium in-game store for cosmetics), doubles some storage, gives you an unlimited inventory, and access to all DLC. However, it's not mandatory, but I do think it's well worth the investment if you're putting some serious hours into the game.
There's a vocal group complaining about server issues, and PVP latency, but frankly, that's true of any online game. Personally, I've had a really good experience with ESO over the years, albeit I'm fortunate enough to have very fast internet and a decent PC. Furthermore, as above, the developers really have been doing heavy investigation and experimentation to improve the game in recent years, and it's certainly working.
How to Play?
ESO is available on Windows, MacOS, PlayStation 4, PlayStation 5, Xbox One, Series X/S, and Stadia. The base version is also in Gamespass on Xbox too, so you can always try it there. However, picking up a copy of the game and its recent DLCs can be done fairly cheaply on PC through any of the various online retailers and you'll get more bang for your buck. Plus, as a side note, I got into ESO as it's one of the few PC playable MMO games that can be played entirely with a controller. My hands hurt a lot playing WASD, unfortunately, but ESO not only lets me play comfortably with a controller, I'd argue that for a lot of the PVE content, that's the best way to play.
Overall, I've put thousands of hours into this game, especially during lockdown! As if it's been eight years of ESO already though, happy birthday ESO, and here's to the next eight years!

Check out hwww.elderscrollsonline.com for more details.
Further reading