Intel Core i7 9700K Results Shows Up on Geekbench Database
---
---
---
Ron Perillo / 4 years ago

Benchmark Leaked Out
Intel's upcoming Core i7 9700K processor is not out yet, but it appears that its performance results are now public. Thanks to the Geekbench database and an anonymous user who submitted their benchmark results to the platform. The submission is recent too, just posted yesterday September 2, 2018 at around 3AM. Whoever was benchmarking forgot to do the testing offline.
Thankfully, this makes it easier for us to see what to expect before the NDA gets lifted. Also, Geekbench has a built-in search function so it was easy enough to find.
What Can users Expect from the Core i7-9700K?
Despite being a 9th generation CPU, these processors actually still use the same 14nm microarchitecture as the 6th gen Skylake. Just with some minor Kaby Lake and Coffee Lake "refinements" of course. Since the process is mature, Intel can squeeze out much more performance now than when the 6th and 7th generation CPUs first came out.
Information about this upcoming CPU have also leaked out in various forms over the past few weeks. One leak shows it supposedly pushed up to 5.5GHz overclocked. Also, this i7-9700K will apparently be ditching the HyperThreading feature.
One thing that motherboard manufacturers have definitely confirmed however, is that these 9000-series Intel CPUs will not require a new motherboard. Although there are Z390 chipset mainboards incoming, these are fully compatible with existing Z370 motherboards as well. In fact, manufacturers like ASUS, ASrock, MSI and Gigabyte have rolled out BIOS updates adding support already several weeks ago.
So it does not come as a suprise that this leaked benchmark uses an existing Z370 motherboard. Specifically, it is Gigabyte's Z370 AORUS Ultra Gaming 2.0.
The first stable from the Geekbench leak shows the specifications for the i7-9700K. Confirming the rumoured 8-core topology. It also shows the base frequency at 3.6GHz with the max turbo at 4.9GHz. With an unlocked "K" CPU, this bodes well for having common 5GHz+ OCs once they are out.
How Well Does it Perform?
The single core result shows a score of 6297. In comparison, an i7-8700K single core performance in Geekbench is in the neighbourhood of around ~5800. An 8-core Ryzen 7 2700 CPU usually gets around ~4500 in single core performance.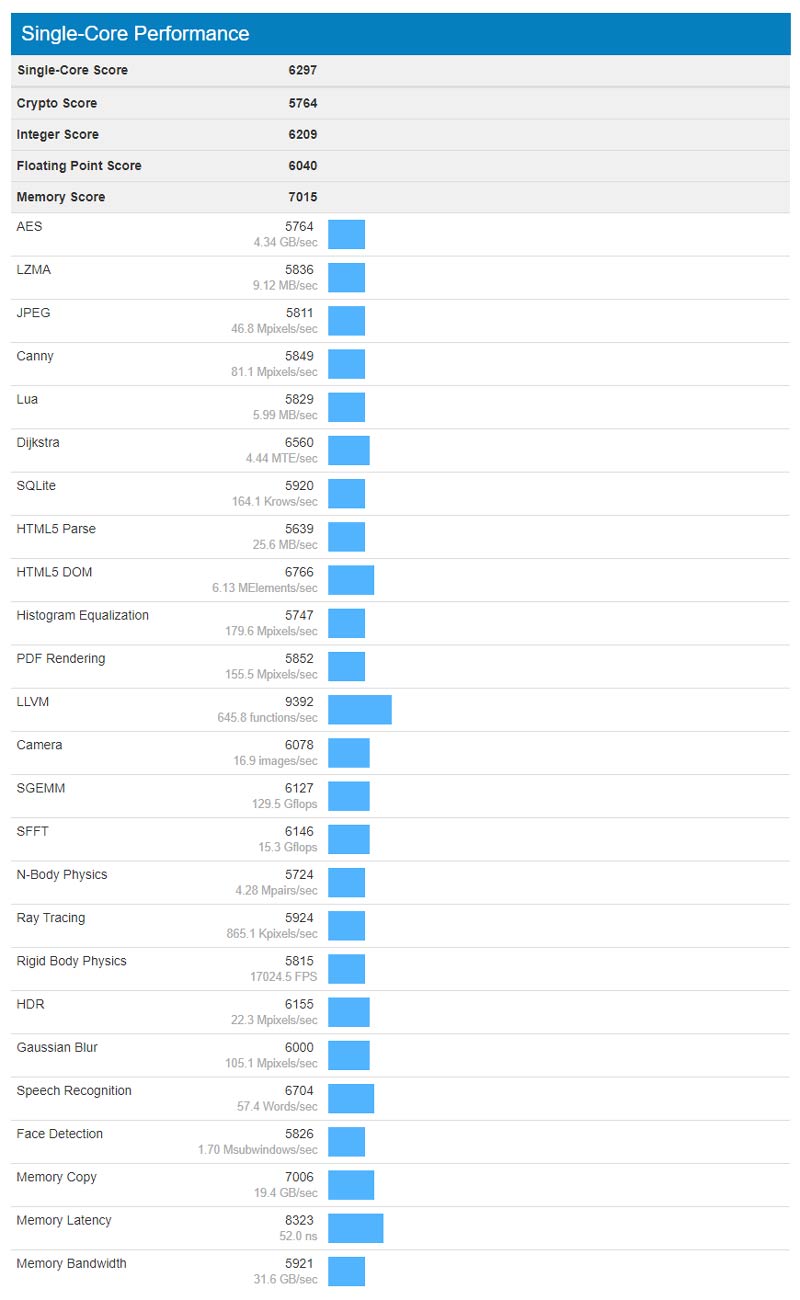 When it comes to multi-core performance, the total score is 30152. In comparison, the i7-8700K usually gets ~24,000 points. So this is a considerable leap as well. That is close to 20% performance improvement. This is also quite a bit of an advantage over the Ryzen 7 2700, which usually gets around ~23,000 points.