Synology DS1513+ 5-Bay NAS Review
---
---
---
Chris Hadley / 9 years ago
Introduction
---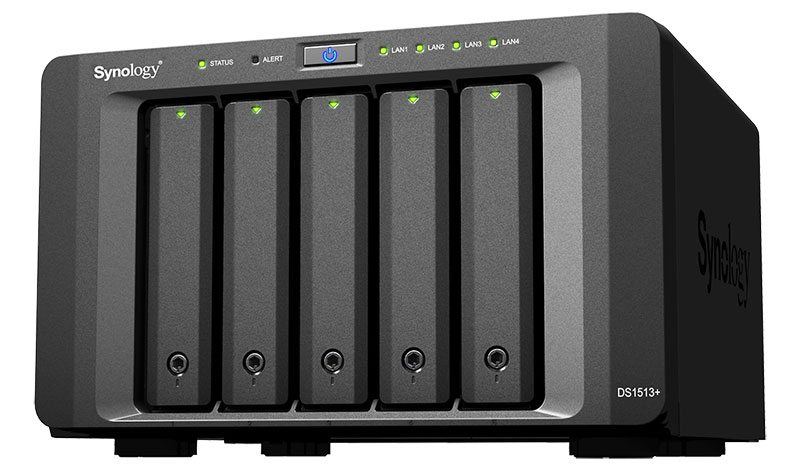 When we look at the number of bays that each and every NAS on the market has to offer, typically we find the bays rising in multiples of 2, although we do find that there are 5 and 7 bay options out there as well for those who want to bridge the price gap between the 4-6 bay price bracket and additionally the 6-8 bay bracket.  Typically in the home environment we find users buying 2-4 bay systems and with capacities of up to 16TB on offer, this is generally more than enough to suit the majority of users in this group. On the other end of the scale in the enterprise market, 16-bay systems are not uncommon and in some cases 24-bay systems can be found, but in between these two extreme ends of the market is the SMB (Small-to-Medium-Business) and SOHO (Small Office / Home Office) group of users. At this level in the market, 4 bay systems are ample solutions to go for but in most cases they are just a starting point, with users and businesses soon seeing that they need to go up to a 6 or 8 bay system to suffice their needs. As said though, the price difference in some cases is quite notable and this is where units such as Synology's DS1513+ come into play.
The Ds1513+ is by no means a new system to the market, in fact it was released in the mid-part of last year, but what is significant about this system is that it has five drive bays to work with in a desktop format which allows for up to 20TB of RAW storage, but even more importantly it has four Gigabit Ethernet ports on the back, allowing for high-levels of bandwidth and throughput when setup with a compatible switch. So why I hear you ask am I reviewing a product that is nearly a year old? Well the simple answer is that whilst there have been a fair number of new products in the SOHO and SMB classes come to market since the launch if this system, I have until this point only looked at consumer level and SOHO based systems which are ideal for the home user, but not quite what the business user is after, both in terms of functionality and performance. Whilst I could have chosen a more recent system to put to the test, Synology were keen to show me that their DS1513+ is still s class leading product long after it hit the market – or that's what they tell me.
So what sets a business level NAS apart from a consumer level product? To move up to the next level a NAS in my eyes needs to offer up a number of additional features. The first of these is multiple Ethernet ports; a home user for the most part is never going to fully saturate a single Gigabit connection, whilst in a business environment where multiple users are likely to be connected, creating a potential bottle neck as one Ethernet connection struggles to deliver data fast enough. The second thing that I look for is scalability; commercial environments typically create volumes of data much faster than one would at home and buying a larger system every 6 months for example is not what one would exactly call practical. Expansion units can simply connect into the existing system and drive volumes to create additional storage space with ease and lass hassle. The last thing that I look for is stronger performance levels. Going back to the LAN point that I made above, yes a home user may see a slight difference in performance between a RAID 0 and a RAID 1 array, but only just, whereas in a busier environment this difference in performance is noted far quicker as many users try to access the system. A strong storage controller is the key here.
The DS1513+ has all the basic credentials that I need for it to be classed as a business level system so the real question now is, can it really deliver those promised levels of performance and still shine through as a class leader nearly a year since its release? That's what we're about to find out.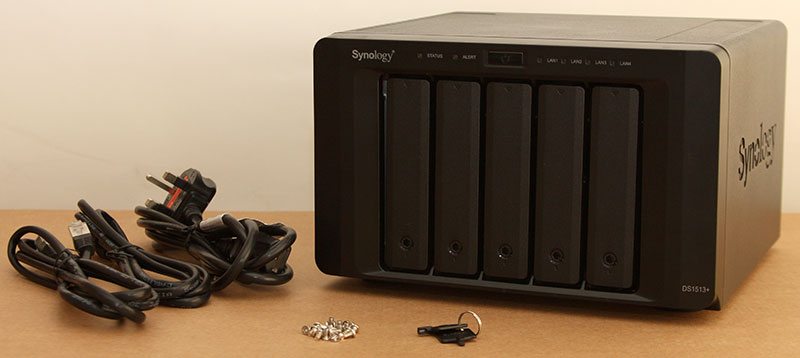 Unlike some of the consumer level systems that Synology have in their catalogue, the DS1513+ has a more concise accessory set included with little more than a pair of Ethernet cables to get connected, a UK mains plug (in our case), a set of screws for installing 2.5″ drives into the drive trays and a pair of keys of locking each of the drive trays in place.