Buffalo BS-MP2008 8-Port Multi-GbE Switch Review
---
---
---
Bohs Hansen / 6 years ago
Introduction
---

Buffalo BS-MP2008 8-Port Multi-GbE Switch Review
If you think 10 Gigabit Ethernet is something reserved for large enterprises, then you used to be right. The reason is simple, expensive 10GbE switches. Buffalo changes that with their BS-MP series (link). The 8 and 12 port multi-gigabit Ethernet switches offer high-speed L2 capabilities for a reasonable price, starting around £400.
Affordable Multi-Gigabit Ethernet Switching
We have gaming and workstation motherboards with 10GbE, we have NAS devices with 10GbE, but the switches have been missing up until now. Well, that's not entirely true. They were there, but they were too expensive for most people to consider. Lately, we've seen some SOHO devices with two multi-gigabit ports, but the rest of the ports were standard gigabit. Buffalo's BS-MP20 series, which includes the BS-MP2008, changes that. With 8 or 12 full-duplex 10GbE capable ports, it is still relatively cheap. It is especially cheap when we consider how much we spend on the rest of our setups.
The BS-MP2008 supports 10GbE as the fastest speed, but it isn't limited to that. Slower 5GbE, 2.5GbE, and 1GbE are also supported. Even 100mbit support is included, should you still have devices utilising that standard. All ports are full-duplex, and the switch has enough bandwidth to utilise it. All the ports use Auto-MDIX for automatic speed detection.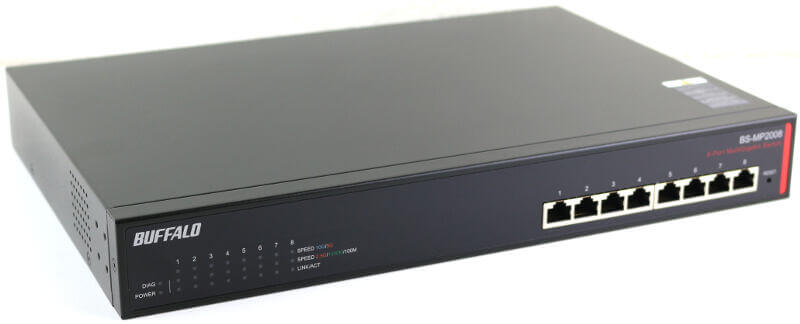 Affordable isn't a term reserved for the purchase. It also covers the total cost of ownership. Buffalo's BS-MP2008 has 802.3az Green Ethernet technology built-in. The intelligent power control system monitors the activity status of each port to reduce the total power consumed. At full load and operating, the switch consumes a total maximum of 31W.
Supported Functions
The BS-MP2008 might not have as many functions as the enterprise versions, but it comes with the most vital features. First of all, SOHO and SMB setups don't require as many options. In fact, less can be more. Fewer functions make it easier for novice users to get used to the new device and its abilities.
Still, the switch supports Jumbo Frame up to 9,216Byte for network optimisation. The loop detection and prevention functions are self-explanatory, and so is the bad packet filtering. However, the significant features are the VLAN, QoS, and Link Aggregation.
The security features are limited to username and password for the interface and MAC address filtering for the connections.

Flexible placement
While the BSMP2008 isn't rack-sized, it comes with the proper mounting options for such a placement. It is smaller which is a plus for desktop usage. Why would you want to take up more space than necessary?
For the desktop-usage, it comes with four rubber feet which you can place yourself. The feet will give it a solid stand and reduce possible vibrations from travelling between the switch and the surface.
Wall mounting is a third possibility. That is if rack or desktop setups aren't the things you want. With the cross-shaped cut-outs, wall mounting is possible in every direction.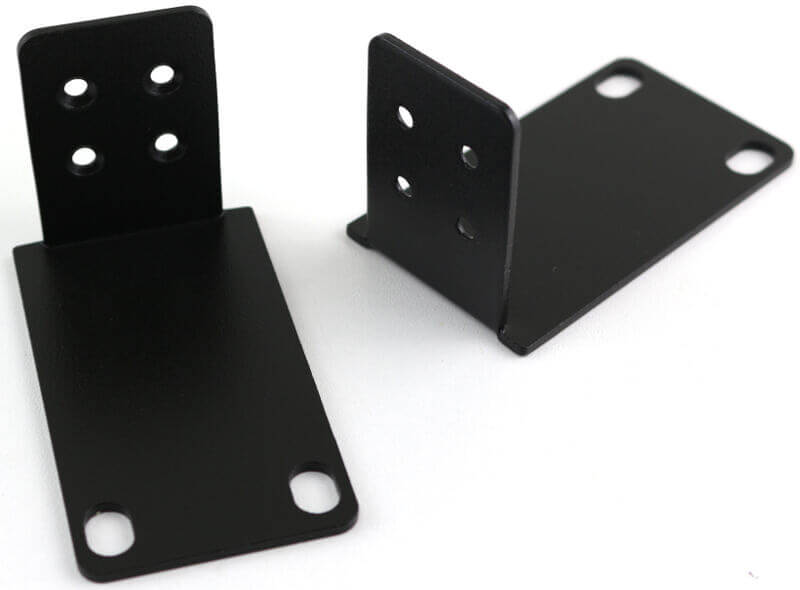 What did Buffalo have to say?
Buffalo's BS-MP series of 10 GbE switches offers an easy, cost-effective and energy-efficient way to extend your business network at blazing speeds. Plug and play installation requires no additional software or configuration; simply plug your network-ready devices into one of the available Ethernet ports. Each AUTO-MDIX port automatically detects and configures the correct connection while optional jumbo frame support and full duplex operation provide maximum performance. This switch is a perfect complement to the TeraStation 5010 line of NAS devices which has up to 2 native 10GbE ports and is compatible with 2.5, 5 and 10 GbE.
Raj Patel, B2B Manager says: "Our switches offer an affordable, quick and easy solution to extend a business network with plug and play installation. With speeds of up to 10GbE, eco-minded operation, performance-minded features and a lifetime warranty, Buffalo's BS-MP20 series of switches is a great way for SMBs to enter the 2.5, 5, and 10GbE market."

Feature Highlights
Eight 10GbE ports
Multi-gigabit options of 2.5, 5, and 10 GbE speeds
Auto-MDIX provides fast plug-and-play setup
802.3az Green Ethernet technology
Automatic energy conservation feature reduces total power consumption
Durable metal chassis
Loop prevention or detection
IGMP, QoS and VLAN Management
Traffic Management and Link Aggregation
Package and Accessories
The package is as simple as it can be. A plain brown box with a sticker mentioning what's inside.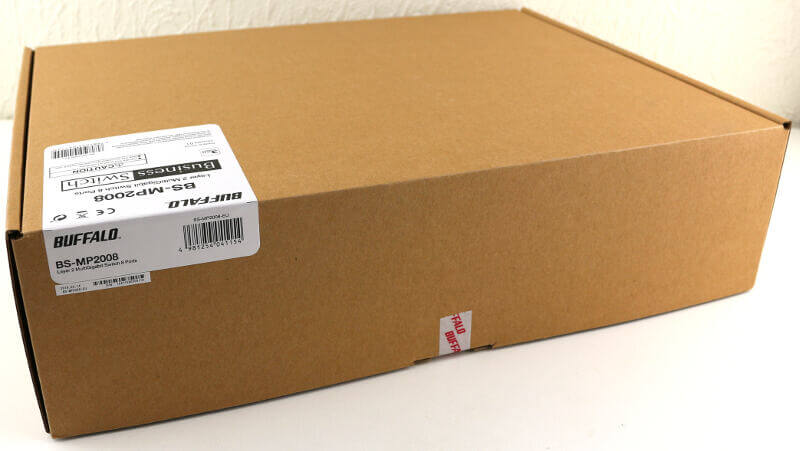 Opening the box up, we see every packed neatly inside.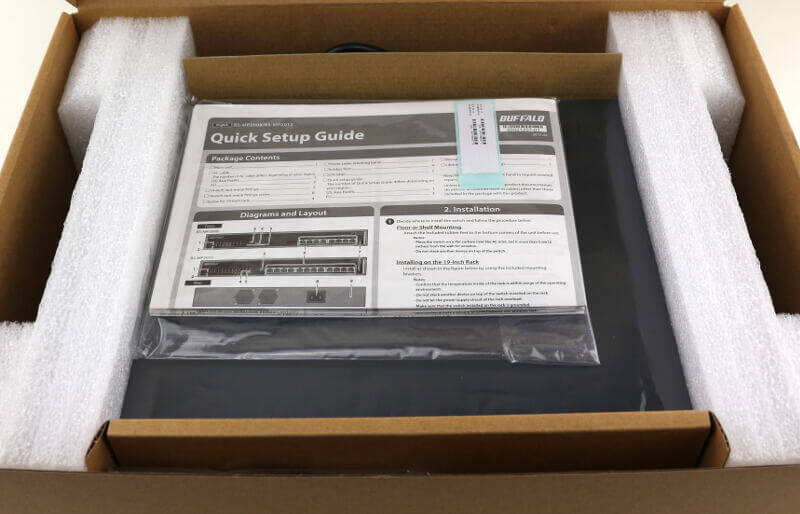 The switch has a built-in power supply which means that you only need an ordinary power cable for it. There will at least be one for the region where you purchased it. Sometimes, there can be multiple cables such as here. I got a DE and a UK cable.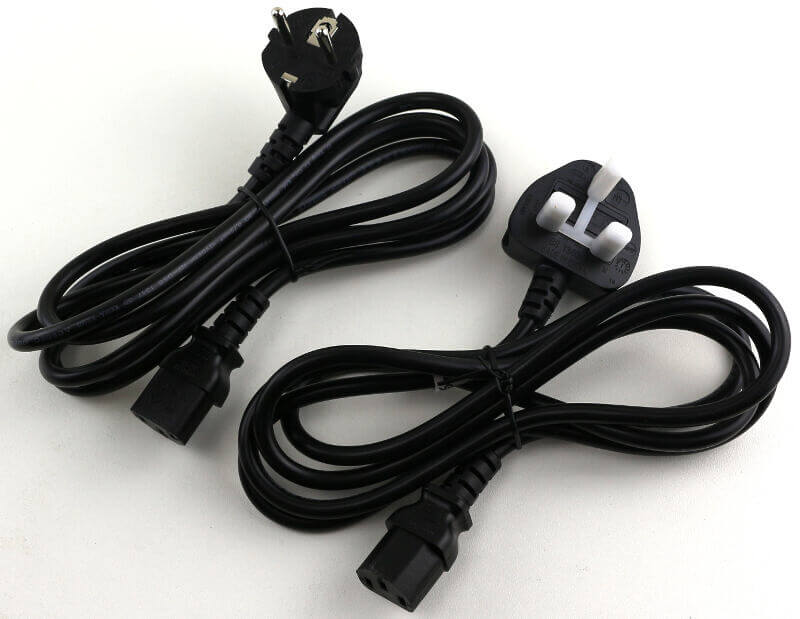 You get metal shins for 19″ rack mounting included.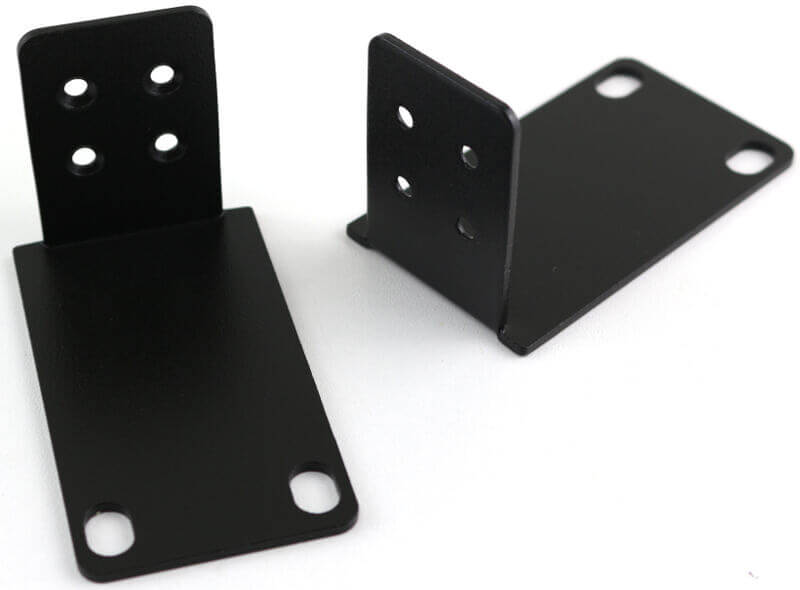 You get all the screws you need for 19″ mounting if you go that route. There's also a power cable-helper and four rubber feet. You can place the rubber feet under the switch when you want it to set it up as a desktop device.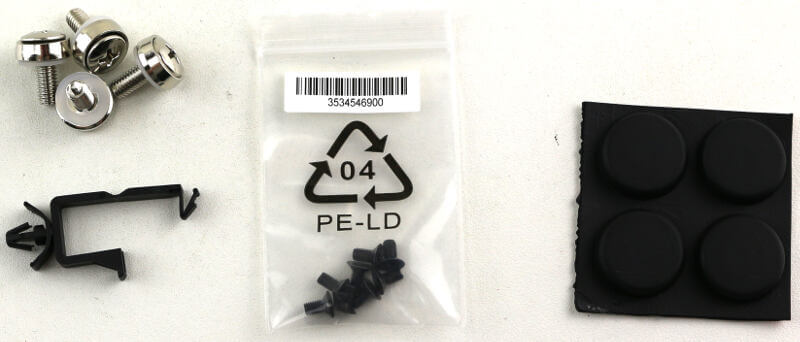 A quick-setup guide will help you get started. There's also a warranty note included, should you ever need to kind of service.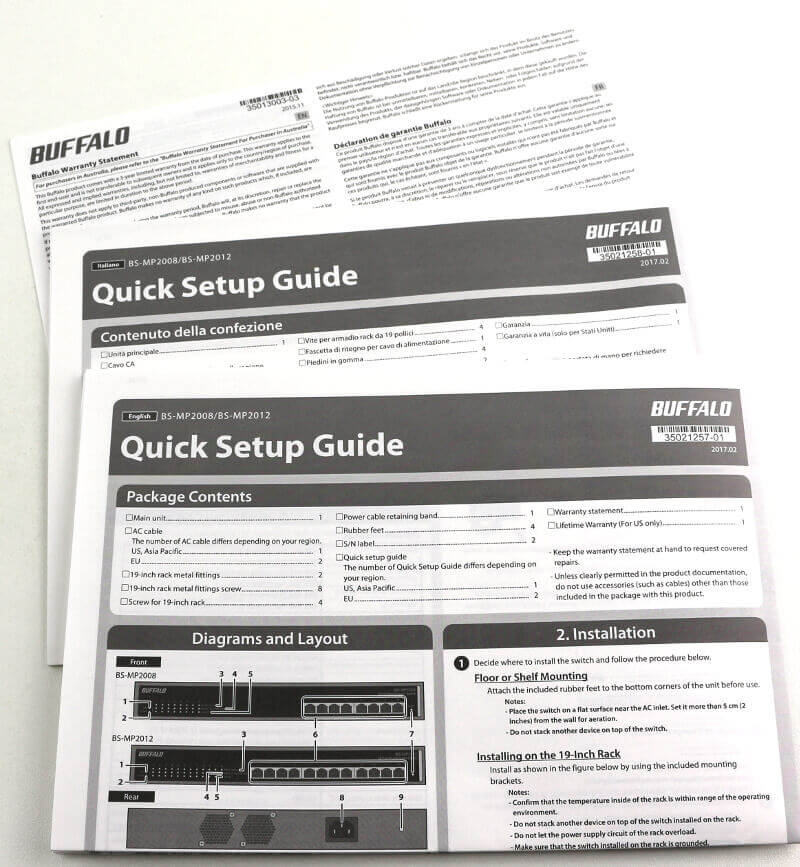 The last included item is a label with two stickers containing the unit's production time and serial number.